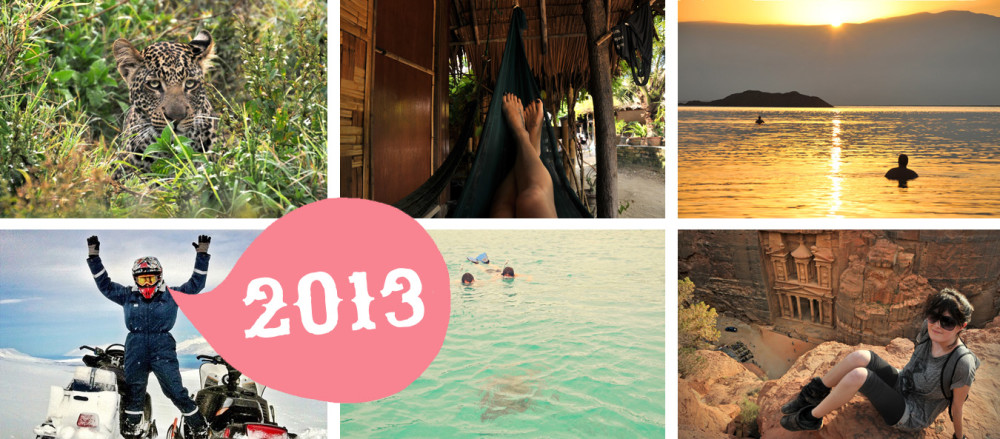 I usually hate lists like this, but these month-by-month annual round ups (like 2011 and 2012) are getting a bit old, so this is happening. I have spent the last few days thinking about all of the crazy, amazing and sometimes unbelievable things that I did this year and there were some moments that stood out more than the rest. Yawn, yawn. Quit your rambling and get to the list.
The Tally:
Countries 13
Continents 4

States 8
Provinces 6
Planes 40
Trains 34
Boats 16
Safari Jeeps 8
Snowmobiles 2
Donkeys 2
Zip-lines 2

Bobsled 1
Camel 1
Horse 1
Dogsled 1
13. Seeing the snow Ghosts in Montana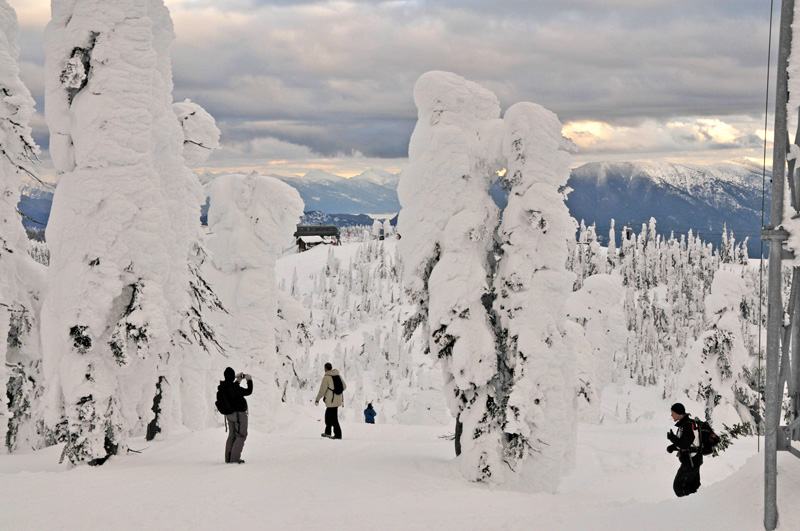 I had one of the most jaw-dropping and potentially hazardous (as I was paying no attention to the road at this point) moments of the year in the Swan Mountains of Western Montana.
Excerpt: "It wasn't until we neared the top of the mountain that things really began to get impressive. It was as if everything transformed at the rounding of one particular corner–I nearly stopped the snowmobile in its tracks as my eyes met something I had been longing to see for years. A snow ghost." Read more.
12. Feeding Sea Turtles in Barbados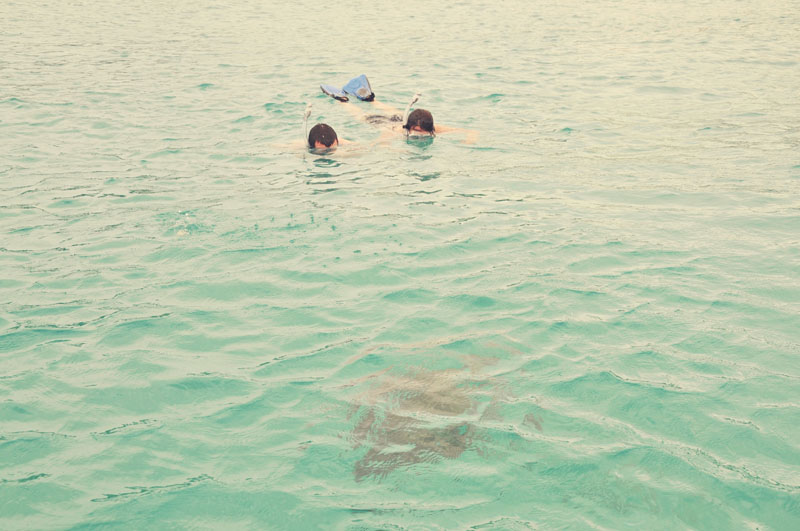 Coming nose to nose with a large sea turtle in the open ocean is something that I won't soon forget.
Excerpt: "At one point I was fully surrounded by four large sea turtles that were hungrily scooping up chunks of fish from the water around me. They didn't seem to care or even notice that I was there; they only wanted the lunch that I brought with me. They swam past my feet, they glided under my arms and in one momentarily terrifying event, came nose to nose with me before we bumped faces. Have you ever Eskimo-kissed a sea turtle? Because I have." Read more.
11. Riding a Bobsled Down the Olympic Track in Whistler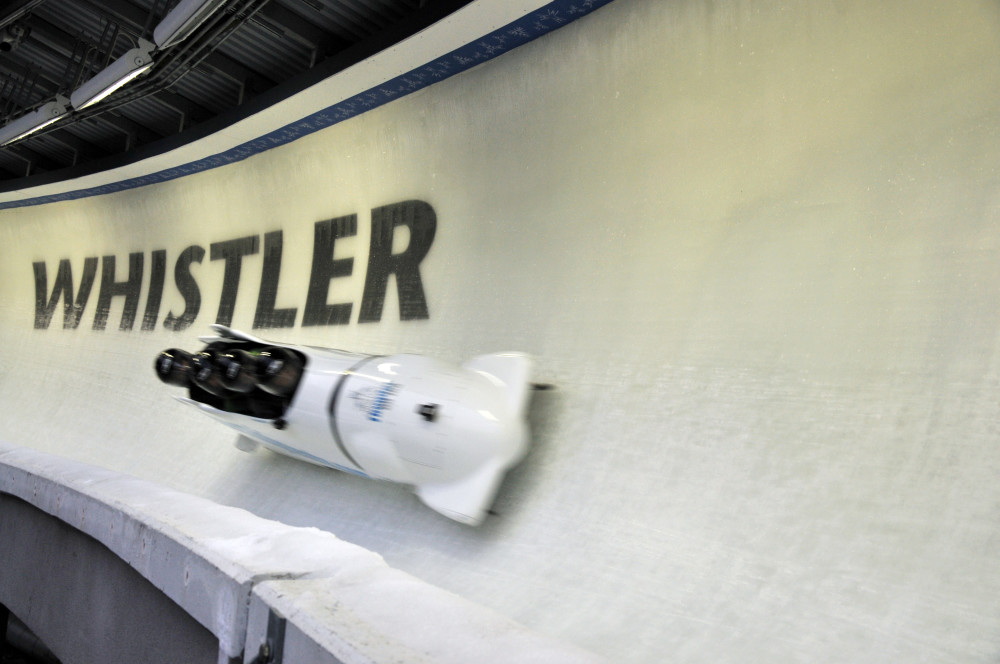 I haven't written about this yet because I just did it last week, but it was definitely one of the biggest adrenaline pumps of the year. It was short-lived, but a super intense ride at 124km/h with a gravitational pull of 4g on the corners. My head bobbled around in there like.. a bobble head.. and my stomach took a few turns as we rounded the bends at crazy speeds.
10. Watching a Leatherback Lay Eggs on the Beach in Tobago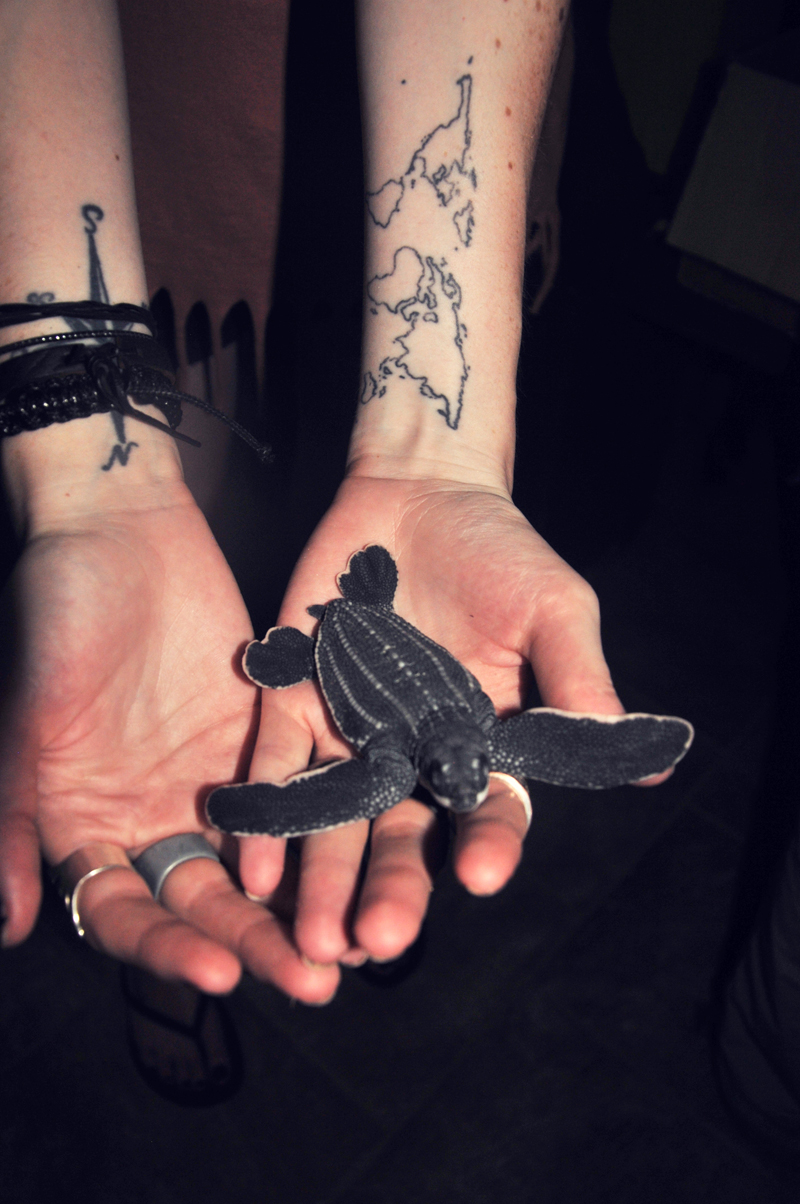 In the dark of night we marched out to the stormy beach in search of leatherback sea turtles. Not only did we witness the laying of an entire nest, but we got to hold some of the disoriented hatchlings that would later be helped into the ocean for a better chance of survival.
Excerpt: "The moment I first saw that dark shape on the sand I drew in a deep breath. It wasn't until I had walked nearly thirty feet and stood behind her, watching her dig up the final scoops of sand that I finally exhaled and allowed myself to enjoy the whole experience." Read more.
9. Spending the Night in a Tree House in Quebec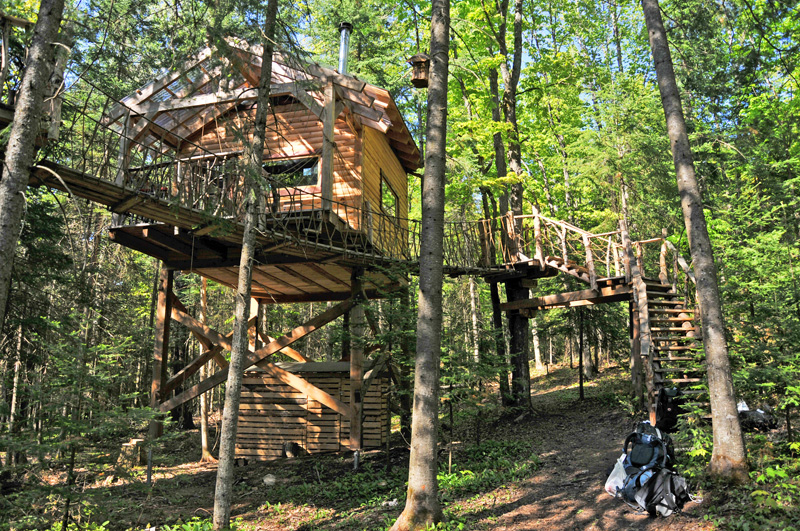 Along with my favourite little group of geogasm bloggers, I spent a night in an impressively built tree house (read: mansion) in the forest of Nominingue, Quebec. We spent the night cooking a delicious feast, playing with sparklers, scaring each other in the dark and roasting marshmallows in the wood stove before bed. Childhood dreams came true.
8. Watching the Sunrise from the Dead Sea in Israel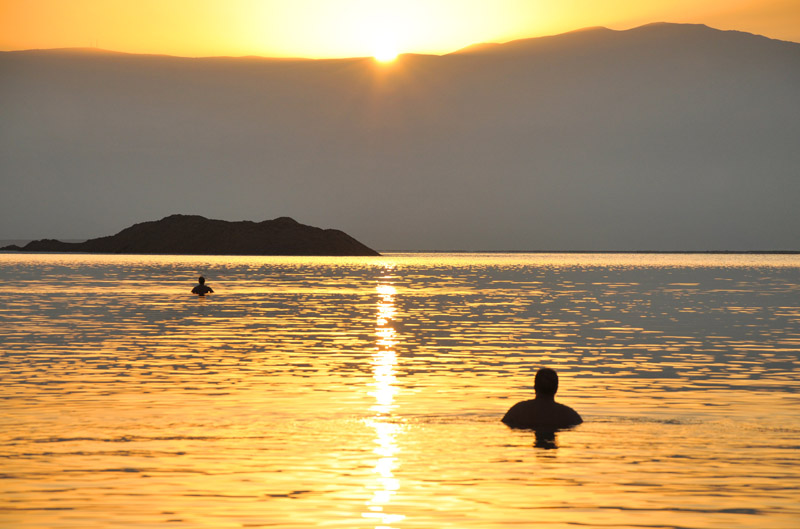 There's nothing quite like witnessing the sunrise from the lowest place on earth.
Exerpt: "I had woken up well before sunrise and headed down to the beach with my camera in the dim morning light. This meant that I was able to witness the eerie haze of morning light before the first beams of sun stretched across the smooth glassy surface. My eyes widened at the exact moment that the first lick of light escaped the peaks of the Jordanian mountains, shooting toward me like a flaming arrow." Read more.
7. Getting a Sak Yant Tattoo in Thailand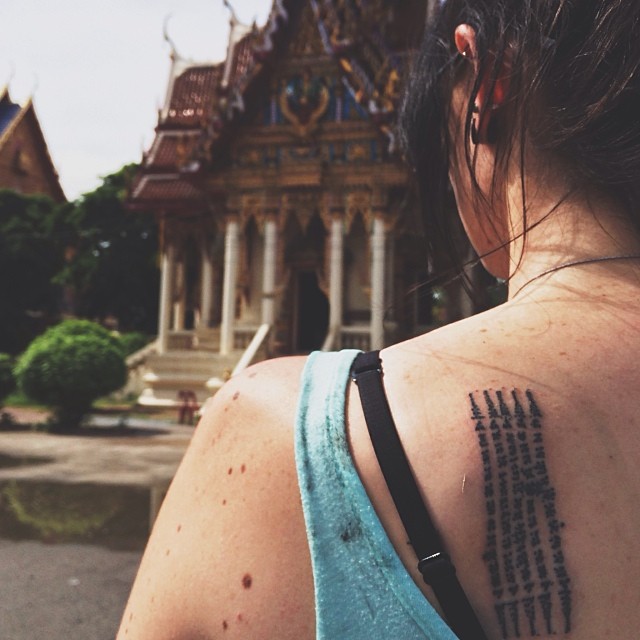 As you may know, I essentially collect tattoos as souvenirs when I travel. I wanted to get a Sak Yant tattoo before I even got my first regular tattoo. So, you can imagine how happy I was to finally get one this year.  After a comically arduous journey from Bangkok involving a taxi, van, bus and a motorbike for three, we arrived at Wat Bang Phra. Long story short (I will elaborate in a post soon enough), I was tattooed with a bamboo shoot tapped into my back by a monk inside of a temple in Thailand. I don't think any of my other tattoo stories can compare.
6. Looking Down on Petra's Treasury from Above in Jordan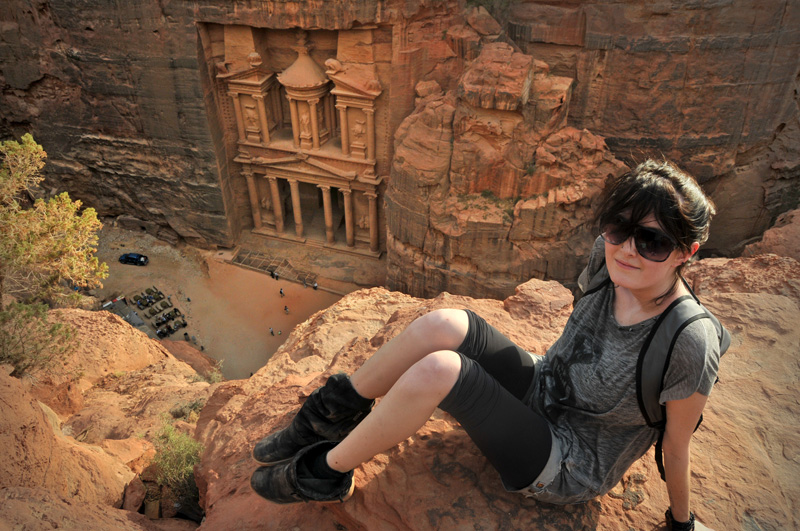 I had dreamed of laying my eyes on the Treasury for as long as I could remember. After an adrenaline pumping donkey ride up to the top of the mountain and a short hike to the cliffside, I was rewarded with a birdseye view of the entire thing. We were the only ones up there and it felt like the whole thing was just for us.
Excerpt: "The view was monumentally breathtaking–probably the best of the trip and most certainly one of the most rewarding in my life. However, it is not what made the experience for me. It was the trip back down the mountain that will forever remain in my memories." Read more.
5. Drinking a beer. In an igloo. On a mountain. In Iceland.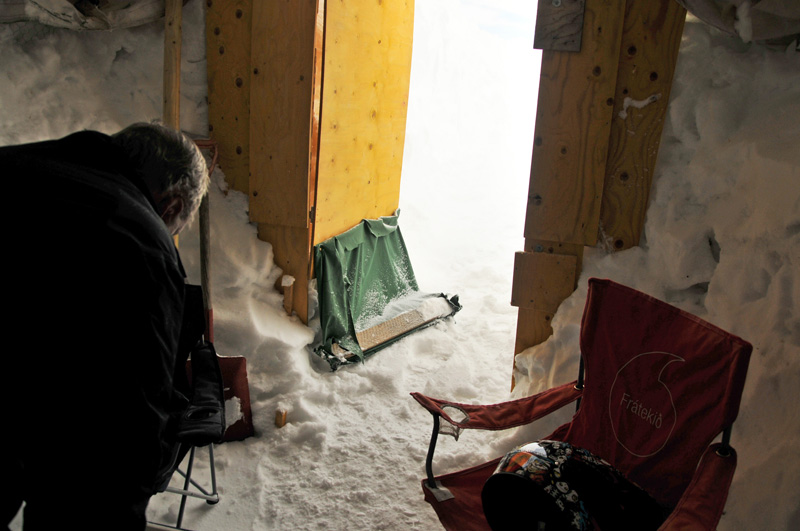 The idea of drinking a beer inside of an igloo on top of a mountain in Northern Iceland is unbelievable enough, but the fact that the only way to get there was by snowmobile (an addiction of mine), tipped it over the edge as one of the coolest things I did this year. It all felt so casual at the time, but it was one of those moments where I realized how incredible my life really is.
Excerpt: "I'm not sure exactly what I was expecting when we came to a sudden stop on the level mountain side, but it probably wasn't the wooden door marked "Hotel Cool" that I now laid eyes on. Here, in the middle of nowhere, was a man-made igloo complete with a front door, tables, chairs and the best view in all of Akureyri." Read more.
4. Bungee Jumping in Ottawa
Easily the most exciting thing I did this year. Having gone skydiving a couple of times last year, I had been dying to finally try bungee jumping. An opportunity arose at the last minute (literally, the night before) while in Ottawa, and I jumped on it (no pun intended). I discovered that I prefer bungee jumping to skydiving and hope to do it several times in 2014.
Excerpt: "It's tough to explain, but felt like I was about to jump into a big black hole. I could see my feet and I could see the water below, but somewhere along the way my mind warped that distance into a thick nothingness of void space. And I jumped." Read more.
3. Visiting Jim Morrison's Grave in Paris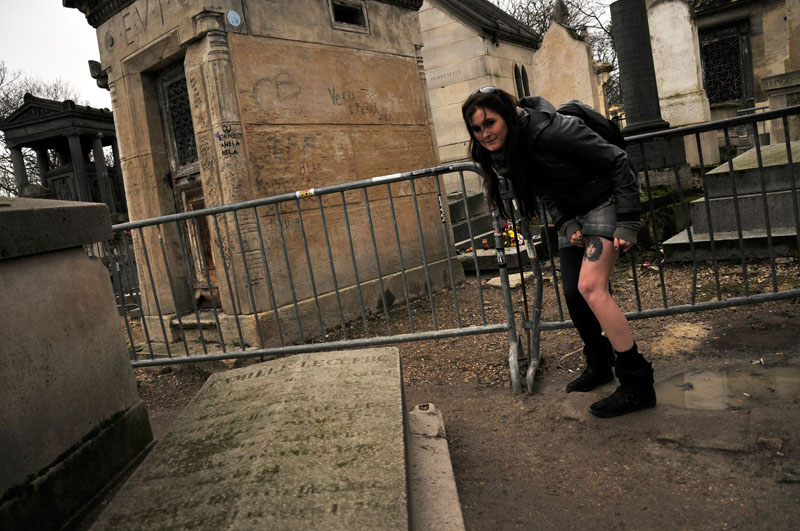 Just from looking at me, you should be able to tell I'm a huge Jim Morrison fan (the tattoo on my left thigh gives it away). It's a long story, but mainly, I adore his poetry. I had been dreaming of visiting his grave at Pere Lachaise Cemetery in Paris since I was young and was totally unprepared for how emotional I felt in the moment that I actually laid eyes on it.
2. Coming Face to Face with a Leopard in Kenya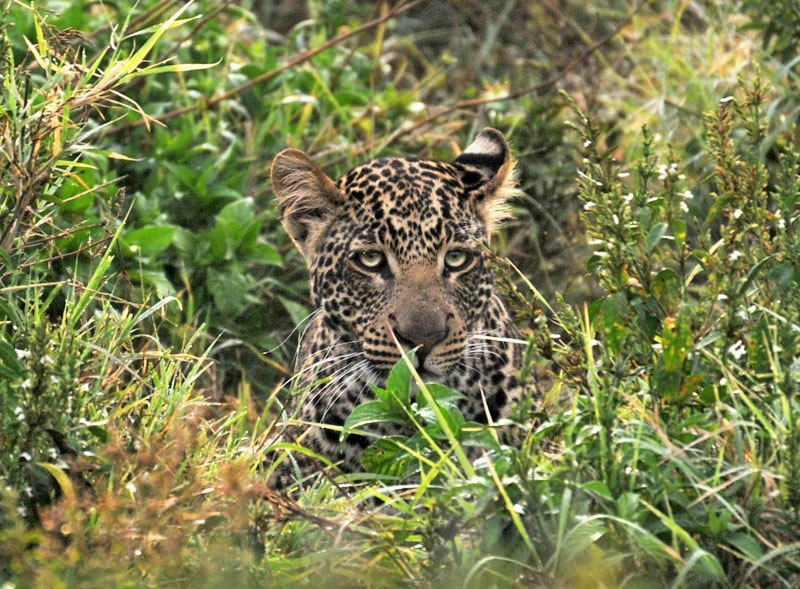 The fact that I was on a safari in Kenya was a travel highlight on it's own, but my best memory from that trip is the moment I locked eyes with a leopard in Lake Nakuru National Park.
Expert: "There was a subtle charge to the air as everyone stood with cameras and binoculars at the ready, waiting for the elusive jungle cat to emerge. With our breaths held collectively, no one dared to make a sound in fear of scaring the animal or losing concentration on the spot where it was hidden. The anticipation was so thick and palpable that I could feel the hairs begin to rise on the back of my neck. While everyone was focused on the distant bushes, a brief flicker of movement caught my eye from the tall grass directly below me. That's when I noticed a glossy pair of golden yellow eyes staring directly back at me." Read the rest on Gadventures the LoopTail.
1. Relaxing in a Bungalow Hammock in Thailand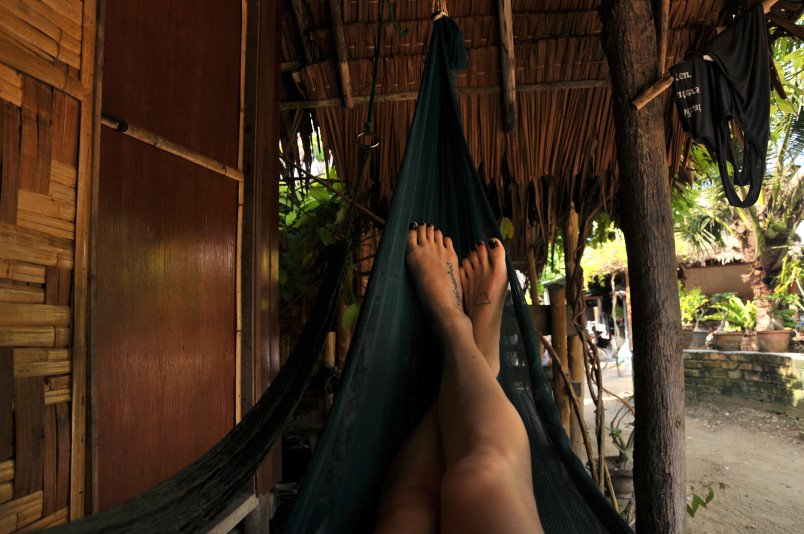 It may seem a bit strange after all of the incredible things that I experienced this year, but my number one memory is doing absolutely nothing at all. With all of these amazing experiences comes a great deal of stress from packed itineraries that leave very little time for sleep and even less to relax. I never complain, but when I am lucky enough to get some down time, I take full advantage of it.
Swinging in the hot Island breeze, watching  geckos chase each other along the thatched roof and listening to the soft murmur of Thai soaps from a box television with a bent antenna… For some reason, that is the memory that has stayed strongest in my mind and is my favourite one of the year.
Some of My Favourite Instagrams 0f 2013
Happy New Year.
What was your favourite travel memory of 2013?