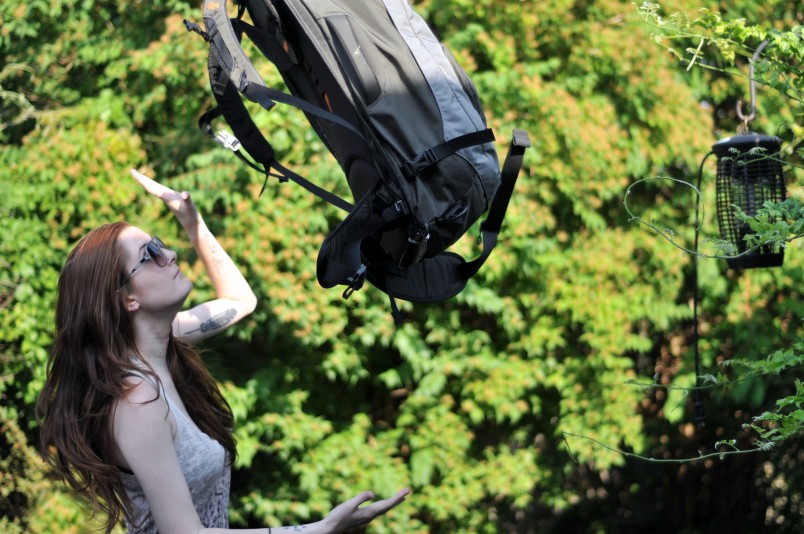 I receive reader emails on a regular basis, many of them asking for specific tips on travelling, like how to plan or what to pack. I recently received this email, asking for some suggestions on how to pack lightly:
Just curious if you had any suggestions on packing lightly? I'm headed to the UK for a study program for 3 weeks and then staying in Europe for another couple weeks to travel around. I've been many times before, but it's always a hassle with lots of luggage. So just wondering if you had any suggestions for packing!
For this reader and every other reader that may ask in the future, I have written a list of tips on how to pack lighter.
I'm using an emphasis on the word lighter, not necessarily lightly. It has taken me years of packing, unpacking and repacking over and over again to perfect my own style of packing lightly, and I certainly don't expect everyone to be able to do it at the suggestion of some list.
"That's all you're taking?"
I commonly hear this as I set my bag on the scale at the luggage counter.
Following that question, I am usually waved on to carry my bag with me (which I prefer).
So, that brings me to the benefits of packing lightly:
1. Saved baggage fees
2. Saved storage fees for day trips
3. Less back pain
4. Easier to get around
5. More space for bringing items home
6. Less to replace if luggage lost
7. Less chance to lose luggage if carried on
8. It feels better
Carry a Smaller Bag
First of all, carrying a backpack rather than a suitcase will force you to wear it on your back instead of rolling it on its wheels. This alone will make you want to pack lighter.
Now that you've made the right choice with a backpack, don't over do it with a massive 70L pack that is better suited for a six month trek into the Andes. Unless you're doing that, then by all means, go ahead.
You probably won't need more than a 42-53L pack. I use the MEC Wayfarer.
Pack Earlier
I'm notorious for packing the night before, or literally hours before my flight. But, this is NOT the way to do it if you're an over-packer.
Packing ahead of time will allow you to rethink what you have put in your bag.
Do I need those extra shoes?

Do I really need three pairs of black jeans?

Will a bubble gun really come in handy? (probably)
It's not necessary for every trip, but try packing a full week in advance for your next departure. Chances are that by the end of the week, you will have removed 40% of the original contents.
Layers
If you're packing for a multi-climate trip, it is best to pack lots of layers instead of bulky items like a big winter coat. Bring your jacket (and perhaps an outer shell) along with a warm sweater and various inner layers.
I recently packed a small bag for two months of travel through the scorching Sahara Desert, snowy Norway and humid Dominican Republic and relied on different layering methods for all three.
Purchase Abroad
Don't stock up on sunscreen before your beach vacation, buy it when you get there and leave it behind when you're done. Keep in mind this is a post on saving space, not money ;]
Even items like sandals, sundresses, hats, shampoo and other toiletries can be picked up on the road.
Travel Sized Items
Keeping below federal liquid regulation sizes may be a bitch at airport security, but 50 ml is the perfect size for a mini toothpaste and shampoo bottle.
Even if you're going on a longer trip, pick these up at local pharmacies or gas stations as you go. They will save you space and weight.
One of Each
One pair of pants. One pair of shoes. One skirt. One bathing suit. One sweater. You get the point.
Obviously there are a few exceptions like shirts and underwear, but there is no need to go overboard.
Life isn't a fashion show.
Laundry Detergent
For those items that have been worn multiple times, carry a small packet of detergent to hand wash in the sink.
If you're travelling longer, bring machine washable detergent (read the label, many travel detergents are for sink only) and do laundry about once a week. Pack appropriately.
Wear Heaviest Items
Adorn yourself in your jacket, jeans and other bulky items on days that you are flying. This will save on weight and keep you warmer on the airplane ;]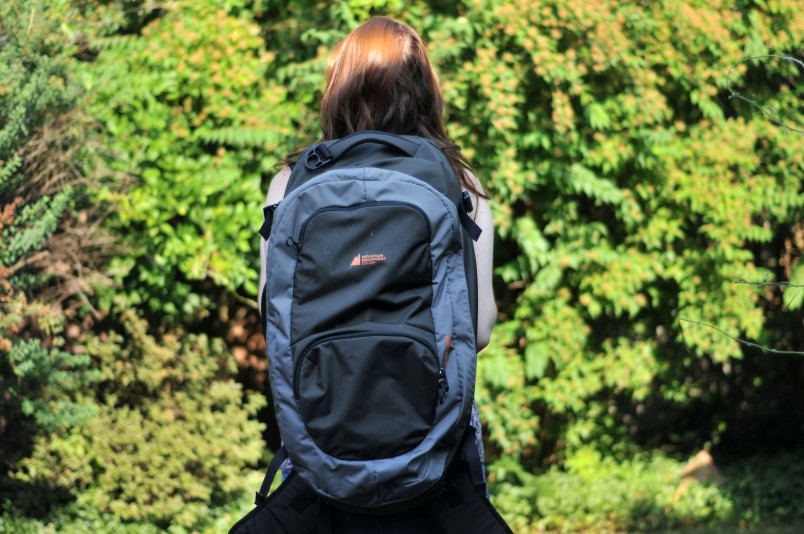 Go Natural
No, I don't mean naked–keep your clothes packed.
This one is mainly for the girls; leave your hair tools and products at home. Curling irons and gels can take up a lot of space and chances are that no one is going to judge you for slightly limp/frizzy hair.
Air dry your hair and save a kilo on the luggage scale.
Or, if you're travelling with a group of girls, coordinate for one person to bring one item and share amongst each other.
Multi-Use Items
My ultimate travel accessory is a thin, square light grey scarf that I bring with me everywhere. I use it as an airplane blanket, as a shawl in conservative regions, to keep my neck warm in the cold and to cover my eyes at night in an ever changing environment.
It replaces the multiple items that could have served in its place (extra layers, sleep mask, etc.) and saves a ton of space in my bag.
E-reader
I don't have one myself, but if you tend to read a lot during your travels, you may want to invest in a Kindle to carry your books around.
Forget What You Think You Need
Whether you are a first time traveller or an expert nomad, you've probably packed at least one or two things you don't need.
For example, you probably don't need the following items:
1. Sewing kit
2. Poncho
3. The entire pharmacy
4. A 50 pack of Bandaids
5. An alarm clock (use your phone)
Take a moment to think about each item before you pack it and consider if you really need it.
Take Out 5 Items of Clothing
I'm a big believer in "pack your bags and remove 50%" before you leave, but I know this is just downright impossible for some people.
Let's keep it simple, try packing your bag and then removing five items of clothing from the pile. Not so bad, right?
People are creatures of habit and often have a favourite sampling of their wardrobe anyway. Stick with what you love.
Pack Your Carry-On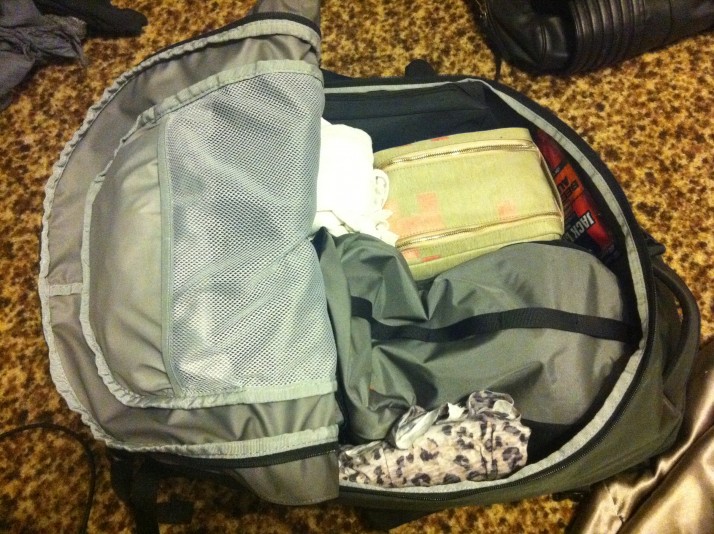 By placing your carry-on bag inside of your main bag before leaving you will stop yourself from packing additional items that you don't need.
Pop your carry-on out once you arrive at the airport and you won't have to worry about lugging around TWO heavy bags for the rest of the trip. Win-win.
Use the Straps
This isn't exactly a tip on packing lighter, but using the straps on the backpack will make it feel lighter than it is.
You'd be surprised at how many people leave them undone because they want to look "cooler". Their back problems aren't going to look so cool in thirty years time.
Place the bag above your hip level (sit down if you need to) and clip the waist buckle into place before fastening it tight. Do the same for the chest strap. Make sure everything is tight and comfortable.
*Bonus* Tips on Saving Space
1. Stuff socks and smaller items inside of shoes
2. Roll clothing and stack tightly in bottom
3. Attach items such as pillows, jackets and water bottles to outside of bag
4. Place clothes into plastic bag and squeeze air out, tie shut
5. Use external pockets
6. Use expanding zippers
7. Use packing cubes or ziplock bags
 —
 I'm sure I missed a few here, so tell me..
How do you pack lighter?