Heading out for a business trip can be exciting, but it might also fill you with a bit of anxiety—and rightly so. Traveling is never as simple as you'd like it to be, and chances are, you might wind up feeling heavily stressed or pressed for time—neither of which is conducive to getting work done. Entrepreneur says that nowadays, many companies have higher productivity expectations than ever before when it comes to their employees who are traveling on business.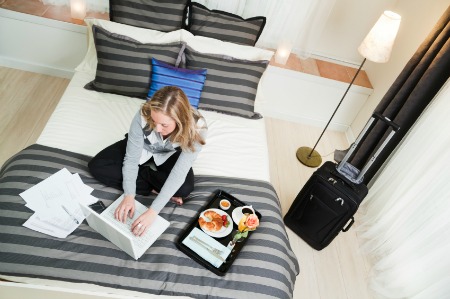 So how can you not only make the most of your time, but also lower your stress levels? Simple: Choose a short stay at a hotel.
By limiting your booking search to short stays via services like Hotels by Day, you can preemptively set yourself up for success by choosing a hotel that allows day stays, rather than the usual overnight stays. If you're not sure how this method might affect you, check out the five reasons below:
1. You won't have to fret over flight times.
Have no choice but to fly in on a redeye? There's no need to stress out over your anticipated exhaustion. With short stays you can go straight to the comfort of your room—and your bed—as soon as you arrive. You won't have to worry about hanging out in the hotel lobby or lounge for several hours, or asking the front desk to use the shower in the gym. All you'll have to do is get through the discomfort of an overnight flight, and the worst part of your trip will be over.
2. You'll have a place to prepare and network.
After you've gotten that initial nap out of the way, you'll have the rest of the time until your meeting or conference to prepare. Entrepreneur recommends making the most of your time to work; make any calls you need to make, check in with the office back home, and prepare any documents or presentations you need, all in privacy and peace. With a hotel room for the day, you won't have to deal with a desperate search for a coffee shop or other establishment with working Wi-Fi—never mind a place that actually has a free seat.
If other co-workers or conference attendees are staying in the same hotel, you also might want to check out the hotel lounge or bar and see if you can mingle during downtime. Inc suggests that a business trip is an excellent time to make some new connections and contacts. Don't be afraid to approach others who are involved with your company or business.
3. You can take some time to explore.
Of course, after getting some work out of the way, you might want to get out and explore the area. Staying at a hotel means that you can freshen up, prepare, and then head out for a meal or sightseeing without having to lug your baggage around with you. You can also ask the front desk or concierge for suggestions on quick or nearby things to do in the area.
4. You can get some rest, or treat yourself.
Even if you're spending your extra time in your hotel room working, that doesn't mean you can't also relax! Of course, a nap might be essential, but once you're back up and at 'em, there's not much reason to change out of your pajamas, for example. With a hotel room to stay in, you can feel free to relax in any way you'd like to until it's time to head to your conference.
You can also treat yourself; if you don't have time to leave and explore, you can order room service, or even visit the hotel spa for a quick massage or facial to help you de-stress before dealing with business.
5. Overall, you'll ditch some of the stress.
The biggest (and basically all-encompassing) reason to book a hotel for a short stay? Your peace of mind and blood pressure, for starters! All of the above reasons give you a break from the stressful action, and a bit of "me time" to spend as you wish. You can combat exhaustion, sightsee in some fresh air, network, or just hang out and watch some television in your room. The main draw is that you'll have privacy and comfort while you prepare for the reason you came: the work.
By planning ahead and searching for deals online, you can ease the stress of travel and make your next business trip a little more bearable. Go with a short stay hotel on your next business trip, and check out the difference it makes.