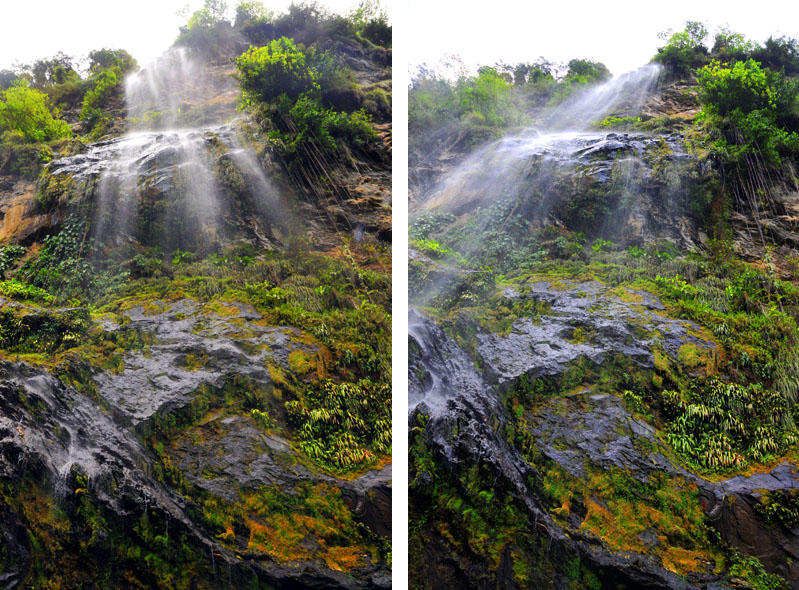 It was my first time in Trinidad, in May 2008. My best friend and neighbour in University lived there, and I went to visit her and stay with her family.
As it was my first time there, they wanted to take me to all the popular destinations on the island, including a hike through the rainforest. I hadn't slept at all the night before, but I love hiking, and I love rainforests; I couldn't turn the chance down!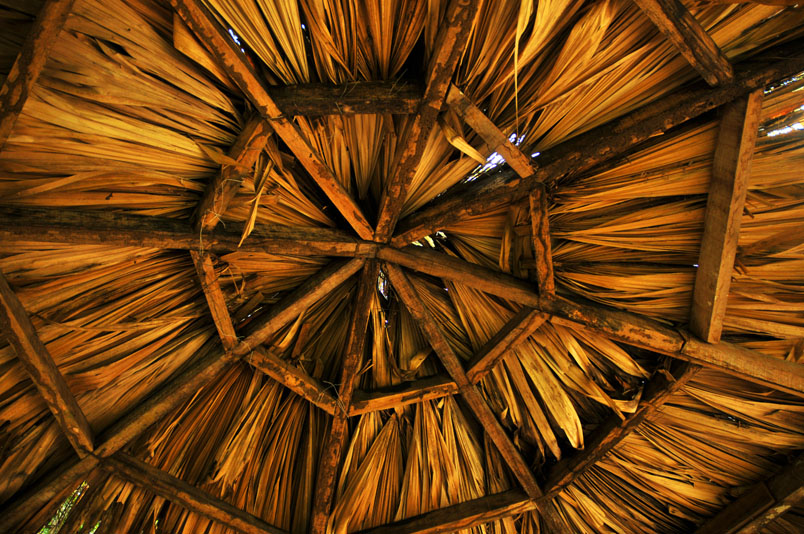 Sleepily, we left my friend's hometown of Couva and headed to the Northern Mountain Range. They had arranged for a local tourguide/mutual friend to guide us through the jungle.
Along with myself, it was my friend, her sister, her cousin, and their friend; they were all locals too, but wanted the expertise of the guide in case we ran into trouble. So we met up with the guide at the base of the mountains, and drove up as far as we could.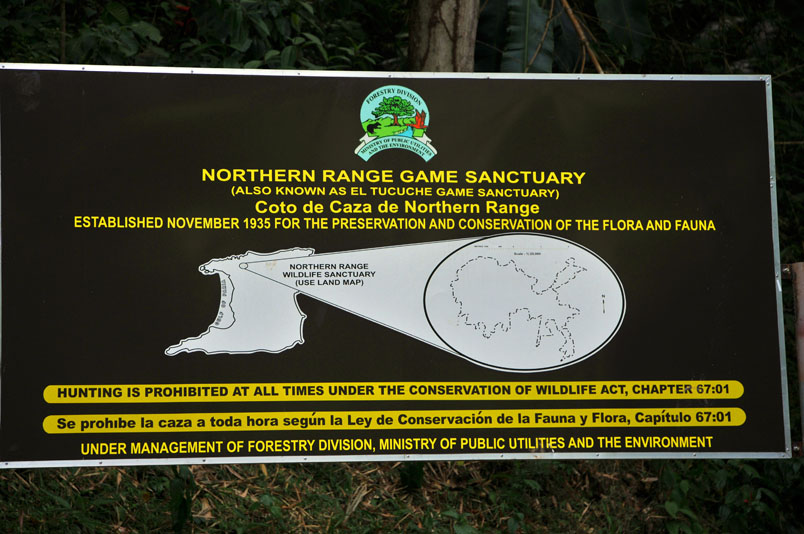 We arrived at the highest point that allowed vehicles, and parked the van. Everyone got out and started up the trail. With the first step onto the trail we were engulfed within the tangled web of jungle vines and leaves. I felt like I was navigating through a salad.
The trails were tiny and narrow, covered in brush. It was hot and muggy, and there were bugs everywhere; in the air, in my hair and all over my body. The birds were so noisy that I could hardly hear myself think, the insects were successful in covering any possible moment for silence.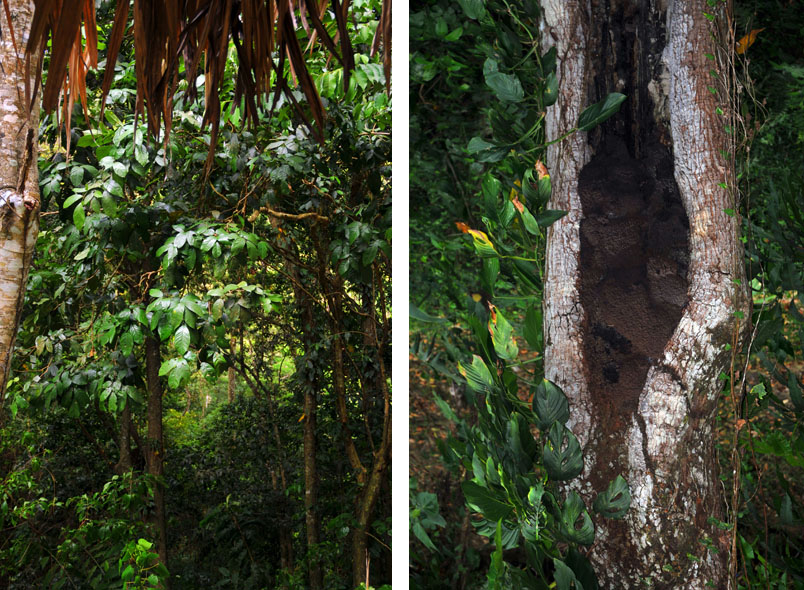 After about 40 minutes of salad-trekking, tree-dodging and what felt like free-hand rock climbing, our barefooted tour guide announced that we had arrived. Did I mention that he was barefoot? Because he was.
I consider myself to be a barefoot adventurer most of the time, I hardly ever wear shoes. However, when it comes to big hairy tarantulas and poisonous snakes, I try to keep my piggies protected!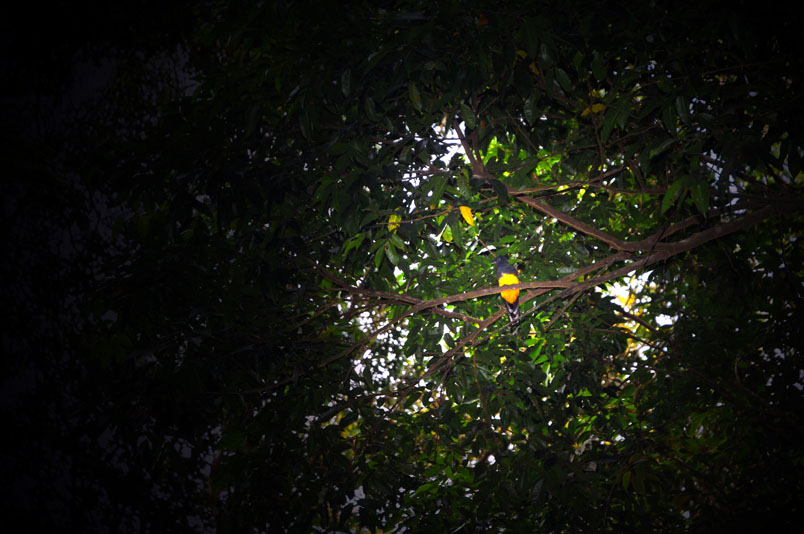 So, we had arrived. I clumsily scaled the rocky ground up to where they were standing and looked up.
I heard it first, up in the distance I could see what was causing the roaring noise. It was the tallest waterfall I had ever seen from such close range.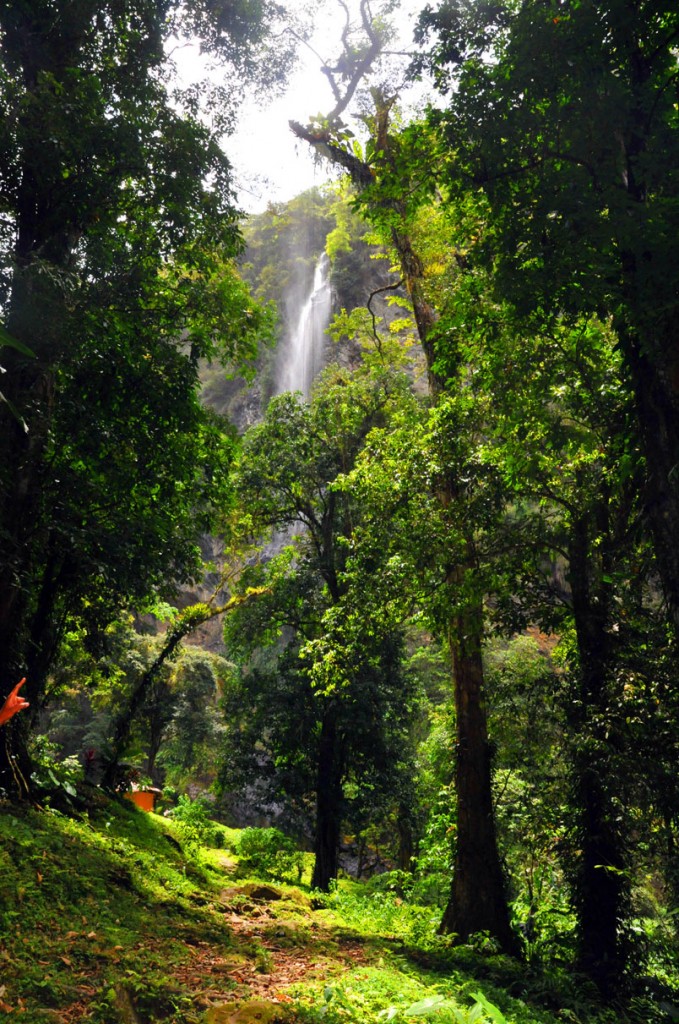 We all stared up as we walked closer, emerging from the tree line. The roar became louder, and little drops of dew seemed to float in the air. My friend and I looked at each other, smiled, and ran toward the bottom. We climbed over the slippery rocks, directly under the pounding water.
It fell on our heads and we laughed and danced around in the water and mist.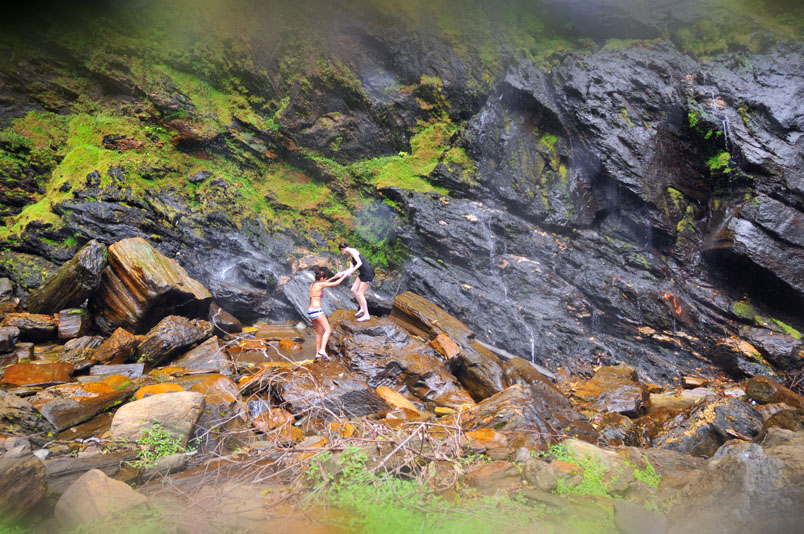 Eventually everyone else came over to join us, and we were all laughing and dancing. I could see little lizards skittering around on the wet rocks beside us.
The water was cold, but refreshing.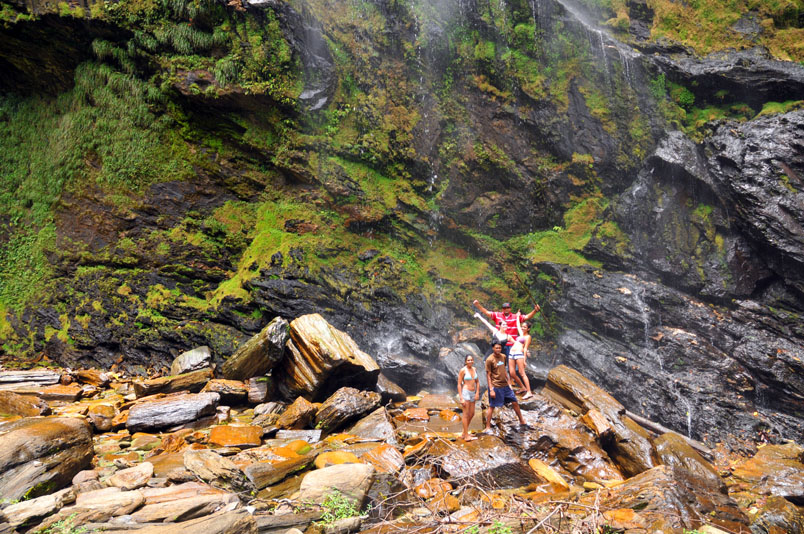 The rocks and ground in front of the waterfall were such a brilliant green that they looked fake. It must have been all the moisture in the air, because this place looked like some sort of heavenly garden of magic.
I could imagine little fairies or gnomes playing around the rocks and grasses, or frolicking in the waterfall.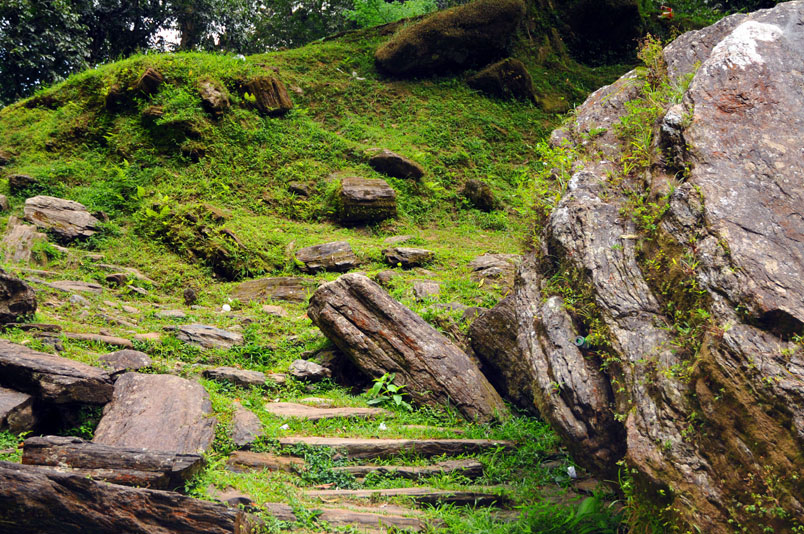 The tour guide told us that there was a second waterfall that we were going to see. It had a natural pool at the bottom for swimming, and a natural water slide going into it!
Intrigued, I happily went on the rest of the journey, this time keeping up with the others.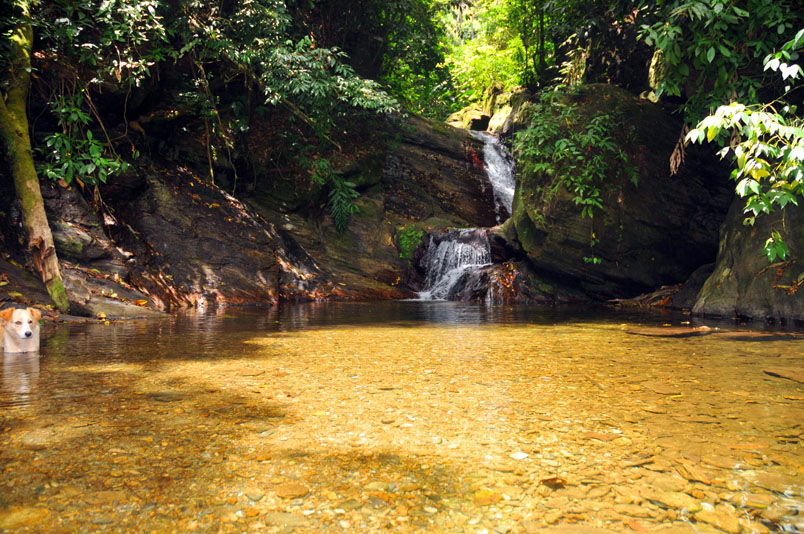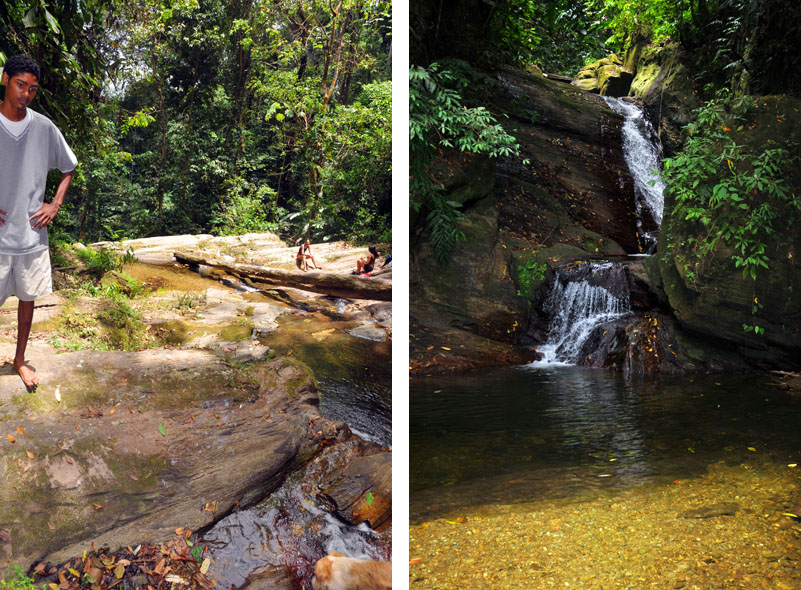 When we arrived at the next waterfall, every climbed up the edge to jump in the pool. My friend's sister climbed the rope that went up the natural slide, and slid back down into the pool.
We all relaxed and soaked in the cool water, while the humid air could only rest on our faces.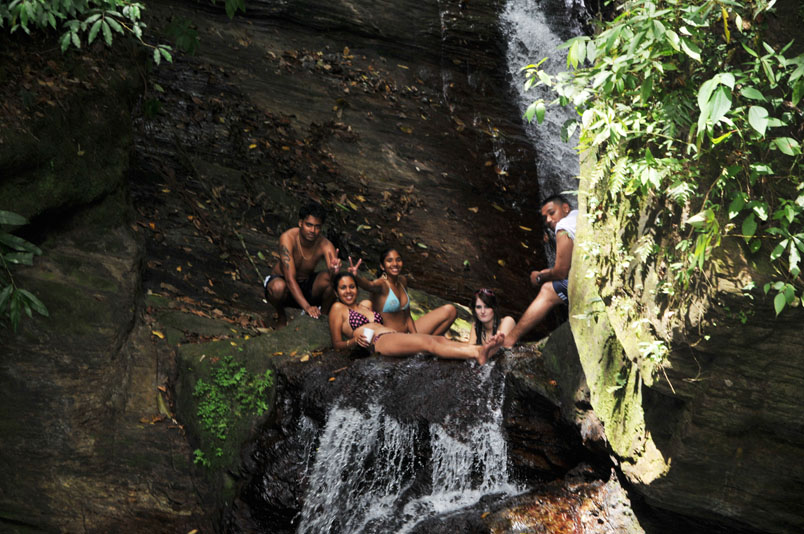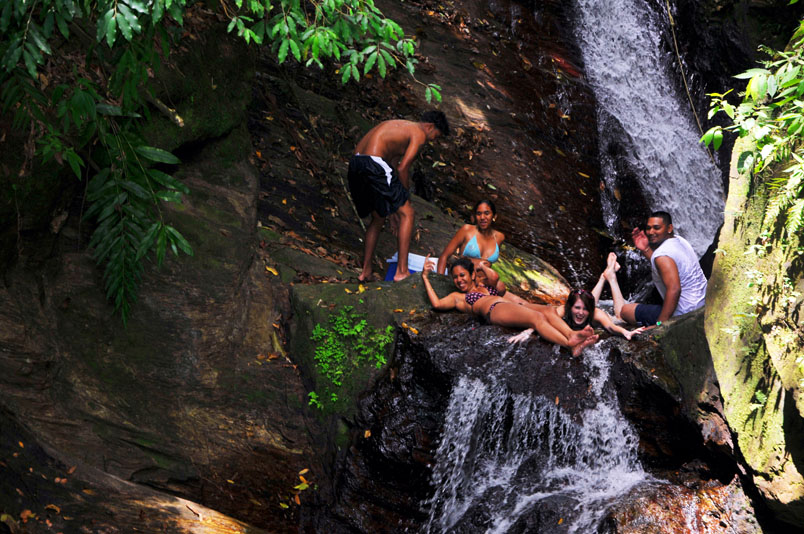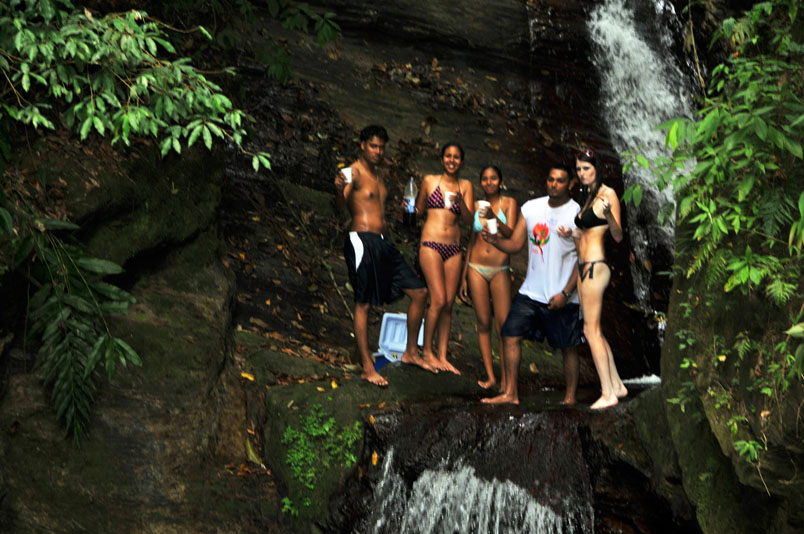 Everyone made drinks, and we just hung out at the bottom of the slide for what felt like hours. After some time, the rest of them decided to climb down to the bottom part of the waterfall, down another hill and some steep rocks. I decided that I would stay up at the top to take photos and have a snack. As I waited for them all to get there, I sat down on the flat stone on the edge.
I pulled out my food and began to eat. It must have only been seconds later, when I felt a shark stab on my leg. "OUCH!" I screamed. I looked down, and my legs were covered in ants. Not just any ants.. fire ants! I continued screaming, and began running around like a crazy person. They were furiously biting chunks out of my skins and each one hurt more than the last.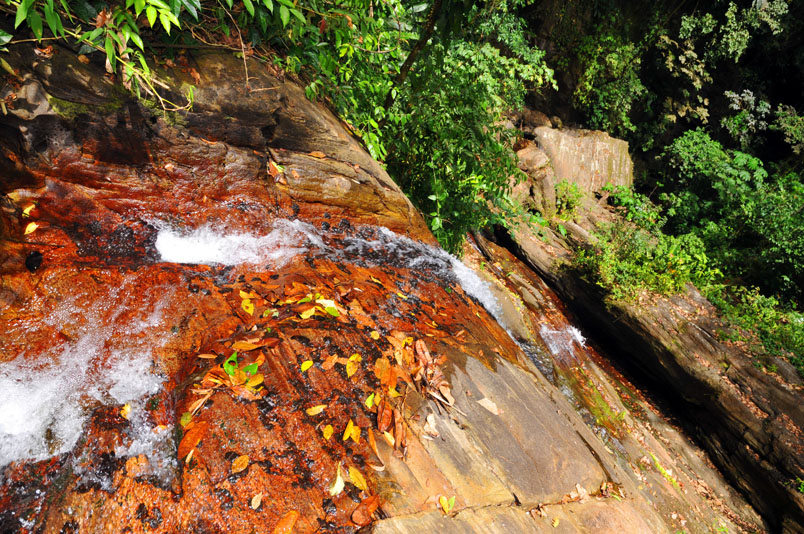 I heard a scream from below. I ran back over to the edge, expecting to see my friend screaming about ants as well; she had fallen. She had slipped from some steep rocks and landed back-first onto some palm fronds and soft leaves. I felt bad for her, but along with my crazy ant-dance and her comical noises, I couldn't help but laugh.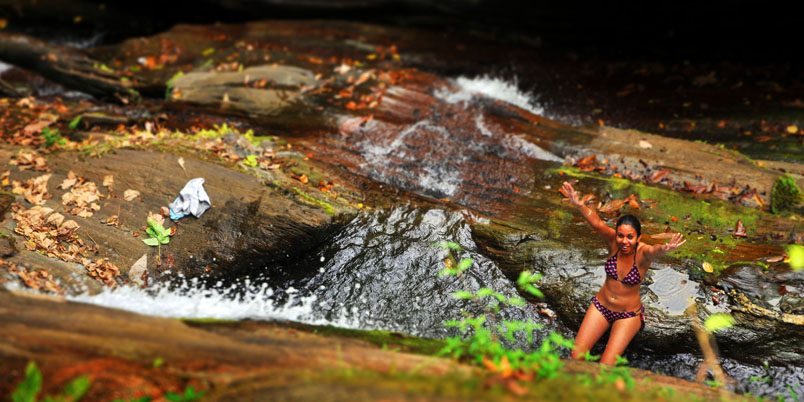 It was a pretty great experience hiking through the rainforest, and I'd love to do it again. By the time we made it back to the car, we all had some injury wounds to show-off. I was covered in dark red spots, my friend had a big scrape on her side, and everyone else was pretty banged up. The jungle is a pretty wild place, and we were all glad that we made it through relatively unharmed.