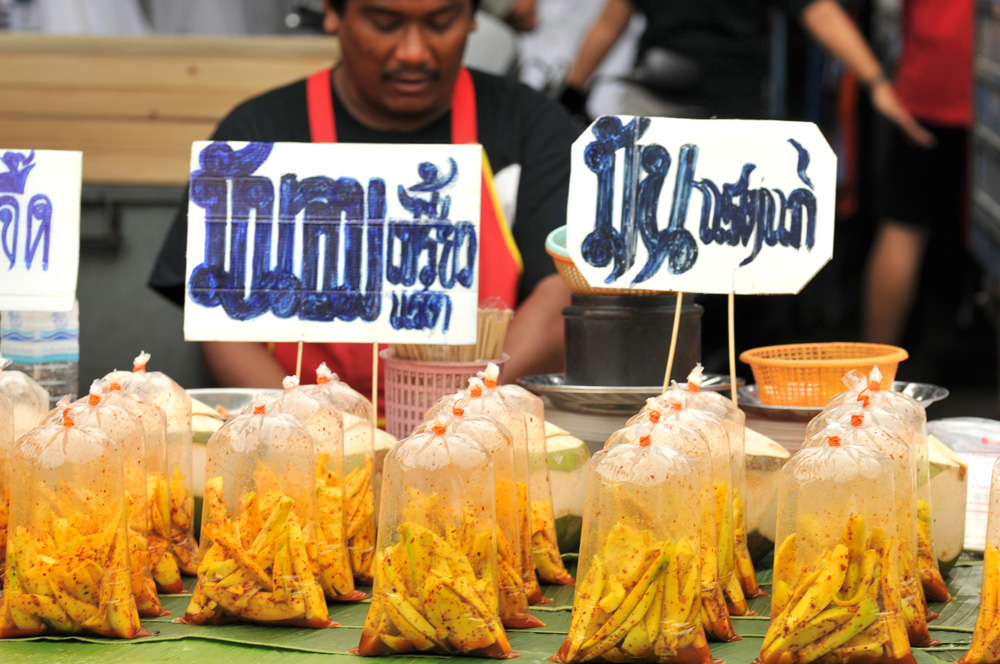 Before arriving in Thailand it was suggested to me that I visit the weekend market in Bangkok. I wasn't entirely sure what or where it was, but the name was mostly self explanatory and I knew it wouldn't be difficult to figure out the location.
The destination was set: Chatuchak Weekend Market, also known as Jatujak Market or J.J. Market at Chatuchak Park in North Bangkok. Depending where you're coming from in the city, you will need to transfer to the Sukhumvit line (light green line) or the Chaloem Ratchamongkhon Line (dark blue line) and head to either Mo Chit station or Kamphaengphet station respectively. Try to avoid the tuk tuks, coming or going.
If you're going to do any shopping in Bangkok, save it for the weekend market. Forget Khao San, J.J. is where the deals are as well as a hell of a lot more to choose from. Chatuchak is also one of the best places to eat in the city, where you can visit several different food stalls in one go and build your own assorted plate of delicious local foods like Pad Thai, mango sticky rice, duck eggs or spicy Tom Yum soup.
I ended up going to the market on two separate weekends, on both ends of my Contiki trip, because I enjoyed it so much. I definitely got some good bargains with my increasingly savvy bartering skills, so I finished up some Christmas shopping and even got a few things for myself.
To say that the market is substantial would be an understatement. It's huge. It's like a labyrinth of clothing stalls, leather makers, household goods, shoes and knock off designer items, where you can take two lefts and a right before running down the next isle only to find yourself back where you started and no closer to the end.
If a friend asked me for suggestions on what to do in Bangkok, I would definitely recommend Chatuchak Weekend Market.

This trip was made possible by Contiki. 
All thoughts and opinions are my own.
Visit Bangkok on your own Asian Adventure.
What's your favourite weekend market?