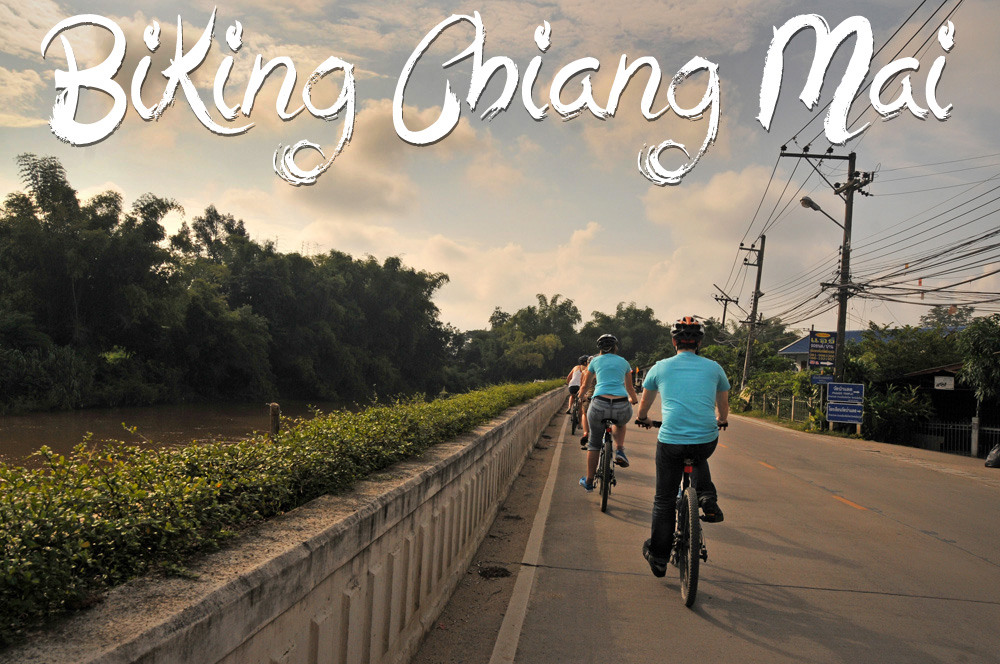 I have to admit, waking up at 7:00 am for physical exercise in a tropical climate is not exactly my idea of a party. But, taking a bike tour of Chiang Mai on my Contiki tour turned out to be one of my favourite parts of the trip. Bike party?
I felt like riding a bicycle was the best way to truly see the city, inside and out. Had I been driving, I would have missed out on the details and wouldn't have experienced it with all of my senses. Had I been walking, I probably would have covered about one tenth of the ground in the same amount of time.
Biking was the best option.
We started out in quiet back streets before heading out along the Ping River and crossing various bridges. From there we passed through back alleys and rode by ponds with lilypads larger than my bed. My favourite portion of the day was when we left town all together and found ourselves riding through rice fields and fruit orchards out in the Chiang Mai countryside. At one point, I felt completely alone as I was swallowed up by the lush forest and couldn't see my fellow bikers.
We also made a few stops along the way. First up, was a visit to a co-operative where we watched women working and explored the workshops. Next, we stopped at a riverside bungalow to taste some delicious fresh fruit and re-energize before biking through some uneven terrain in rural Chiang Mai.
One of the best stops was at a simple rice field which was basically in the middle of nowhere. There wasn't anything in particular to look at, but we had fun running and jumping over giant mud puddles and posing for photos in the field. Lastly, we made a stop at Wat Chedi Liam.
Here are some of my favourite photos from the day;
 Let me tell you, taking these photos while riding a bike was not the easiest of tasks.

This trip was made possible by Contiki. 
All thoughts and opinions are my own.
Visit Chiang Mai on your own Asian Adventure.
Have you ever been on a city bike tour?