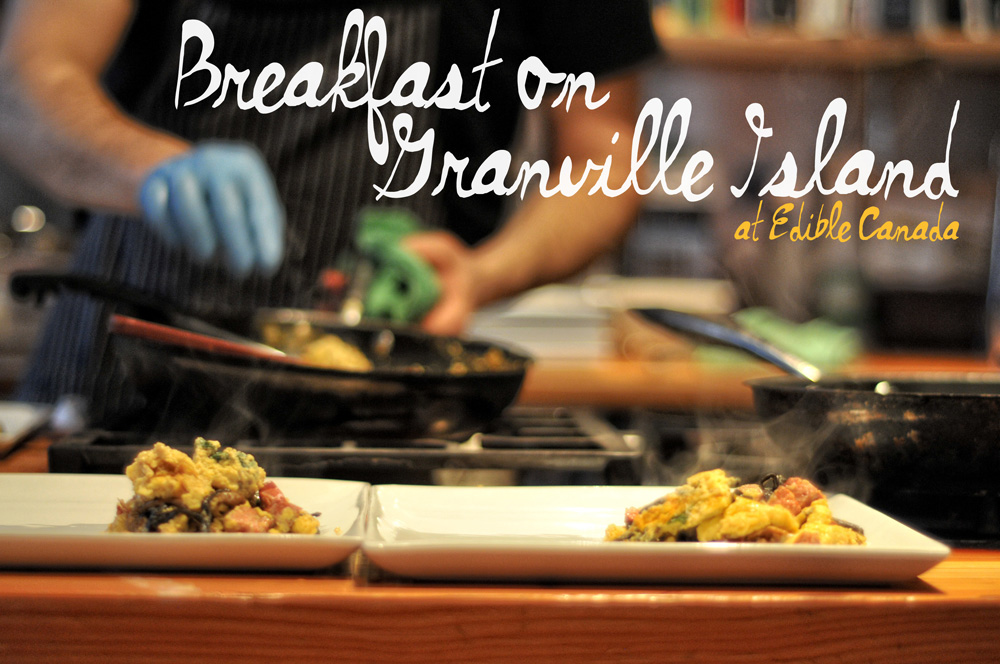 On my last day in Vancouver, the impossible happened. It snowed.
It snowed and snowed all night and morning and it actually stayed on the ground, rather than immediately melting as it normally does in this Pacific Coast city. While I was happy to frolic in the winter wonderland, I was equally happy to warm up with some hot breakfast inside at Edible Canada on Granville Island.
As Canada's largest culinary tourism and locavore retail company, Edible Canada is dedicated to sourcing the highest quality culinary products from coast to coast for their customers.
We watched (and assisted with) our breakfast being cooked right before our very eyes. The "kitchen", an open chef's corner, was directly in front of our dining tables, and we got to see every part of the cooking process. A breakfast of free range scrambled eggs, wild boar bacon, stuffed French toast and pork & apple sausage was served hot and fresh.
After breakfast, it was back out into the snowy streets of Granville, to explore the surrounding shops and public market.
Here are a few of my favourite shots:
This trip was made possible by
Destination British Columbia and Tourism Vancouver.
All thoughts and opinions are my own.

What's your favourite breakfast food?