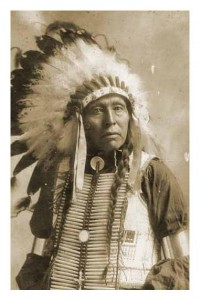 My actual first name is Seattle; full name, Seattle Dredge. I was named after Chief Seattle (or Seathl) of the Duwamish, and I have Native American Heritage. I have always been very interested in Native culture and history, and I love reading the words of the man that I was named after.
To make a long story short; Seattle was born to a mother of the Squamish tribe, and a father of the Duwamish tribe. He inherited his father's position as chief, and became a brave leader. By the 1850's settlement had begun to grow and prosper and the name of their land was changed from Alki Point to Seattle. More and more settlers began to move into the area, and in 1855 the governor of Washington Territory called together the tribes to propose a new treaty. This treaty would send the tribes to a reservation and their lands would be controlled by the government. Although Seattle continued to council for peace, and delivered an inspiring speech, the conflict lasted many years. Finally Seattle moved onto a small patch of land on the western side of Puget Sound where he spent the remainder of his life. It is truly a heartbreaking story, and if you ever get the chance to read his entire speech, you should take it.
Here is a list of some of my favourite quotes from Chief Seattle, starting with my most favourite that I would love to get as a tattoo somewhere in the future.
1. "Take only memories, leave nothing but footprints."
2. "Earth does not belong to us; we belong to earth."
3. "There is no death, only a change of worlds."
4. "Humankind has not woven the web of life. We are but one thread within it. Whatever we do to the web, we do to ourselves. All things are bound together. All things connect."
5. "What is man without the beasts? If all the beasts were gone, man would die from a great loneliness of spirit. For whatever happens to the beasts, soon happens to man. All things are connected."
6. "There is no quiet place in the white man's cities, no place to hear the leaves of spring or the rustle of insects' wings. Perhaps it is because I am a savage and do not understand, but the clatter only seems to insult the ears."
7. "The whites, too, shall pass – perhaps sooner than other tribes. Continue to contaminate your own bed, and you might suffocate in your own waste."
8. "Day and night cannot dwell together."
9. "Today is fair. Tomorrow may be overcast with clouds. My words are like the stars that never change."
10. "The white man will never be alone."
11. "We are part of the earth and the earth is part of us."
12. "My people resemble the scattering trees of a storm swept plain."
13. "The Indian's night promises to be dark. Not a single star of hope hovers above his horizon."
14. "How can you buy or sell the sky, the warmth of the land? The idea is strange to us. If we do not own the freshness of the air and the sparkle of the water, how can you buy them? Every part of the earth is sacred to my people."
15. "Whatever befalls the earth, befalls the sons of the earth. If men spit upon the ground, they spit upon themselves."