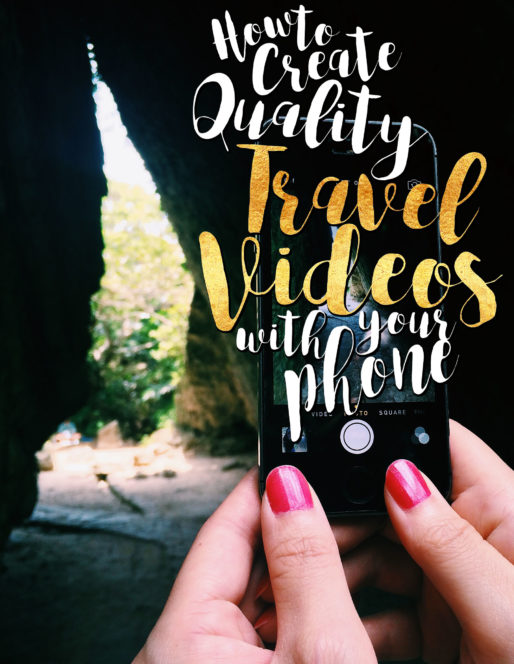 Until I recently got a new camera, my previous DSLR (an 8 year old Nikon D300) never had a video recording component, so I always had to improvise when I wanted to make travel videos.
I am partial to a good GoPro video, but I always find myself coming back to shooting video with my phone, for a more traditional feel. I've now filmed over a dozen videos that were entirely shot and edited on my phone alone, and most people have never suspected that they weren't filmed with a regular camera.
I love making travel videos, so I've come up with some pretty great techniques over the years, and want to share them with you, just in time for the #travelcutsDOC2016 travel video contest–where you can win $5000 in travel (learn more at the end of this post)!
Of course, nothing will quite beat the quality of a top of the line video camera, but not everyone has the luxury of purchasing one of their own. This post is simply a guide on how to create quality travel videos with something that almost everyone has–a smart phone..
Sometimes the best camera is the one you have with you.
Choose the Right Phone
I'm on team iPhone, but everyone has their own preference. If you use an Android, and would be more comfortable with that, go for it (just keep in mind this guide is referencing iPhone settings, so you may need to figure out your own settings).
Most phones these days are made with high quality cameras with high megapixels and great resolution.
Change Video Resolution
This is one tip that most people don't know about, and probably would never even think of–but it'll change your video quality drastically. Go into settings, scroll down to 'Photos & Camera', click on it, and then select 'Record Video'. Choose the bottom option (likely 1080p HD at 60 fps). This option will take up more space on your phone when you record a video (200mb per minute), but the quality will be worth it. Go back and do the same for 'Record slo-mo', at 720p HD at 240 fps.
Voila, your quality is already on par with a DSLR.
Shoot Horizontal
Don't you hate it when you watch a YouTube video and there are two black rectangles on either side of the screen? This happens because the person was holding the phone vertically, as if they were taking a selfie.
Rotate the phone 90 degrees, and hold it like you would hold a regular camera. The screen becomes wider, and your video will now be displayed as a horizontal rectangle.
Also, turn the grid on in the settings (same place you changed the video resolution). This will show you that the horizon is level, and your videos will never be lop-sided.
Use a Tri-pod
A tri-pod will keep your phone steady and still while you're filming, and allow you to move around and watch the subject. You can always pick it up and move it if you need to, but it can be set back down with little effort.
I use a GoPole Base Tri-pod with a GoWorx FreeRide Phone Mount (which also pairs perfectly with the GoWorx GoKnuckles for a handheld base).
Don't use Zoom
Using the zoom on your phone will drastically decrease the quality, to the point of making it blurry and pixelated. It is best to avoid this, and simply move yourself to get closer to your subject. If you're worried about being shaky while moving, just stop recording while you move, if you can.
Shooting Mode
The regular video mode is perfect for your main shots, and good to switch back and forth with between the other modes. It's good for action shots, landscapes, portraits, interviews, indoors, outdoors, and just about everything else in between.
Slo-mo has a great dramatic effect, and tends to fit well with most types of music. It's good to mix with regular video, or even do a video entirely in slo-mo. A shot of someone diving into water will probably look awesome, but a shot of someone typing on their laptop might not be so interesting.
Here is the first video that I shot entirely in slo-mo, on my iPhone:
Time lapse is great for artistic wide-angle scenes, like clouds moving across a landscape, or traffic on a busy street, but needs to be used selectively. Remember to choose a subject that is already moving somewhat slowly, as it will be sped up substantially in the final product.
Did you know that you can still take a photo while recording a video? Click the white button beside the red one, and the screen will flash like the shutter.
Lighting
It's always best to use natural lighting, so just try to be aware where your light is. Pay attention to the direction that it hits your subject, and never point your phone directly at the light, unless you're making a silhouette. Smart phones do not adapt the light in an attractive way, as DSLR cameras do through a lens. Also, keep an eye on your own shadow, so it does not fall on the subject.
If you're going to use synthetic light. I'd suggest a Lume Cube, it's super bright and has an app to connect to your phone. As a last resort, ask a friend to shine their phone's flashlight on your subject, rather than using the one on your own camera.
Exposure Lock 
Tap and hold before pressing record. This will set the focus where you want it, not where the phone chooses. You can also change it during filming, for example, focus on a sunset in the background first, then focus on a silhouette in the foreground.
Lenses
Don't be afraid to try out a detachable phone lens (basically mini versions of the ones that you put on your DSLR). For example, the Olloclip 4 in 1 iPhone lens gives you a 10x macro, 15x macro, wide angle, and fish eye lens–which can make for some drastically different effects in your filming.
Cut Clips First
If you're cutting slo-mo clips, make sure you drag the thick white lines to the ends, to make sure that it is slo-mo all the way throughout the video. Otherwise it speeds up at the beginning and end.
Post Production
I like to keep it simple, and my favourite post production app is iMovie. In the past, I paid for and downloaded the app because I liked it so much, but luckily these days it comes pre-installed on your iPhone. It has everything you need to edit a travel video together, including trimming clips, transitions, effects, titles, music, and more. It's straightforward, easy to use, and can all be done right on the phone that you used to shoot the clips to begin with. Hassle Free.
Here is another travel video that I shot on my iPhone and edited on iMovie:
There are plenty of video editing apps out there, so if you're hoping for a little more creative editing (filters, etc.), just browse around the app store and try out different apps to see what you like. Although, I always find that less is more when it comes to editing travel videos.
Win $5000 in Travel With Your Travel Video

So, now that you know how to make a great travel video, here's an amazing reason to start shooting right now..
The travelcuts Travel Docs Film Fest will be taking place October 6 in Toronto, and you have between August 18th and September 15th, 2016 to submit your very own travel video into the contest.
Last year, travelcuts asked travellers to submit a short video of their travels, for the chance to win a $2,000 travel gift card and some great camera gear. This year, they're ramping things up and giving you the chance to WIN $5,000 IN TRAVEL!
Contest info:
Videos should be 2 minutes in length. Anything less than 1:30 will be disqualified and anything longer than 3:00 will be disqualified.
Ideally, videos will be 1080p and H.264 MP4 (best quality and most compatibility).
Entrants will be required to upload their videos to YouTube.
Entrants must be Canadian (excluding QC) and must be 18+ (but in order to attend the event, they will need to be 19+ as of October 6, 2016).
All music used in videos MUST be appropriately licensed–Use only public domain content or original pieces. If videos do use copyrighted music, licensing proof is required.
The Film Fest will be taking place October 6 from 7 – 9 PM at BrainStation, 460 King St. W., in Toronto.
Your options are practically limitless. For a prize this awesome, they want you to have advance notice and get the best shots possible. So, bring a camera with you wherever you travel this summer, and take the best footage of your life.
Don't forget, video submissions open on August 18th. Good luck and happy travels.
It'll be worth it.
NEED A LITTLE INSPIRATION?
See some of these amazing videos from 2015…


And a couple more of my own iPhone videos..