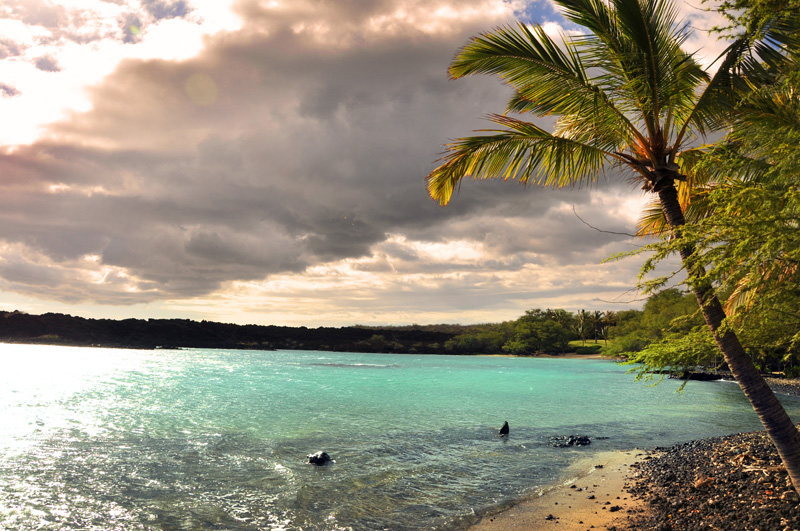 With a couple of hours to spare between activities I decided that it was the perfect time to do a little exploring. I didn't have a destination in mind, I was all by myself and I just wanted to drive aimlessly to see what I could find.
I took a right out of Makena Resort and hit the road with a sense of adventure. The scenery immediately changed from Hawaiian luxury to Maui outback as the road became dusty with red clouds and the trees dispersed into desert shrubs. Coconut and fruit stalls dotted the roads and Jeeps strapped with surfboards parked outside of beach access points.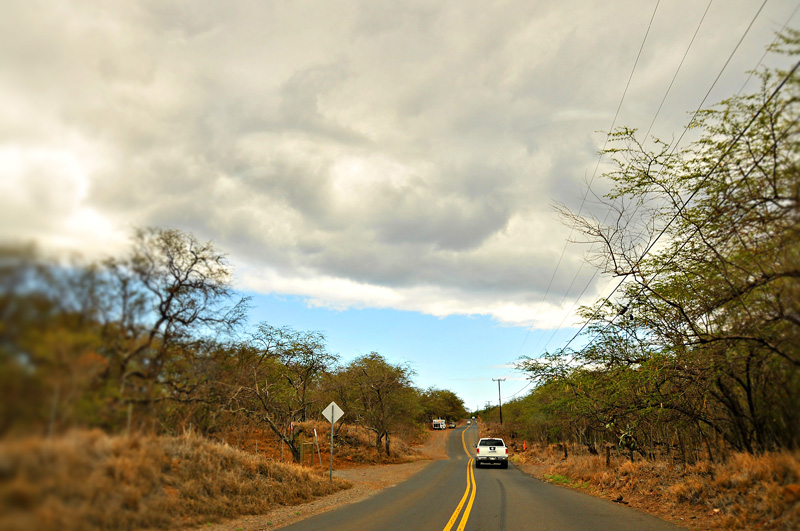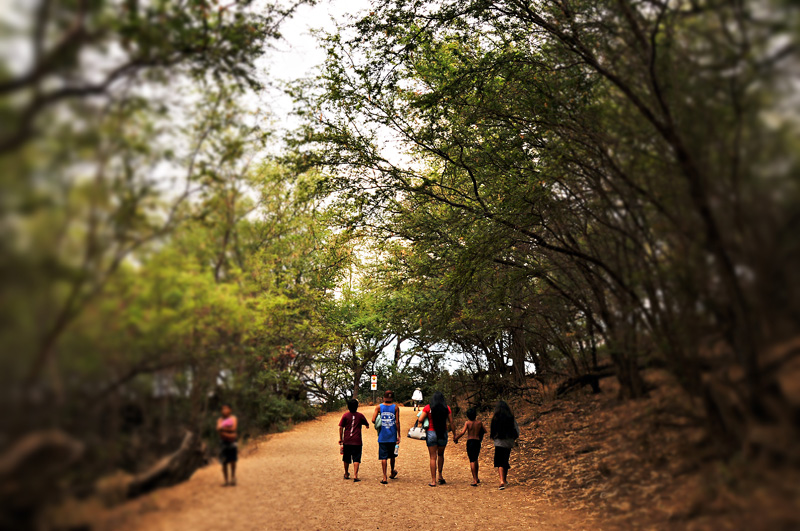 I made a couple pit stops at some of the different beaches along the way, including Big Beach and Little Beach. I trekked through the soft sands of Big Beach and climbed the rocky outcrop in the far right corner. I made my way up the cliff-line and was rewarded with an amazing view of the beach. Next, I wandered through the small forest and emerged onto an ocean front rock face that overlooked Little Beach.
This is also the moment that I like to call "the time that I accidentally wandered onto a nude beach". Directly to my right was Little Beach. What I didn't realize until I got there was that Little Beach was in fact a nude beach.
Yes–those are naked people in the photo below… no, it doesn't zoom in any closer than this ;]
What I saw shocked me, and even as a girl, made me cross my legs. A group of men were surfing in the nude.
Yes.
Surfing.
Naked.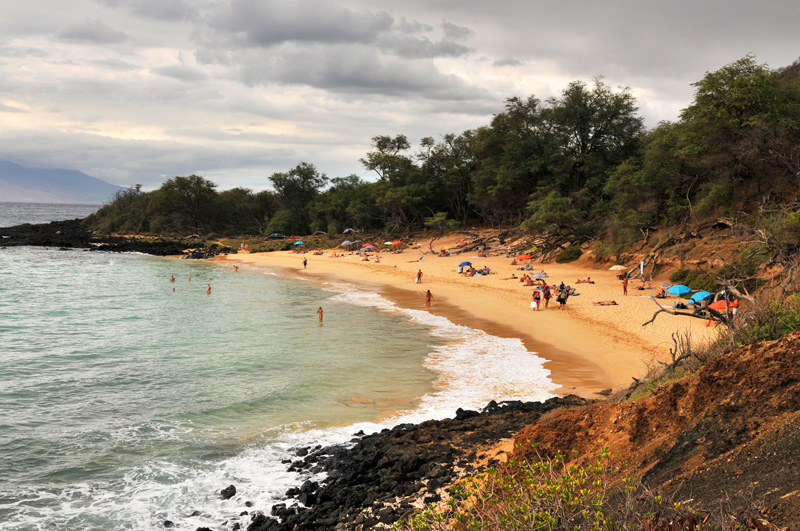 Big Beach for the bashful and Little Beach for the brave
These beaches were well worth the closer look (well–not THAT close) and I would definitely recommend adding them to your itinerary. However, they were a bit crowded and commercial for my overwhelming wanderlust and I continued onward.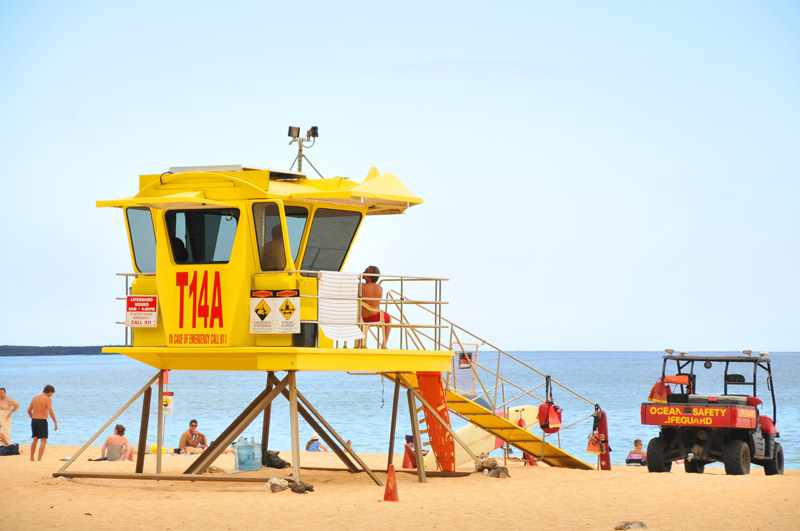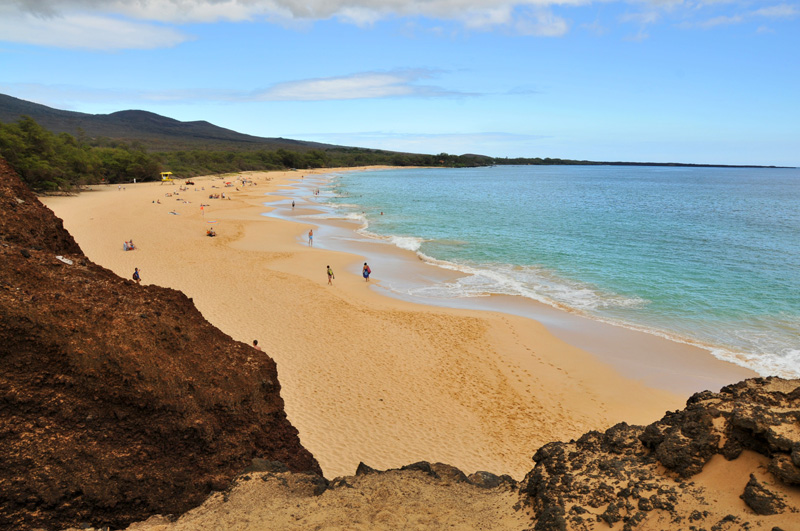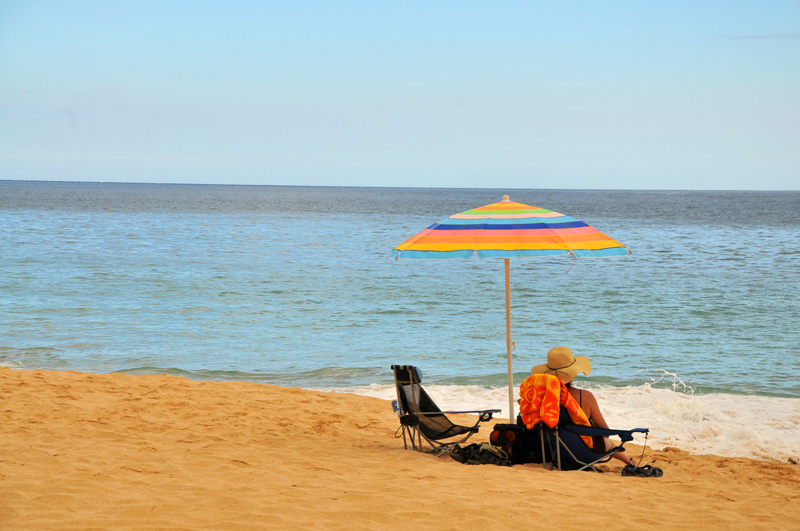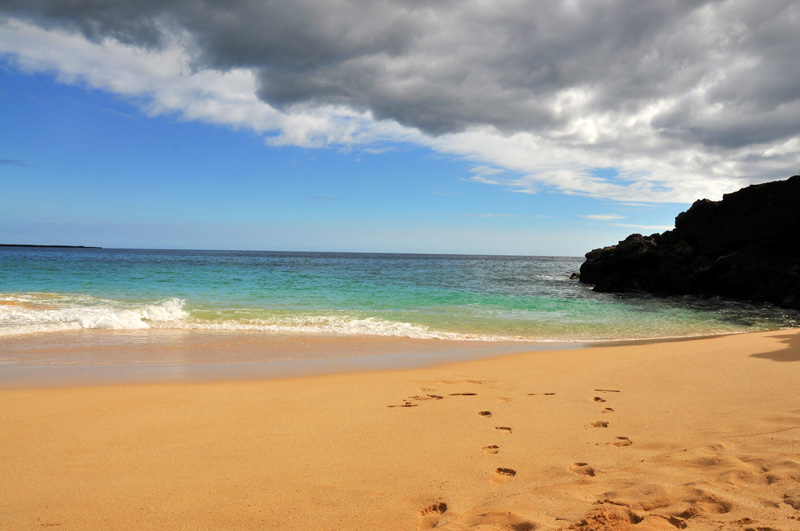 The single road lead me in and out of small towns and lush green residential areas that lined the shore as Hawaiian island reggae played over my radio. It swayed and dipped into small Bays, providing picture-perfect views and what I could only imagine to be ideal roadside stops.
Vegetation thickened near the shore and vines where leafy branches draped over the road. Brightly coloured flowers sprouted out of roadside fences and layered walls and gardens. I passed pedestrians walking barefoot down the road, heading to the beach with their towels and boards.
Hills in the road became so steep that I could not even see the pavement below me as I passed over a bump. I was slightly nervous on the narrow pathway so I slowed down and hoped that no oncoming traffic wouldn't spoil my relaxing afternoon Maui cruise.
I continued on.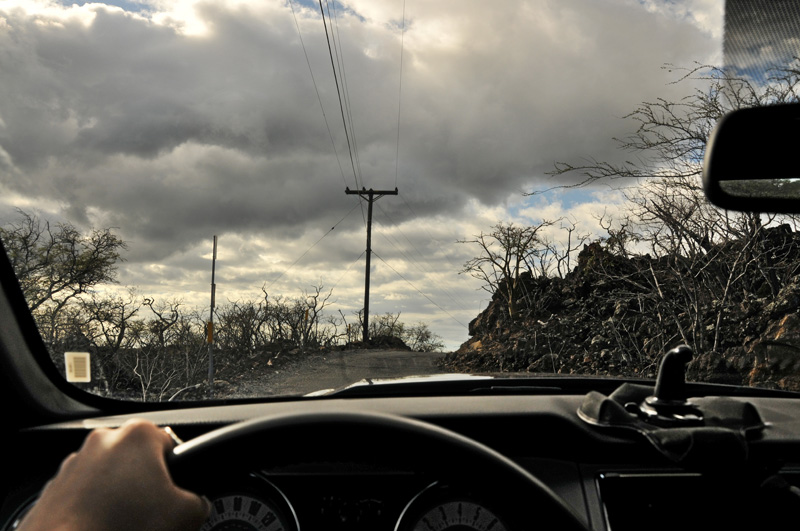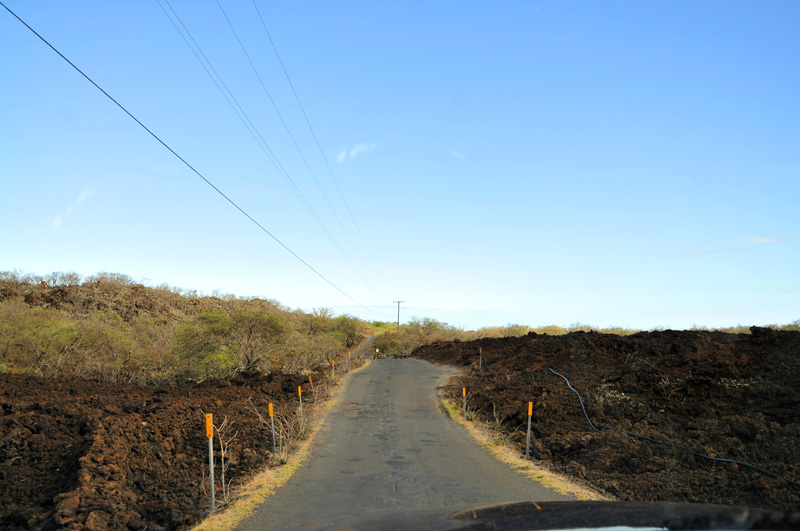 With a few last twists and turns in the winding road I had reached a turning point. Many signs posted were warning me that the area beyond this point would become dangerous and provide hazardous driving conditions. Anyone in their right mind might have taken this opportunity to turn around.
I smiled, shuffled forward in my seat out of pure excitement and drove onward.
For the first five minutes I literally sat on the edge of my seat, irrevocably delighted by the fact that I had suddenly found myself driving in the middle of a (geologically speaking) recently created lava flow. With "freshly" hardened and treacherously sporadic lava formations from 1790 surrounding both sides of my car, I was in geological heaven, and it reminded me of driving in Iceland.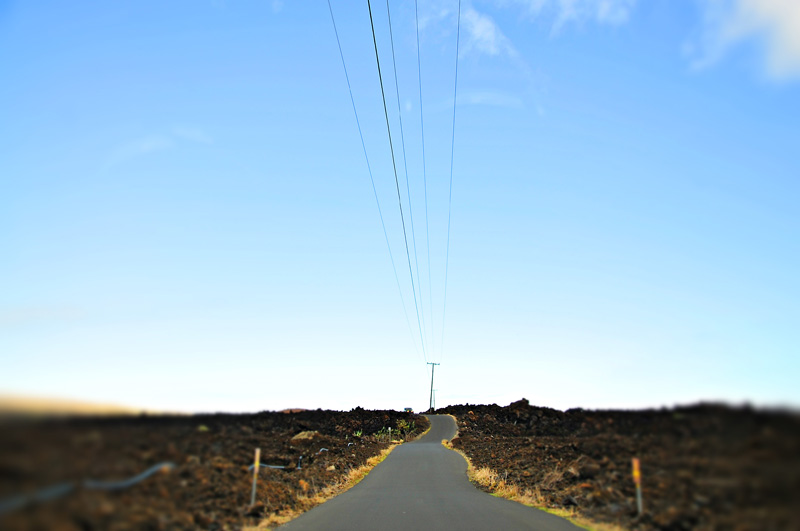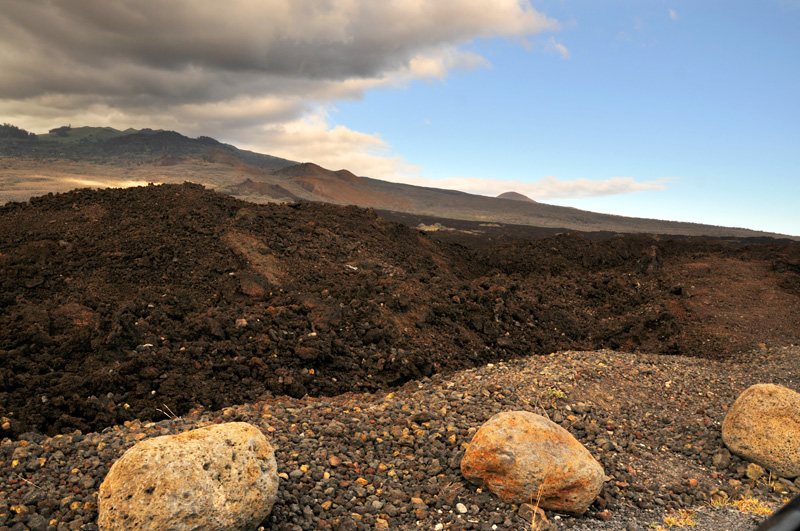 The lava flows in question lie 2.5 miles south of Makena and erupted from a prominent spatter cone on the side of the volcano, rather than from the crator of Haleakala. The flows spread outward and built the promontory of Cape Kina'u and La Perouse Bay. The public road that I was driving on leads directly to La Perouse Bay, and no further, but there is a difficult hiking path that extends further south called the King's Highway.
My mouth was hanging open for the whole drive and I could hardly keeps my eyes on the narrow barely-paved road in front of me. I found myself talking out loud, continually saying "Oh my god, oh my god", in utter disbelief at my surroundings.
I bumped along in a steady pace as my car conquered lose gravel, spiky lava rocks and the thinnest roads I have ever seen and there weren't even any shoulders. Did I mention that I was driving a brand new two door Mustang? This certainly proved to make the drive feel that much more challenging.
Suddenly my little geo-daydream came to a grinding halt. Literally.
My car had found itself in a rousing game of lava-field-chicken, and I was in a stand-off against a large open top Jeep. Unsure of how to proceed, my competition veered into a shallow side sweep on the road providing just enough space for my car to squeeze by. I waved them a thank-you and continued along.
This happened about a dozen more times before I reached the end of the road. There were several spaces on the road that allowed cars to pull off to let traffic through. I had to survey the stretch of road ahead of me to see if any traffic was in the distance and judge whether or not I could make it to the next stop. It became a sort of a game.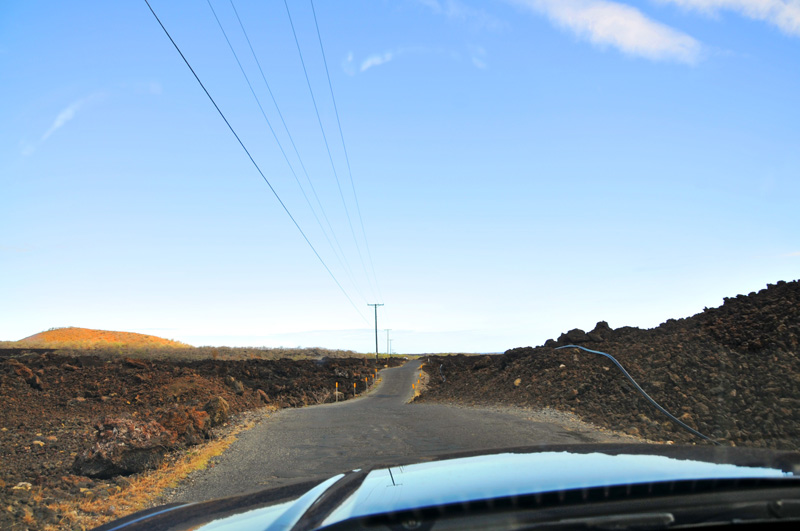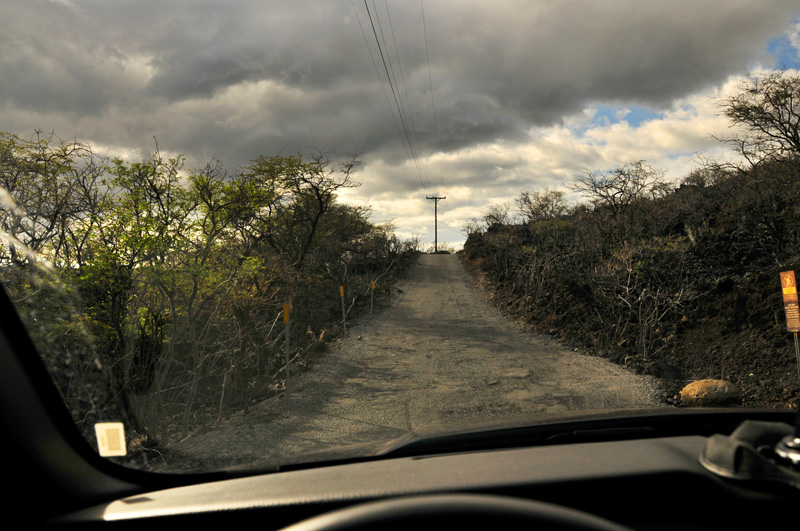 Driving became even more winding and hilly as I grew closer to the end and shrubs and vegetation began to close in on the roads. The looming clouds overhead really added to the environment and gave it an ominous feeling as I made my way through the dark flows.
Eventually I pulled into the parking area of La Perouse Bay. The six parking spaces by the road were full, so I had to pull down an even bumpier path that lead to a larger parking area. It looked like the entire earth was moving as I drove down that path.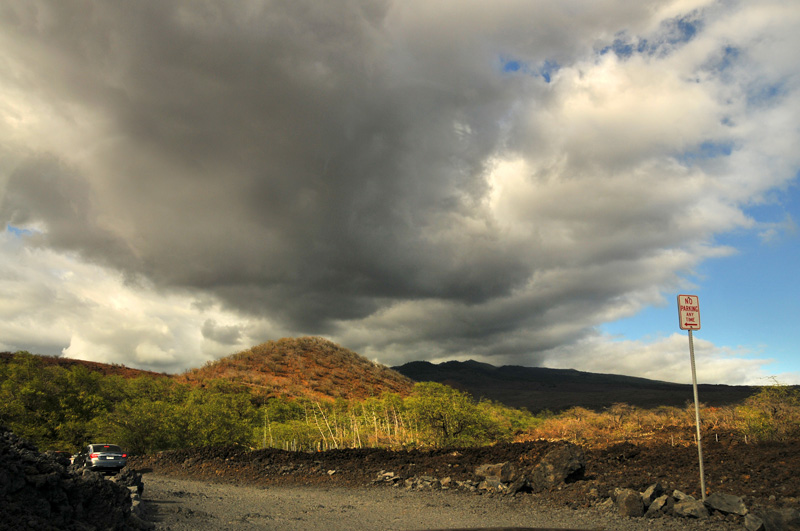 Finally, I stepped out of the car and admired the beach in front of me. It wasn't like any of the other beaches that I had seen on the island. There was no white sand–in fact there was no sand at all, the shore was lined in large black volcanic rocks. There were no palm trees swaying in the breeze and there were no pasty tourists bathing in the sun.
There were a couple of other people standing around that had come for the view, but eventually got in their cars and left again. I wanted to explore.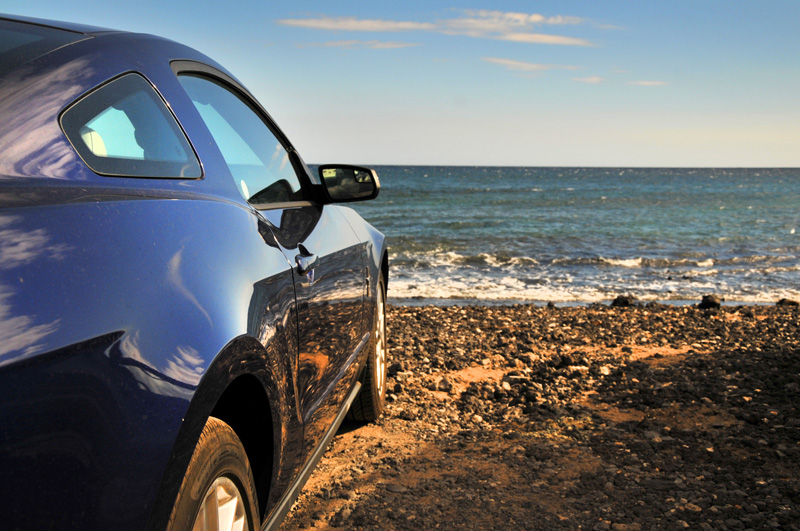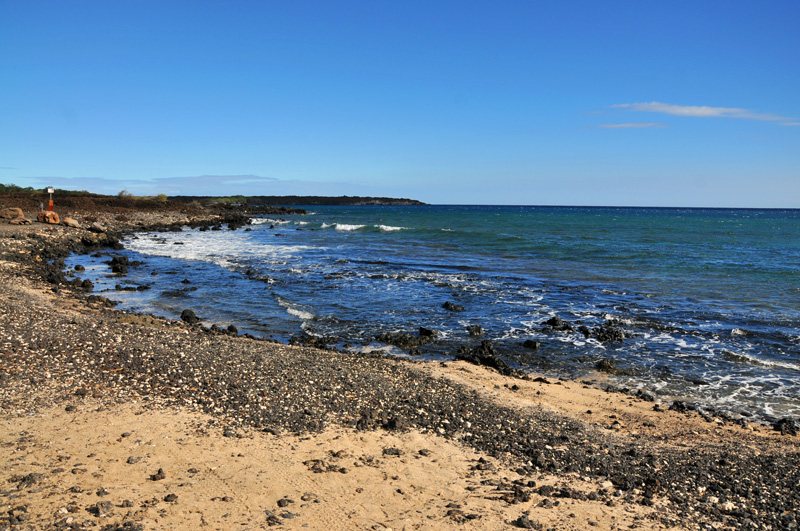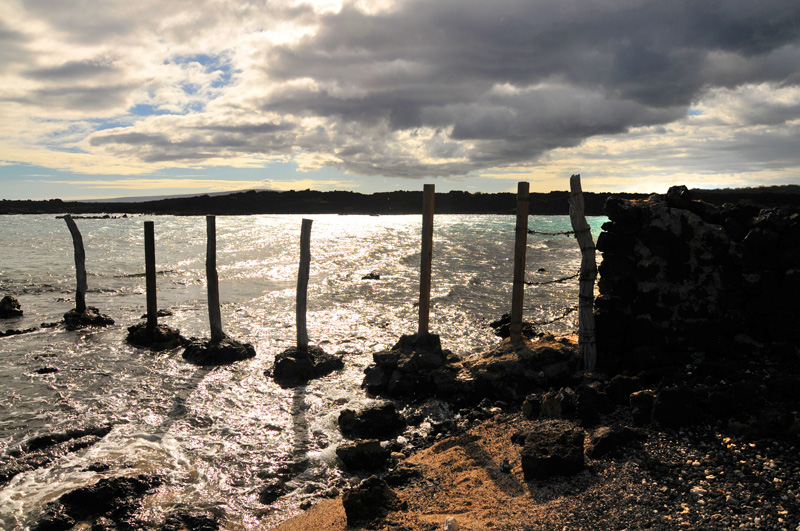 Noticing a fence on the edge of the beach, I wanted to see what laid beyond it. As I got closer I noticed that it was lined in barbed wire and jutted out into the water to discourage people from crossing it. I knew that I could keep myself safe and promised in my head not to venture too far–but I just had to cross it.
I shuffled my way along the ledge and popped through a small opening. Success.
The beach beyond the fence was covered in a layer of dead coral. I picked up small pieces and observed all of the tiny details and ruts in the surface before placing them back on the beach. I walked along the shore for awhile, noticing a slight change in the hue of the water, it was becoming lighter.
Then, I looked up. A single palm tree sat on the corner of the beach, and around the bend appeared a fluorescent blue lagoon.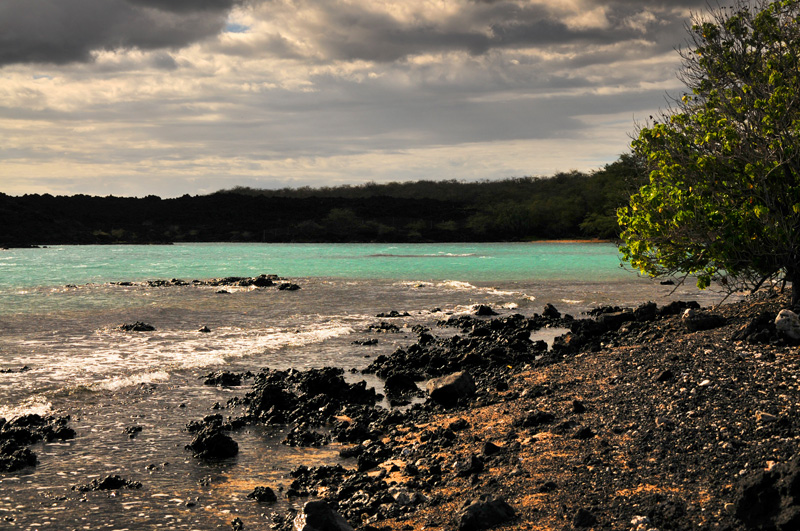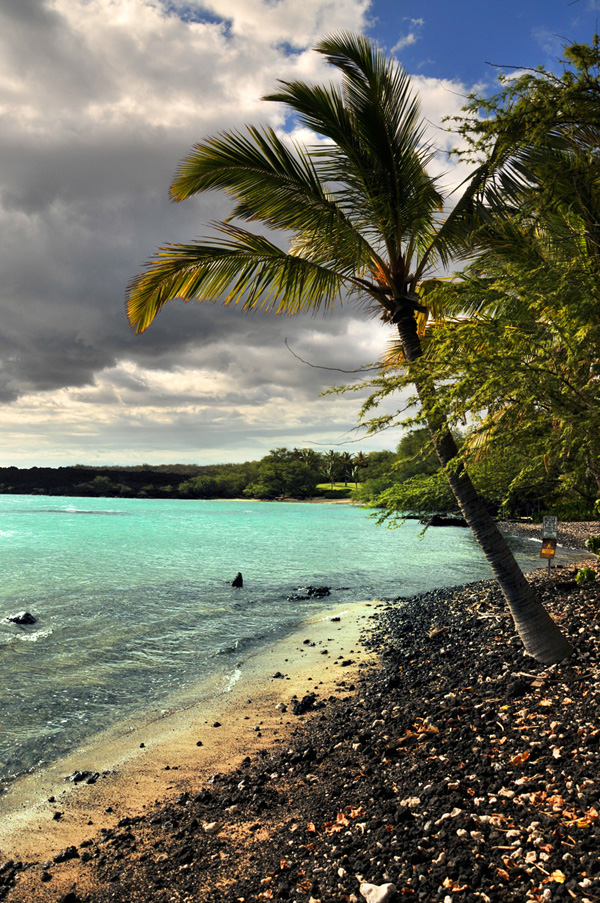 I padded through the rocks and coral and stopped beside the palm tree in shock at the view that I had just stumbled upon. The black rock beach curled around a large Bay of milky turquoise water that was glistening in the sun that was peaking through the afternoon clouds. Every time the sun emerged, the water would glow brighter and somehow become even bluer than before.
I never passed that point, I simply admired the hidden lagoon from afar and didn't want to spoil its untouched beauty. It had to be one of the most rewarding views in all of Maui, if not just for the fact that I had driven through a lava flow to get there.
I was truly ecstatic with my decision to explore and couldn't have been happier with the accidental discovery of that little blue lagoon in La Perouse Bay.
How to Get There: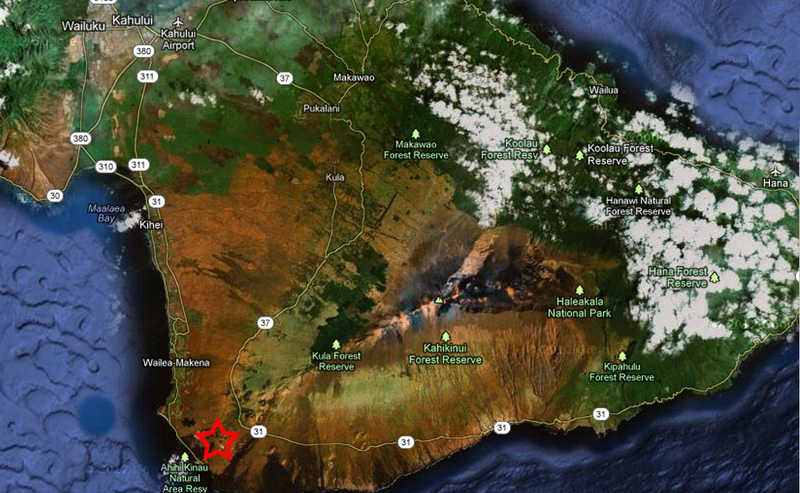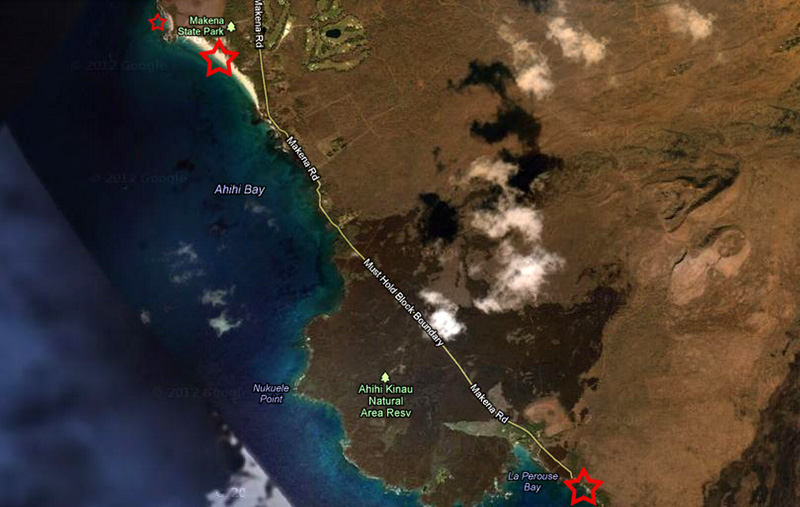 —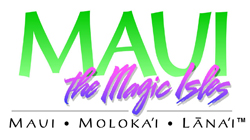 This trip was made possible by the Maui Visitor's Bureau;
all thoughts and opinions are my own.