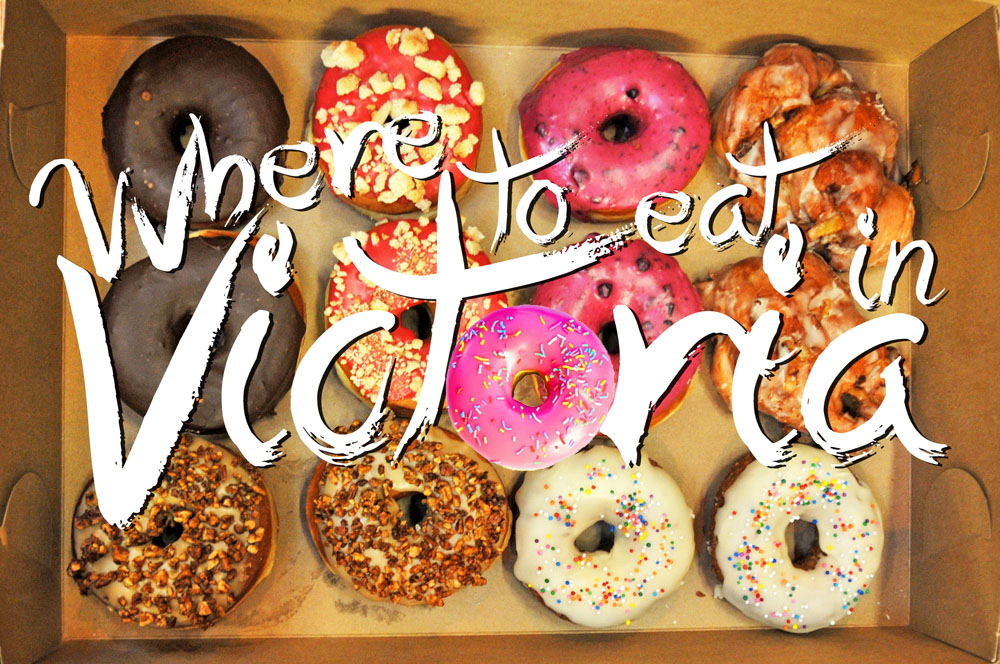 I've always loved eating on the West Coast, because it means fresh fish, tons of organic ingredients, and a whole bunch of dishes I had previously never heard of. It feels like British Columbia is always months ahead of the rest of the country when it comes to food trends, and I recently discovered that Victoria is one of the cities at the head of the race.
Not only is Victoria home to more than one thousands restaurants, but it is also host to Dine Around & Stay in Town, which happens every February and March. I was lucky enough to attend 2015's event and visit a number of popular dining locations for breakfast, lunch, dinner, drinks & dessert. I've rounded up a few of my favourites, and highly recommend the following locations on your next visit to Victoria–whether it be during Dine Around, or throughout the year.
Prepare your stomach to grumble…
Breakfast
Willie's Bakery & Cafe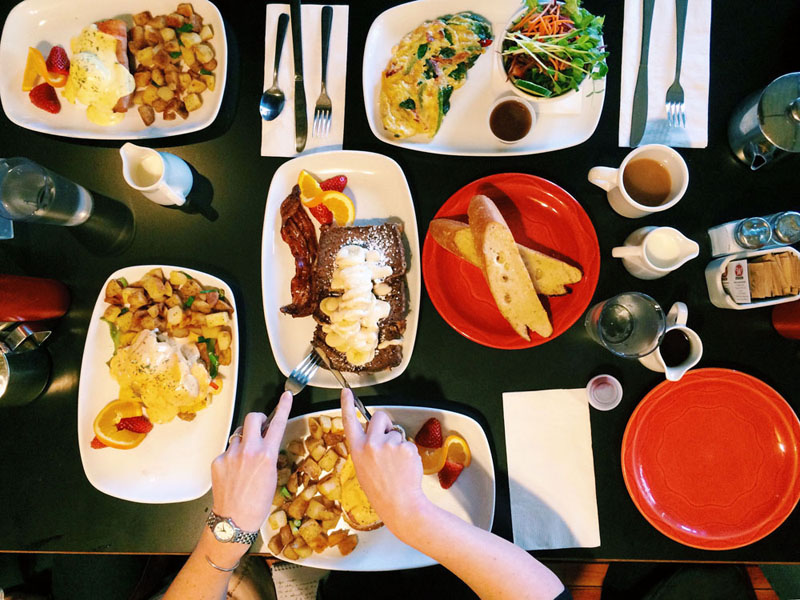 Willie's Bakery & Cafe is currently in the process of creating their new menu, but I had the chance to enjoy some items from their original menu. I ordered the vegetarian omelette with basil pesto, spinach, roasted peppers, sun-dried tomatoes & feta, with a side salad and baguette. I also tasted the famous eggs Benedict, and the mouthwatering banana pecan French toast with freshly-baked, banana-pecan bread topped with maple cream cheese drizzle.
The restaurant itself itsn't too large, but is homey and comfortable. I dined in the enclosed heated patio, which gave a bit of privacy from the main room. Their bakery products are made fresh daily at Willies on Johnson and are made available at other Cafes within the City as well as at The Museum Café.
Second Crack Coffee Lab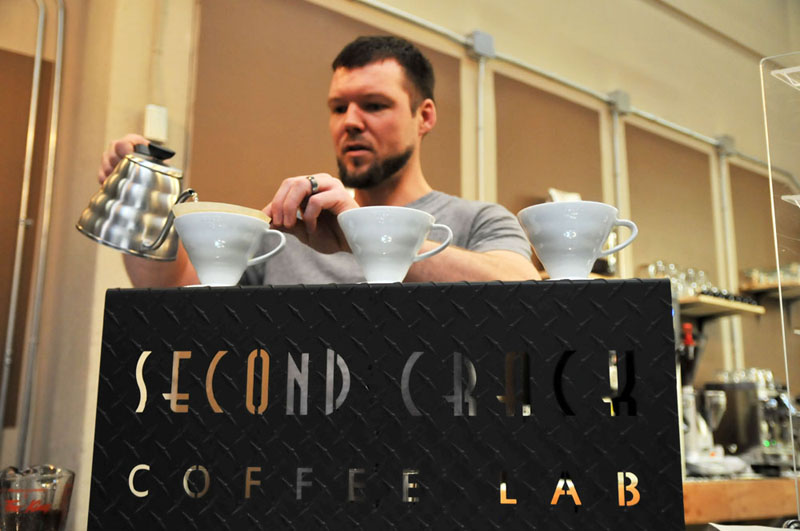 I'm not a coffee drinker (I'm an avid tea fan), but I couldn't help but taste some of the blends at Second Crack. And crazily enough–I actually enjoyed them. Don't get me wrong, I'm not hopping on the bean wagon, but I happily sipped on those cups and could have had more.
'Second Crack is a stage in the roasting profile where the bean starts to reveal its full flavour'.
The cafe is a bit out of the way in an industrial neighbourhood of Vic West, but it's worth the trip over. It seems like the type of place that I would enjoy sitting for a couple of hours on my laptop, too.
Empire Donuts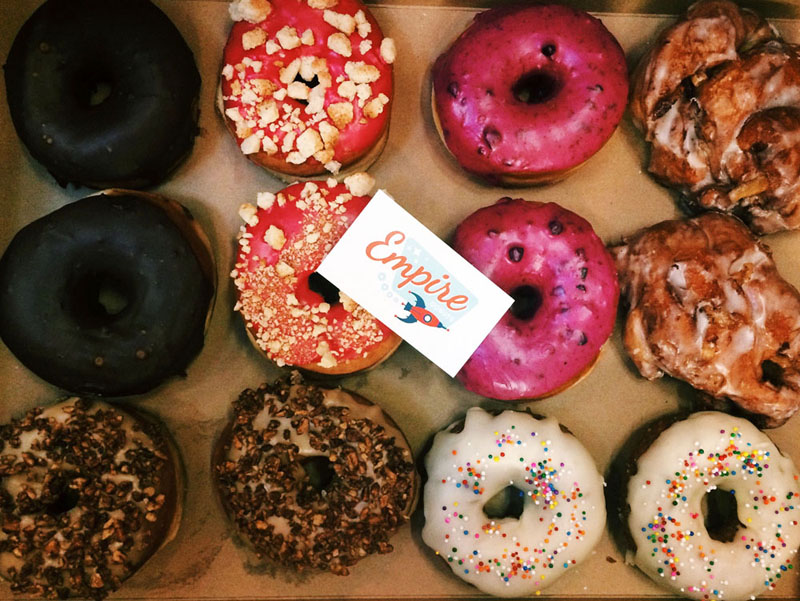 Donuts. Donuts. Donuts.
A simple, humble donut. Not fancy, just classic and heavenly with flavours that just make sense. All donuts are made by hand, from scratch, with quality ingredients.
Who doesn't love a good donut? The donuts from Empire Donuts are absolutely delicious, with flavours like Birthday Cake, Caramel Pecan Glazed, Maple Pecan, Apple Fritter, Blueberry lemon & raspberry. amaretti crunch and a whole bunch of vibrantly delicious other creations. It took all of my humanly strengths to not eat every single donut.
Fernwood Coffee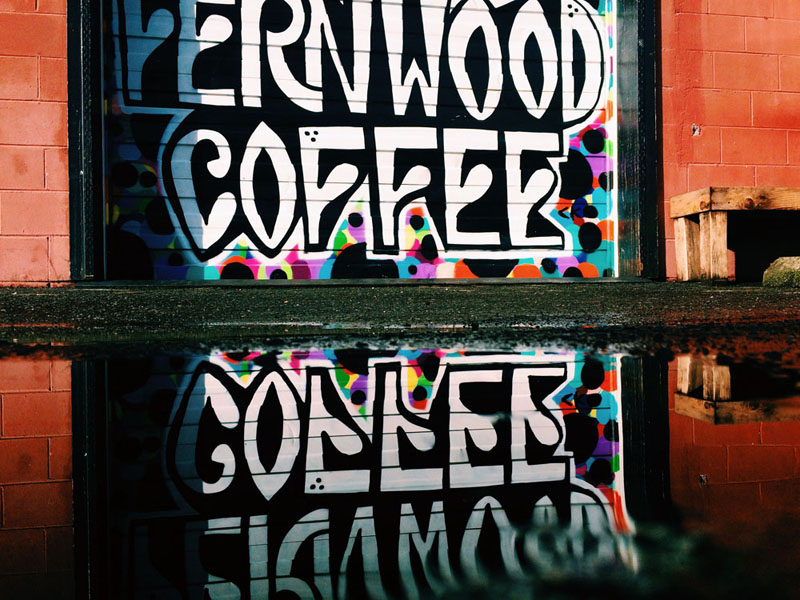 Again–I'm not a coffee drinker, but if you're looking for a good brew in the city, I would also recommend Fernwood Coffee. It's a bit easier to reach than Second Crack, which explained the long line up at the counter. I actually quite enjoyed their carbonated canned coffee–Cold Brew! They hand craft fine roasted coffees and serve the highest standards of espresso and filter coffee as well as offering a menu of locally sourced, in-house prepared food.
Bubby's Kitchen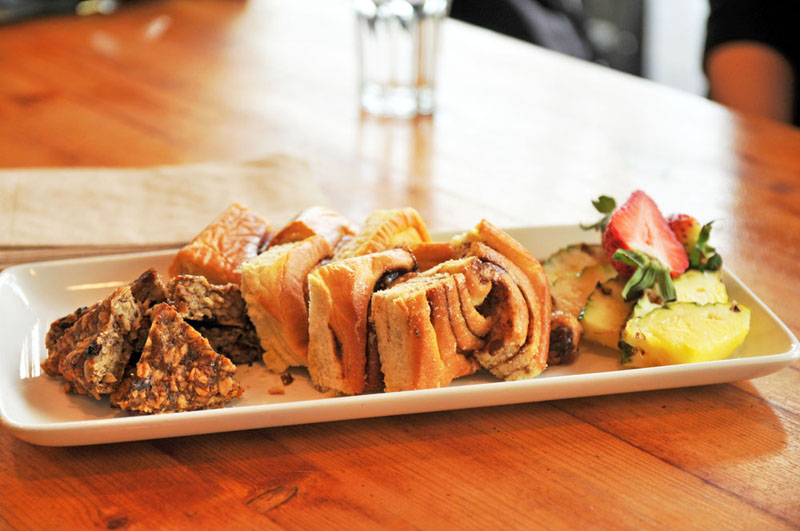 Bubby's serves only meats that are naturally raised without the use of any hormones or antibiotics. Their menu items are prepared fresh from scratch with use of local sustainable products wherever possible. The restaurant is well known for all meals, but is highly popular for breakfast among the locals. Bubby's is a rather small, unassuming spot, but definitely worth finding.
I recommend the cinnamon roll.
Lunch
Tacofino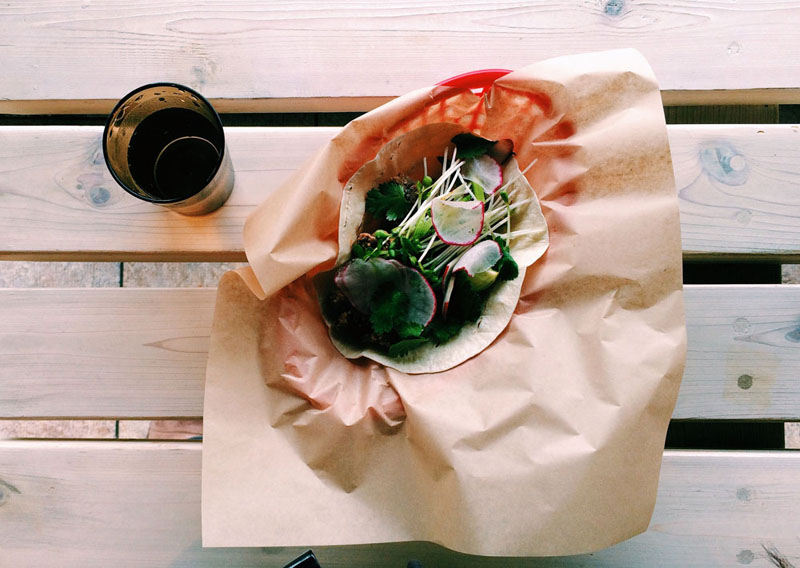 Tacofino was my favourite quick-stop meal in Victoria. With locations in Tofina, Vancouver & Victoria, this Californian Baja-style Taquería is a beloved local restaurant with a passionate fan base and a long line up of happy customers.
The menu has a few simple choices, but each dish far exceeds all expectations of your average taco joint. I looked at my crispy chicken taco thinking that I had accidentally been served some sort of abstract salad, and hesitated a moment before biting in. Suddenly, my tray was empty. Hands down, best tacos in town.
"Fast 'slow' food is a concept that really appeals to us, so we make everything from scratch and with love, but without the wait".
Victoria Public Market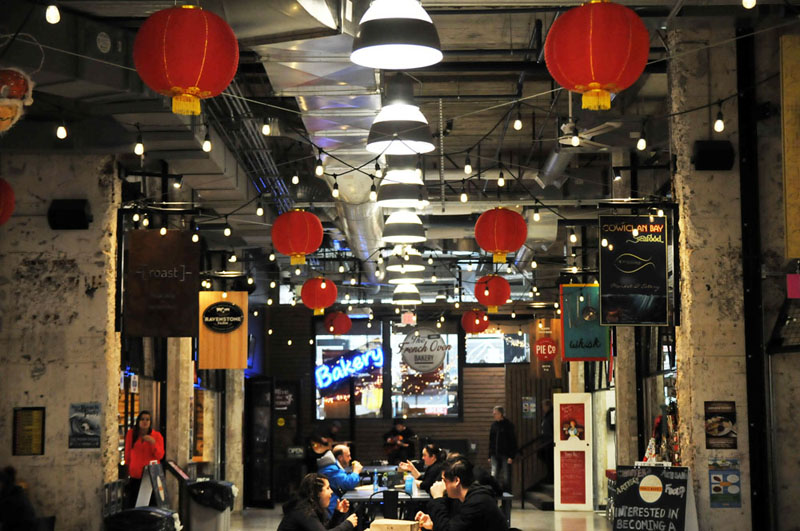 If you're not really sure what you want to eat, try heading to the Victoria Public Market. Here, you can wander from stall to stall, and either sample from each, or choose a large serving from one. It's like an upscale foodcourt, with professional chefs, and new recipes you've never heard of. It's interactive, communal, and a fun place to spend an afternoon.
The Victoria Public Market at the Hudson highlights local food producers at every level – farmers, fishers, butchers, bakers, cheese-makers, preservers, brewers, vintners, florists and restaurateurs.
Community Kitchen with Don Genova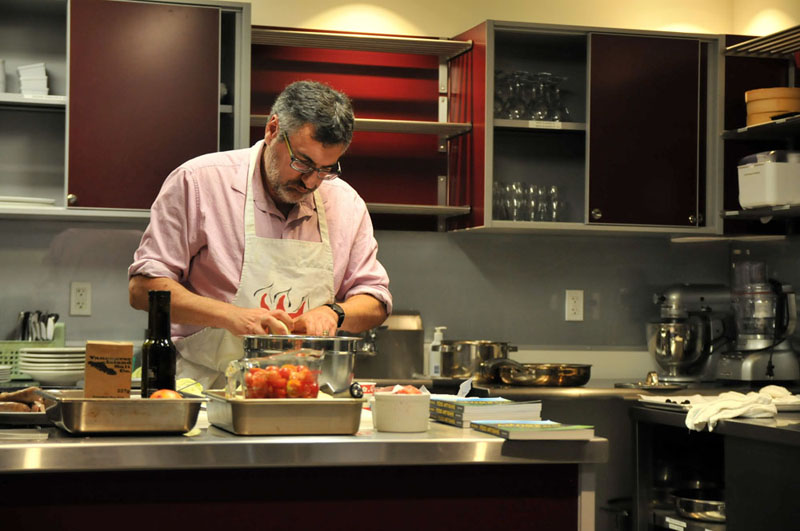 Also at the Victoria Public Market, Chef Don Genova gave us a personal lesson at the Community Kitchen on creating several incredible dishes, including Cow Bay rubbed Albacore tuna loin on a bed of blood orange and fennel slaw, finished with blood orange olive oil. Next, he made Ravenstone Farm spicy Sicilian sausage in a tomato salsa fresca on fresh Kilrenny Farm pasta, garnished with crumbled roast pork crackling. We got to eat each dish that came out, and then followed with dessert of Meringues from the French Over, served with Saanich Peninsula blackberry/raspberry compote and Cold Comfort Hazelnut ice cream.
It was a pleasure to chat with Don, and he told us how each ingredient was cultivated, and how to prepare each step along the way. Don is a Canadian journalist who specializes in writing and broadcasting about food and travel. In in words, he lives "on the southwest coast of British Columbia, in one of the most exciting areas in the world when it comes to food and wine".
Dinner
OLO by ulla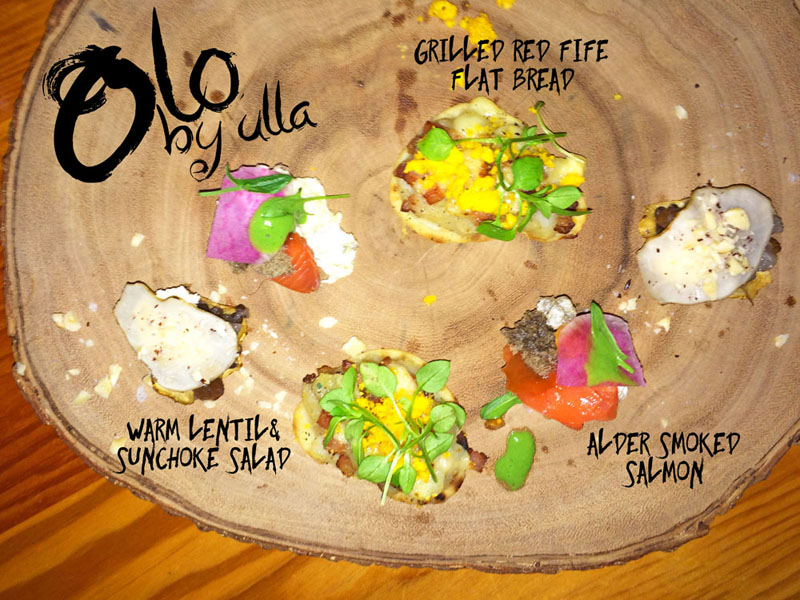 OLO is a great place to go if you're looking for a few different flavours in one sitting–think gourmet tapas. OLO is a farm to table restaurant, brought to you by the good folks at ulla restaurant. They've searched the globe for exciting techniques, scoured the island for the best products and have been toiling away in their test kitchen developing fresh ideas for your gustatory delight.
I had the chance to taste grilled red fife flat bread with potato, bacon, egg yolk and alpindon cheese; alder smoked salmon with buckwheat bannock, radish and sorrel yogurt; warm lentil and sunchoke salad with toasted mascarpone, raisins, hazelnut and sumac; beef tartar with wheat grass, cured yolk, pickled mushrooms, camelina oil and raw bread; and ling cod with brown butter chick pea purée, watercress, squash, mushroom and panisse. My favourite? The grilled red fife flat bread and ling cod.
AURA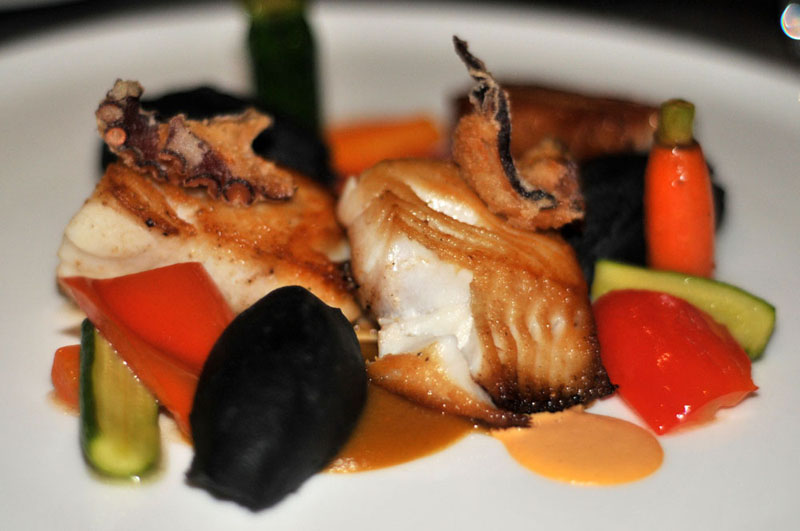 My main entrée at Aura, was probably my favourite overall dish of the whole trip. I had the broiled Sablefish with squid ink mashed potato, saffron caramel pork belly, "bouillabaisse" purée, crispy octopus and garlic rouille sauce. The fish was fresh and flaky, the potato was rich with a nice texture, and the best part was the extra crunchy octopus.
Executive Chef Takashi Ito is lauded for his long-standing culinary excellence and meticulously prepared dishes. Every creation is delivered with playful enthusiasm and exquisite creativity.
The presentation of each dish was well put together, and the taste was even better. I liked how the restaurant itself curved around corners, as it gave it a more intimate feel, and we only had a few neighbouring tables on either side. To top off a great evening of fine dining, all I had to do was catch the elevator up to my room at the Inn at Laurel Point.
Café Brio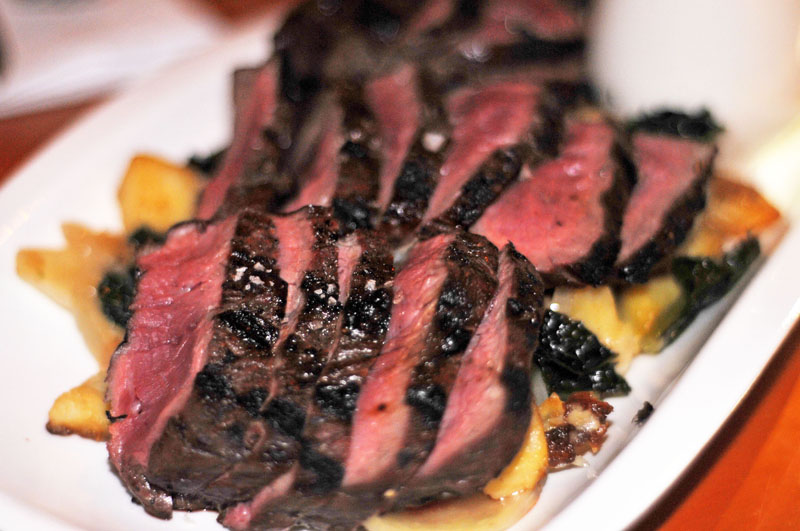 Cafe Brio was kind of like a breath of fresh air after a series of small-dished upscale meals around town, where I felt like I had to sit a bit straighter and keep my napkin folded on my lap. At Cafe Brio, everything felt a little more relaxed, and I could truly enjoy the meal without feeling judged for using the wrong fork. On top of this, the meal itself was fit for any of the best restaurants in town, and each plate could have served a small family. We enjoyed fresh breads, Romaine hearts salad, spaghettini with fresh tomatos, along with a fish, duck and beef dish. We did not leave hungry.
From land to sea Café Brio's menu focuses on regional products. Flavour pairing comes naturally when using products that come from the same region.
Il Covo Trattoria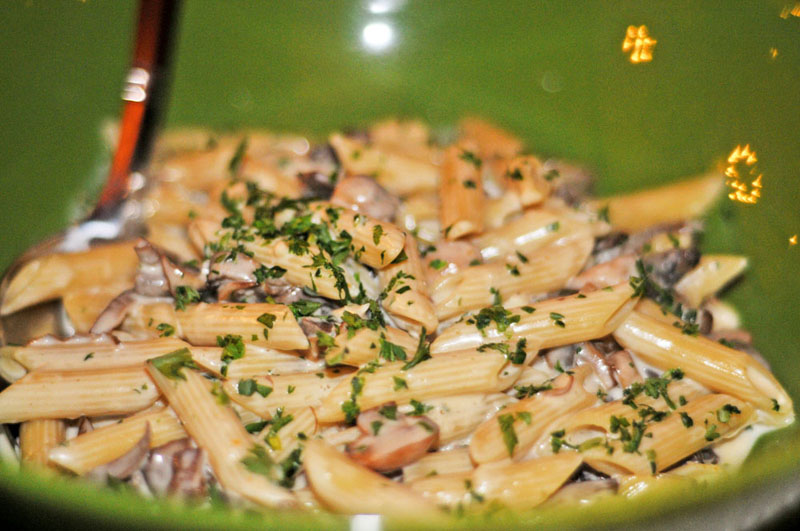 I'm a sucker for Italian food, and Il Covo Trattoria was definitely a fit for me. From the warm bread to dessert, I didn't want to leave a bite on my plate. We enjoyed the Minestrone soup, a refreshing salad, penne al funghi, impepata di cozze blue mussels, and pollo alla cacciatore con polenta. When a girl with a lactose intolerance almost finishes the Tiramisu, you know it's a good restaurant. The atmosphere of the restaurant would be great for a dinner date, or even drinks with friends.
Located in the historic area of downtown and steps from the Inner Harbour, Il Covo Trattoria is a memorable and unique Italian dining experience. Being a Trattoria, we're the perfect spot for any occasion where you can enjoy casual, rustic Italian cuisine in a warm old world Tuscan ambience.
10 Acres Bistro and Bar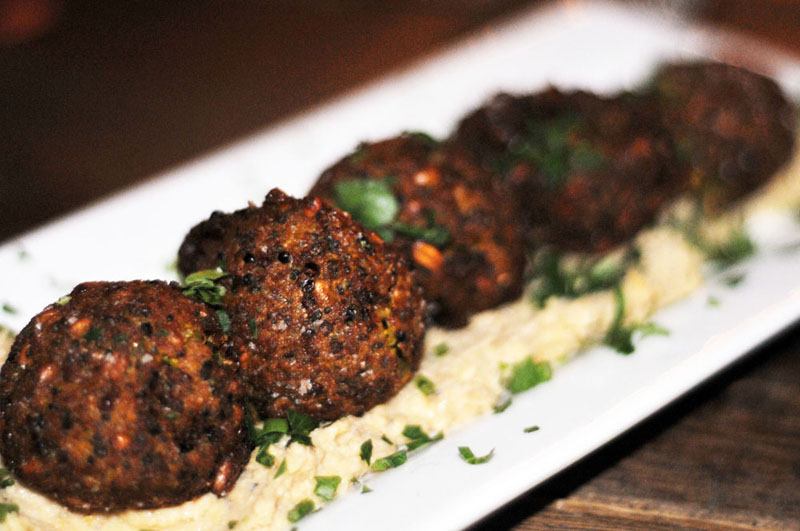 10 Acres Bistro ended up being a happy surprise at the end of the night. After a long day of touring around Victoria, I was absolutely beat, and wanted nothing more than to go home. However, 10 Acres was able to perk me up, serve some great food, and make a fun evening. I loved the bar-like atmosphere with the mix of small plates and unique dishes–I'm a sucker for a craft beer and falafal.
10 Acres is definitely somewhere that I'd want to hang out with friends, whether it be for dinner, or simply a few drinks for a night out. And, to top it all off–the kitchen receives nearly all of their ingredients from the 10 Acres Farm which is located on the Saanich Peninsula and supplies the Bistro with finest seasonal and organically grown produc.. I love a good farm to table restaurant.
Ça Va Bistro Moderne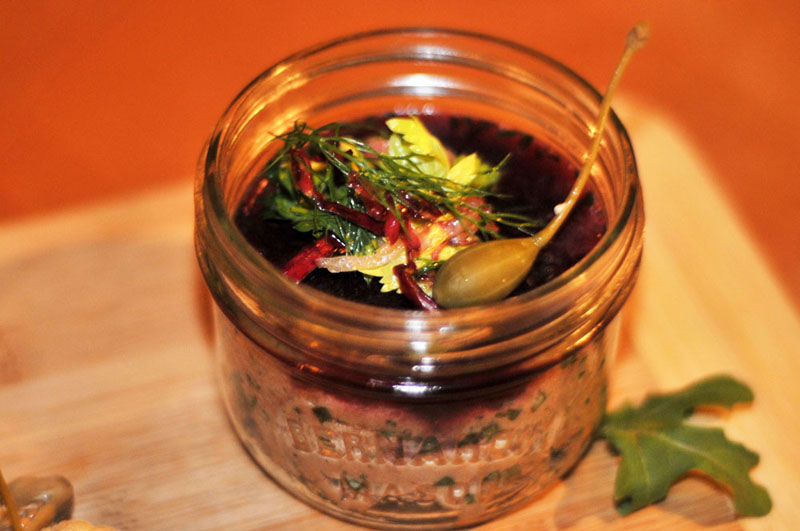 Before even trying the food, I already liked Ça Va. Something about the setting, with a long narrow diner-esque layout, dim lighting, and cool chalk board walls, made me feel comfortable and relaxed. Luckily, the food was even better. My favourite dish at Ça Va was the Beef Riellet with sour cherry and Dijon jelly, caper berries, pickles and crostini. This wasn't something that is on the regular menu, but I would certainly return to Ça Va again and again for that one.
Ça Va is fine dining Victoria style; comfortable, affordable, and delicious. They aim to bring you fresh, interesting, local and organic food; proudly serving some of the islands best produce, meat and seafood.
Dessert
Bon Macaron
Bon Macaron Patisserie is owned by two French chefs with a dream of showcasing both the sweet and savory sides of the Macaron. Try flavours from cheese & truffles, strawberry & mango, salted caramel, and double chocolate. Bon Macaron even has interesting and unusual flavours like peanutbutter & jelly, Nutella, and Oreo. These delicious macarons are great for a quick snack, gifts, or party treats.
Silk Road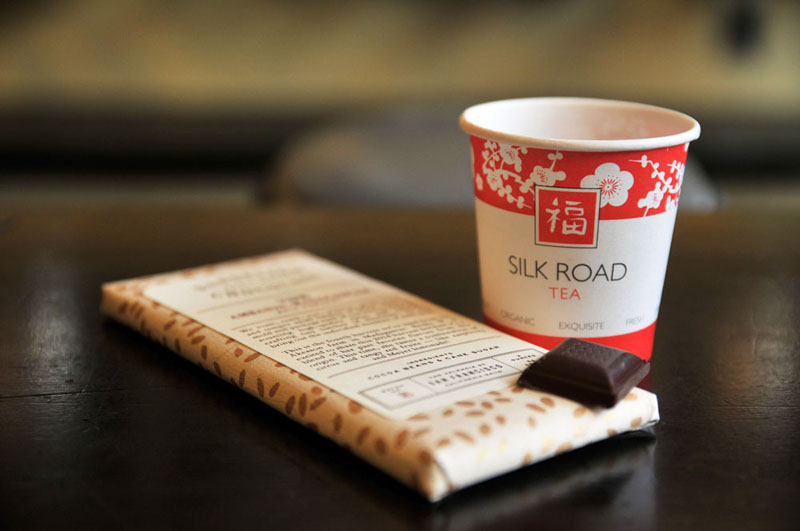 I may not drink coffee–but I more than make up for that in tea drinking. I drink at least 3 cups on an average working day, and often more when travelling. So, when we strolled into Silk Road, I was already in heaven. There were so many flavours to choose from, that I didn't even know where to start. the great thing is, that you can participate in a tasting to figure out your favourite blend, and each tea goes along with a square of matching chocolate. Even if you're not going to take any home, it's a great way to spend an afternoon with friends.
Since 1992 Silk Road has been creating the world's finest, freshest, organic teas, skin and body products in Victoria's Historic Chinatown.
A few more drool-producers:
These restaurants were all featured in 2015's Dine Around menu, but can be visited year round. The beauty of Dine Around is it encourages local residents as much as visitors to tickle their taste buds and dive into Greater Victoria's culinary scene with more than 60 restaurants participating. With the growth of social media, travellers rely on locals for the insider report on what to do, where to stay and where to eat.
Each year participating restaurants offer a three-course menu, with a minimum of two options per course, at a cost of either $20, $30, $40 or $50 per person, and participating accommodations offer room rates from $69 to $129 per night.
For a list of all menu options, please visit tourismvictoria.com/dinearound
to make dining selections and follow the #YYJDineAround hashtag on twitter!