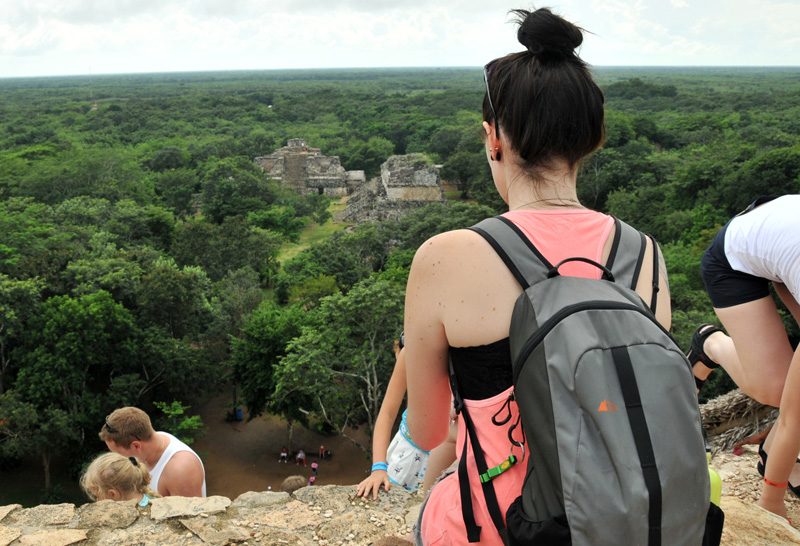 Forget about Chichen Itza; Ek' Balam is way more interesting.
Sadly this ancient Mayan archaeological site is often shadowed by its more popular neighbour.
Although Chichen Itza is one of the Yucatan's most famous ancient sites, Ek Balam, located just 30 minutes away, predates Chichen Itza by 600 years.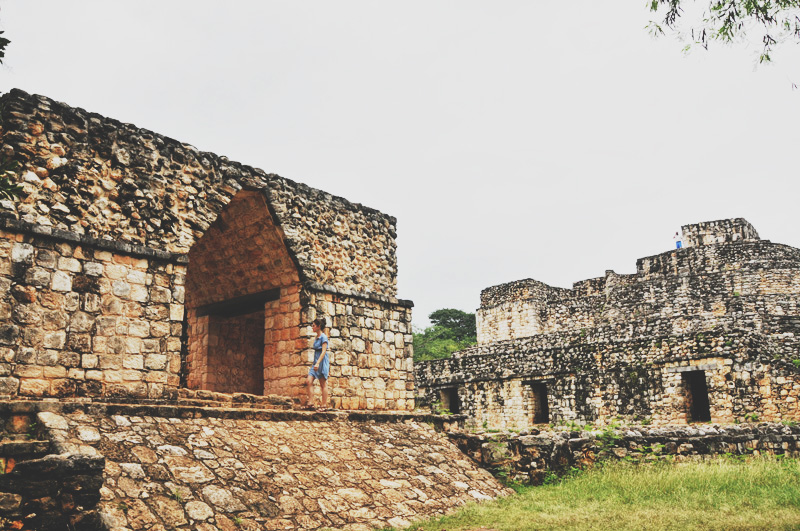 Ek' Balam means black  jaguar after the majestic feline that once populated this area of the Mayan jungle.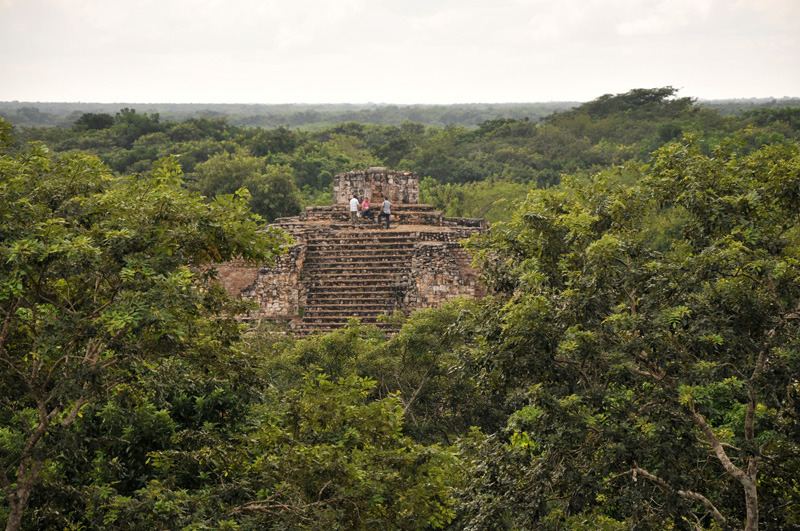 Ek' Balam was at the height of its importance as a city between 600-900 AD.
When the Mayas abandoned the site, it went undercover, literally, as the lush jungle completely engulfed it in dense growth.
As with all of the Mayan pyramids, they were later discovered by explorers and archaeologists that found what appeared as small groups of hills that were covered in brush and trees.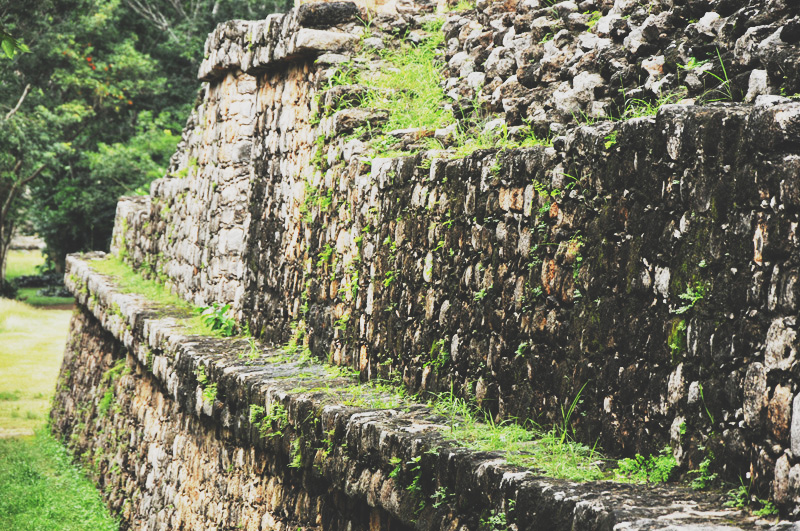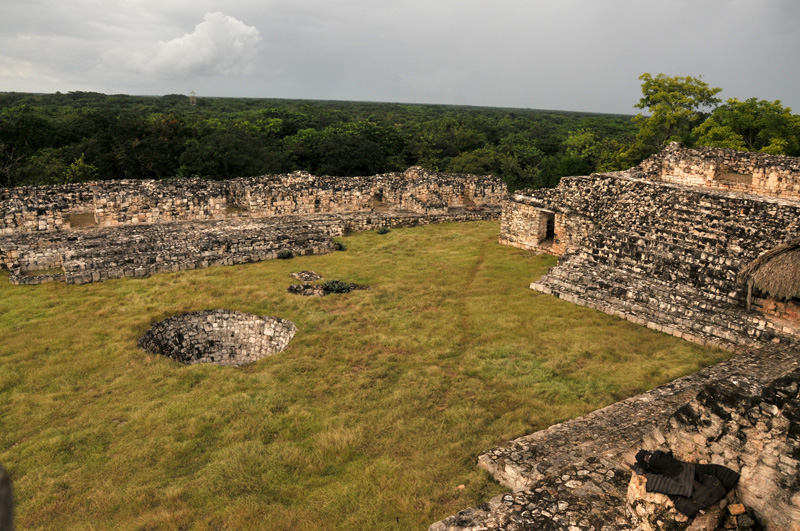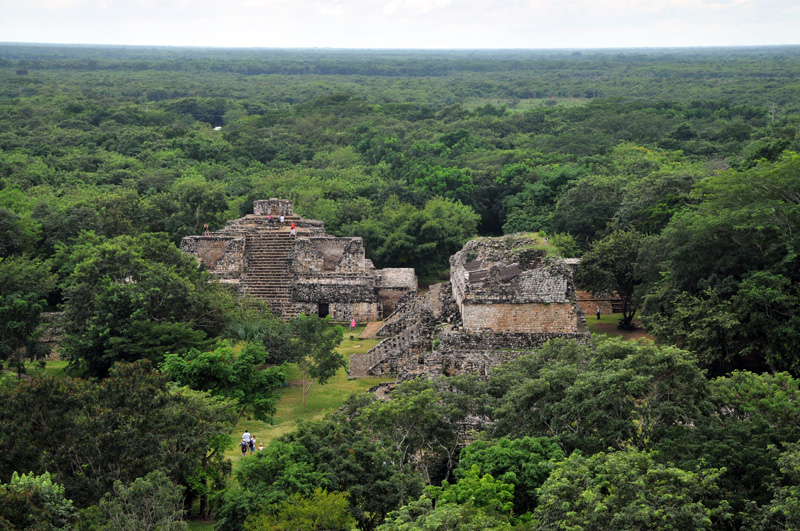 Imagine being the one to discover an entire ancient city.
The site was discovered so recently that restoration on began in 1997.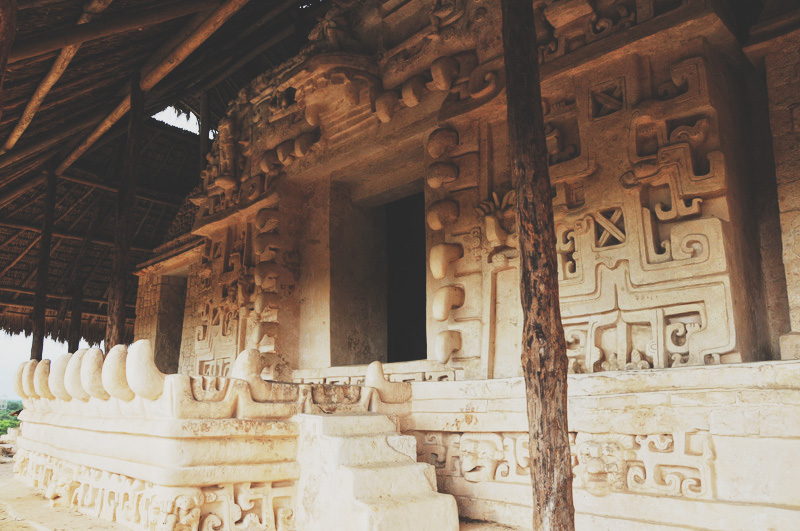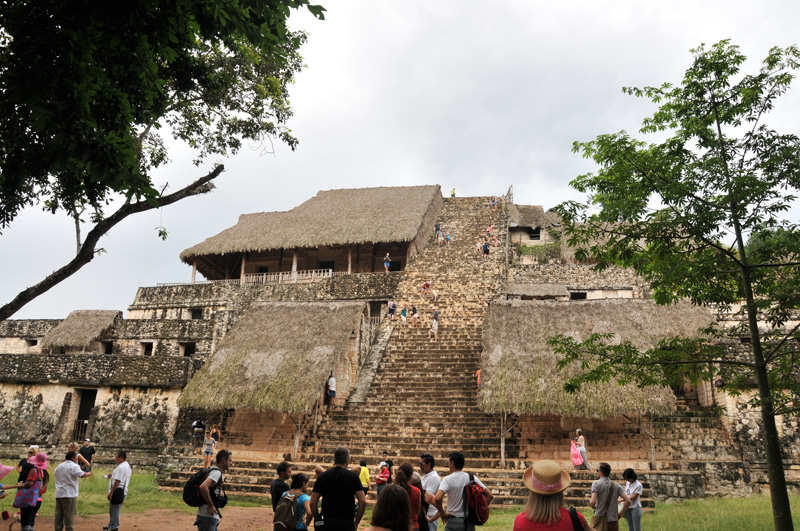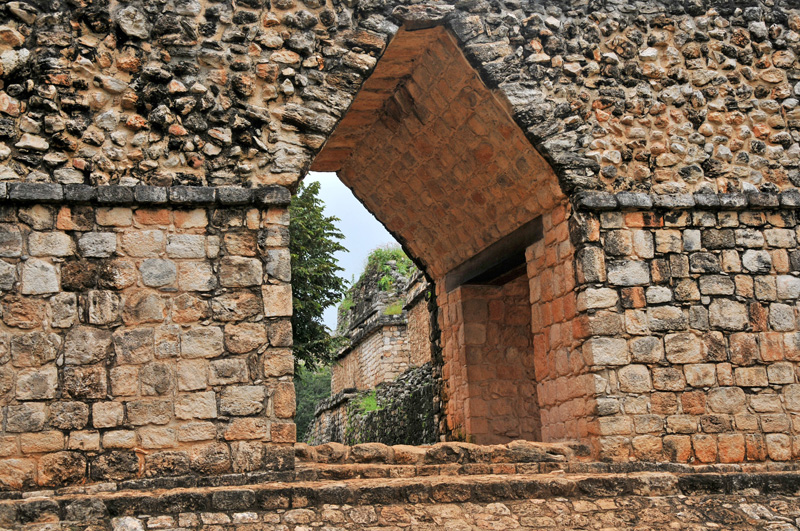 It was my first time visiting a Mayan archaeological site, but it was something that I had been wanting to do since I was about twelve.
Strangely, at that age I was not interested in visiting the beaches of Mexico and Central America, but exploring the Mayan Ruins that I spent hours reading about.
You can imagine my excitement as we walked down the dirt path toward the gated entrance.
And then I saw my first crumbling pyramid.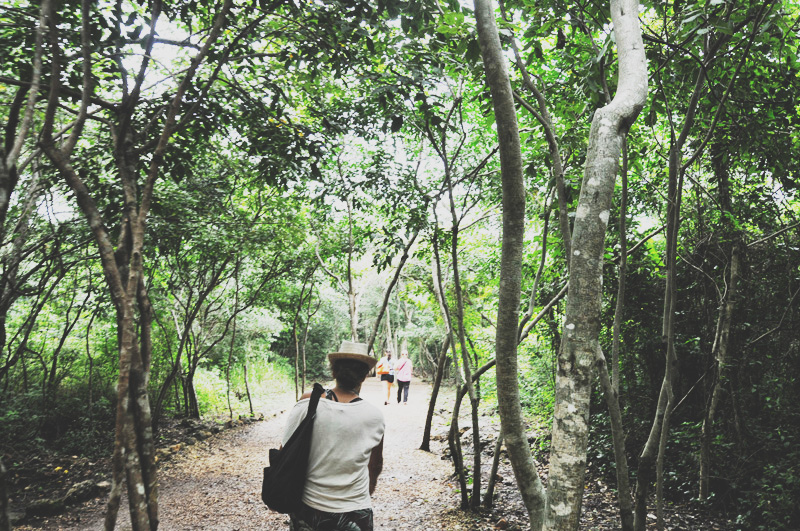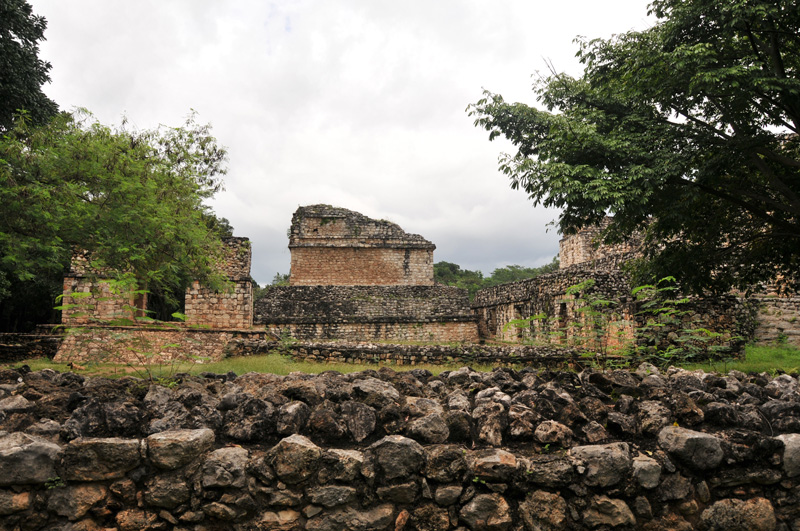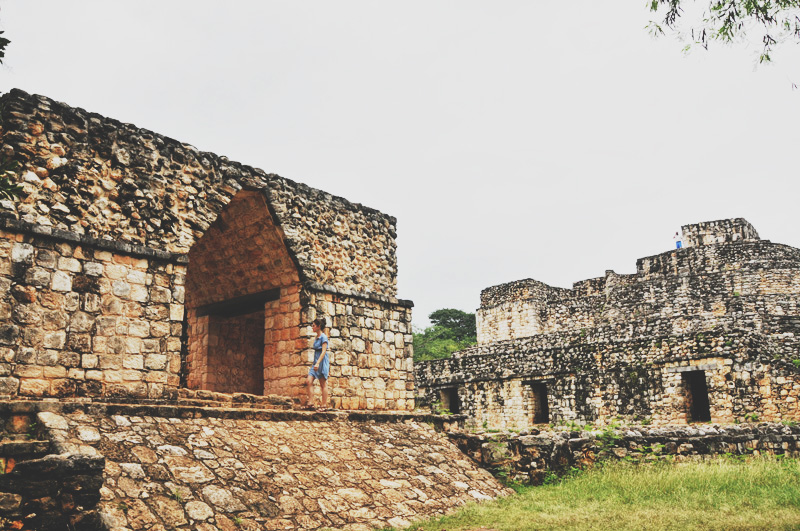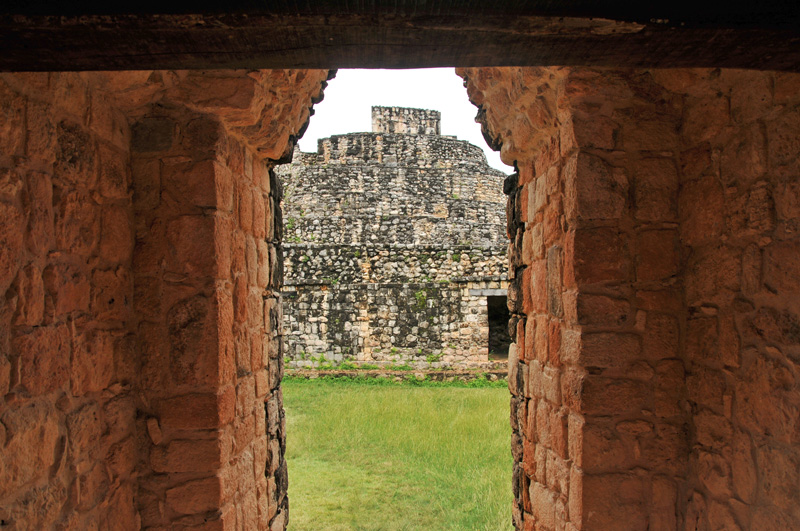 Ek Balam has 45 structures and is surrounded by two concentric stone walls linking most of the other central buildings.
The structures meet various architectural styles but there are details that make them unique.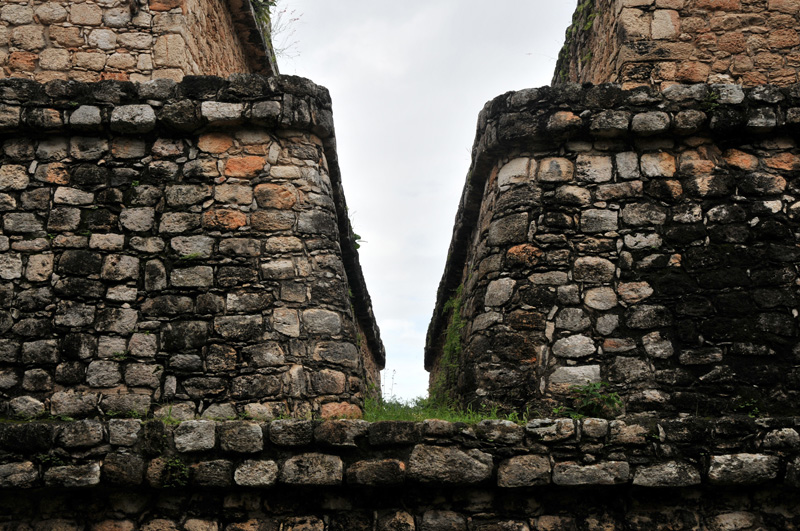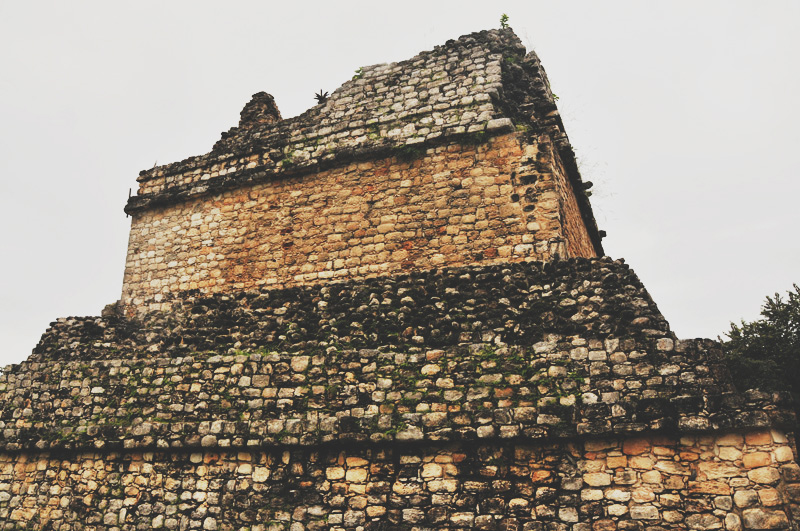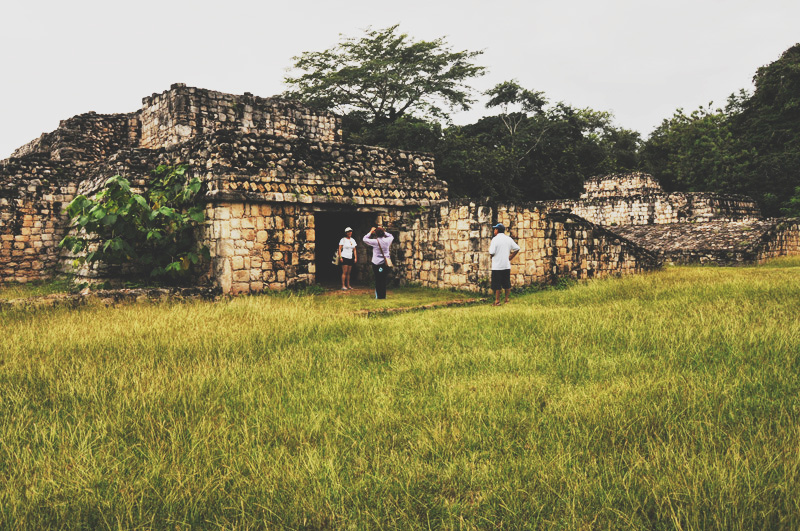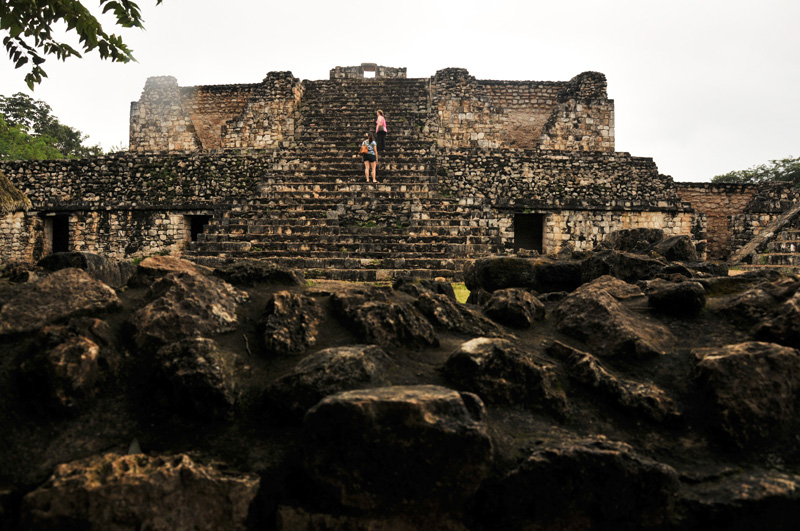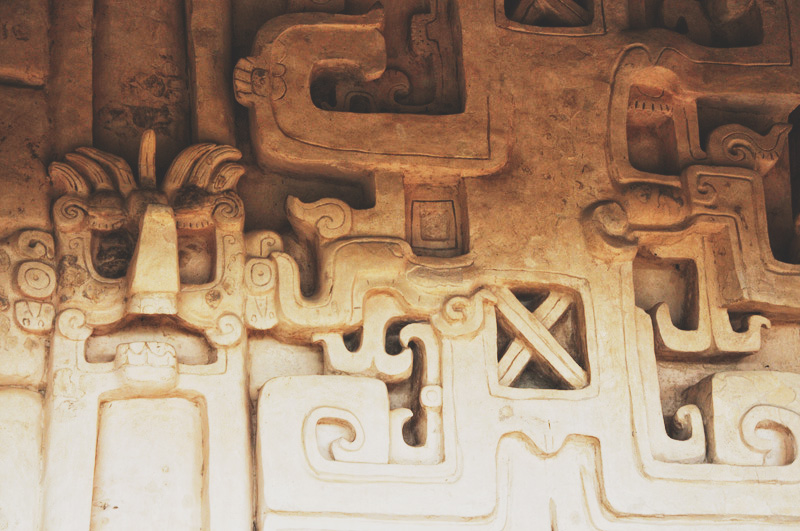 Finally we approached the main pyramid, boasting an impressive 96 feet in height over six levels and 480 feet across.
It towered above me as I walked toward the front staircase.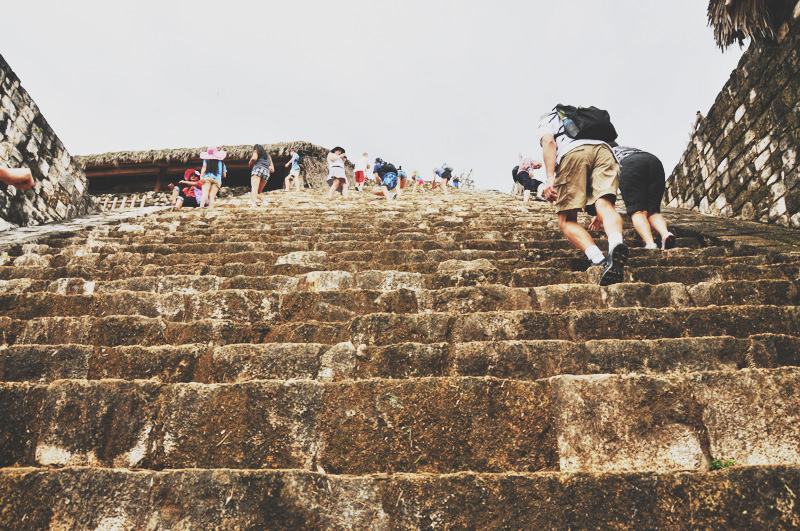 I can't tell you how many steps there were.
I started counting as I made my way up the first couple of levels, but began to lose track as I paused for the view and to inspect the different levels like the newly uncovered royal tomb.
They discovered some 700 offerings along with the king's skeleton, including jade, obsidian and carved shells inside the tomb.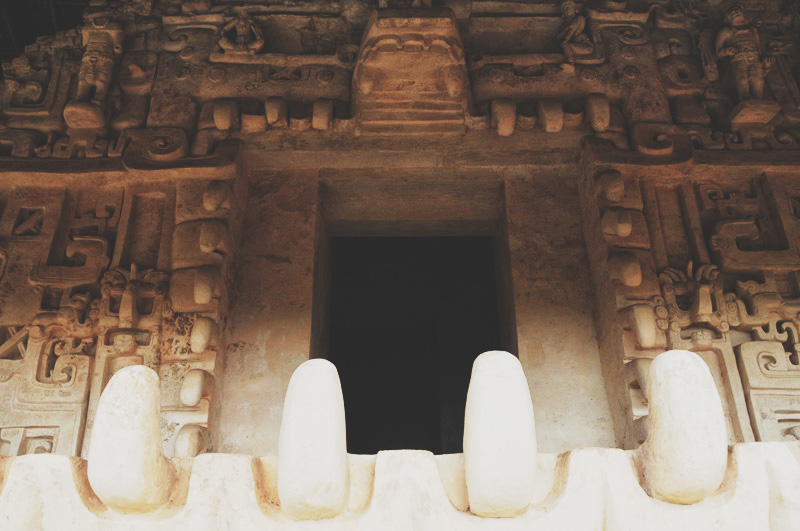 Walking up the stairs, as it turns out, is much easier than walking down.
Those stairs were steep.
I'm not afraid of heights, but something about your toes hanging over the edge of a seemingly 96 foot vertical drop creates a somewhat unnatural feeling.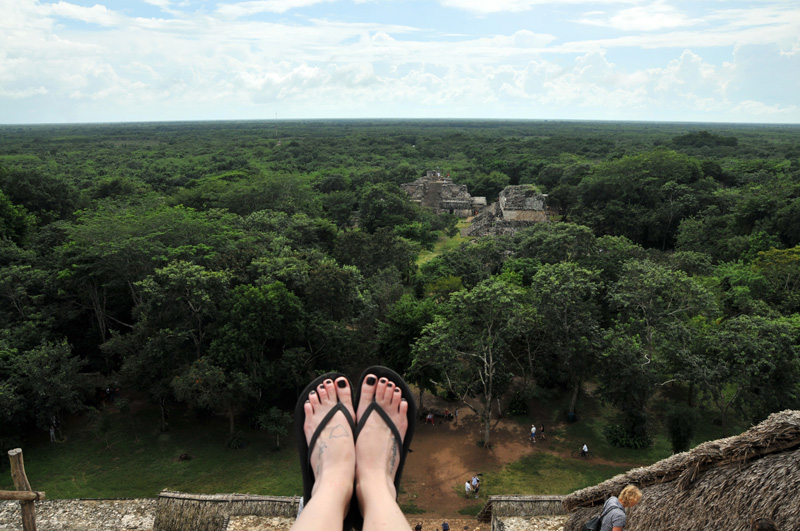 Though I was fine climbing in flip flops, I would definitely recommend some sturdier footwear.
It makes it a bit easier to climb along the side and hold onto the edge as you go.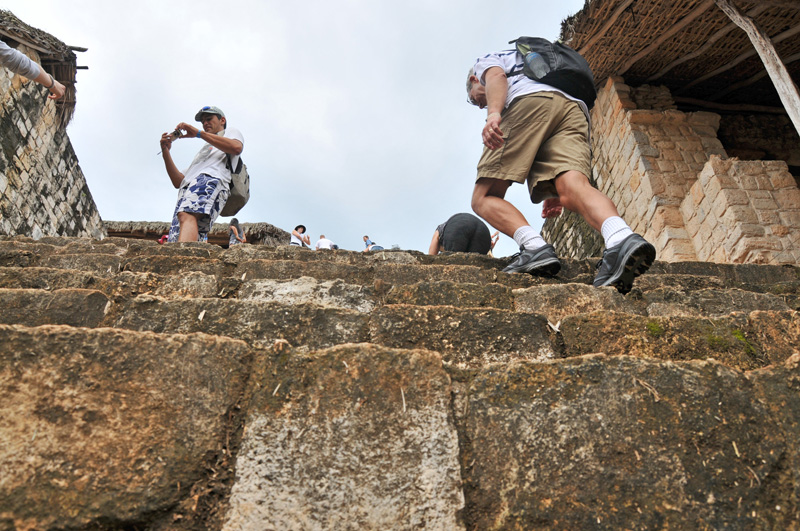 My adrenaline was definitely pumping by the time I reached the bottom.
But, the view alone had been worth it.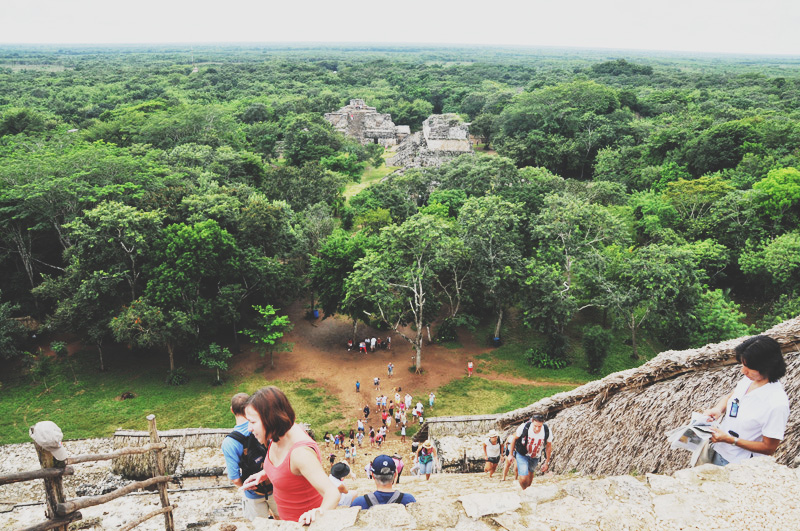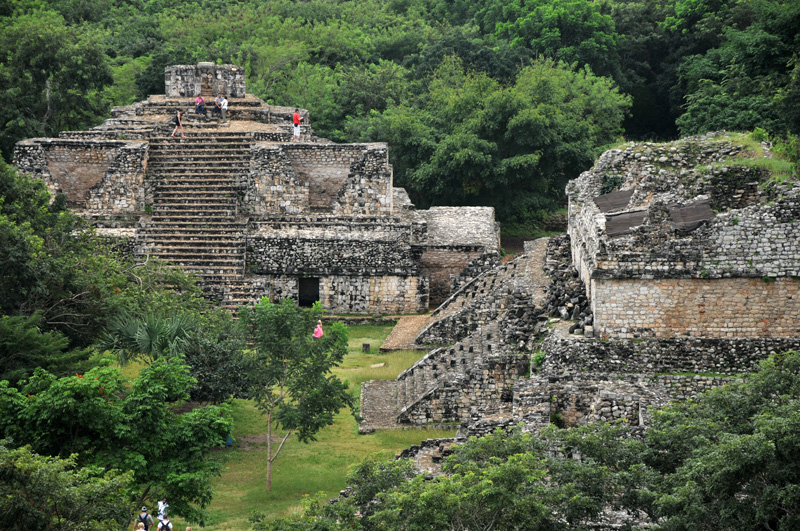 While it's impossible to keep such a beautiful place an absolute secret, few tourists visit the Ek' Balam site each year.
It is easy to stroll around the grounds without bumping into herds of eager photographers and happily enjoy the views on your own.
Crowds build a little more near the main pyramid, but it is nothing like the other previously mentioned pyramids.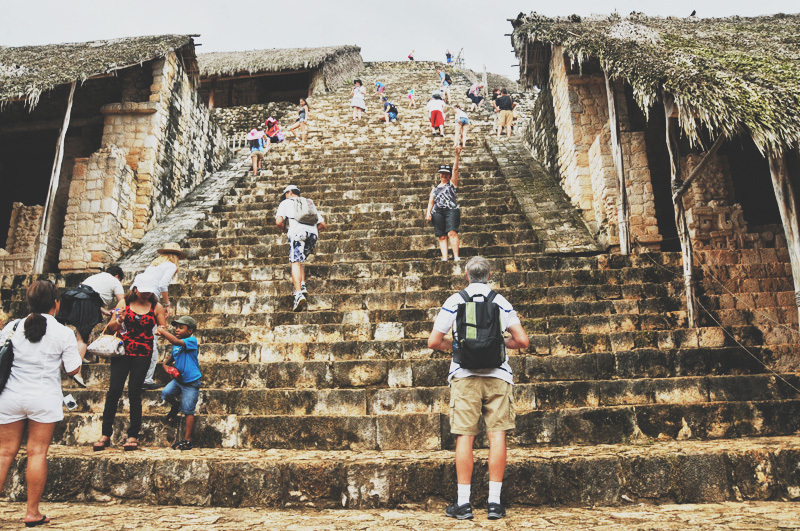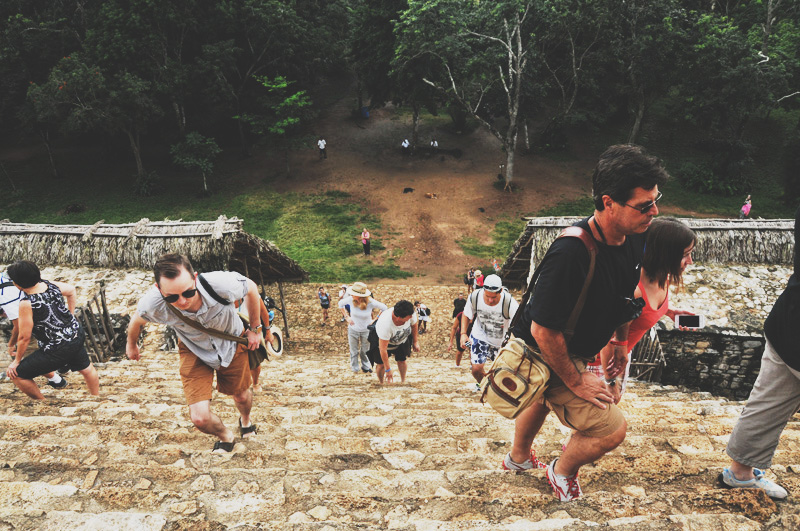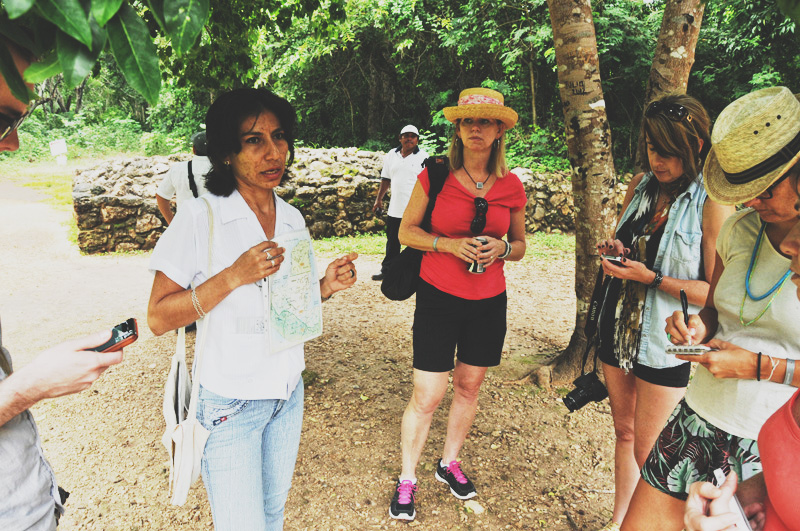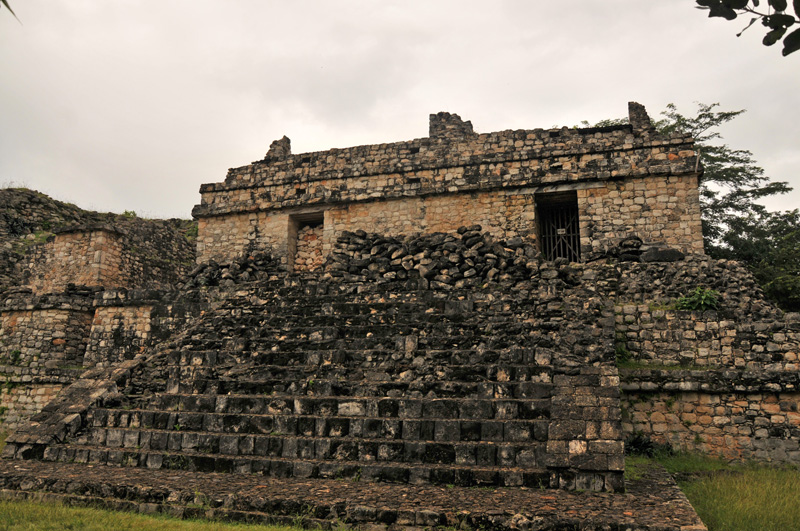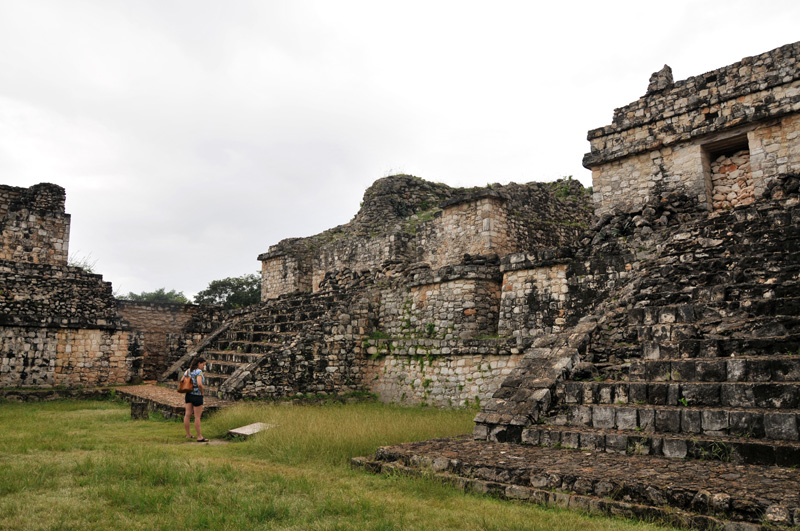 Ek Balam is located 26 km north of Valladolid
and 186 km east of Merida, on the road to Cancun.
It can be visited every day from 8:00 am until 5:00 pm.

Visit Ek' Balam on your own Escapade Cancun : Mayan Treasures
or Experience Collection Duo Cancun Merida
This trip was made possible by
Transat Holidays, Visit Mexico and Yucatan Tourism.
All views and opinions are my own.
What are your favourite Mayan Ruins?