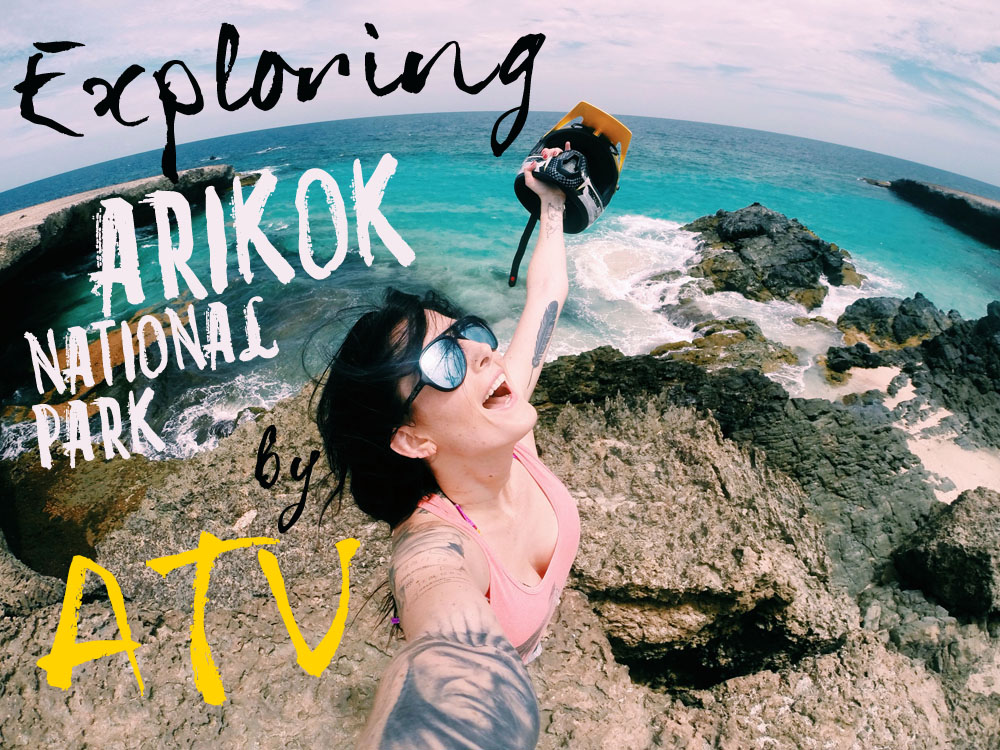 ATVing is one of my absolute favourite activities, and I try to do it as often and in as many different countries as I can. So, you can imagine my excitement when I learned that it was the best way to explore Arikok National Park.
The morning started at Boardwalk Hotel Aruba, with a quick drive over to Justin's Car & ATV Rental, where we picked up our shiny new ATV's. As we just wanted to explore the Park on our own, we opted for the 8 hour rental, rather than a guided tour.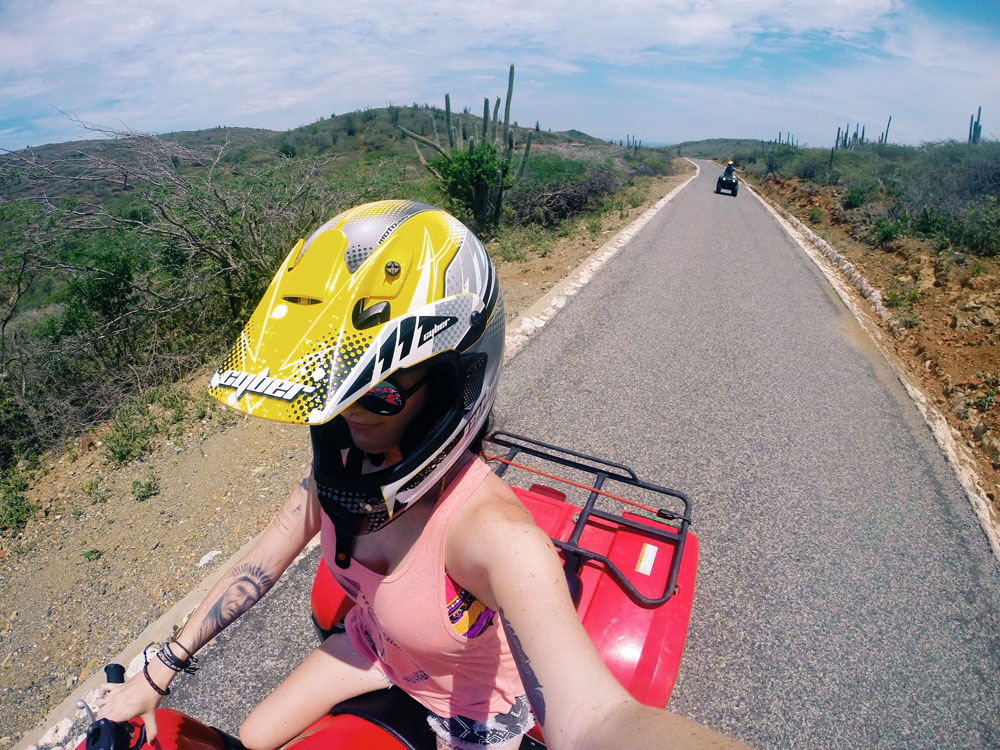 We began by driving the ATV's across the Island, toward Arikok National Park. We reached the gates, pulled into the visitor centre, and parked the ATV's in the lot. While the widespread majority of the park is meant to be explored by ATV, we also wanted to get up close and personal with some of the local flora & fauna.
This meant a two hour hiking tour with one of the Park's best Rangers.
We left the visitor centre on foot and headed up into the arid hills of Arikok. We followed trails through cacti forests, large smooth boulders that almost formed outdoor hallways, and into the most remote parts of Aruba.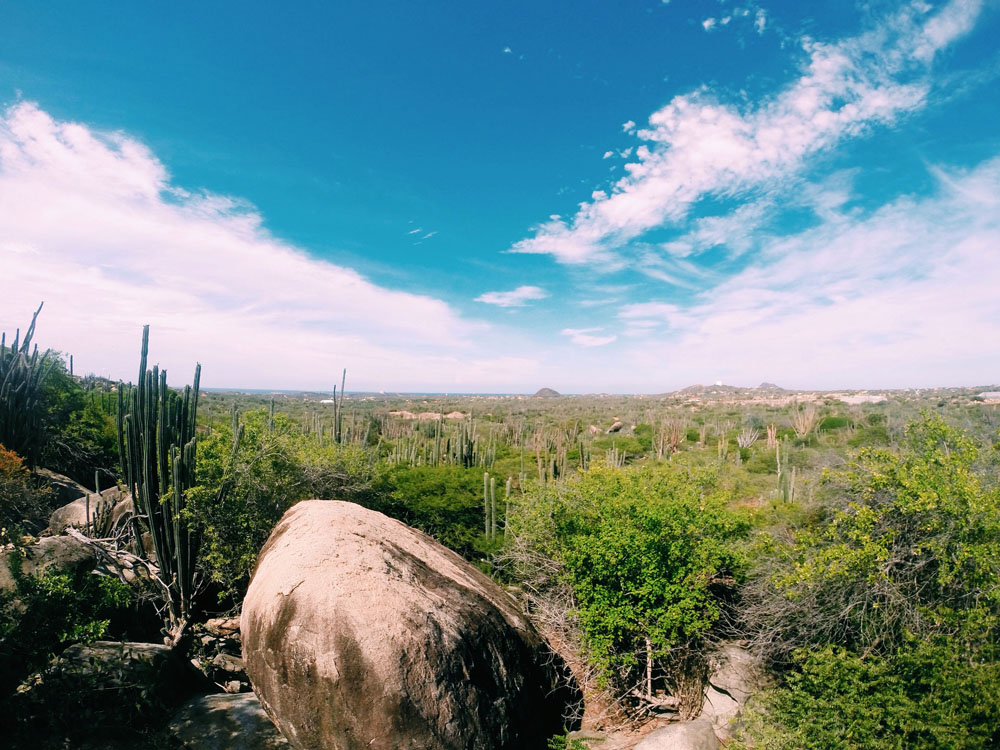 We followed our guide off the trail, ducking beneath low hanging trees and carefully stepping around the prickly brush. Soon we were scaling massive boulders and sidling ourselves through crevices and through natural rock doors.
This off-trail adventure was in the name of two things; an incredible view over the entire valley, and to see a set of hidden Native petroglyphs, that only our guide knew how to find.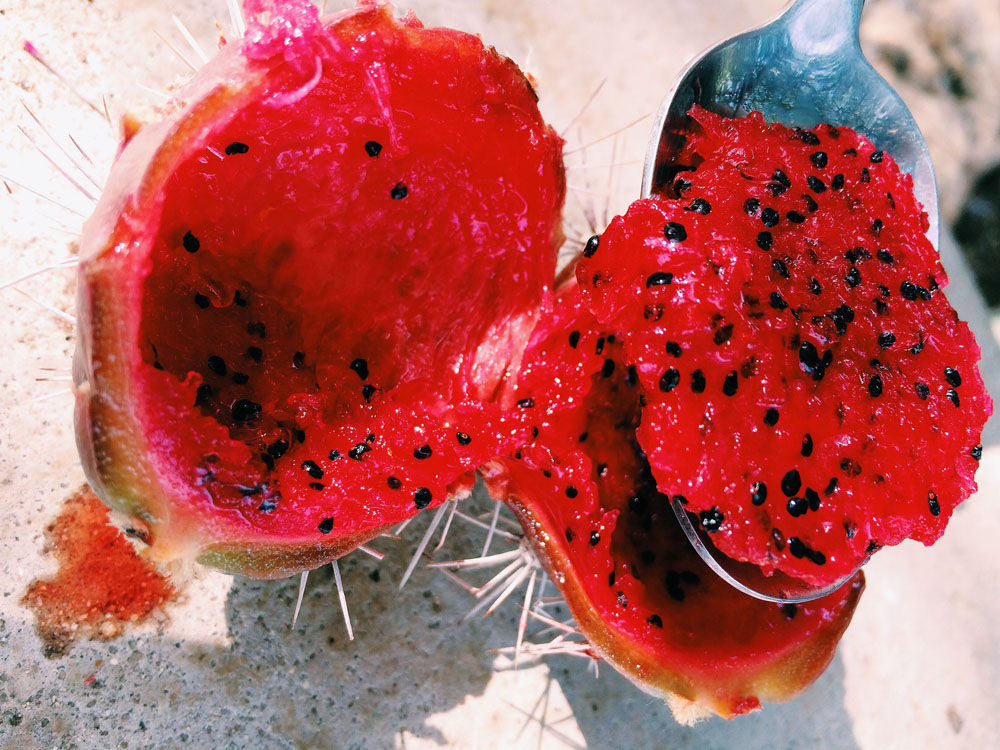 Our knowledgeable Ranger also knew where to find the best desert fruit, and how to eat it.
We walked by seemingly impenetrable cacti, and he simply knelt down and plucked an invisible stem that revealed a bright pink berry. Another time, he popped one of the prickled buds off the top of a tall cactus and began to tweeze the spines out, before slicing it in half with a pocket knife.
This revealed a bright red seeded fruit that resembled, and tasted quite similar to a dragonfruit. We spooned out the centre for a mid-hike break.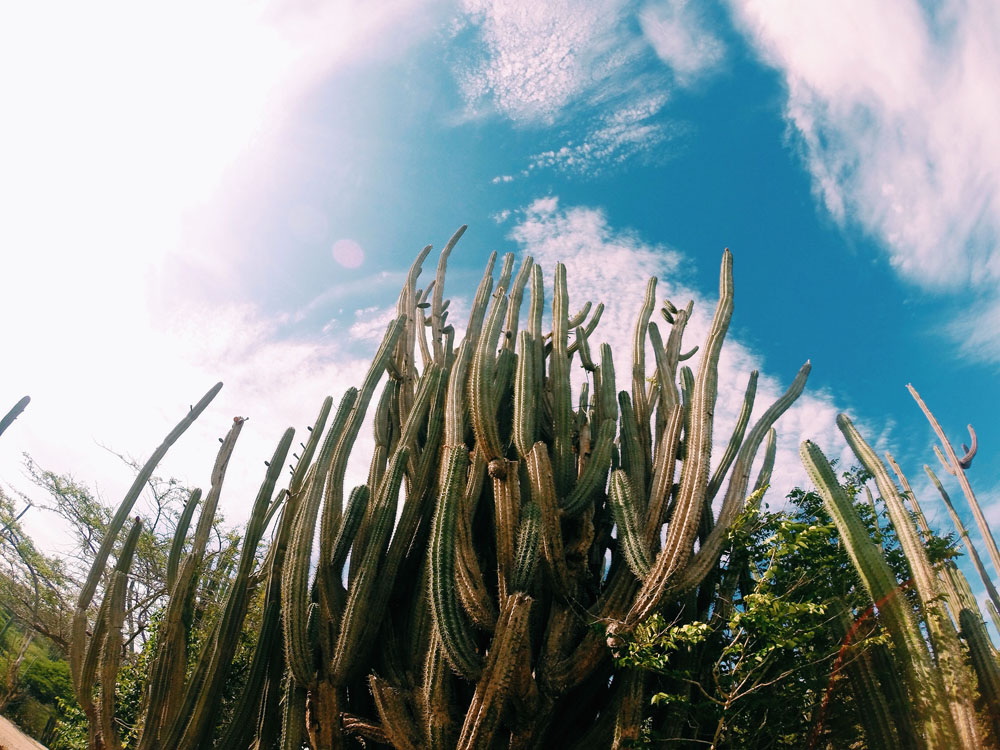 We continued on through the hills, looking at new trees, hearing goats in the distance, and watching as several dozen lizards scurried across the trail in front of us.
The most exciting, and equally terrifying part of the hike happened very unexpectedly.
There was a low hum in the air, like the sound of a helicopter in the distance.
A serious look came across the Ranger's face, and he said "get down to the ground".
I quickly crouched down, looking up to see what was going on.
In the air above me, the sky darkened, and an enormous swarm of bees hovered across the sky. My heart pounded with thoughts of killers bees, as they swept from right to left and disappeared as quickly as they arrived.
Wide eyed, I asked the Ranger what had just happened, and he informed us that they were following the queen to a new hive location. I had never experienced anything like that in my life, and felt high with adrenaline for the next ten minutes that followed.
After the hike, it was time to get back on the ATV's.
We entered the gates and zipped up the trails toward the coast. The main trails were paved, but the speed bumps alone made me glad to be on ATV.
After enough pavement, we decided to head off trail on an unmarked dirt path. There was no final destination, or plan, it was simply a day for exploring. And, that's exactly what we did.
Exploration lead us to one of the most incredible sights I came across in Aruba.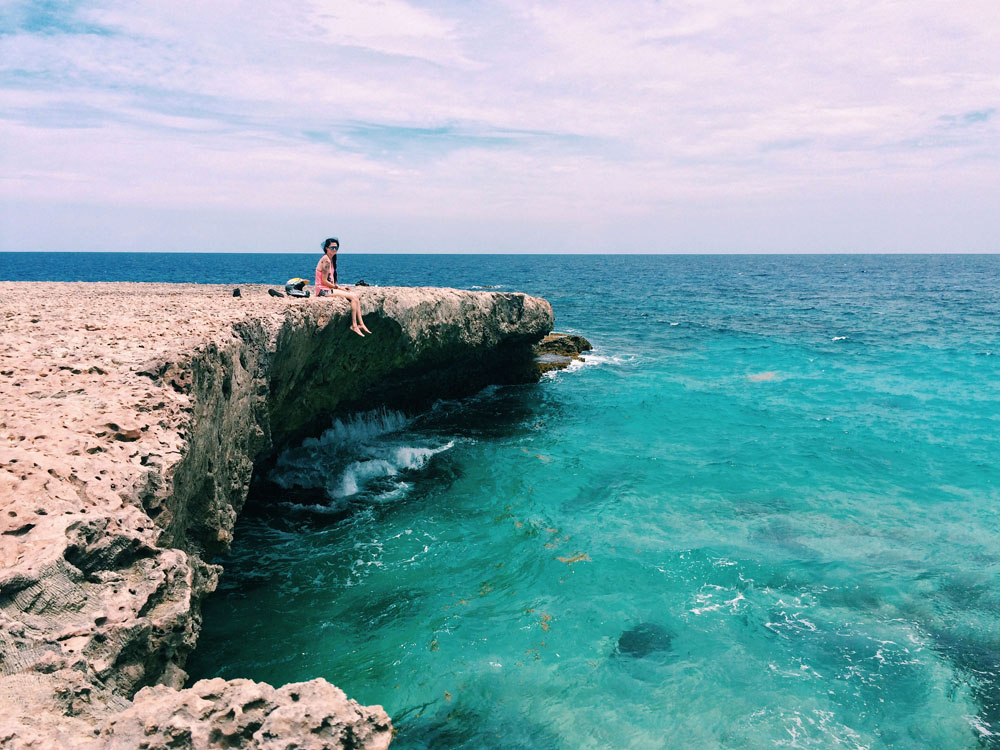 There was a wide sea cave a few meters from the edge, opening up to the bluest waters I've seen off a rocky coast like that.
I immediately had to sit on the edge and dangle my feet over the turquoise waves below. It was quite high up, but too beautiful to be nervous.
We spent some time there, admiring the views, before continuing to drive around on our ATV's. We took other dirt trails, photographed endless seascapes, and covered alot of miles in Arikok. Eventually, the hot sun and nagging stomachs won the war and we decided to go seek shade and seafood at Zeerover's.
Here are some photos from the day: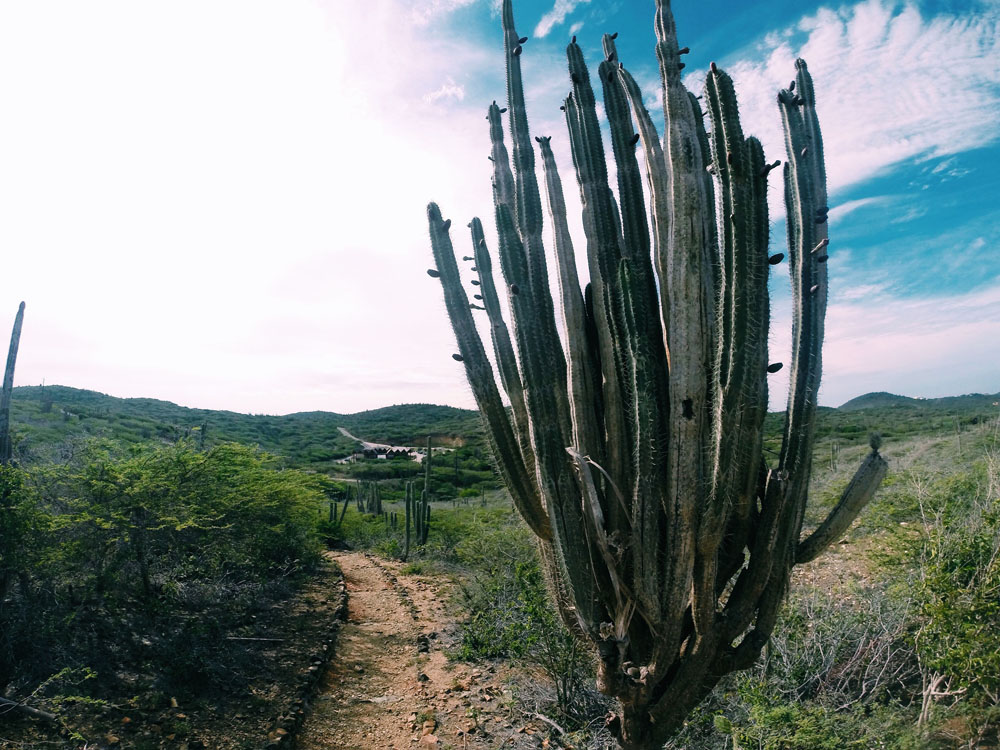 This trip was made possible by Boardwalk Hotel Aruba.
I chose ATVing & Hiking in Arikok National Park
from my Aruba Treasure box.
All thoughts & opinions are my own.