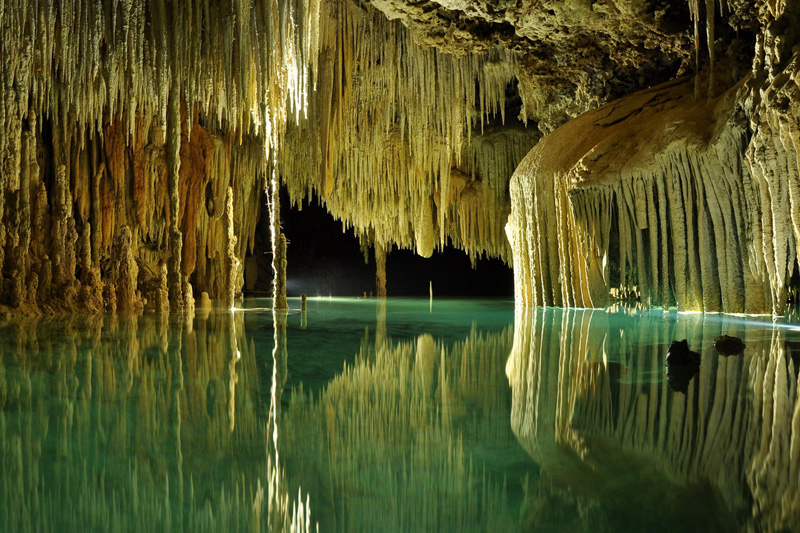 I shuffled my feet on the cave floor where the cool water rose to my waist and felt a slight chill through my wetsuit. There was no sound but a soft ripple of water from my movement and a faint drip-drip-drip to my left. Or, perhaps my right. I was enclosed in absolute darkness and couldn't see where the sound was coming from or what wall it might be echoing off of. It was peaceful here, I knew that there were others standing around me and soon the lights would come back on, but in that brief moment I felt alone in the dark and smiled at the silence around me.
The day started with a blessing from a Shaman on the jungle trail that lead to the entrance of the caves. He performed a smudging ceremony in which he burned sacred herbs and said a protective blessing for our journey. The Maya believe that cenotes (essentially a hole in the roof of a cave over an underground body of water) are the link between the world we live in and a gate to the afterlife and underworld. It is because of this that we were blessed upon entry.
Mexico's Riviera Maya and Yucatan Peninsula is made up of a vast crumbling limestone plain that is layered in bush and dense jungle. Limestone is a type of absorbent rock that results from a sedimentation and fossilization process started 50 million years ago on the sea floor, originating from the remains of mollusks, coral and other marine reef organisms. This rocky ground is slowly giving way to massive sink holes and cenotes that fall into an immense system of underground caves and caverns. It may be a doomed geology, but these caves feel like something out of a Tim Burton, with a side of geogasm.
What sets Río Secreto apart from most of the surrounding caves is that it is a protected nature reserve and practises responsible tourism. Guests may not even wear jewellery into the caves in fear that it could fall off and damage the floor or upset the environment, the staff also limit the size of tour groups to minimize impact on the cave. Guests are also asked to keep their hands off the walls and under no circumstances touch the hanging stalactites. I made sure not to do anything but lightly touch my water shoes on the cave floor as I carefully made my way through the cave.
Río Secreto is both an environmentally friendly and adventurous day trip to take if you find yourself in the Mayan Riveria.

Visit Río Secreto on your own from
Grand Sirenis Mayan Beach Le Mirage
This trip was made possible by 
Transat Holidays

All views and opinions are my own.
Have you ever gone caving?