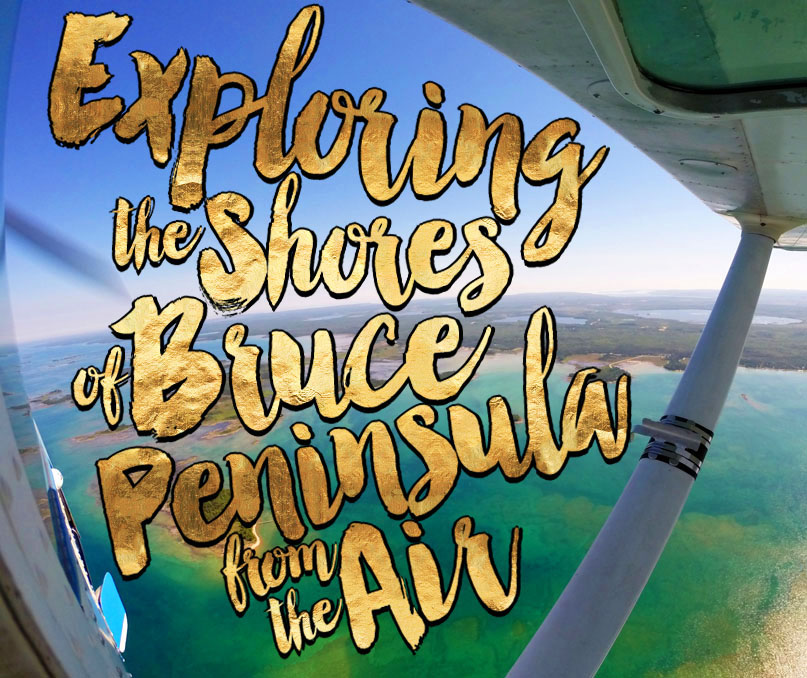 While I find myself living in Southampton these days, I'm not originally from the area. This means that everything is still new and exciting to me, and I have spent most of this summer out exploring and trying to take in as much as possible of this incredibly beautiful area.
There have been weekend camping trips, Saturday hikes, Sunday drives to nearby towns, afternoon beach hangouts, downtown wanderings, and plenty of photos of those infamous Huron sunsets.
But, my favourite experience yet?
The Explore the Shores Sightseeing Flight Tour.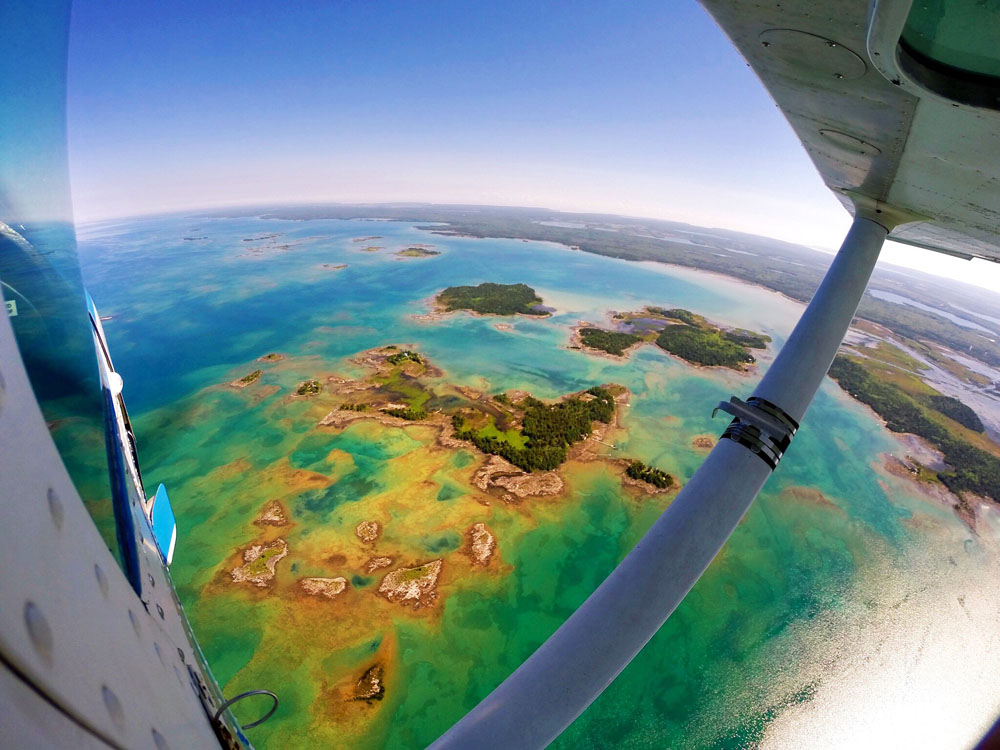 It's not much of secret; I love to fly and I pretty much live for adrenaline.
So when pilot Dave asked me, "Do you want the regular take-off, or the fun take-off?", you can imagine what I replied.
"The fun take-off".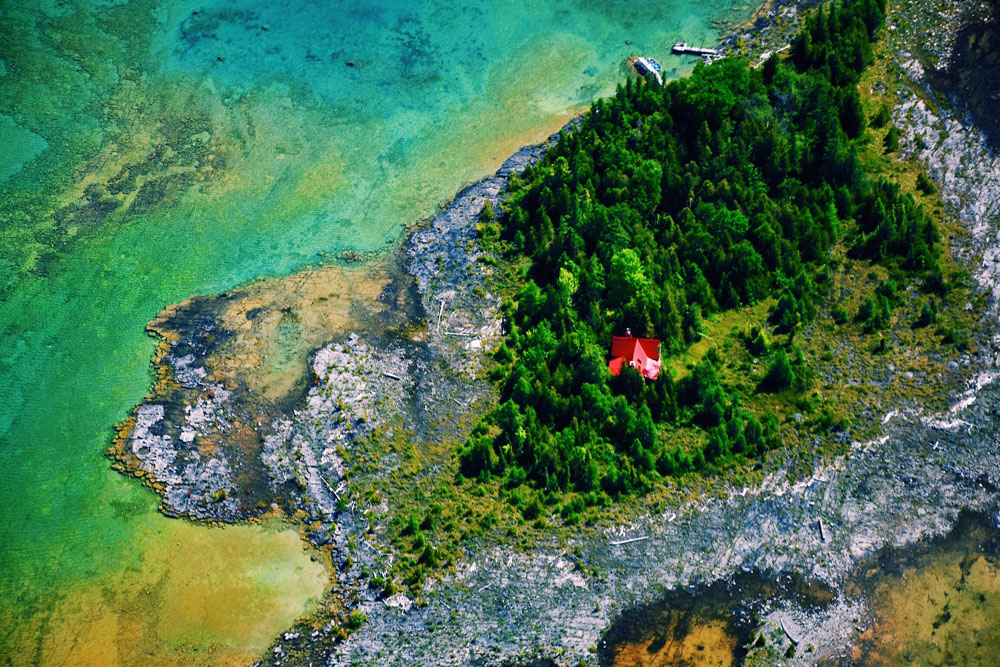 I had no idea what the "fun take-off" entailed, but I was excited to find out. Dave pushed forward and we took off down the runway. After what felt like a few seconds, with only a small portion of the runway behind us, we lifted slightly into the air. Instead of actually driving the plane down the rest of the runway to gain momentum, we hovered parallel above it at full speed toward the end.
Dave looked at me and asked, "ready?". I smiled and nodded.
He pulled back and the plane lurched directly upward in one smooth motion and we rocketed into the air like human slingshots. Moments later, my stomach caught back up with us, and I laughed in excitement.
It was the perfect start to a sightseeing flight, and I couldn't wait to see all of the areas that I had recently been getting to know on land.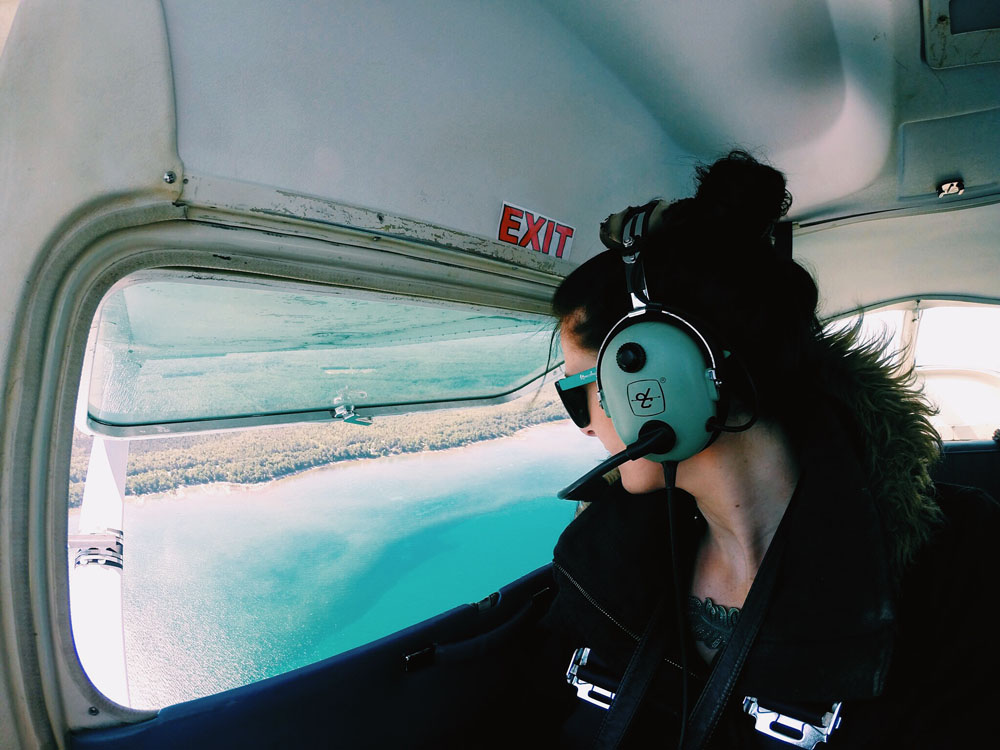 We headed southwest from the Owen Sound Airport, crossing over spans of fields, ponds and forests.
Southampton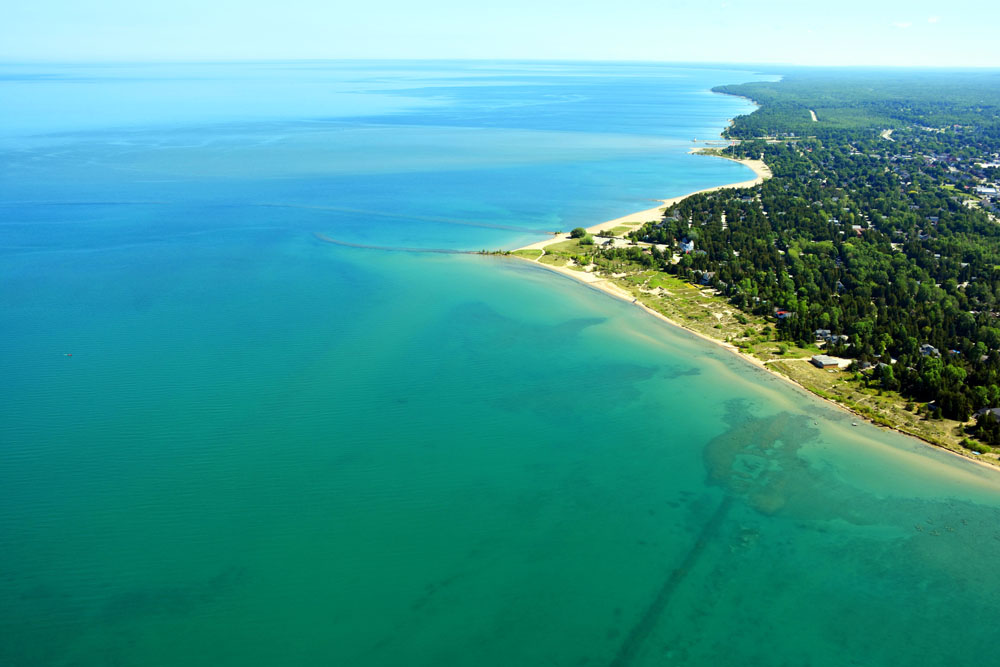 Generally, the tour takes you directly to Sauble Beach, but as I'm living in Southampton, Dave was happy to take a quick detour over to the small Lake Huron town at the mouth of the Saugeen River.
As we soared into town, I pointed down and said "hey, that's where I live!", over Wade's house. We circled back around for another look, and I was able to get a ton of shots of the house and yard.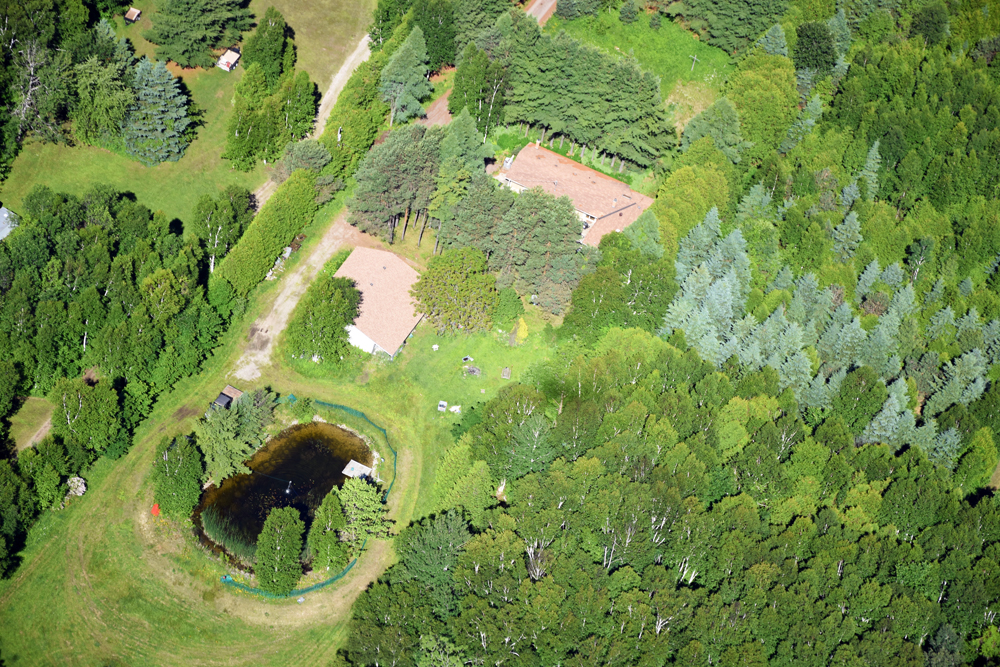 I could see the house, shed, driveway, hammocks, fire pit, picnic table, raft and the pond that I walk the pups around every day. It was such a cool thing to be able to pin point every little detail from such a unique angle.
The sightseeing flight is obviously an awesome activity for people visiting the area–but the added bonus of seeing your own home/business for anyone living in the area might just be even better. I think I'll have to get a big framed print for Wade!
Chantry Island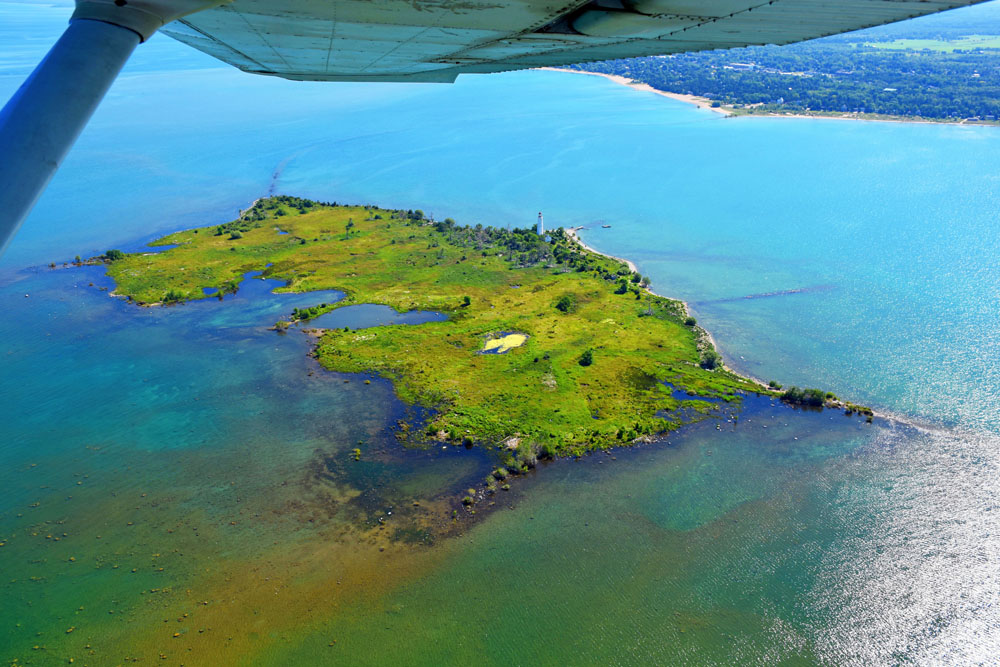 Chantry Island is a small island just off the coast of Southampton, and home to a migratory bird sanctuary and one of the oldest lighthouses on Lake Huron.
The Island is also the subject of thousands of sunset photos from Southampton Beach–voted one of the best sunset views in Canada. I've always seen the island from afar, so it was pretty exciting to look at it from a bird's eye view.
Sauble Beach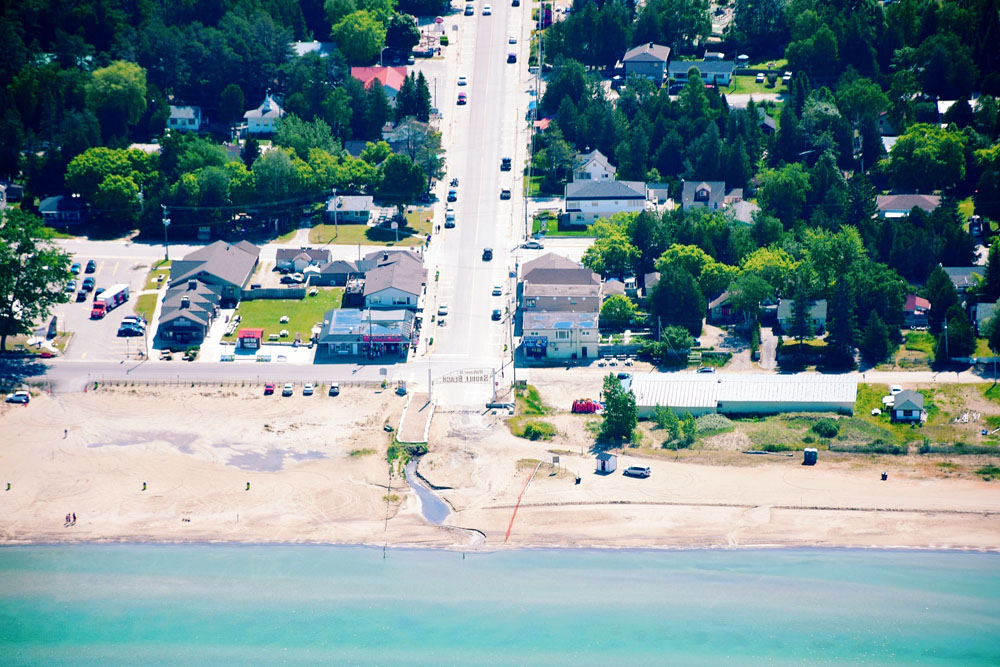 Not only is it close by now (a mere 15 minute drive away), but flying over Sauble Beach brought back memories of taking road trips up there with my two best friends in high school.
I spotted the parts of the beach the would hang out at, the marina motel that we stayed at, the streets we cruised around on, and of course, the famous Sauble sign at the main beach that we took so many photos of.
I've been back since then, but it was fun to remember all of that from high above, when I could spot all the locations at once.
It was also eye-opening to see just how long Sauble Beach really is, from that elevation in the air.
Bruce & Grey County Countryside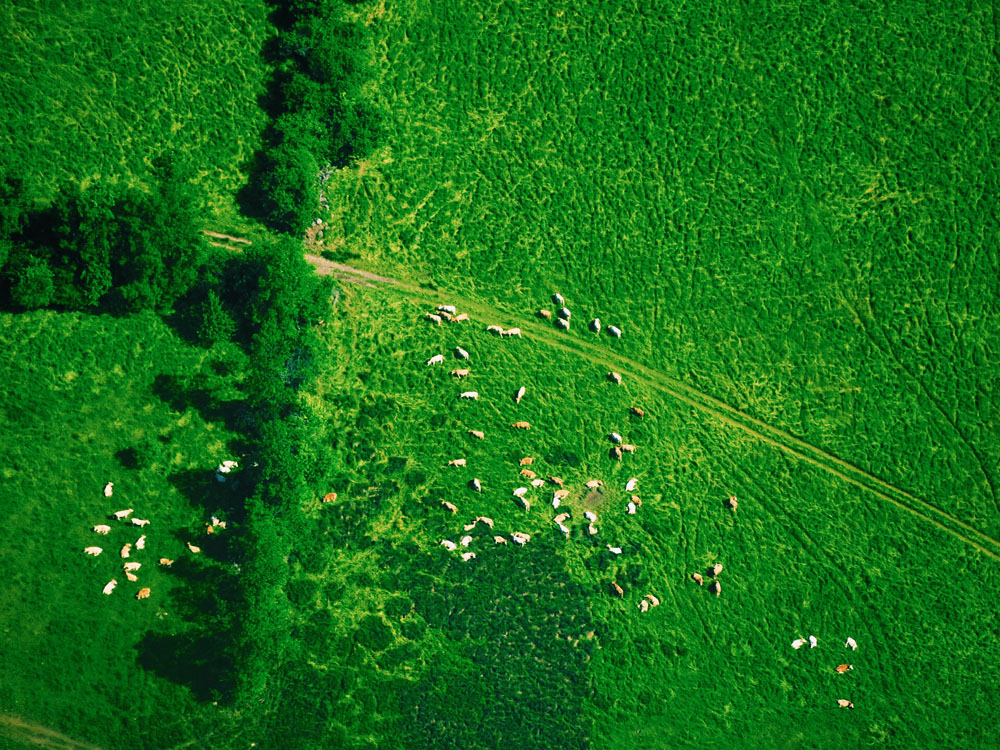 From speckled herds of cows in the fields, to snaking blue rivers through the vast green forests, to ghostly swamps claiming hundreds of mini trees in the distant ground below.
Both Bruce County and Grey County are home to miles and miles of dense forests, dozens of large ponds and lakes, and several scattered towns and villages between farmers fields and river valleys.
I've always enjoyed looking at aerial photography, but to see it in person really brings to life that geographic canvas that the Earth really is–and in this case, the Brice Peninsula was the canvas.
Oliphant
(a.k.a. the tropical islands of Lake Huron)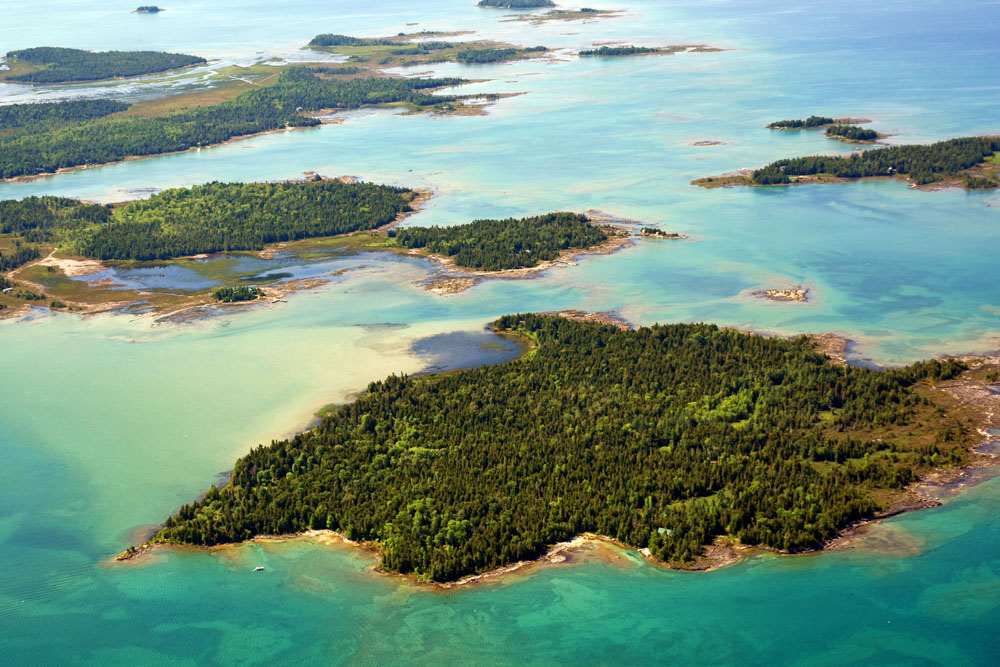 I hadn't even heard of Oliphant before we flew over it, but OH MY GOD–was I blown away.
Just off the coast from the town of Oliphant, exists a magical group of 70 islands scattered across three kilometers of sparkling shoreline.
As we approached, the turquoise water appeared more like that of the Sea surrounding a tropical Caribbean Island. The bleach-white alvar limestone bedrock reef and shallow shifting sands gave a look similar to the patterns of the Great Barrier Reef, with colours fading from orange to yellow to white. Below the waters surface you can make out the paths that glaciers from millions of years ago etched into the sea floor.
Wiarton Wrecks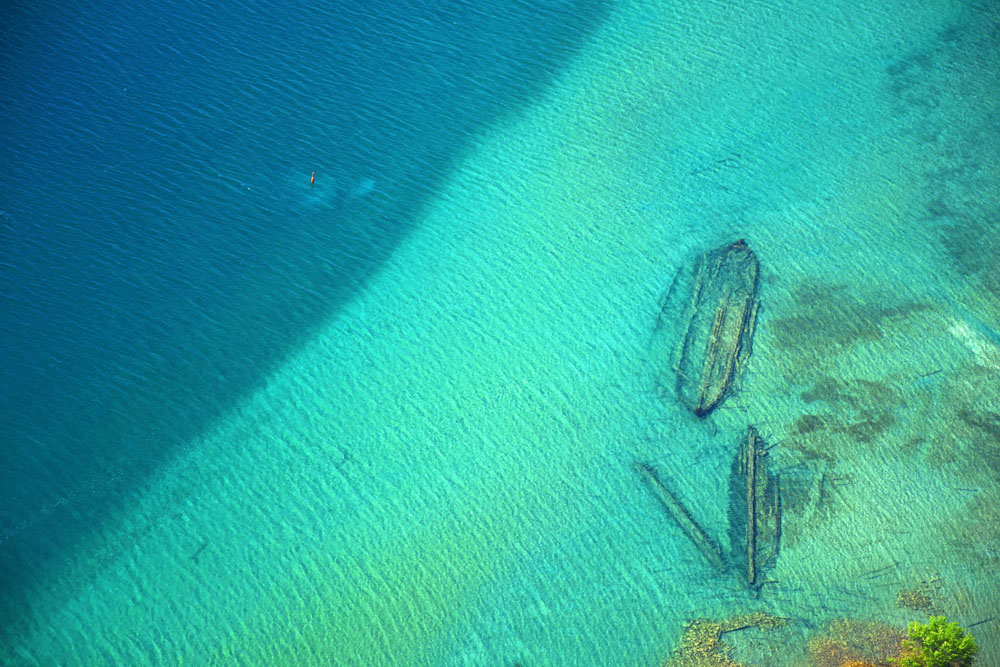 Just north of the city of Wiarton are two well preserved shipwrecks, the Lothair and Edward S. Pease (top) and the Whicher's Mill (bottom), from the early 1900's. The shipwrecks are located southwest of the Colpoy's Bay pier.
I've always seen photos of them from water level, and after seeing them from above, I'm planning to do a kayaking trip over them later this summer.
Flying the Plane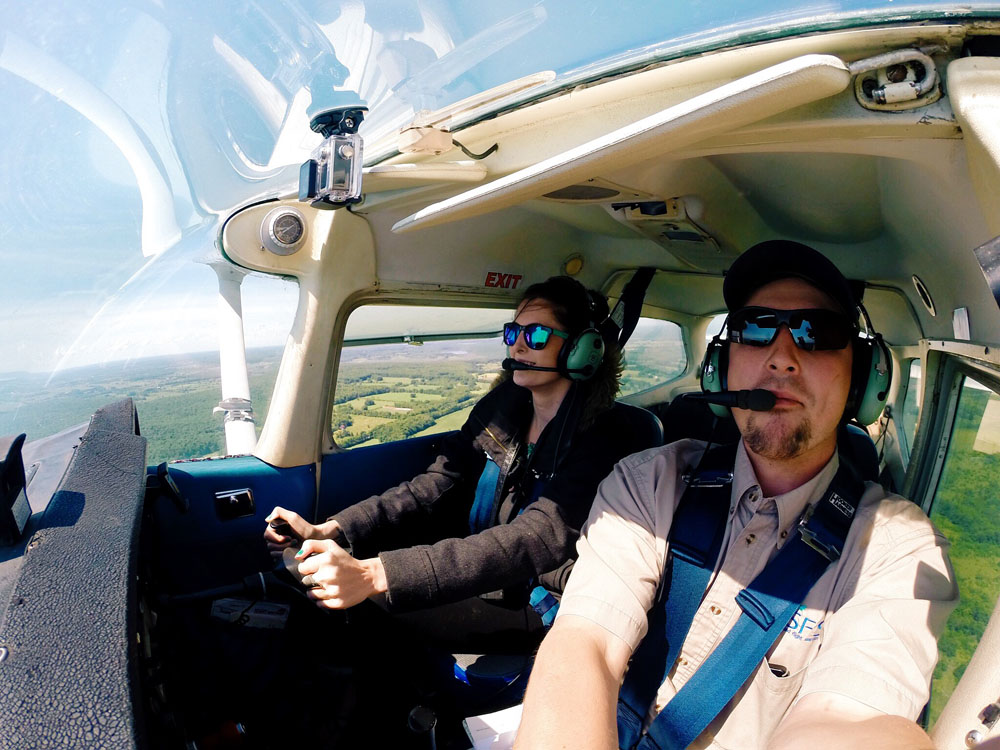 As we approached Georgian Bay, Dave asked, "do you want to try flying it?".
My eyes widened, I made a strange noise of excitement and uncertainty, but ultimately said "YES!".
I grabbed a hold of the control wheel on my side of the plane, Dave let go of his, and suddenly I was flying. He gave me instruction of what to do to move up, down, and side to side. I experimented a bit with different movements, and flew us along for a few minutes.
It was probably the most exciting part of the tour.
Georgian Bay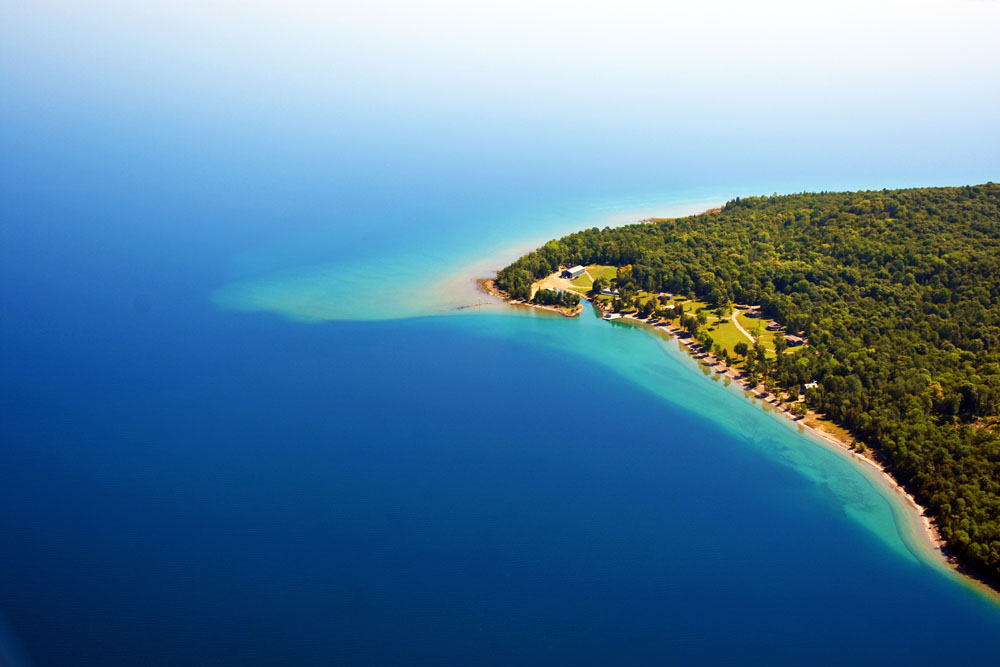 The stark contrast to the Lake Huron shorelines are evident in Colpoys Bay and Georgian Bay, as the depths of the water drop off much more significantly to a deep and dark blue hue.
We flew along the waving coastline until we soared clear over the open waters of the Bay, spotting several islands and fading shorelines in the distance.
From there we wrapped around the tiny Kemble Mountain and headed back to the Owen Sound Airport for landing.
Some more photos from the tour: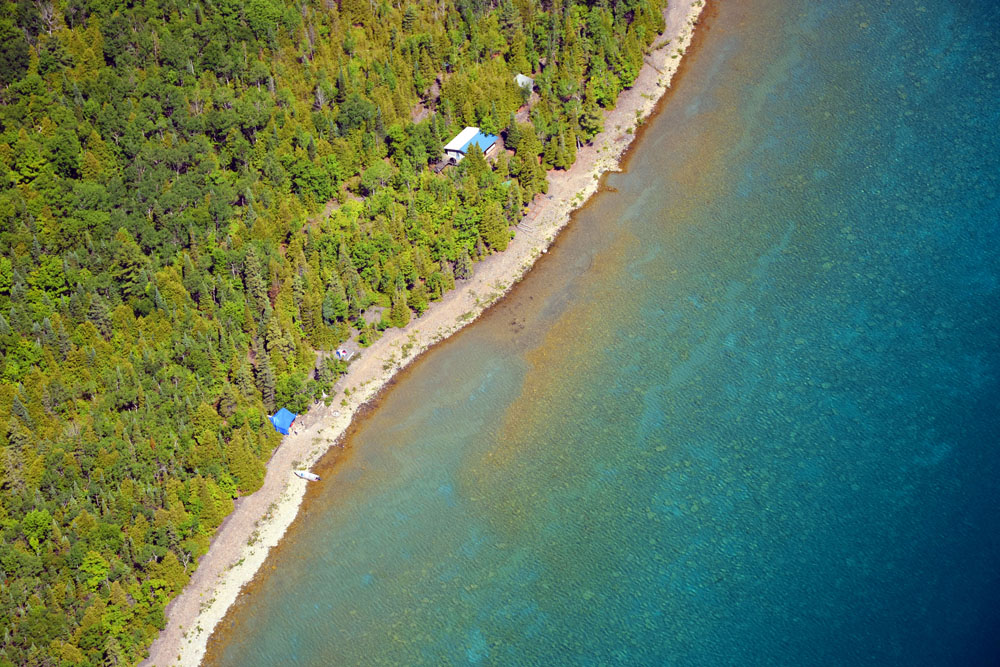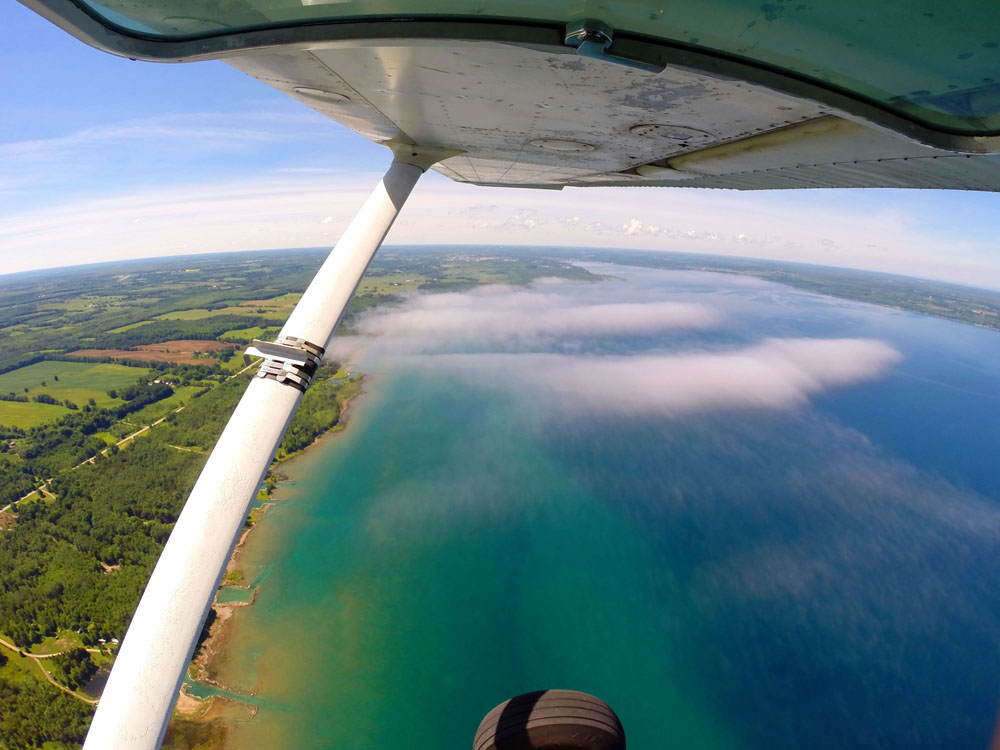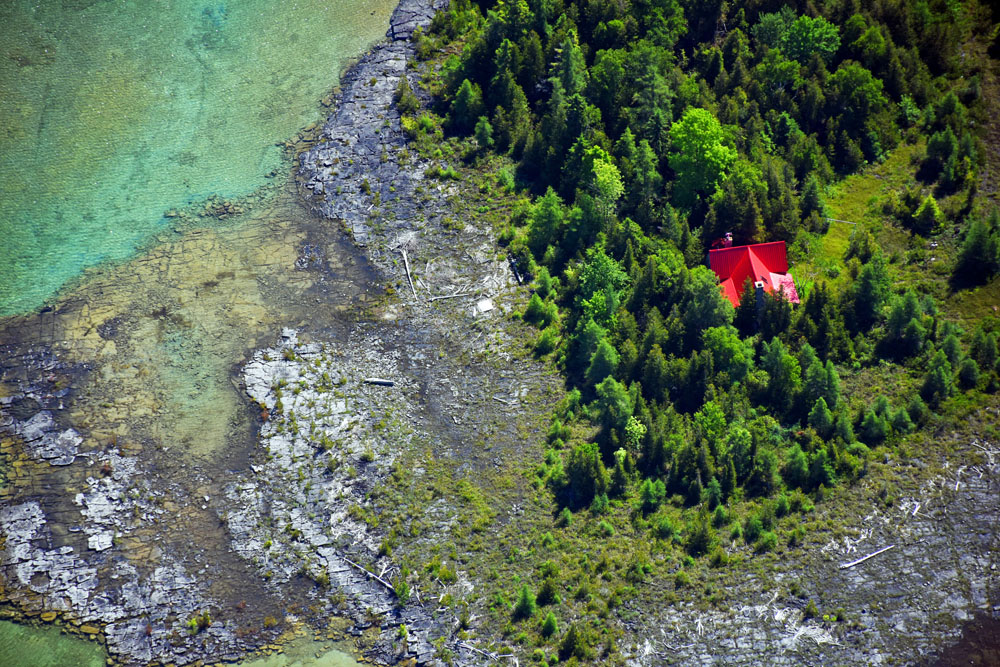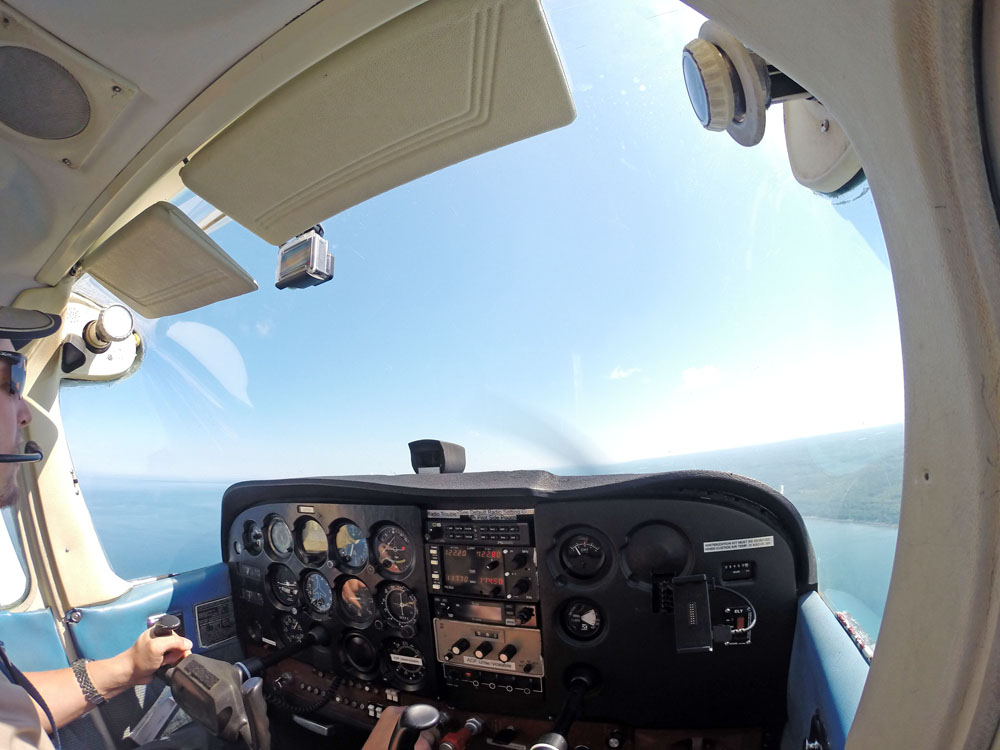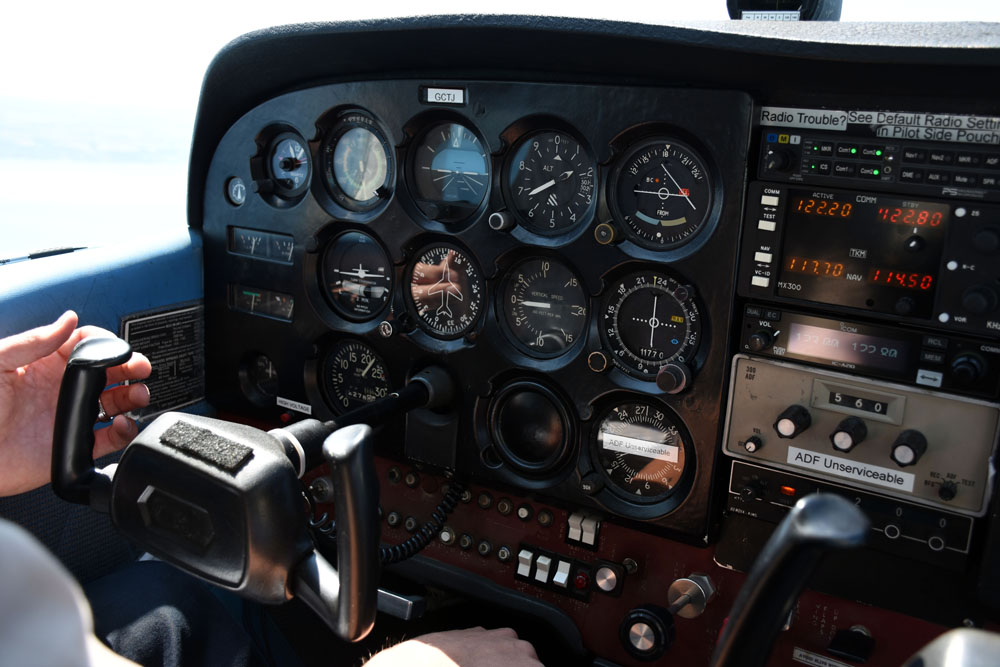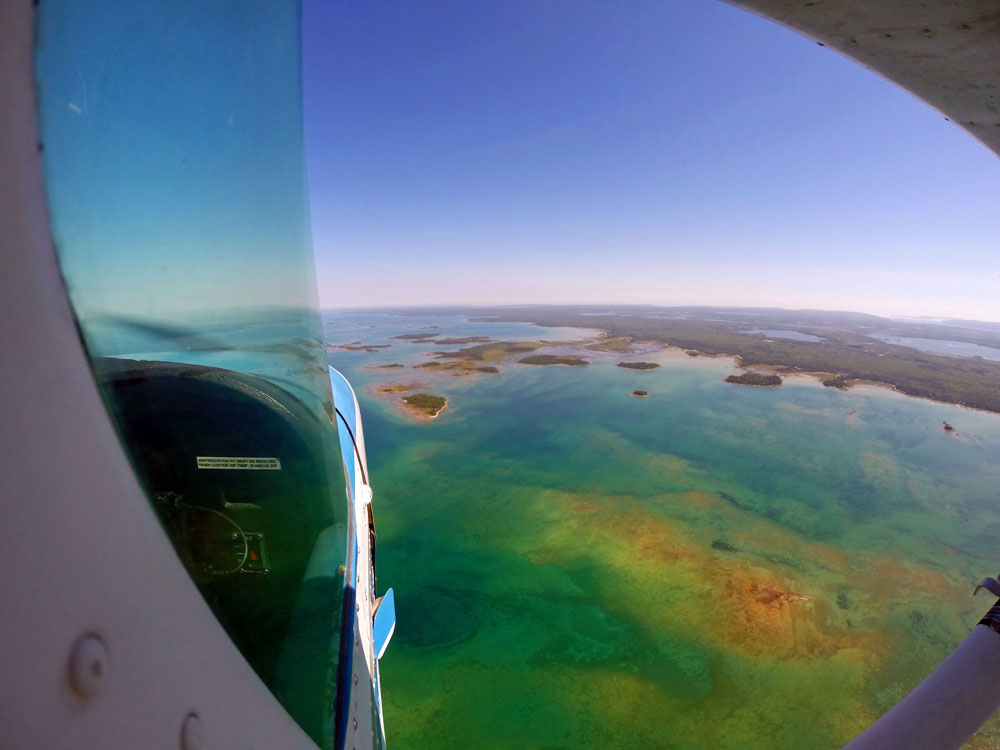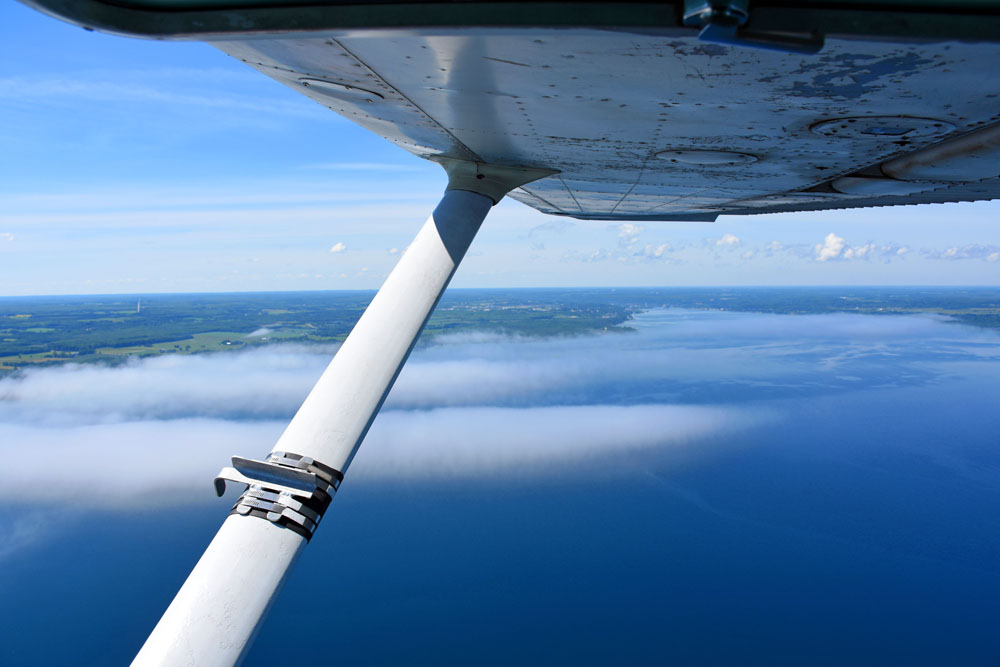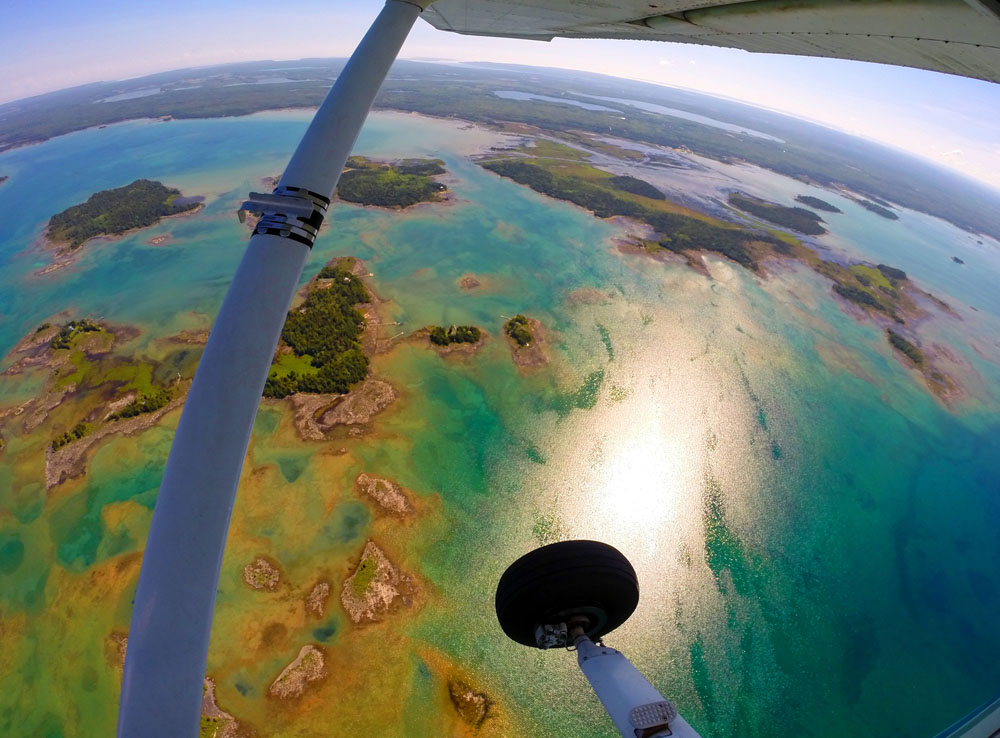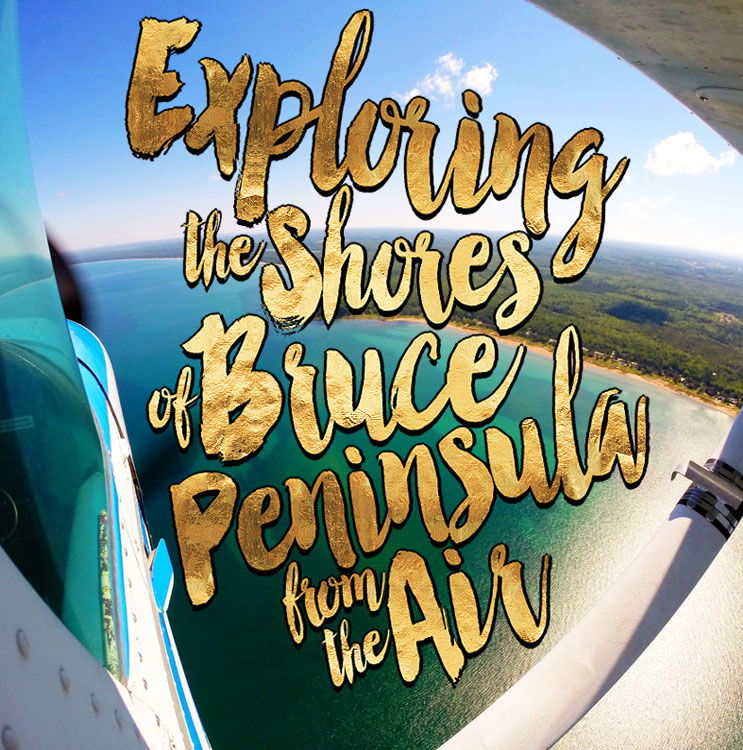 I flew on the Explore the Shores Tour,
but Owen Sound Flight Services offers other area tours
including the Bruce Peninsula Tour (the one I'm dying to do next!)
and Waterfalls from Above.
Don't forget to follow them on Instagram.
This tour is $255 for 3 people.