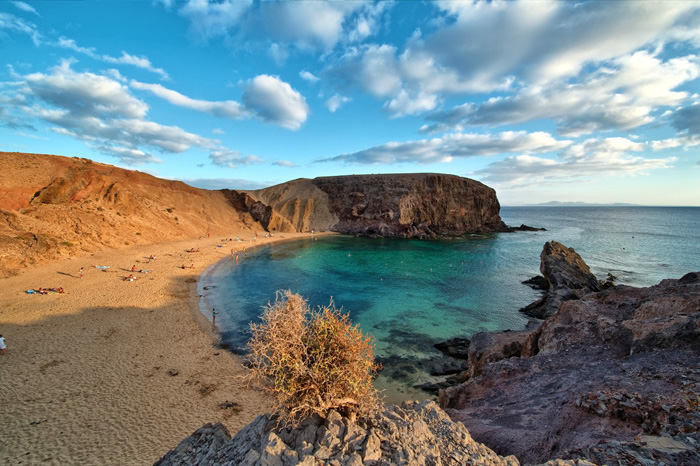 The enchanting island of Lanzarote attracts tourists around the world with its beautiful beaches and year round sunshine. Signing up for cheap holidays is arguably the best way to get value for money and at the same time enjoy your vacation. Here are some interesting facts about Lanzarote that help to make it a unique and fascinating destination.
Unique Geography
Most people are aware that Lazarote features a large number of volcanoes. However, this is actually the least mountainous of all the Canary Islands. The relatively flat terrain of Lanzarote helps to make the island stand out and makes exploring particularly easy.
The Naming of Lanzarote
According to historians, Lanzarote is named after Lancelotto Malocello, who was a sailor from Genoa. Lancelotto Malocello visited the island in the 14th century and staked his claim there. Lancelotto Malocello erected a tower on the island and the castle of Guanapay, which is the oldest castle on the island, was built directly over the tower.
Wine Making
A special type of wine is produced in the Le Geria region of Lanzarote. The grape vines here have been especially developed so that they are able to grow in high winds. Visitors who track down one of the island's vineyards will have the chance to view these unique vines and perhaps sample locally produced wine.
Mirror of the Moon
Visitors to Lanzarote will have the chance to explore the moon without ever leaving the Earth. Timanfaya Park is said to look exactly like to surface of the moon. In fact, the resemblance is so striking that photographs of Timanfaya Park were studied by Apollo astronauts so that they could get an idea of what the moon looks like before heading into Outer Space.
Going to the Movies
The landscape of Lanzarote is so striking that it has been used as the setting for a large number of films. Blockbusters such as Dinosaurs Ruled the Earth and Moby Dick were both filmed on Lanzarote. The island was also used for popular television series such as Doctor Who and Search for Treasure Island.
These are just a few of the facts about Lanzarote that really make it stand out from other islands. Visitors who have a strong sense of adventure are sure to enjoy exploring the island's interesting natural attractions. Of course, this is also a great place to simply unwind and soak up the sun for a few days.