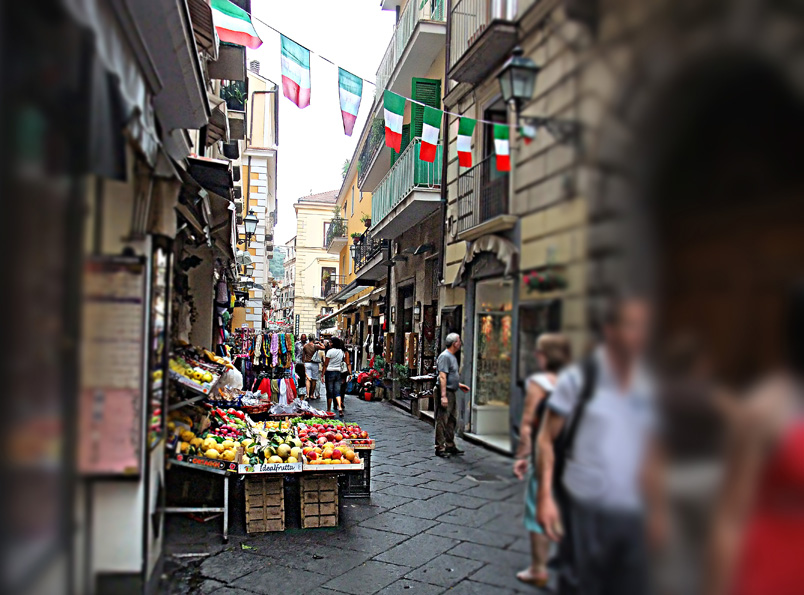 When I was 17 I spent my summer with a couple of different host families in Italy.
My second host family lived in Castellammare di Stabia, a city suburb on the outskirts of Napoli in Southern Italy. Situated on the Napoli coast, Castellammare lies in the shadow of Vesuvio and neighbours the infamous village of Pompeii.
It is a classic Campanian city with easy access to the tourist town of Sorrento. Upon taking my first step into Sorrento, I immediately fell in love with the beautiful little city.

After a quick drive through Castellammare, we were dropped off at the train station. We paid our fare and hopped on the next train.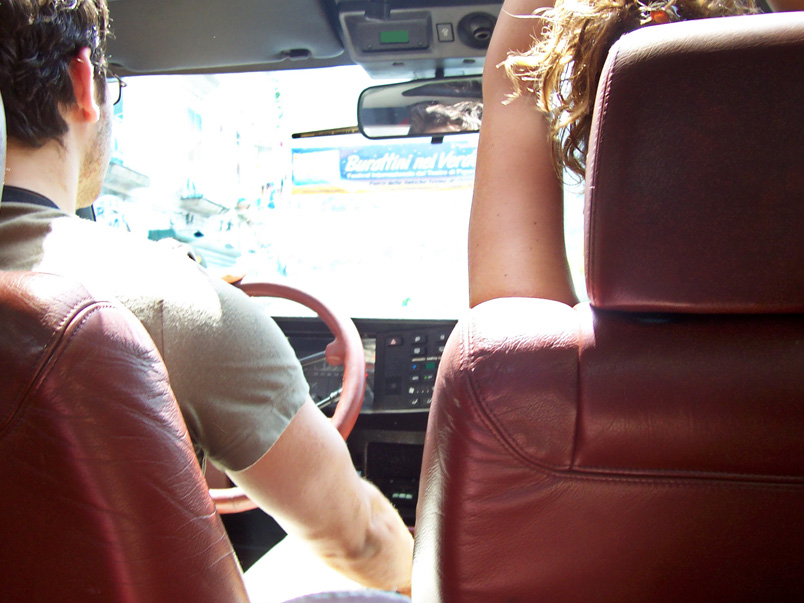 The train ride is one memory of Italy that has always stuck in my head. It zipped along the tracks through the small adjoining suburbs of the Napoli coast and mountains. It seemed to cut straight through the backyards and gardens of local towns and gave me a first hand glimpse into daily Italian life.
One garden was lined in lattice arches that were curtained in unruly grape vines. The next was full of roaming chickens and a small vegetable patch. One yard hosted a small afternoon lunch party and another protected two small children that ran around playing with eachother. It was one cultural surprise after another.
As we grew closer to Sorrento I could hear faint music playing from another train car. The compartment door slid open and in walked a young boy with an accordion. Beautiful, soothing music flowed out of his quintessentially European instrument. The tune was somehow cheerful and somber, all in the same tranquil melody.
Finally we arrived at Sorrento Station.
Leaving the station, we walked down a couple of streets until we reached the main square. It was a bustling city centre, full of small cars honking their horns, large tour buses and hundreds of people milling around the side-walks. The streets were lined with tall palm trees and most of the buildings seemed to be painted a bright yellow.
To my right was a rail that guarded a steep cliff that dropped down to a long and winding road beneath. The road led to the port of Sorrento, where ferry boats departed hourly for the island of Capri.
Continuing through the square, we entered the narrow, cobbled alleyways that were full of shops and restaurants. There was so much to look at that I almost felt overwhelmed. Each little stand displayed hundreds of small souvenirs and shopping items. Jewellery and decorations dangled from awnings, and wall space was adorned in framed photos and postcards.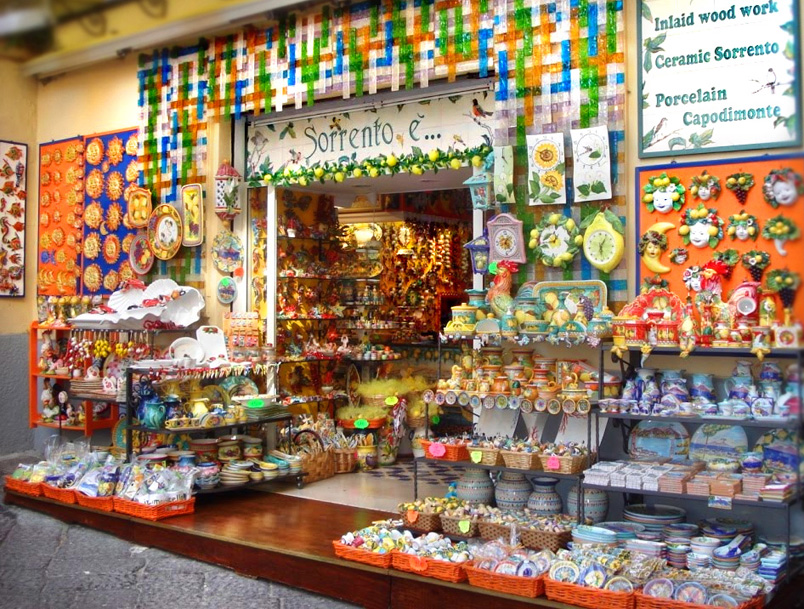 Shops were filled with everything from clothing and accessories to furniture and housewares. Soft music played from each corner and a soft hum of voices filled the tiny streets. Surprisingly, I heard more English than Italian.
There seemed to be a theme of lemon related items going on, as the Campania region is so well known for them.
Before heading down to the sea, we made one last (and very important) stop. Gelato!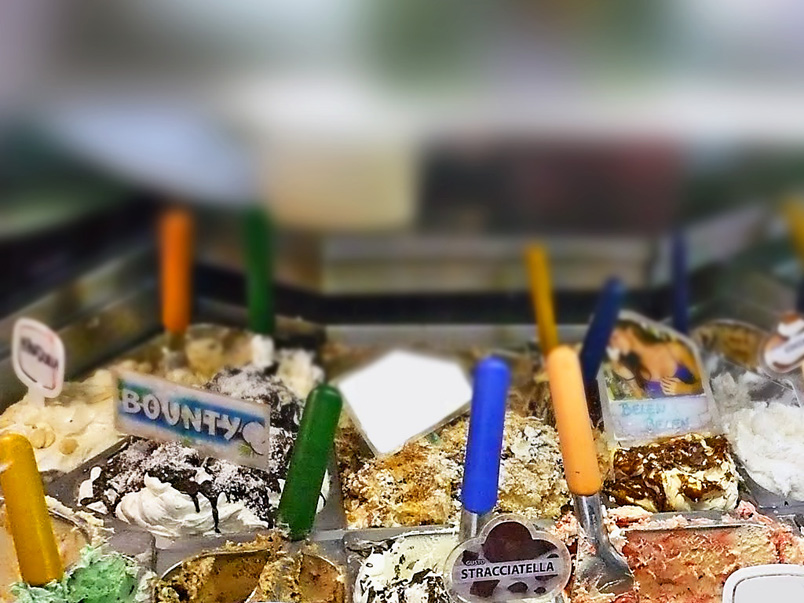 I had enjoyed a lot of gelato over my summer in Italy. A lot. The gelato in Sorrento was by far the best that I had ever had. Even better than Capri.
There were so many different flavours to choose from, and so many delicious combinations to make. I sampled a few before deciding on a fruity mixture of strawberry and lemon. It was taste-bud-bursting!
We finally started to descend the hills to the seaside. We followed a series of curves and steps further and further down the mountain. The views along the way were spectacular.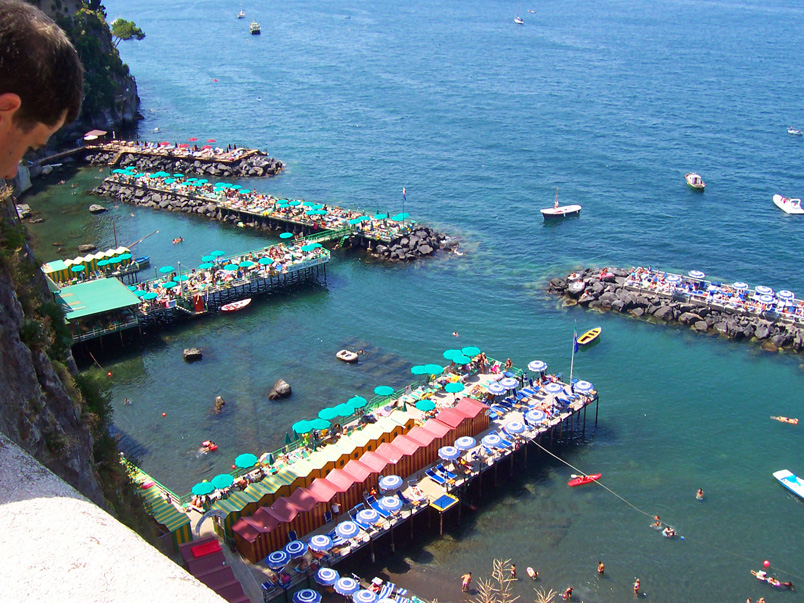 The sea was such a bright blue that I couldn't look away. I had never been to any tropical islands or anything like that, so it was the first time I was seeing anything like it.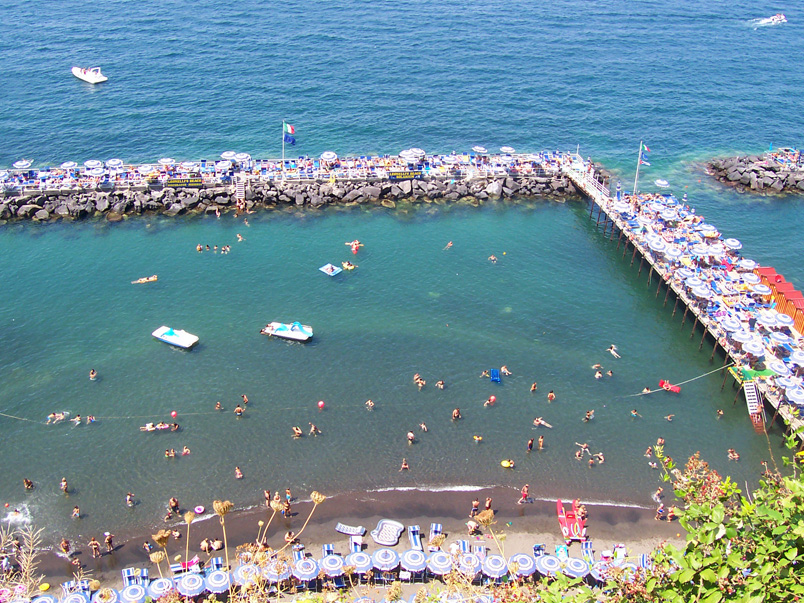 At the bottom of the steps we boarded the first dock on the right. This dock was home to a members-only beach club style establishment. We passed through a small restaurant to get to the lounging area that was complete with lounge chairs and umbrellas.
I set up camp under my very own umbrella, hiding from the sun. I don't stay this pale by laying around in the sun all day :p
I watched the boats bob around in the marina for awhile and listened to the sea birds and other seaside noises.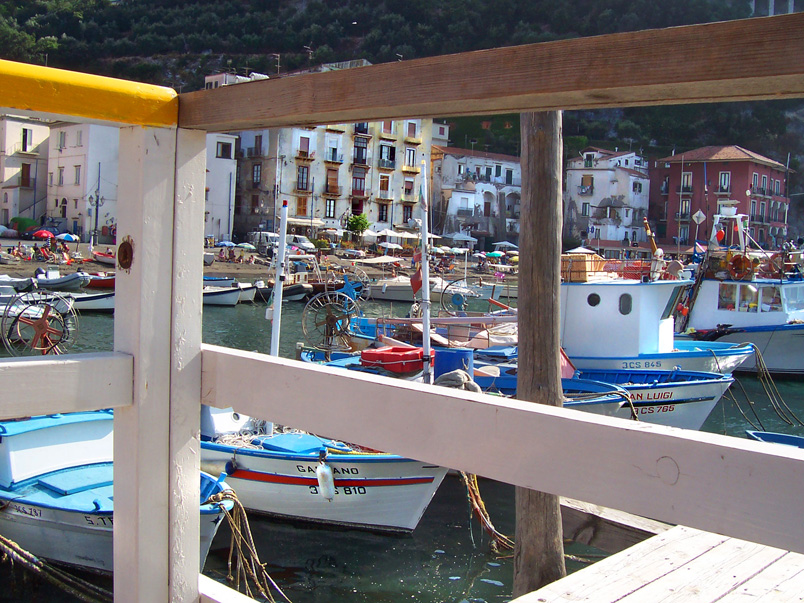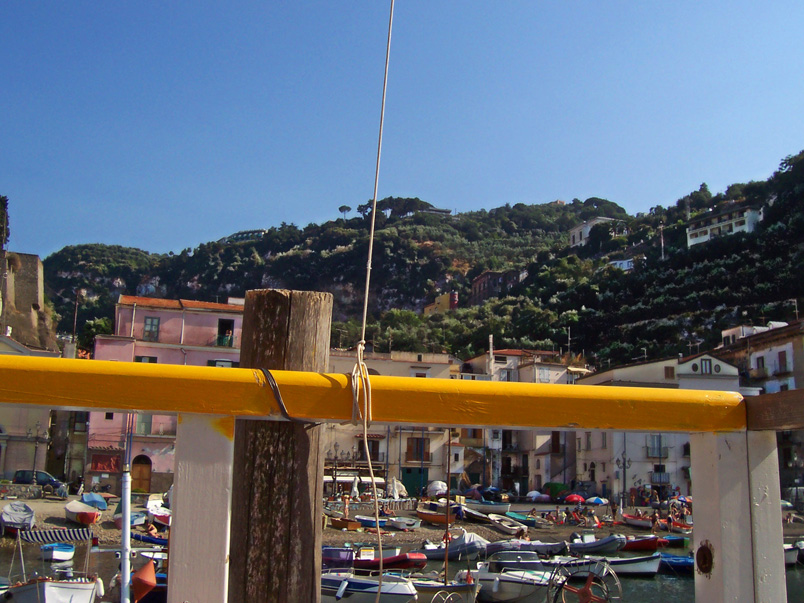 I even spotted my first ever jellyfish!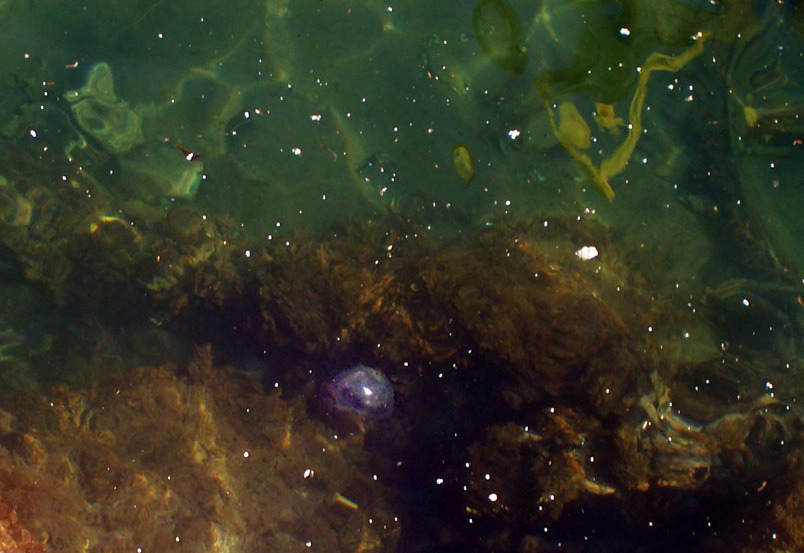 We spent a couple of hours enjoying the sun (well–sort of) and sea, and just relaxing on the lounge chairs. I read a little and drifted off for awhile, before I went for a refreshing swim. Then decided to have a bite to eat. We walked over to the small restaurant by the entrance.
I sat on one side of the table, while my host sister and her best friend sat on the other. We ordered drinks and a few appetizers, while they told me about the things that they do for fun in Sorrento and Castellammare.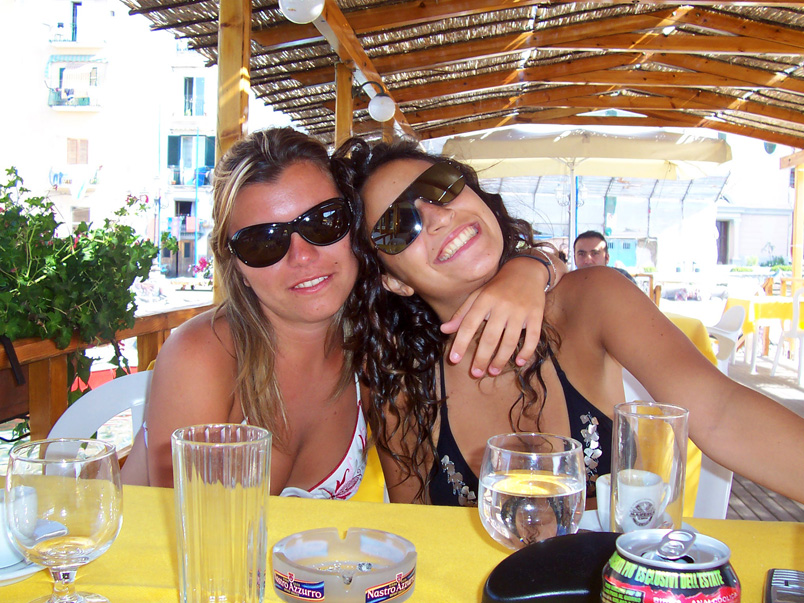 The best friend told me how her family owned one of the pink colored houses just in front of the dock. I was quite surprised because those line of houses are pretty famous in photographs of Italy and Sorrento.
After our meal, we decided to make a quick trip up the mountian to see the view, before heading back to the train station. I got a couple of quick shots before the afternoon sun started to lower in the sky.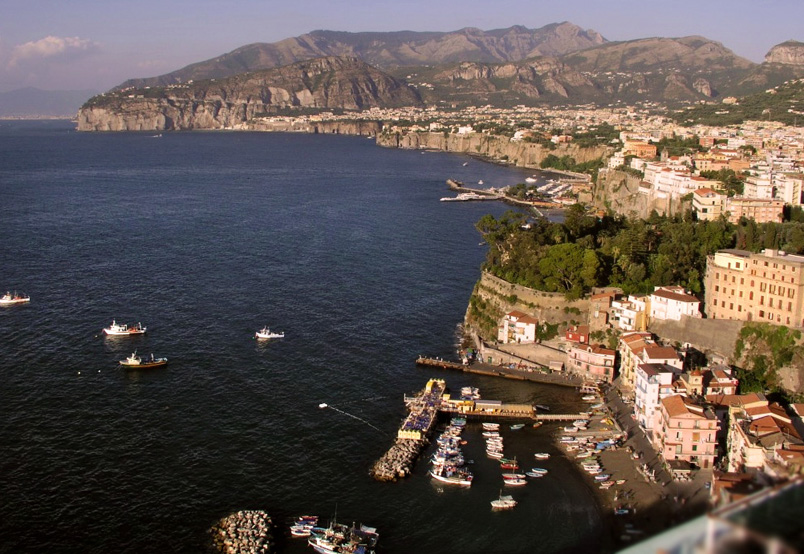 By the time we got back down the mountain, it was starting to get dark.
Navigating back through the small alleyways and streets of Sorrento, we arrived at the train station. We waited for our train, while my host sister chatted on the phone and I reminisced over our day in the beautiful city.