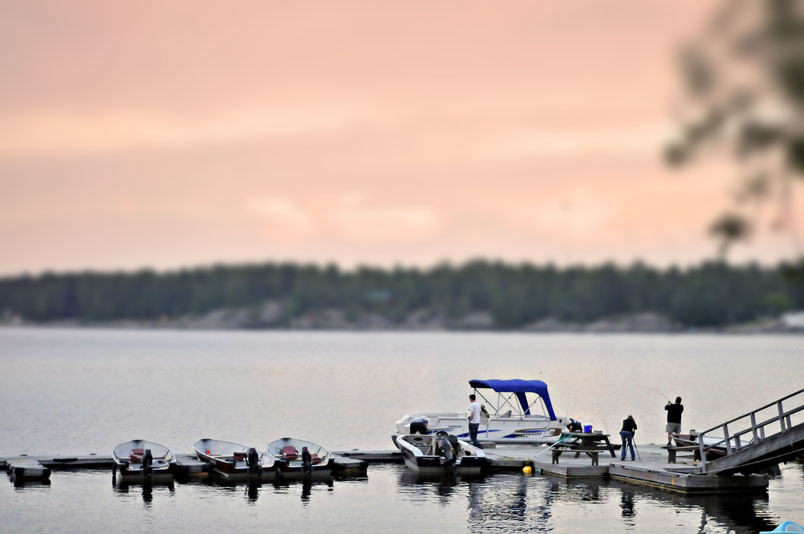 I was slightly into fishing when I was growing up, and by slightly into it, I mean really into it. I loved to fish, and I loved the idea of traveling around Ontario to find different fishing spots.
My Dad took me to several fishing derbies, where I often won the junior competitions for "most fish" or "biggest fish".
When I learned that I would have the chance to travel up to Sand Beach Lodge on the French River for a fishing trip, I jumped at the opportunity.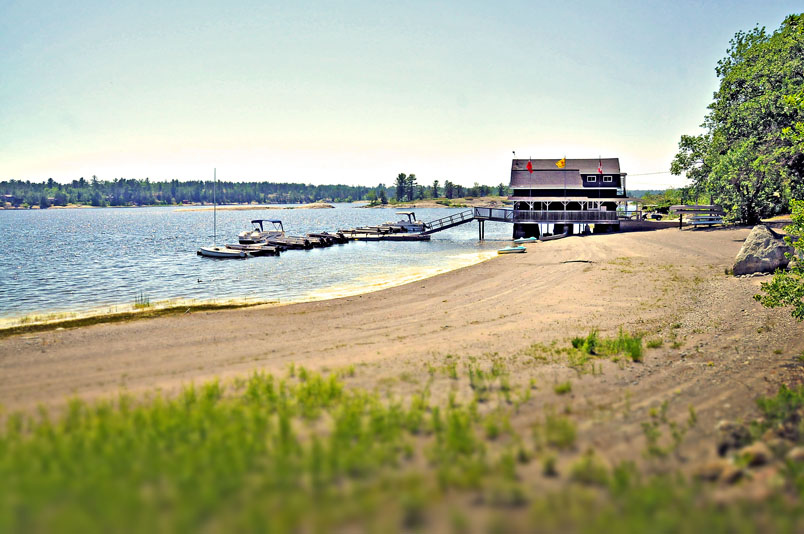 Sand Beach Lodge is located right on the edge of a large Bay in the French River. The cabins line the shore, and a large dock sticks out into the water.
The lodge arranges fishing tours of the river for guests, and even features an incredible "shore lunch".
On the day of our big fishing expedition, we boarded a Princecraft 20′ Sportsfisher Pontoon Boat from the dock, and headed into the wilderness. The boat was completely equipped with an anchor, minnow bucket, landing net and life-jackets.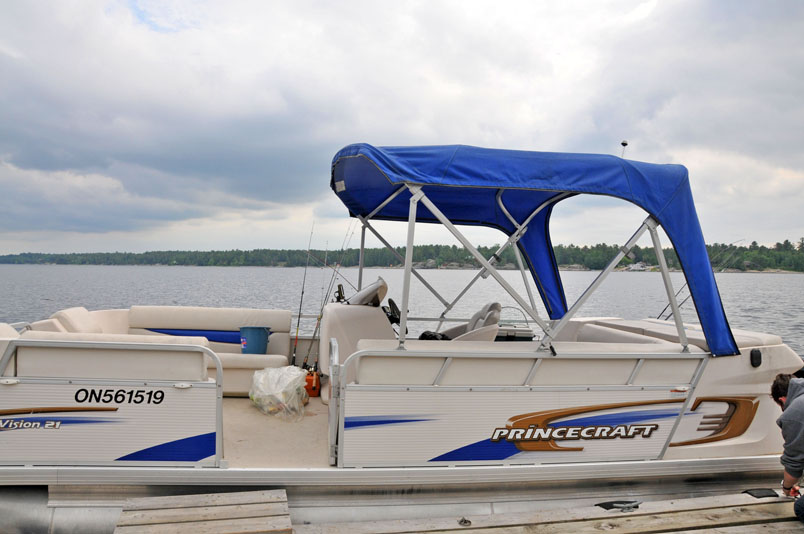 We spent some time navigating the winding river, around countless islands and numerous channels, between steep-walled gorges and wide open expanses. The rugged glaciated river floor rose and fell beneath us, sometimes dropping off to more than 30 feet.
The French River is a great place to study geology. The overlaying rocks are 480 million year old limestone that was deposited in a shallow sea after the Precambrian shield bedrock was eroded to its present level.
As an admitted geology nerd, I spent most of the ride trying to spot the faults in the rocks beside me, noticing the breaks and shifts between different layers in the rock-face.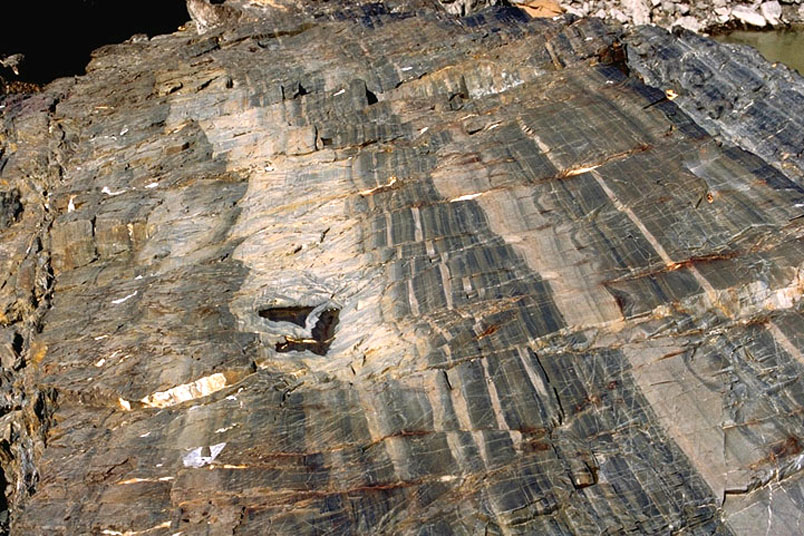 Forgive me if I lose you for a minute here.. but, I thought it was interesting that the plates almost created a mini left lateral strike-slip fault, and that they were at a north-south angle.
Considering the rising land went from an eastward flow to a present day westward flow, it seemed strange that it would react like this. They must have been formed by transforming plates, perhaps by small earthquakes within the crust. (okay, I'm done–I swear!)
We stopped the boat a couple of times, to test the water for bites. The first spots were a no-go, as no one caught any fish. By the third stop, we finally had some luck! We had a winner for our "first fish" competition.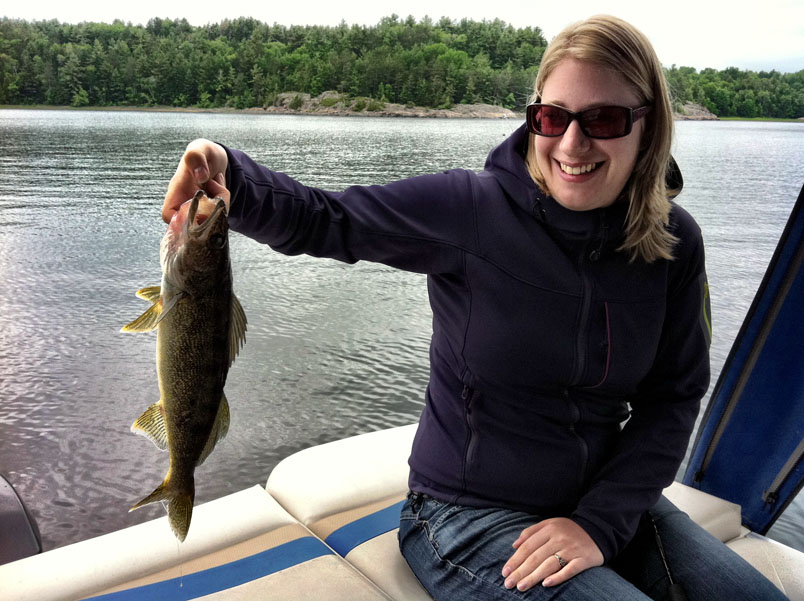 Feeling the excitement, we all cast our lines in, waiting and expecting for bites. Nothing happened.
An hour went by, and still, no one had caught any fish. Our guide, Clarence, decided that it was time to find a new spot, and we zipped around a couple more corners, and into a new place.
Everyone cast out their lines again, and we waited. Suddenly–one line bobbed. Someone on the other side of the boat started to reel in a fish. But then, two more lines bobbed.
We had three fish at one time, and the boat erupted into chaos.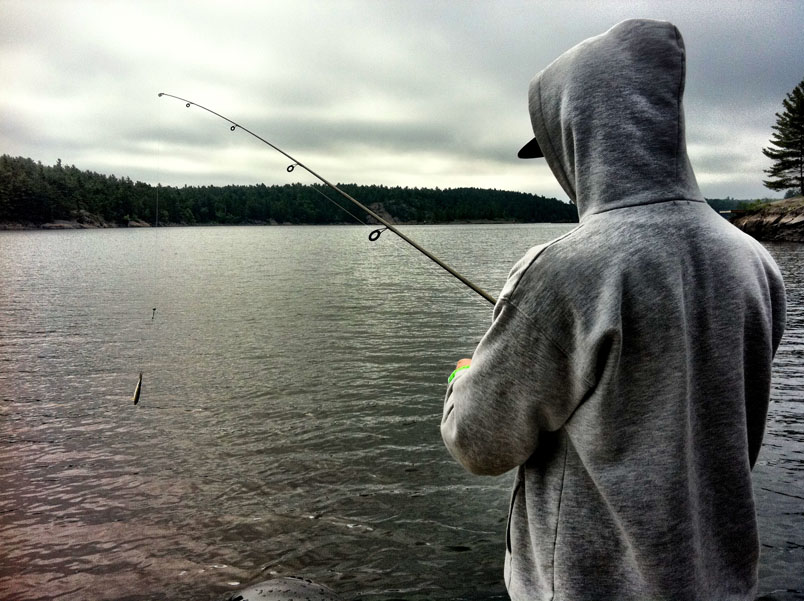 We could only get the fish into the boat with the help of Clarence and his large fish net. He ran frantically from side to side, scooping up the fish and bringing them into the boat.
Just as we got two fish in, another line bobbed and we had caught a fourth one! Obviously, we had hit the fishy-jackpot.
Before I even had a chance to examine my own fish, I was feeling another tug on my line. I had another fish!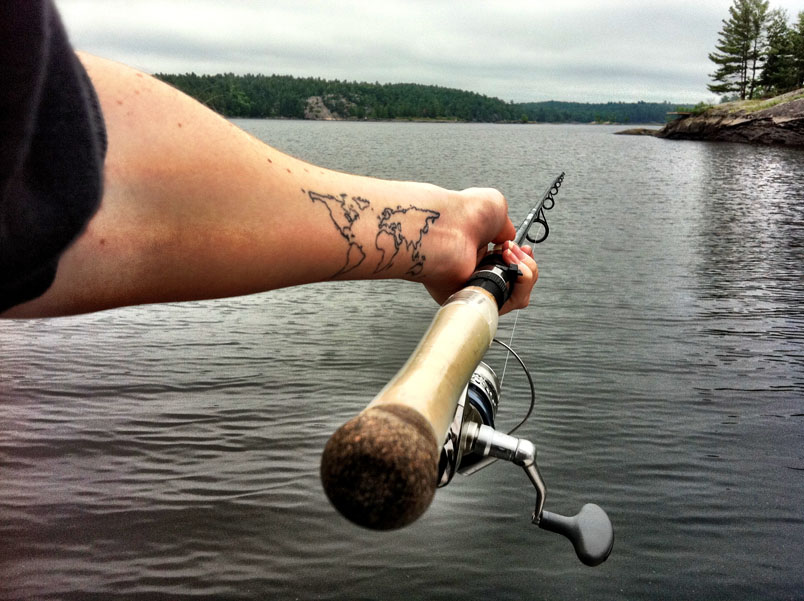 We spent another hour, or so, bringing in fish. We caught a lot pickerel and pike, and couldn't wait to cook them up for lunch.
It was time for a shore lunch. The boat floated up at a shallow rock face, where everyone could hop out. We anchored the side to a small boulder, and unloaded our food from the boat.
At the top of a rocky hill was a fire pit and cooking grill, surrounded by a few rocks for seats. I proceeded into the woods to collect firewood, and the others prepared the fish for cooking.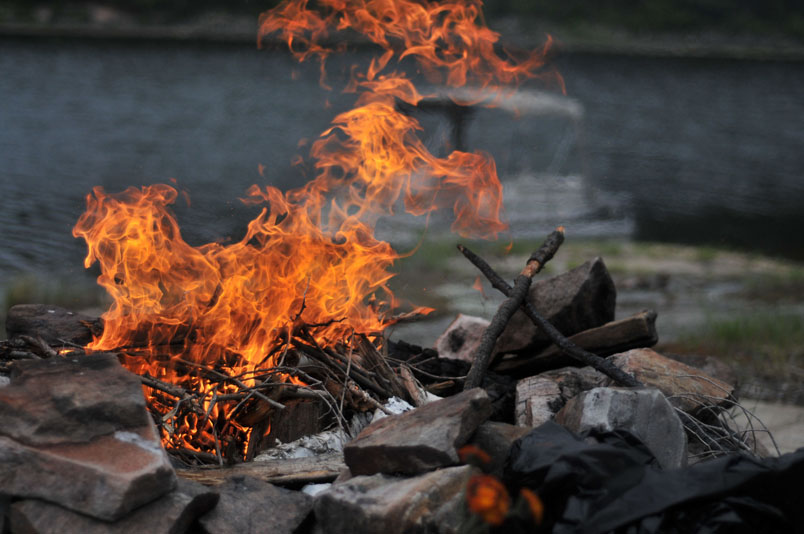 We had a nice spread of potatoes with onions, bacon, beans, the fish that we caught, and even cookies for dessert. I was a bit surprised to see Clarence's cooking skills.
He certainly looked like man that knew his way around a river, but I can't say that I would have assumed that he would be such a skilled cook.
He started with the bacon, frying it up and resting it on a plate. He dumped the potatoes into the same pan, re-using the bacon grease and adding an extra flavour to the potatoes.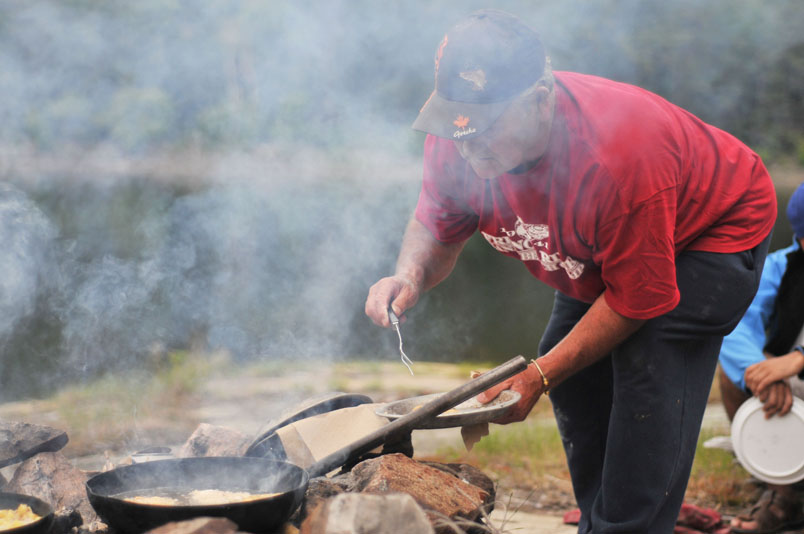 Next, he fried up the fish (which he had already de-scaled, gutted and filleted), while teaching us to fry them skin-side down.
While he was frying the fish, he added onions into the potatoes and popped three cans of beans on the edge of the fire. We opened some beers and patiently waited for the food to cook.
The plates were prepared, and all of the food came off the fire at the same time. Everyone loaded up on the meal in front of us, and quickly dug in.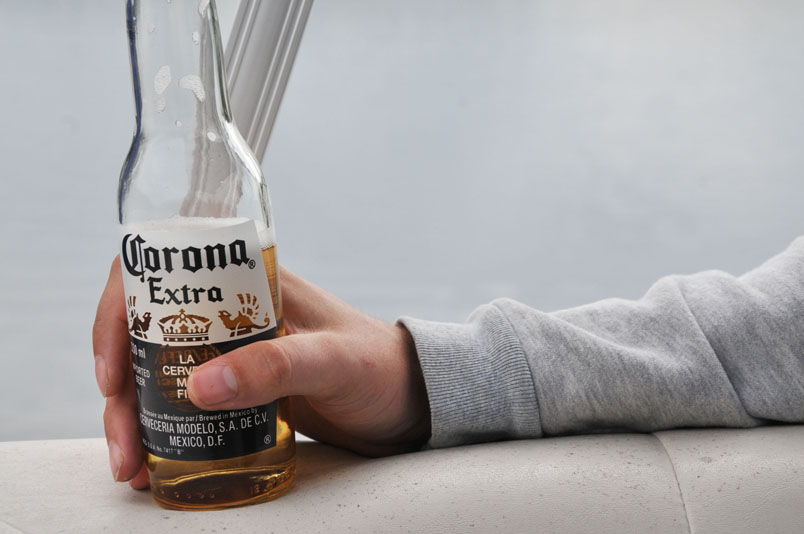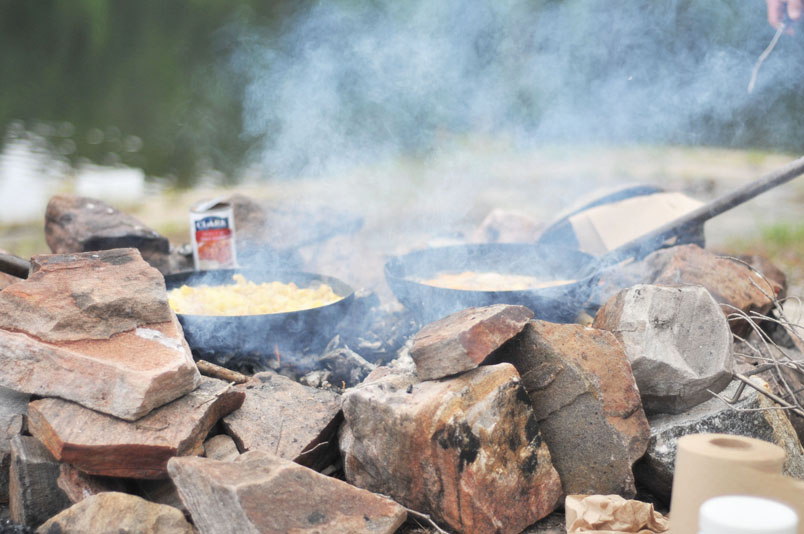 It was delicious. I mostly ate potatoes, myself, but I also tried the fish. As someone that usually hates fish, I was happily surprised with the taste, and I actually liked it! Clarence knows how to do it right.
Plates and cutlery were placed on the ground, one by one, and everyone finished their lunch. There was a period of silence, where everyone looked around and digested their food.
It was a really nice feeling, to just sit quietly in nature. I used to spend a lot of time Up North while growing up, and it felt nice to be back again. There's just something about being alone (even if you're with a few other people) in the wilderness.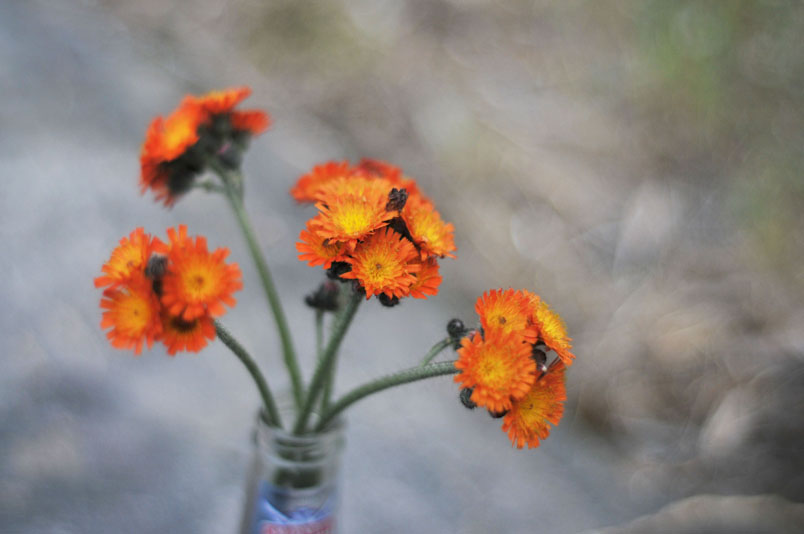 Nothing but trees and water surround you, and instead of traffic and construction, you hear birds and rustling leaves. It's incredibly relaxing. I think that every Torontonian should spend at least one weekend, every summer, in the French River.
I walked down to the water's edge to stick my feet in the river. I sat for awhile, enjoying the cold feeling, compared to the warm air.
Just as I waved my toes around in the water, I noticed a small movement to my left. I looked over, and there was a small brown snake head poking out of the water! He flicked his tongue and disappeared back into the dark water.
I jumped back, slightly startled, but then tried to look over the edge. I later learned that it was a "Northern Water Snake", and they are fairly common in the French River.
Everyone had started gathering supplies and reloading them onto the boat. We cleared up the area, and boarded the boat for the ride home.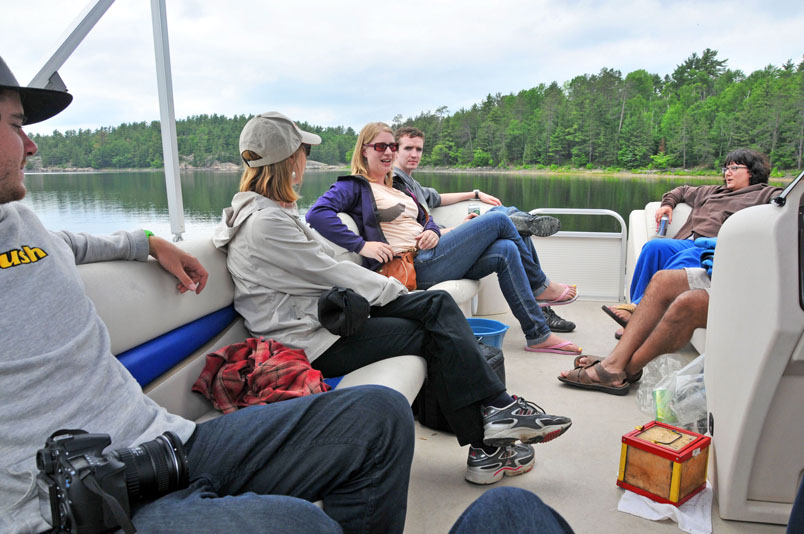 After a short boat ride and some beautiful scenery, we arrived back at Sand Beach Lodge. It had been an amazing day, but I was exhausted and couldn't wait to get back to my cabin for a nap.
I laid down in my bed, thought about all the fish that I had caught, and drifted off to sleep.