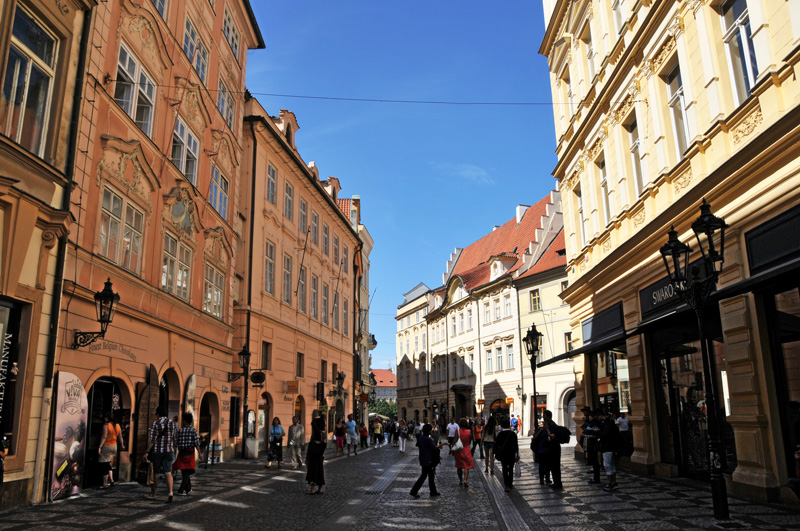 Okay.. I didn't really get lost. In fact–I totally knew my way around by some sort of magical Czech instinct. I'm staying at the PLUS Prague hostel, over in Praha 7 (across the river on the other side of town), and randomly decided at the last minute that I wanted to go exploring. So, I packed up my camera and laptop and headed to the tram stop, just up the street. It was as simple as two stops on the tram and three stops on the subway, and before I knew it, I was street level in old town Prague.
I had no map, no idea of where I wanted to go or what I wanted to see, so I just set off in the direction of the nearest shady street (it was hot out). Not even taking note of what the street names were, I turned from left to right down several side streets and back alleys. Each one was prettier than the last, and many resembled paintings in the ways that their colours blended and outlines melted together.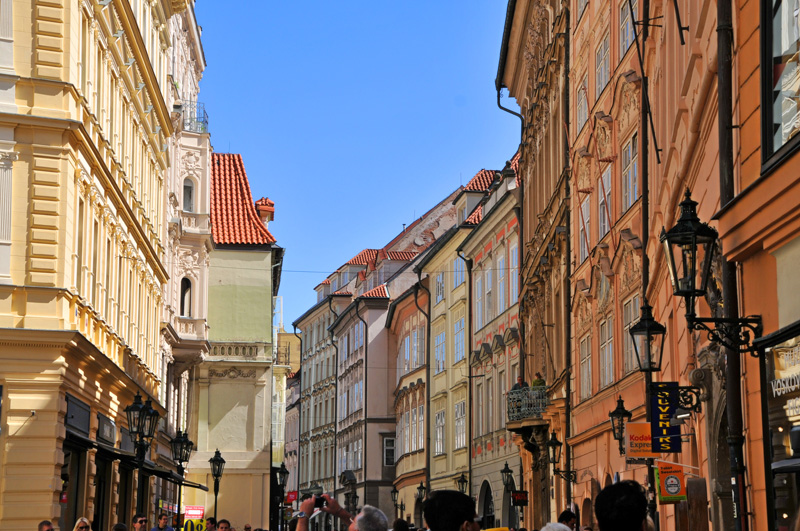 Every once in awhile I could see a couple of spires sticking up from above the rest of the buildings, and finally I had a general idea of where I was. If I wanted to see these landmarks, I would have to navigate through the streets in the direction that I was looking at. So, I set off.
Finally, I emerged into Old Town Square, and at that moment, I saw it. Týn Church was standing right in front of me. I had been wanting to see this particular landmark for as long as I could remember, and now here it was, right in front of me. I stood, staring at it for awhile, likely getting in the way of thousands of photos that were being taken from behind me. After some time passed, I took a few photos of my own and then went on the see the rest of the Square.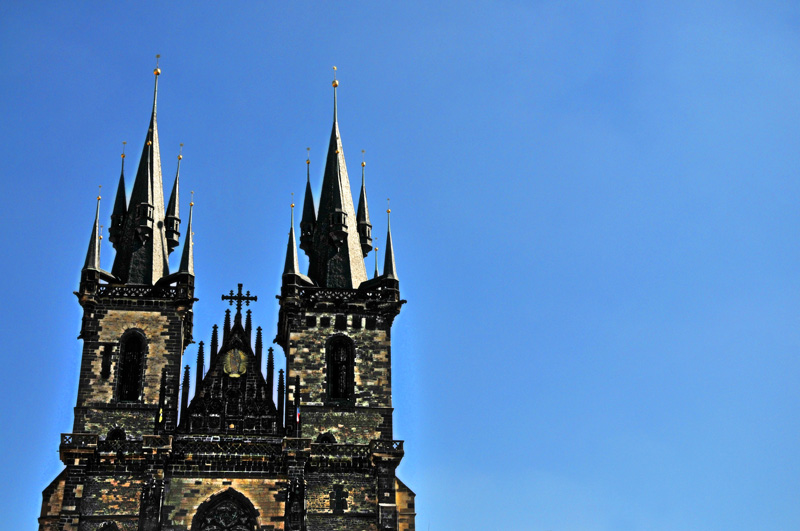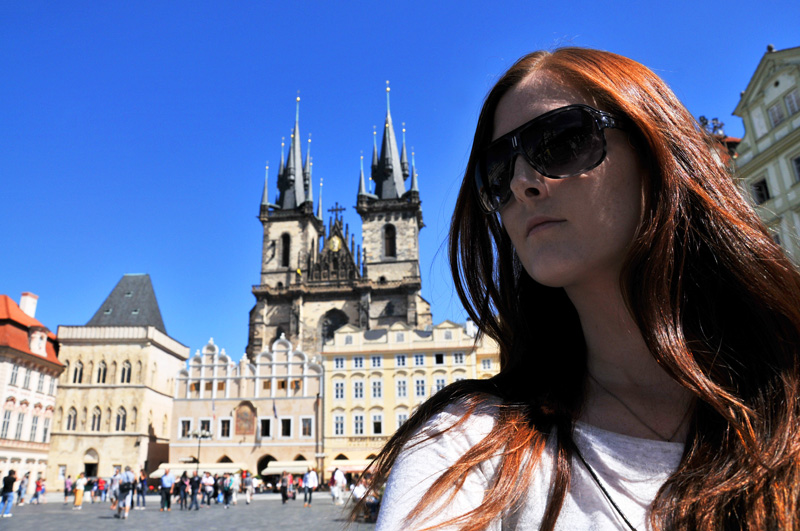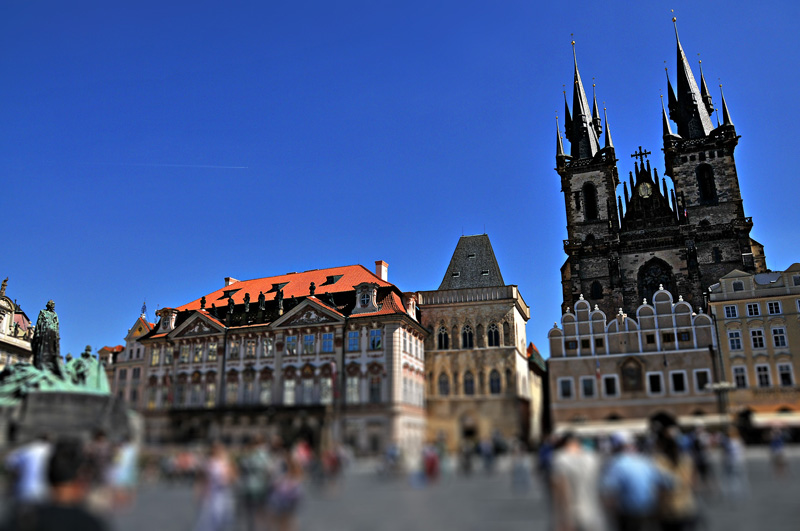 Although the Church itself was beyond beautiful, it seemed as if every other façade in the square was at competition with it. There were bright colours, golden ornaments, fancy window shutters and eloquent arches. I felt like I someone in the crowd was going to suddenly break out into song and it would turn into some sort of musical Disney movie.
I walked across the Square and got my first look at the Astronomical Clock. It was also just as beautiful as I had imagined, and seemed to draw in an equal amount of tourists. I watched it for a little while, took a few more photos, and then continued down another alley way. Before I fully got around the bend, I happened to turn around, to see the scene of the Square from this view (just West of the clock). It was the perfect angle. The shot lined up just right to get both the Astronomical Clock and Týn Church into the same shot. Gorgeous!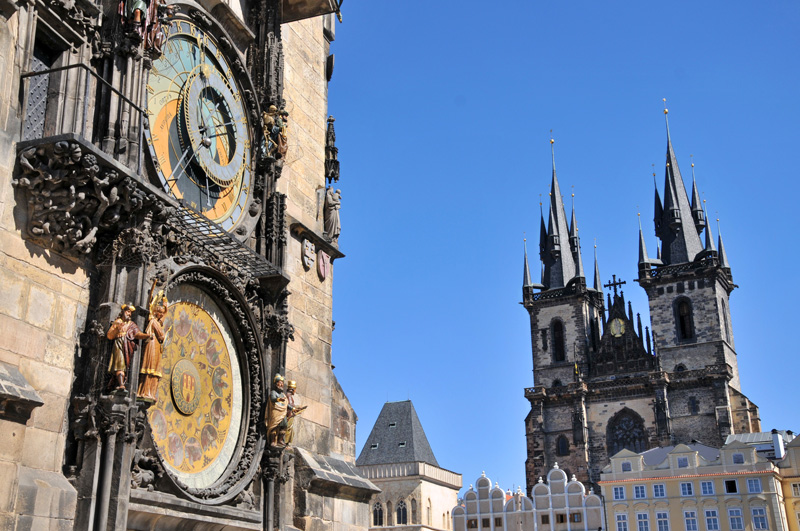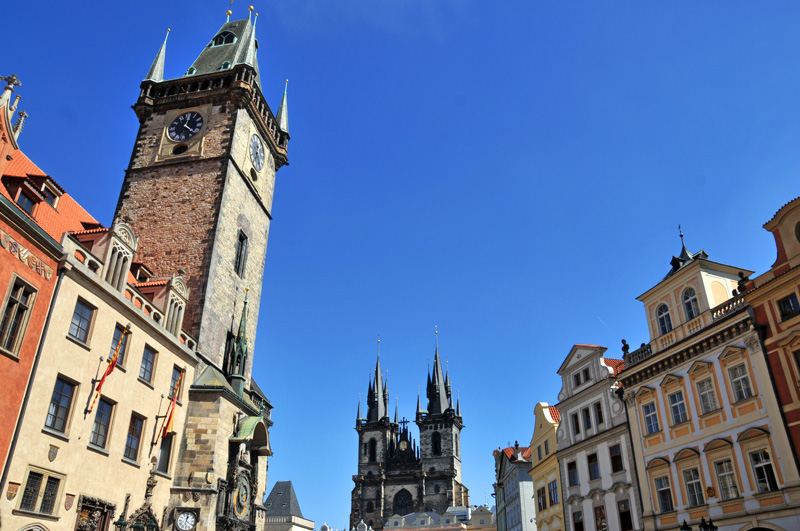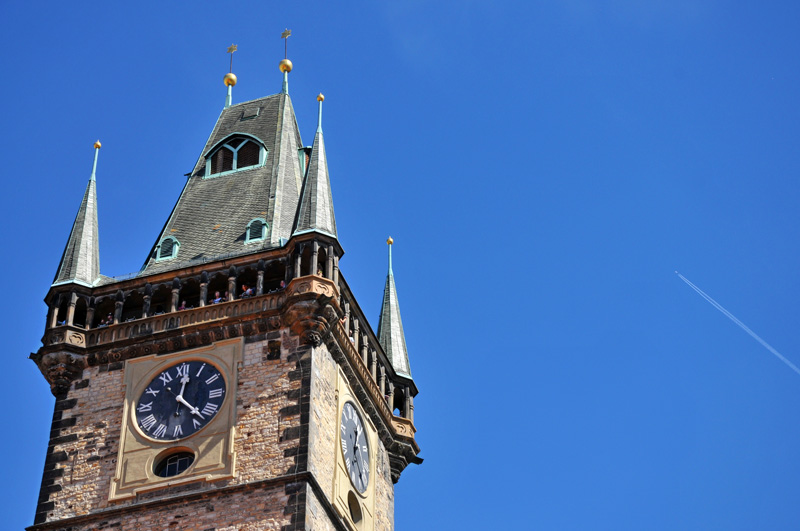 By this point it was getting quite warm and I wanted something to drink. So, I found a little cafe to sit in, with the perfect view of the square, and… wifi! Being my needy little blogger self, I sat there for the next hour, sipping on a tasty raspberry smoothie and catching up on some work. It felt nice to relax, with no fixed schedule and no place to be.
Eventually, I gave up my little air-conditioned writing nook and headed back out of the cafe, into the hot afternoon sun. As I tried to push against the foot traffic, it was clear that this was the most touristic part of the city. I probably passed thousands of people, speaking dozens of languages on my way back out to the main roads.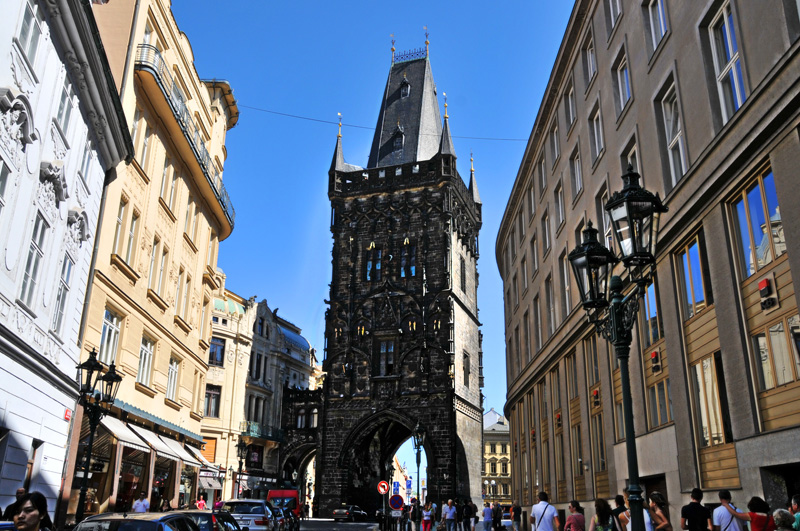 It was a great way to spend my first day in Prague, and I can't wait to go on some more adventures in the coming days. It looks like I will be exploring the city by segway on Thursday, so stay tuned for a story on that!
This trip was made possible by Czech Tourism.
All views and opinions are my own.