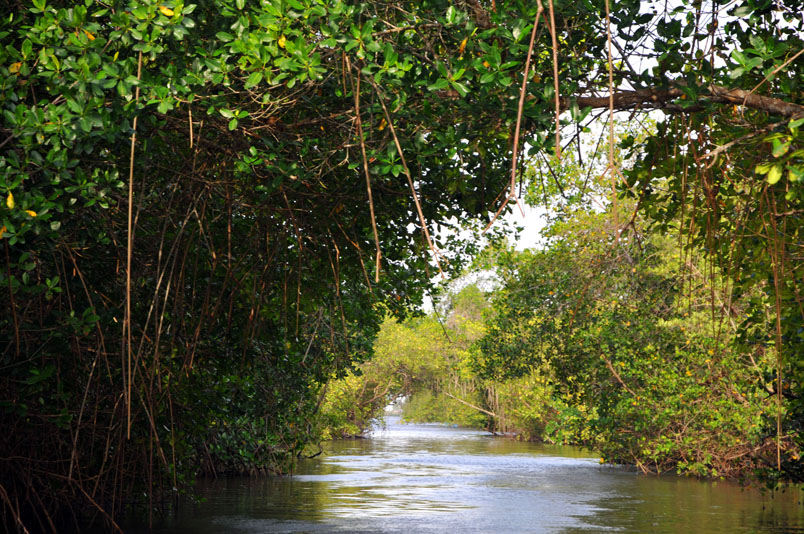 During my first trip to Trinidad & Tobago, in April of 2008, I was really interested in seeing all of the wildlife that the island had to offer. I had never been anywhere tropical before, and the thought of going on some sort of wildlife expedition intrigued me. On our near-daily drives between Central and North Trinidad, I kept noticing a sign beside the highway that pointed out the Caroni Bird Sanctuary and Swamp. Each time we passed by, my interest was piqued more and more, and finally I asked about it. Clearly, my feigned indifference had been seen through, and my friend arranged for us to go.
We pulled into the parking lot, walked over to a couple of wooden boats, and waited on a pair of rickety benches for the tour boat to return. A small group finally chugged into view, and the boat backed into its docking station. The previous group disembarked, and we proceeded to board the rocking craft. The guide gave us the usual safety speech, warned us to wear bug spray, and asked if anyone had changed their minds about going into the swamp. I didn't realize it then, but perhaps I should have taken advantage of this opportunity to exit.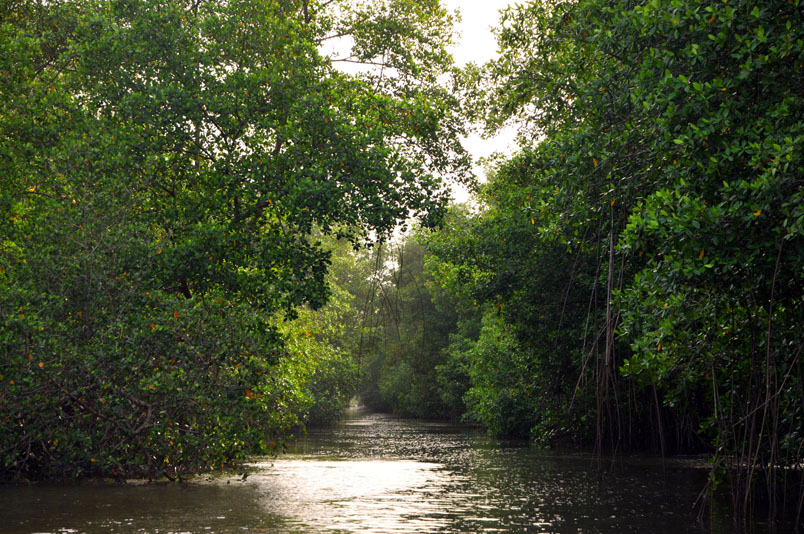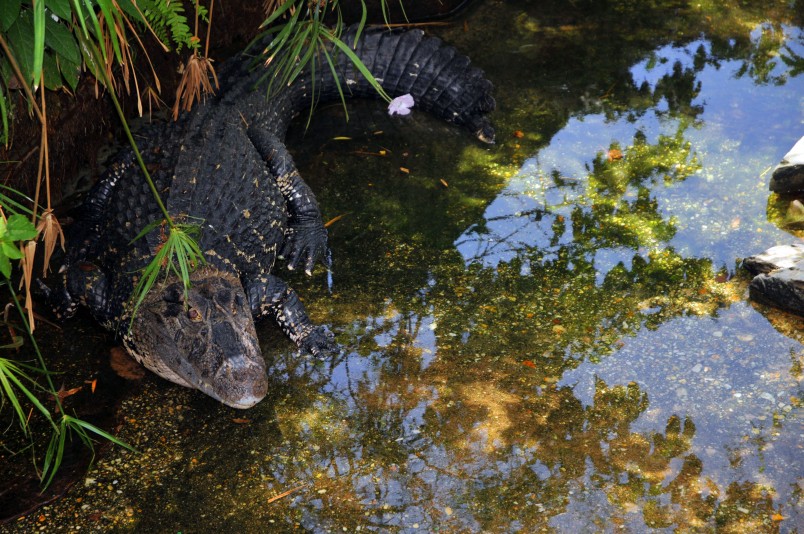 We were on our way down the small river when we saw our first caimen (like a crocodile), and eventually we spotted many. Just as we passed one, the boat came to a stop and we all turned back to see what was going on. Assuming that we had stopped to get a better look at the caiman, I was a bit surprised when the tour guide hopped up beside me, and stood up on my bench. He extended his arm above my head, and I bent my neck back to see what he was pointing at. A snake.
Directly above my head, was a bright yellow snake, coiled into a ball on the fork of a small tree branch. Startled, I scooted away from the danger zone, but edged my way back over for a few photos. Next, the guide reached his hand into what I thought was thin air, but produced a small crab for us to see. "Perhaps our friend was after this little guy", he said.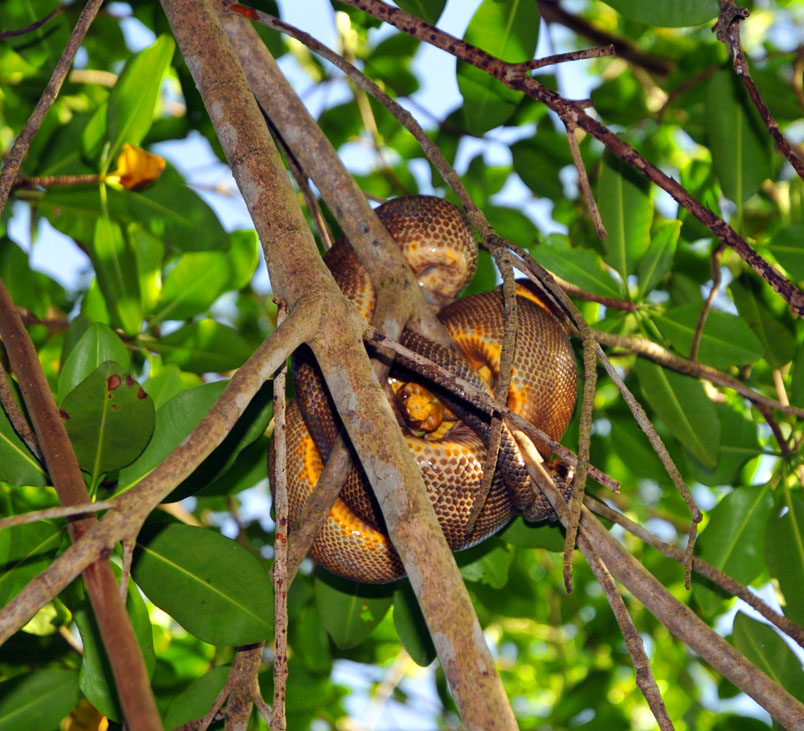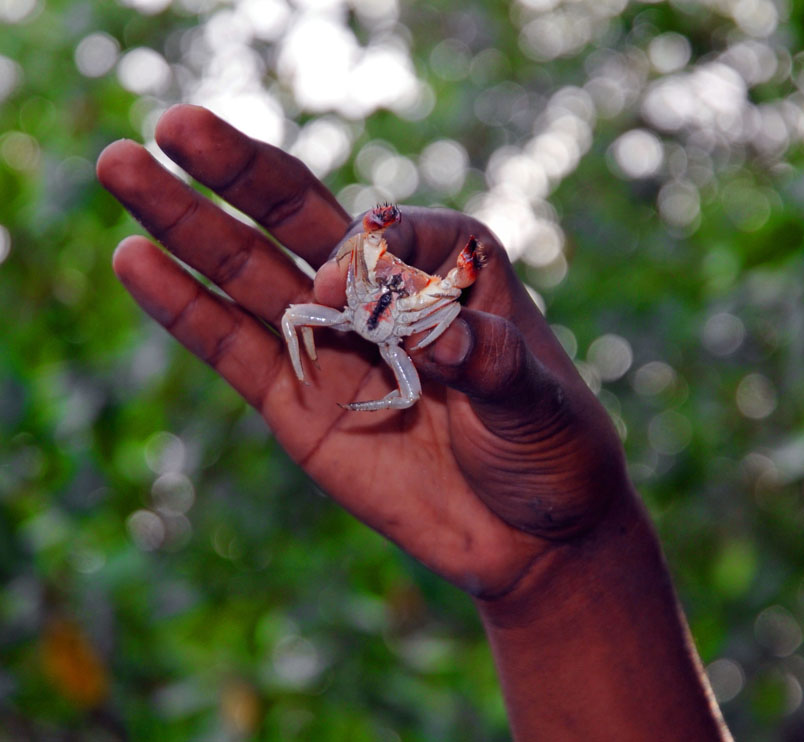 We weaved our way through the thick swamp, spotting dozens of different bird species, more caiman, and plenty of small tree crabs. Rivers widened and narrowed around every bend, and the mangroves closed in around us. Larger birds called loudly through the trees, and smaller birds almost drowned their sounds with their own constant song. It was like a flooded jungle, and I was nervous to think what might be swimming under the water.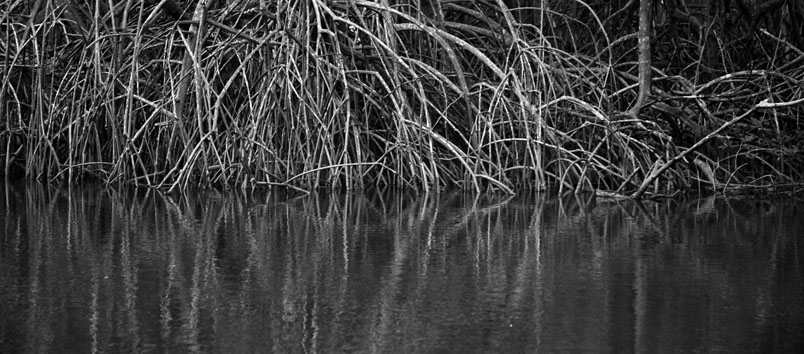 Like a deep exhale after holding your breath, we emerged from the strangling swamp. The sky opened up around us, and we were in a wide open swamp-lake. The breeze felt nice after the stuffiness of the swamp and we were all a bit excited about what was in front of us.
Like fans in the wind, large clouds of red figures in the sky were swooping and dancing around the tops of the trees in unison. The Scarlet Ibis is Trinidad's National bird, and we were right in the middle of their protected mating grounds. They flew in and out of the trees like graceful sheets in the wind, and lit up the entire skyline with their brilliant scarlet feathers. It was a beautiful sight, and we floated in our boat for at least 20 minutes taking in the scene before us.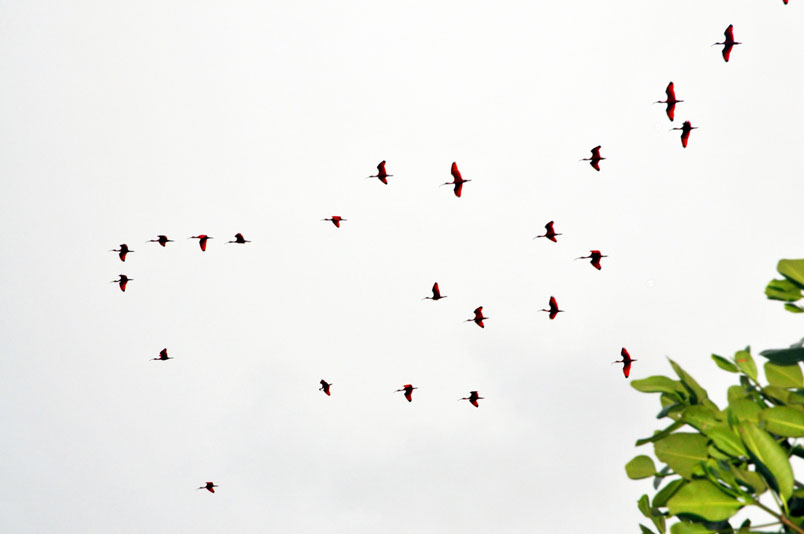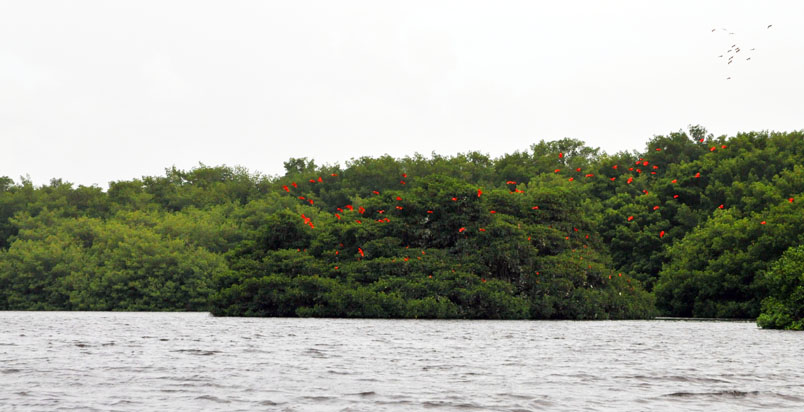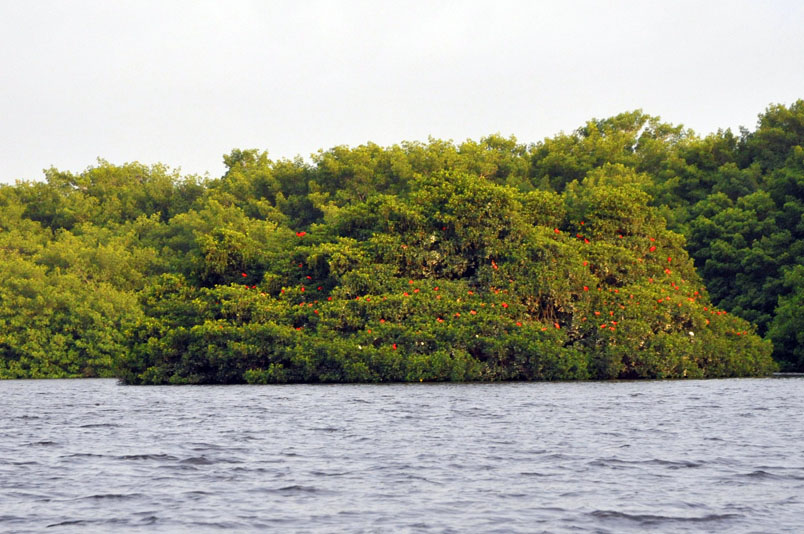 Finally, the guide announced that it would be getting dark soon, and we needed to head back. Disappointed, I sighed, but thought there's no way I wanted to be out there after dark. I settled in, and waited for the boat to start. nothing. not even a sputter. I turned around to see the guide and the driver hovering over the engine. I glanced at my friend, knowing something was wrong, but she was talking to her sister. The other people on the boat started to look worried, but laughed nervously, joking that the boat was broken.
10 minutes later, most of the boat was in full blown panic. Two of the girls behind me were calling their mom's to tell them that they were stranded in a swamp. The driver was working away on the engine, and the guide was trying to push us away from the mangroves with a small, wooden paddle. The sun was quickly setting, and darkness was setting in. The mosquitoes started to swarm, and I suddenly found myself growing more nervous about what was under my feet. I shuddered thinking of all the Anaconda movies I had ever seen, and didn't want to imagine whatever else could be down there. Not to mention that our little snake friend, and all of his buddies would soon be waking up to hunt.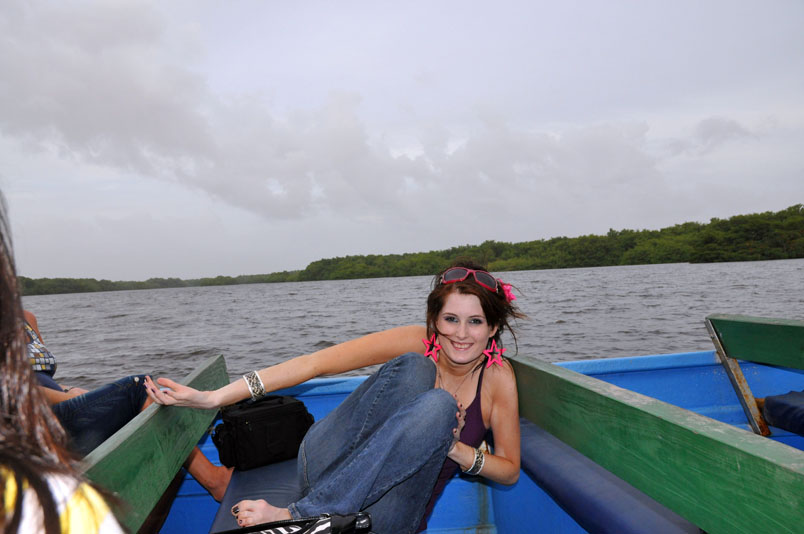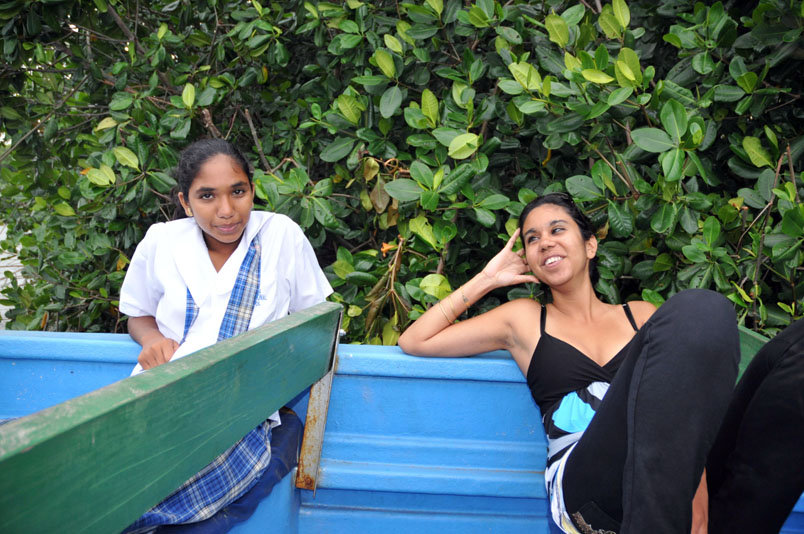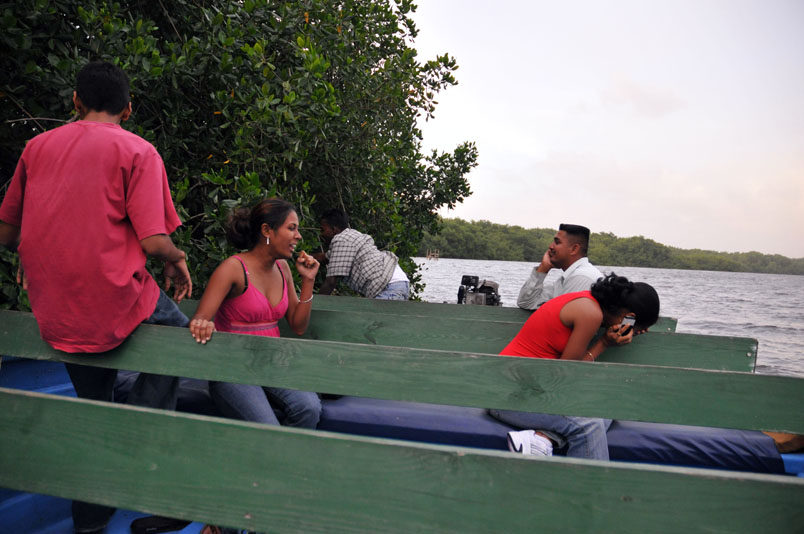 My friend and I joked around about what was going to happen to us. Who would find our bodies? This had obviously scared the girls behind us, as they clung to their boyfriend's and clutched their cell phones. I wasn't taking it too seriously, but I certainly wanted to get home.
Vrroooommmmm! The engine suddenly roared to life; we all cheered. With no time for celebrating, the boat sped off toward the swamp entrance. The sun had set, and there was very little light directing our way back to the dock. The driver navigated his way by memory and skill, and had us back before it was pitch dark.
We were all extremely happy to climb ashore, and grateful that we had made it out. Getting stranded in a Trini swamp wasn't the best thing that could have ever happened, but at least we were stranded in a beautiful, thriving tropical bird sanctuary.