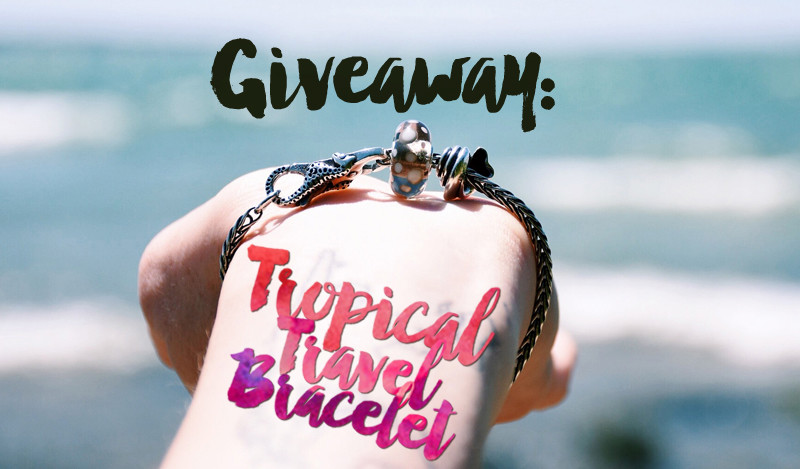 I'm not your typical girly-girl, but if there's one thing I love; it's bracelets.
I've always had a strict rule that I could only wear bracelets that I collected on my travels, that have a story behind them and a strong meaning to me. My wrist currently hosts bands from Morocco, Colombia, Thailand, Costa Rica, Japan, and Guatemala.
It wasn't until I discovered Trollbeads that I actually accepted (read: desperately wanted) a bracelet that I had not physically picked up on my adventures around the world. While I was technically breaking my own rule, Trollbeads were even better, and could have even more meaning behind them with a travel theme.
And hey, they're from Denmark!
The Story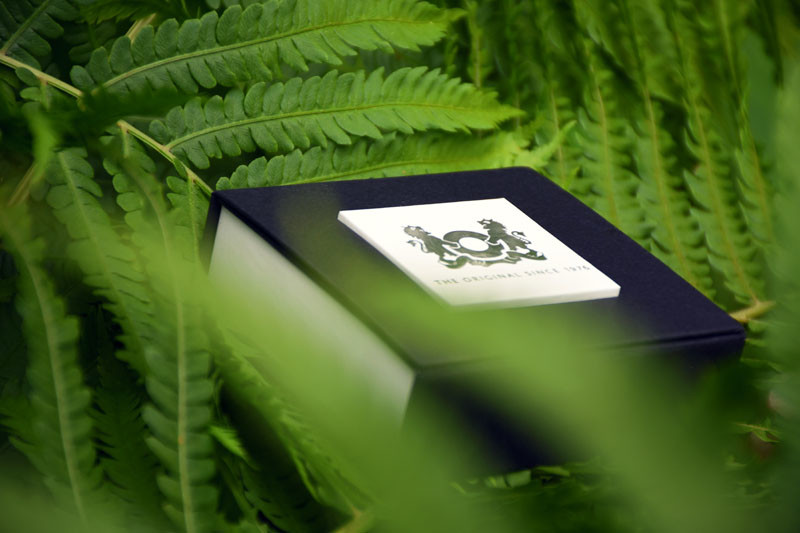 The story about the original and unique Trollbeads all started in 1976. The first bead, which later gave name to the Trollbeads collection, was a small bead decorated with no less than 6 "Troll" faces. It was designed by Søren "Silversmith" Nielsen and sold from his father Svend's jewelry shop in central Copenhagen.
The beads were created at a time where it was fashionable to have a silver bead hanging on a leather necklace. But instead of letting the bead hang in an eyelet, Søren wanted the leather cord go through the bead. Later on, Søren's sister, Lise, began to put the beads on silver bracelets, one on each bracelet.
Years later Lise opened her own jewelry store. One day a customer asked to have an extra bead put on her bracelet. The storekeeper was surprised but followed the customer's wish. From then on, the adventure and Trollbeads movement started. In cooperation with the customers and according to their wishes, the collection grew. This was the invention and the beginning of an original jewelry concept that today is enjoyed worldwide.
Later, glass, gold, gemstones and pearl beads were introduced and new locks were designed making it possible to add or remove beads and experiment with different combinations.
Personalized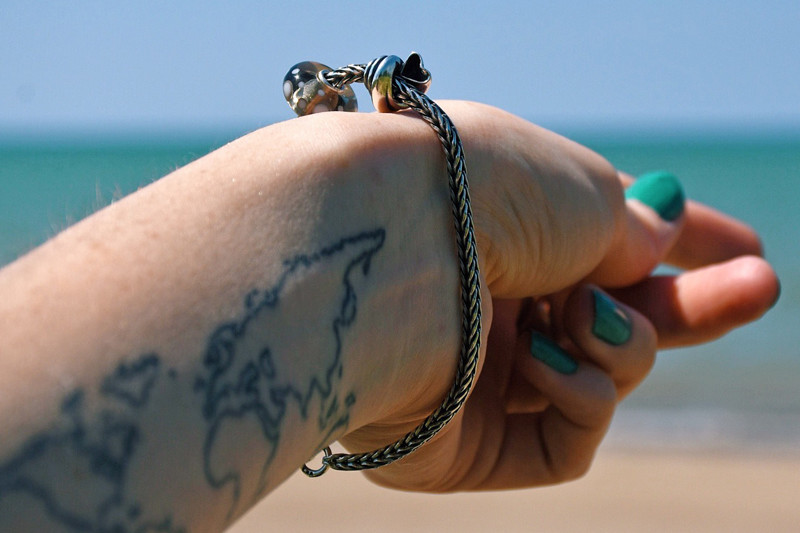 The best part about Trollbeads, is that there are countless combinations of bead and bracelet pairings.
There are three simple steps to creating your own custom Trollbeads:
1) Pick your bracelet
You can choose from sterling silver, 14K gold, copper, silver & gold bangles, and many different colours of leather bracelets.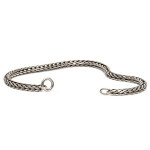 2) Choose your lock
Pick between locks shaped like fish, elephants, flowers, swans and more.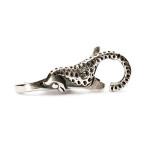 3) Select your beads
There are over 600 different beads to choose from, that can show your individual personality and display your favourite places, hobbies, events, beliefs and interests in life. Examples of beads are turtles, glass roses, Buddha heads, astrological symbols, letters, Christmas, wedding, graduation, ocean life, and world wonders.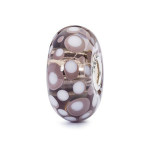 These choices make up a set of the Tropical Travel Bracelet.
Not only do they make bracelets, but there are also necklaces, earrings, and rings to customize.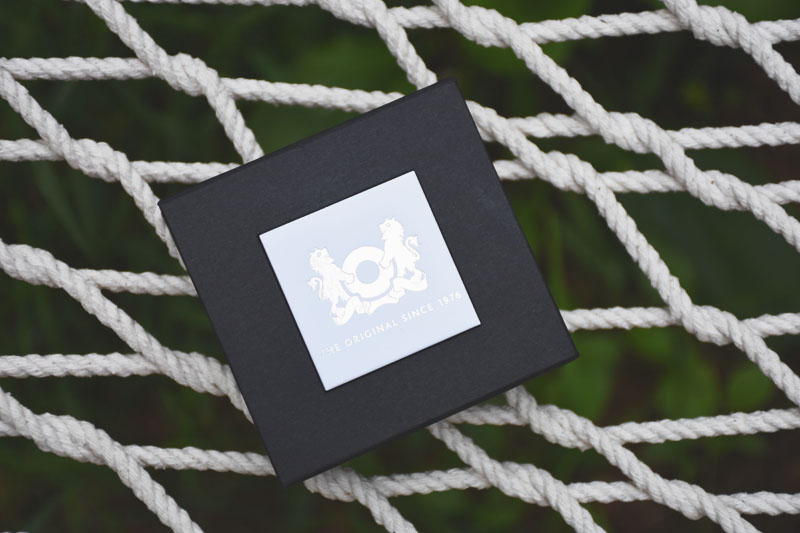 Win a Tropical Travel Bracelet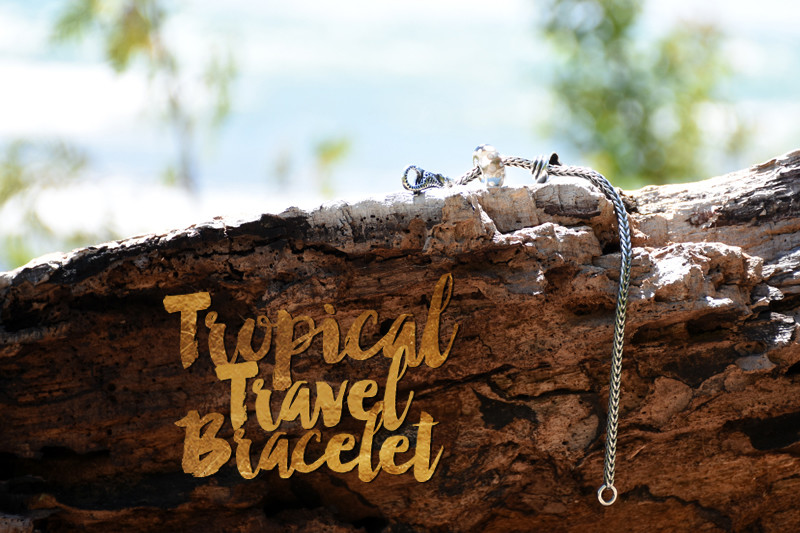 The sterling silver Tropical Travel Bracelet has the cutest little silver seahorse clasp, a silver conch shell bead shaped as a heart, and a tropical spotted conch glass bead.
The bracelet is worth $182USD, and can be shipped to anywhere in the world.
And the good news is: I'm giving one away!
UPDATE: WINNER: @shawneerajala *Contest Closed*
All you have to do is like @TrollbeadsUSA on Instagram, and tag a friend that you think would also like the bracelet in the Instagram comment below:
Or here:
  Winner Announcement:
The places that we visit on our travels somehow become part of who we are. Remind yourself of the beach everyday with this beautiful bracelet.
This bracelet just makes sense for me.
Obviously, travel is my passion. So not only does the idea behind the bracelet work for me, but I adore the tropical beach theme. I am a lover of warm tropical places, and spend a lot of time exploring the different beaches of the world.
To have silver shells and glass conch beads on a bracelet with a seahorse clasp is pretty much perfect.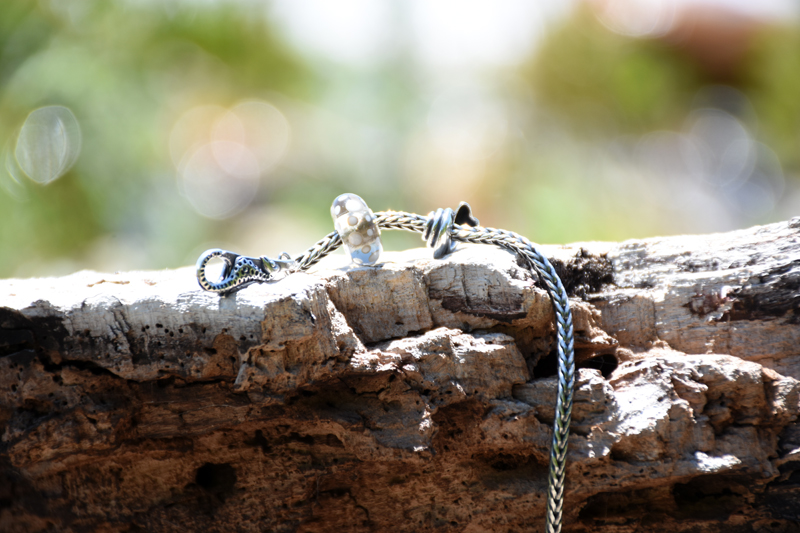 Mix & Match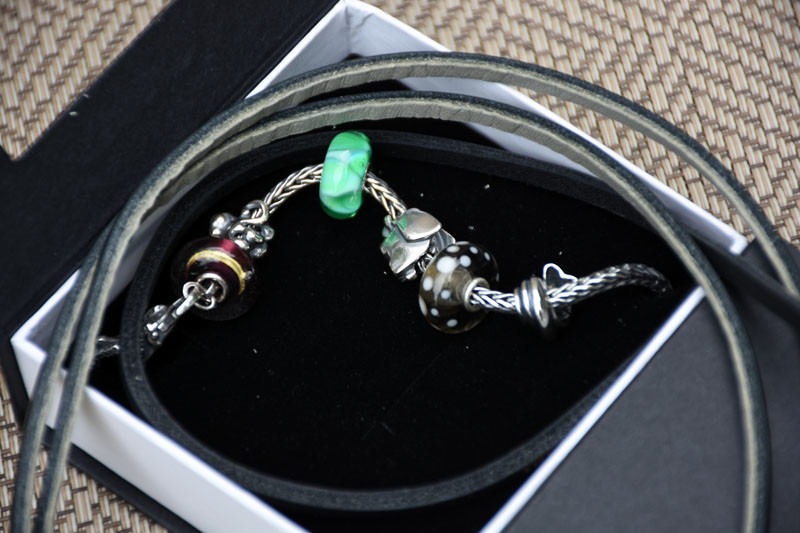 As I mentioned before, the best part about Trollbeads is coming up with your own personal style.
You could collect city landmarks from places you've visited, letters to spell your name, a theme for your hobbies like music, sports, cooking, or pets, or create a combination of your birth year, month and birthstone colour. The possibilities are endless.
If you feel like sporting a clean, shiny silver band with a few select beads on a night out, go with the original silver bracelet. But, if you want to wear a more casual piece during the week, you could get an extra leather band to switch back and forth from (that's what I did!).
I also got a 'Guardian of Treasures' octopus bead and a 'Spring Wave' bead to add to my Tropical Travel Bracelet: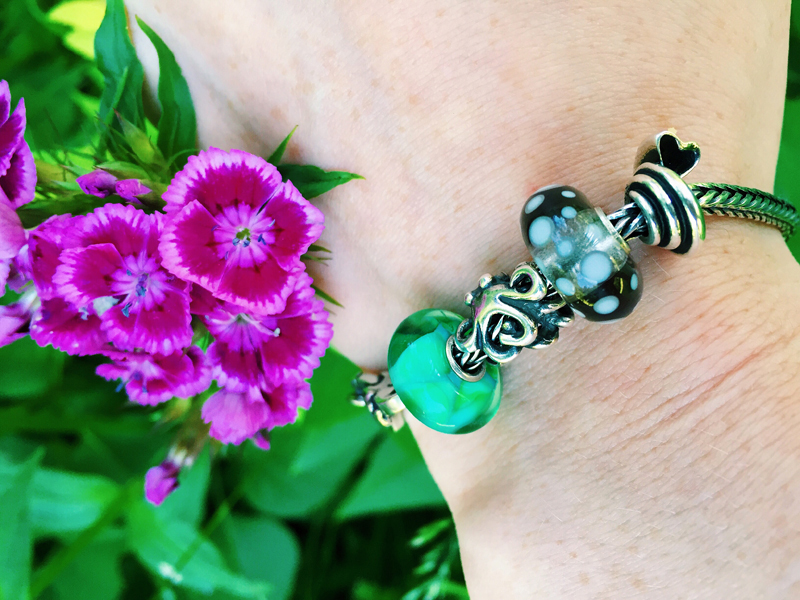 Here are some beads in my home city of Toronto, looking good on a beach towel beside a pool with a view of the city Skyline and the CN Tower:
  Where will you take your Trollbeads?

I recently wore my Trollbeads Bracelet on a sightseeing flight over the Bruce Peninsula area. I held it out the window as we soared high above the beach below, and watched the beads sparkle in the sunlight.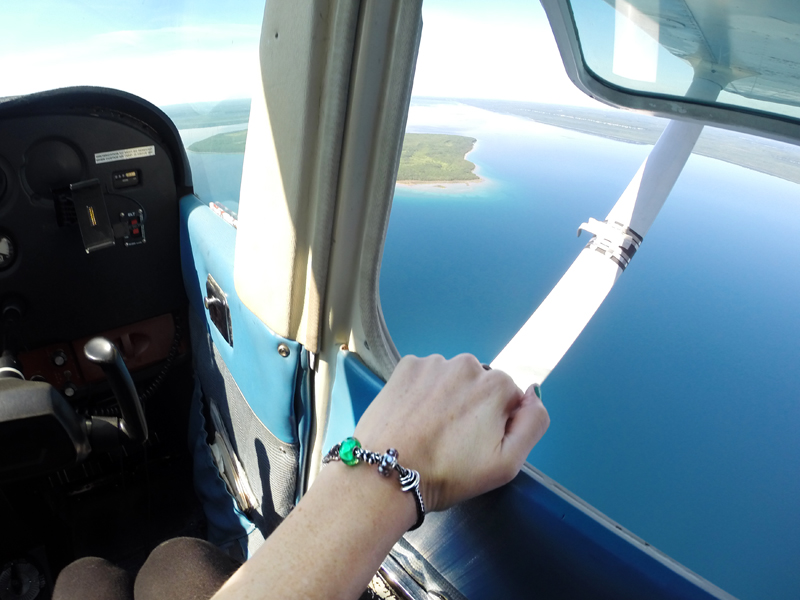 I'd love to collect landmark beads of the places I visit, and take photos of them by the real thing, like this:
I've gotten a lot of compliments on the bracelet so far, while wearing it around town.
There have definitely been a few beach trips already, and I can't wait to spend lots of time in the sand with the bracelet this summer.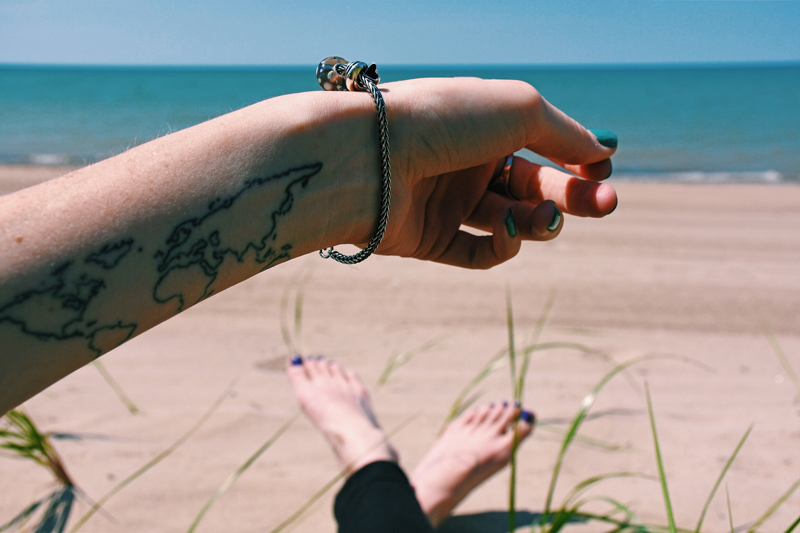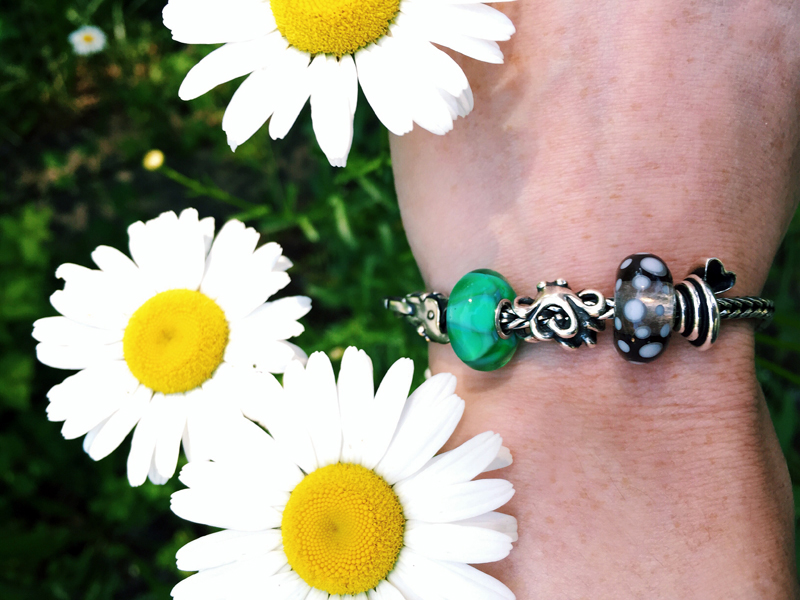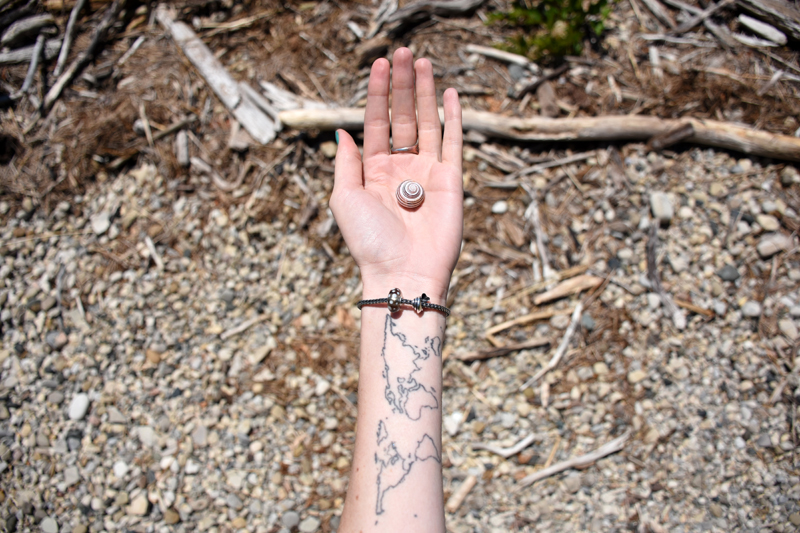 I only have four beads for now, but I will definitely be adding to the bracelet in the future. I just noticed that there is a small world globe bead in the online shop, so I'm pretty sure that will be my next purchase.
Also, I may have picked out a special bracelet for my mother's birthday, but you'll have to wait to see photos until after I give it to her for July 30th ;]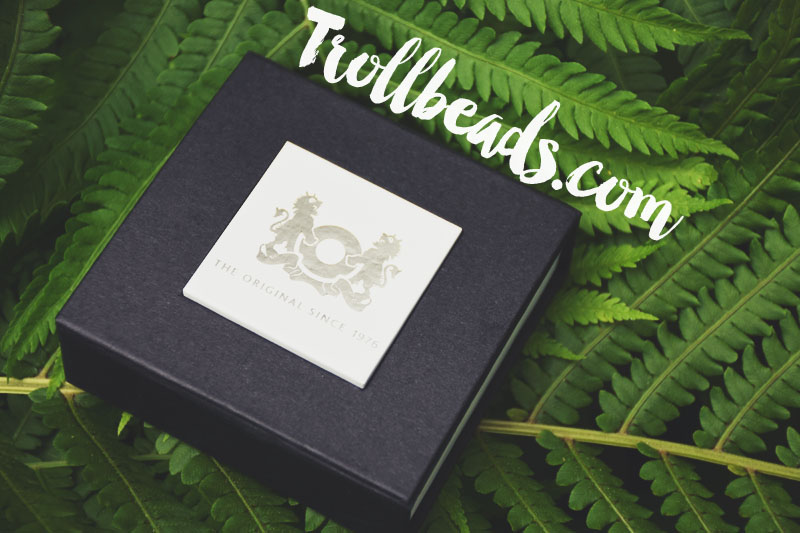 Don't forget to enter to win your own, and good luck!
What beads would you choose?