This is the 21st century: We love eating as much as our ancestors did. However, we're also much more aware of good eating habits and how to stay healthy and in better shape – and that even applies in an exciting city such as Las Vegas where it's sometimes easy to forget what time of day or night it is, especially when we're out on the town. In a city offering so much in 24 hours, every night and day, it goes without saying that the choice of upscale restaurants, informal eateries and even food markets will cater for every taste.
Of course it is possible to eat ''healthy'' even if you're not strictly vegetarian/vegan – just remember to cut back on fatty meats, wicked sauces and all the excess! Trim, trim, trim the meat if you find it too hard to leave great-grandma's cooking behind.
Healthy eating these days means steering away from ''traditional'' eating and moving more towards a diet favored by vegetarians and vegans who abstain from eating meat (red meat, chicken, fish, i.e. NO animal flesh) – the true vegan is even stricter and will not consume any animal products, even animal by-products. They will eat only foods from plant sources.
Las Vegas offers a great number of restaurants to choose from when you, too, have made the decision to eat "healthily." Even if the restaurant does not market itself as a vegan establishment, remember that most restaurants today offer an option that is vegetarian/vegan-friendly. Simply ask!
Everybody knows that Vegas is regarded as a wonderful spot for attending one of the world's longest-running shows or great sporting events. The Floyd Mayweather – Manny Pacquiao boxing match of May 2nd at the MGM Grand Garden Arena still has all enthusiasts talking. A night out at your favorite vegetarian/vegan restaurant is often followed by other forms of entertainment. Various bars stay open till late for that nightcap before it's time for bed and relaxing into your pillows for some "me time" before it starts all over again. (If you abstain from alcohol, you will certainly find fresh juice or organic tea at a variety of eateries or bars to keep you going until you REALLY can go no further.)
Some well-known Vegas personalities such as poker player Daniel Negreanu understand the value of proper nutrition. He has followed a vegan lifestyle since 2006 and published an article titled "Being vegan makes me a better poker player." Daniel even has his own assistants who prepare vegan meals for him in Las Vegas, which he calls home. Eugene Katchalov is another poker star who takes his diet seriously. He does not subscribe to the vegan lifestyle but he makes sure he avoids carbs in the evening and he visits the gym on a regular basis. He also limits his alcohol intake. Eugene's efforts have led to an amazing physical and mental transformation that he says have contributed to his success on the felt. If these poker players who spend their whole lives in casinos can stay healthy, then you certainly have no excuse to throw in the towel while visiting Sin City.
Some great choices for those who embrace the vegetarian/vegan lifestyle are listed below:
Smart Dining
Depending on your mood, Vegas offers something for everyone. One of several so-called upscale restaurants for those who enjoy making their eating experience a special event, may just be the venue if you want to enjoy fine dining, great service and a soothing ambience. The MGM Grand comes to mind. Feast on French vegetarian specialties at Joël Robuchon or Shibuya's Japanese mushroom salad, tofu or sushi rolls. The restaurants of the Venetian and Palazzo are equally smart and offer their own culinary delights. Roasted baby beets, pistachios, marinated cherry tomatoes or a fava beans salad served beautifully all contribute to making the dining experience memorable.
More Relaxed – Not Less Appetizing
Red Velvet Café
Filling meals include the Mediterranean Tartina vegan style, a vegan pizza or teriyaki burger. The veggie wrap with fresh salad is a popular choice. If you have a sweet tooth (who doesn't? – most of the time anyway), spoil yourself and those with you by having their, yes…their red velvet cake! It is as good as it gets. Or try their low calorie vegan chocolate chip cookies. Or the double chocolate fudge vegan cake. Maybe blueberry vegan crumble cake? The list goes on.
Violette's Vegan Organic Eatery & Juice Bar
Professional poker player Cyndy Violette, whose father was the owner of a well-known Italian restaurant, runs a very successful and popular vegan restaurant at 8560 West Desert Inn Road, Las Vegas, and has her sights set on opening a chain of restaurants for the health conscious eater. Herself a vegan for more than 20 years now, Cyndy and her chef Mark Rasmussen offer meals such as gluten-free Zucchini Zen Sticks and stews made with braised seitan. Tempeh and tofu are also popular, as are stir-fry dishes and Mediterranean platters. Organic juices and smoothies as well as organic hot beverages are all reasonably priced.
Farmers Markets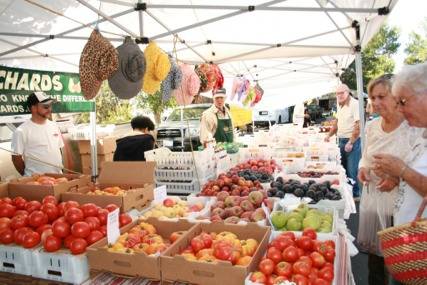 If you're a bit more "daring" than most when you visit a spot such as Vegas where almost everything is made to order, where a mere gesture of one's head is enough to be attended to, then you may want to visit the fresh52 Farmers Market on Saturdays and Sundays (check online, however, as at certain times the market is closed). Various farmers' market booths have a great choice of fresh produce on offer. This can work for visitors, depending of course on what kind of accommodation you're staying in. In a less formal place you can easily do (at least some of) your own food preparation. You will choose what you like, from pesticide-free organic products to crisp salads, virtually every fruit that comes to mind and veggies fresh from the farmer's garden. It really does not matter what time of year one visits, as the market offers whatever produce is in season. Equally popular is the Las Vegas Farmers Market (again, check online to be sure of their opening times). 
Lotus of Siam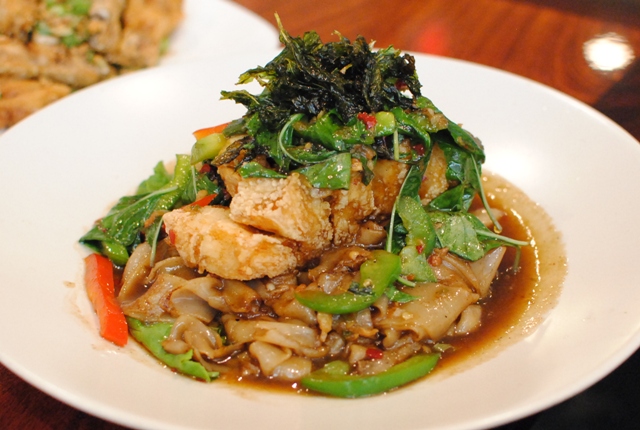 This Thai restaurant situated at 953 E Sahara Ave may not look like anything from the outside, but the food is outstanding! It may be a bit noisy and the tables put together too closely, but when you've won the James Beard award and you're rated one of the top 3 in Vegas, you are doing something right! Try the nam kao tod, tofu and dishes that are suitable for vegetarians and vegans. Even if they're not an exclusively vegetarian/vegan restaurant, there is a good enough choice. Just ask – all their food is delicious and well prepared.
All American Dave's
A food truck for your convenience! Being a fitness fanatic, Dave places a very high premium on healthy eating. Maybe his concept is not exclusively vegetarian/vegan, but there are wonderful choices if you don't eat animal products. Dave's meals are 100% gluten and lactose free and he avoids processed foods. The extensive menu changes on a regular basis. Inquire about deliveries.
Las Vegas is a city that truly offers the best choices in entertainment and some of the best hotels and casinos on the planet. The variety of fancy restaurants, less formal eateries and fast food outlets will leave everybody happy and satisfied. Vegetarians and vegans often have a more limited choice when it comes to delicious eating, but not in Vegas; healthy eating is becoming easier all the time – the many restaurants that cater for the health conscious are proof enough.