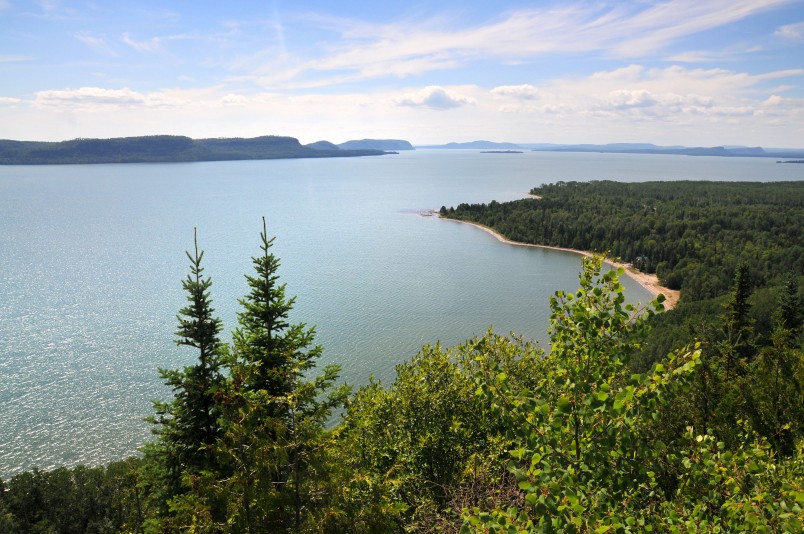 Back in June, Karin and I were joking around about starting a travel blog called "The Flip-Flop Hiker", all about hiking in sandals. If you know me very well, you know that I hate shoes. I have having anything on my feet, and can really only stand flip flops at the most. It kills me when I have to wear boots in the Winter. I would prefer to go barefoot every day.
At the time, we were hiking to a waterfall in the French River. We hiked for a good hour through some pretty rough terrain, and my flip flops made it every step of the way. When it came to a point where the traction was not enough, I popped them off my feet and continued barefoot. Yes–I probably looked like some sort of crazed jungle woman emerging from the bush, but I didn't mind.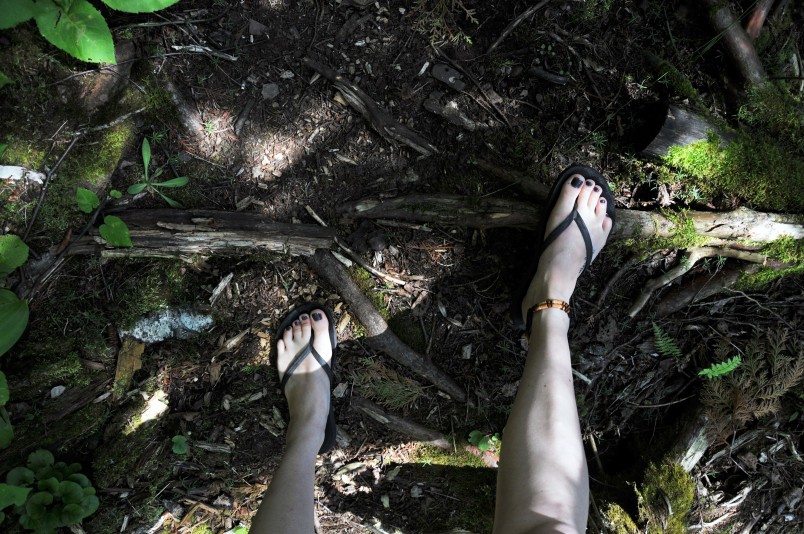 Fast forward to July, and we found ourselves on another hike–this time near Thunder Bay. And what do you know? I was making the hike in my flip flops again. In fact, I didn't even pack any other shoes.
Our first hike involved a short walk off the highway, to a small waterfall. I hopped out of the truck, and followed our guide Mike of Epic Adventures into the woods. Before long, I was far ahead of everyone, and had reached the waterfall on my own. I kicked off my sandals and stepped into the pool of the waterfall.
Our second hike involved rapid elevation, rough terrain and a nine-tiered waterfall.  We made our first stop at the bottom tier of the waterfall. The water trickled over a base of bright orange granite rocks that had been produced by an iron-bearing hematite, eroding away over the past several million years. All of the rock in this area had once been covered by an inland sea, and after so many years of pressure had been converted into shale and sandstone. Along with weathering and erosion, a magnificent nine-tiered waterfall was created.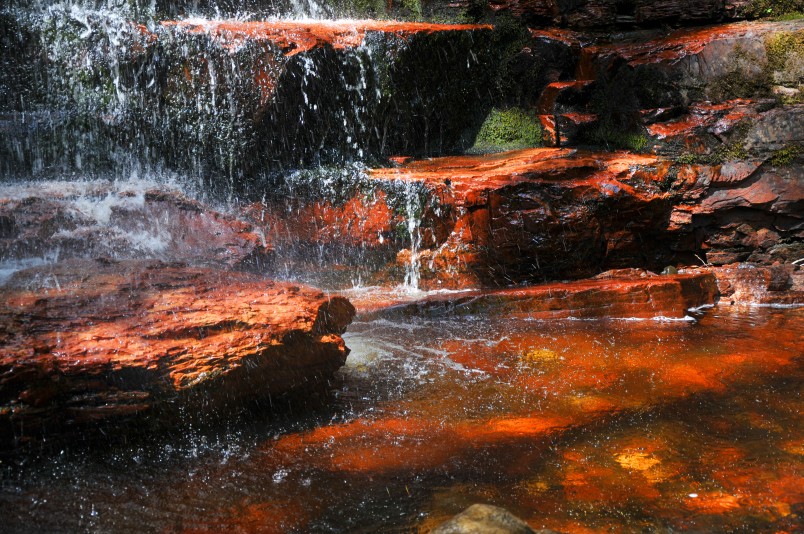 The rest of the group were taking their time to explore the first tier, but I was getting a bit anxious to keep going to see the rest. It's not that I didn't want to stay with the group, but I wanted to keep exploring. I find that everything is more of an adventure when you explore on your own. So with the helpful direction of Mike and a general idea of where I was going, I had once again left the group behind.
The elevation was pretty steep as I made my way up to the second tier. I started huffing and puffing and I got higher up the hill. The path was winding in and out near the edge of the waterfall and leading up to a second base. I stopped at this one for a minute, but soon looked up to see the third tier. It was even higher than this one, but I was determined to reach it.
This portion was even steeper than the last one. The ground started to crumble beneath my feet, and little rocks kicked back behind me. My flip flops stayed in place and didn't hold me back from moving forward. I gripped on to trees and roots for support, and as I leaned forward, the ground became parallel in front of me. I started to run faster, to keep the momentum and get to the top as fast as I could.
Finally, I had made it. There was a very narrow ledge sticking out over the mouth of the waterfall with a small flat surface. It looked like the perfect place to sit, so I grabbed onto some more roots and shuffled myself across the edge. I sat myself down and looked at the scene in front of me. Water was splashing down the orange rocks and falling into a large pool below. I felt like I was up in the trees, because there was nothing in front of me but open space to the ground below. I could hear only the water and nothing else. I sat there for some time, alone. The others were quite far behind and I wasn't sure when they were going to catch up.
Eventually they arrived. We all spent some more time exploring, but eventually made our way back down to the base. And, of course.. my flip flops made every step of the way ;]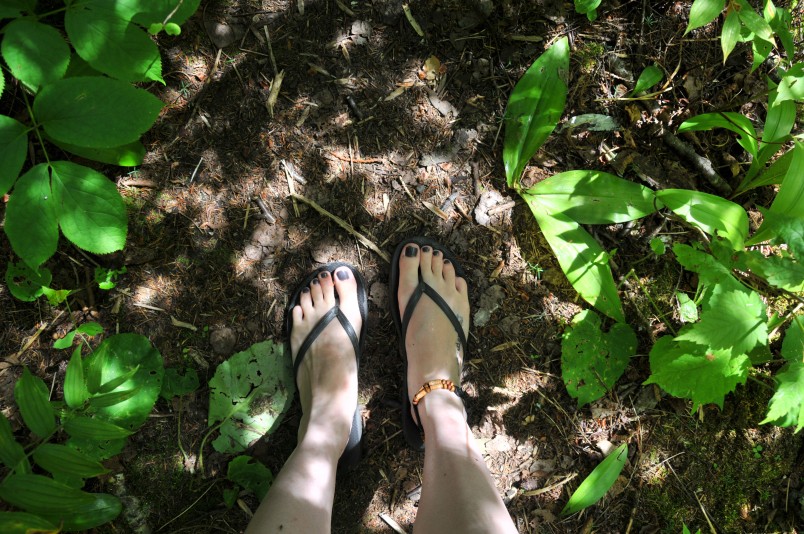 Back on the road again, we were now heading to a little known lookout point, called Kama Lookout. It was supposed to have a great view and be a good photo opportunity. This one didn't have much of a hike, at all. It was more of a short walk up a few large boulders. However–apparently the road is closed in the Winter, so you have to hike up from the highway, which is much more of a trek. Either way, the summit is entirely worth it.
As I stepped up onto the highest point of the lookout and out from behind the trees, the view opened up in front of me. It was a 180 degree view as the waterway stretched from East to West. Every colour in the scene popped in the sunlight and became even more florescent as it stretched in the distance. The land swayed in and out into the Bay and culminated in a beautiful tree-lined inlet.

View into Parks Canada Lake Superior National Marine Conservation Area
from Kama lookout just off Highway 17
between Township of Nipigon and Rossport Ontario.
We spent a few more minutes admiring the scene and taking photos before we had to get back on the road. I still remember Kama Lookout as one of the highlights of the entire trip. I highly reccommend stopping at this little known treasure if you're ever passing by the area. Thanks to Epic Adventures for showing us your favourite spots to hike!
—