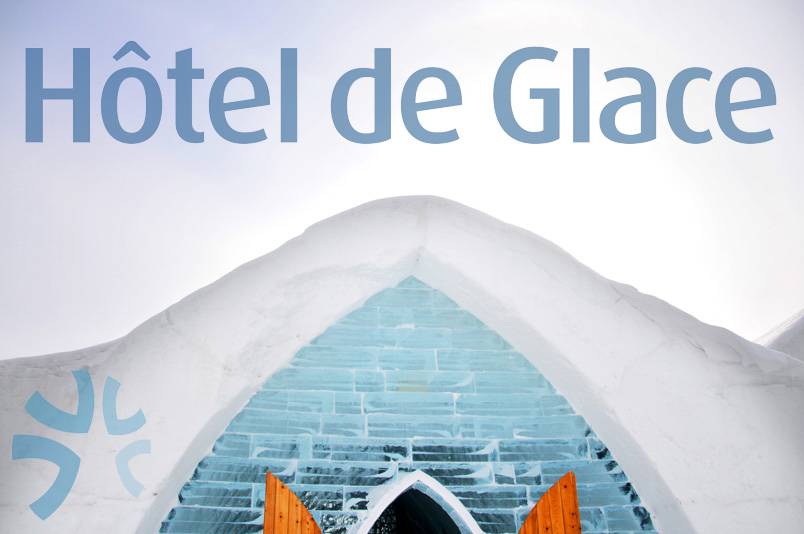 With solid walls of packed snow and ice-bricks, detailed crystal-like sculptures and suite decor that will literally make your jaw drop (make sure you close it though, or the cold air will give you a sore throat!), the Hôtel de Glace is likely to be a top contender of the world's best hotels.
Top it off with a cool ice slide, the most amazing bar you'll ever see, and a drink menu that will leave you feeling a little less cold… and you've got the number one hotel in my books.
When I first arrived at the Hôtel de Glace, I was both excited and nervous. Excited to see and experience the famed ice hotel, and nervous that my toes were going to fall off (don't worry–I still have all ten piggies).
I strolled down the main staircase and took no time entering the main doors. The exterior itself was pretty inspiring, but I was impatient to finally lay my eyes on what I had been anticipating for weeks.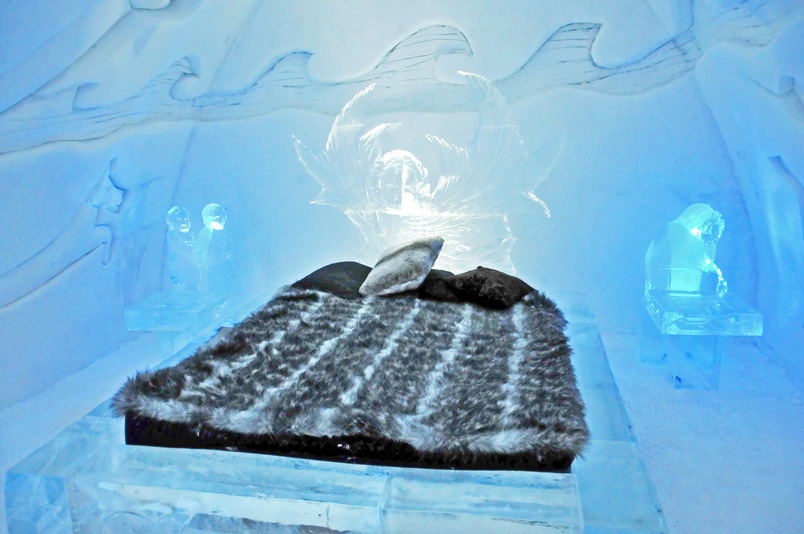 It was perfect. I pretty much stopped in my tracks upon entering the door, and stood wide-eyed, staring at the icy-dream-world in front of me.
Finally, I collected my thoughts and moved forward.
Wandering from room to room, I toured the entire hotel, exploring every small corner I happened to find myself in. Each suite had a different theme, complete with various carvings and colors.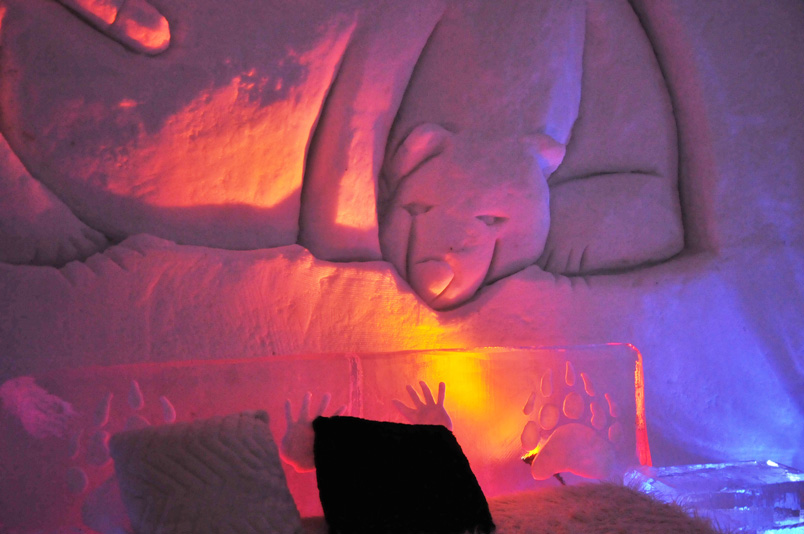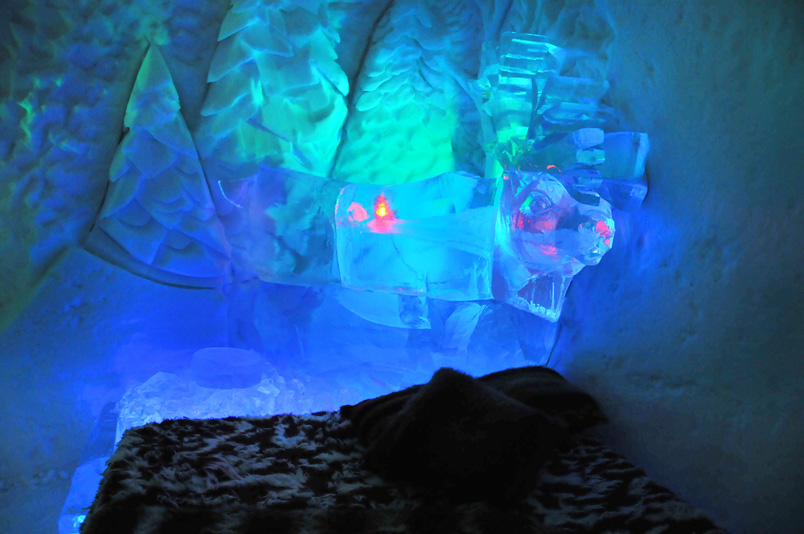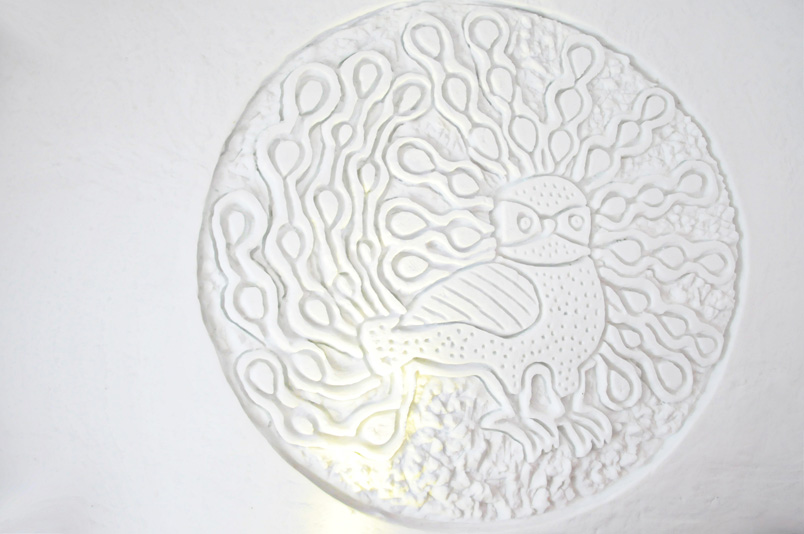 I was quite surprised to learn that the hotel's church holds a number of weddings each year. However, when I walked into the room, I fully understood why.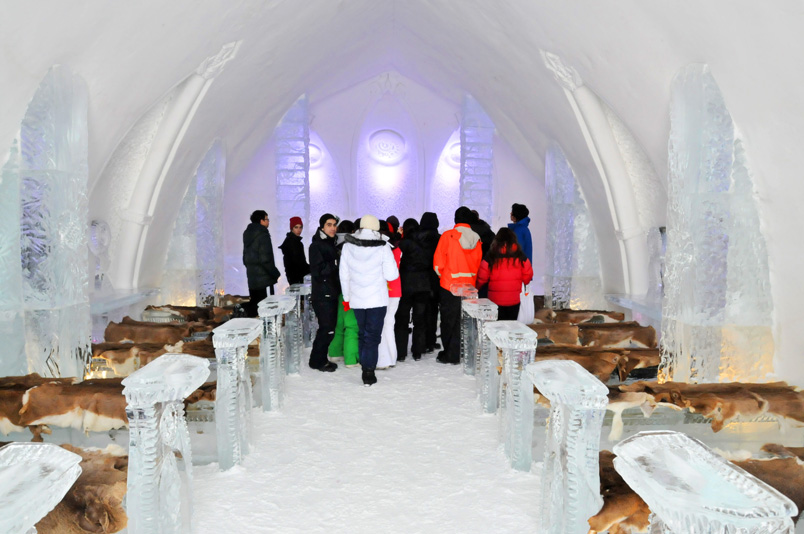 I'm not much of a romantic myself, but I've photographed enough weddings over my career to get the appeal. And this place was certainly romantically appealing.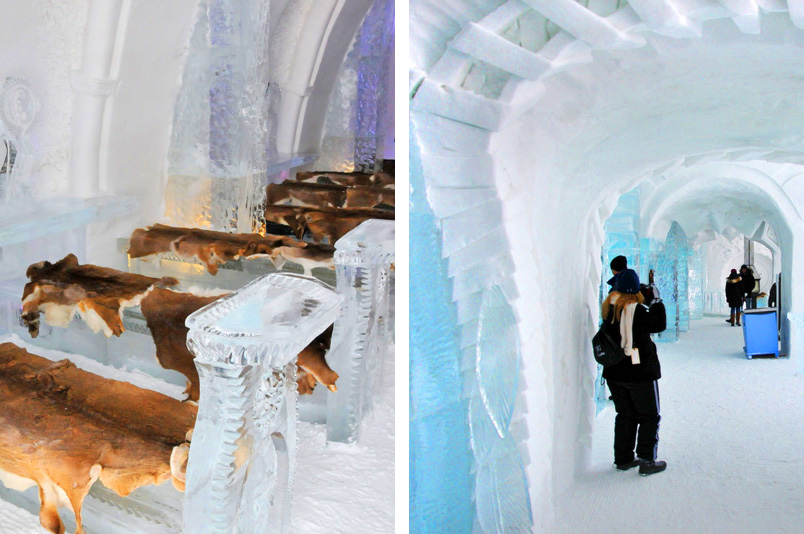 Soon, I'd had enough of the romantic atmosphere, and continued on to look for something a little more my style.
Before long, I found myself at the bar. Maybe not a big surprise… but, it was noon.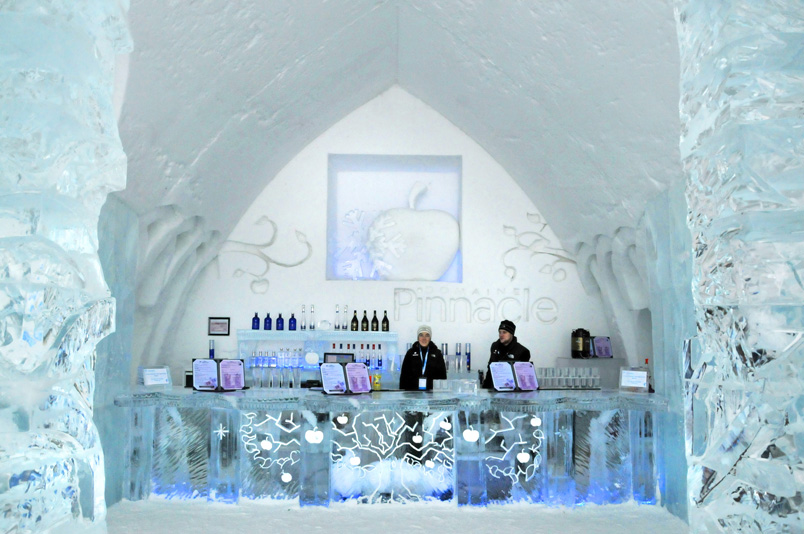 Now, the difference between this bar and every other bar in the world? Everything.
The bar itself was unsurprisingly made of solid ice, but so were the glasses for serving drinks. The snow walls curved overhead in an arced greeting, and smoothly created a cave-like structure to house the bartenders.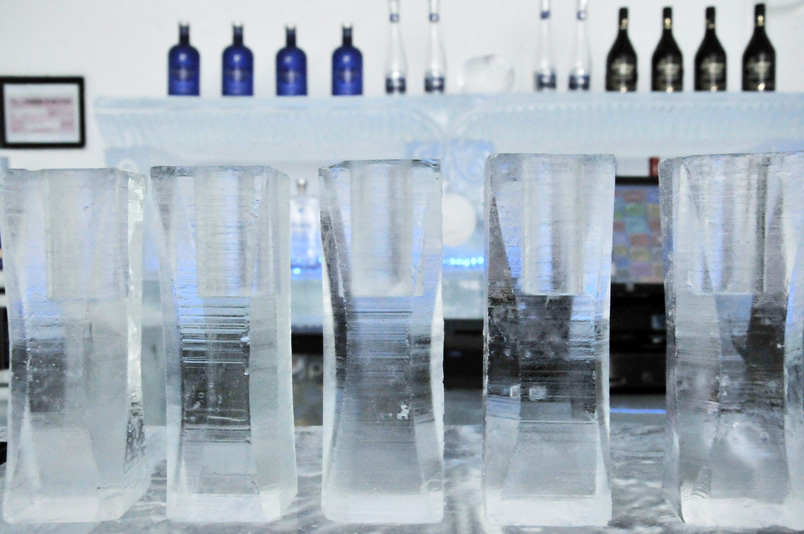 The carvings in the walls around them were quite intricate and detailed, as were the ice pillars in the room to the front.
Ice shelves lined the walls, holding an assortment of bottles and drinks.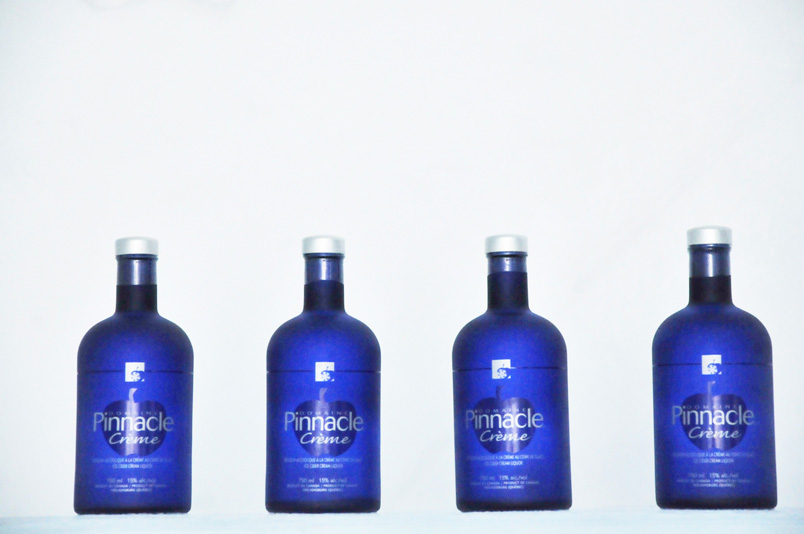 The centrepiece of it all a large Pinnacle logo with an snowy apple and a icy snowflake.
It was pretty impressive. Even more impressive after my first drink :p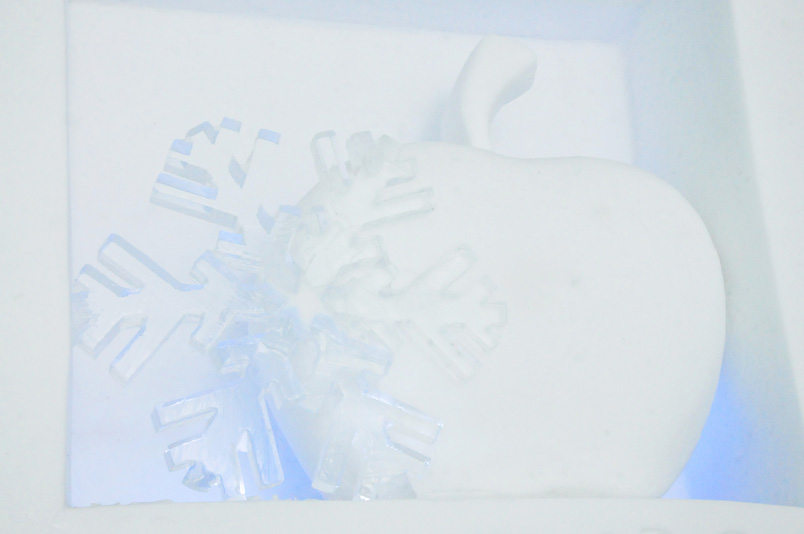 The drink menu was open on the bar, so I looked it over with indecision. I ended up ordering a "Nordique"; a drink made with vodka, lemon juice and Curaçao.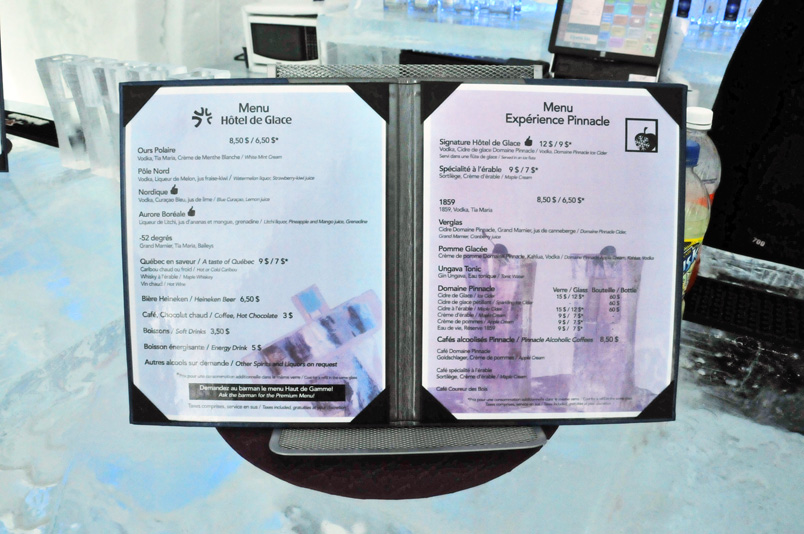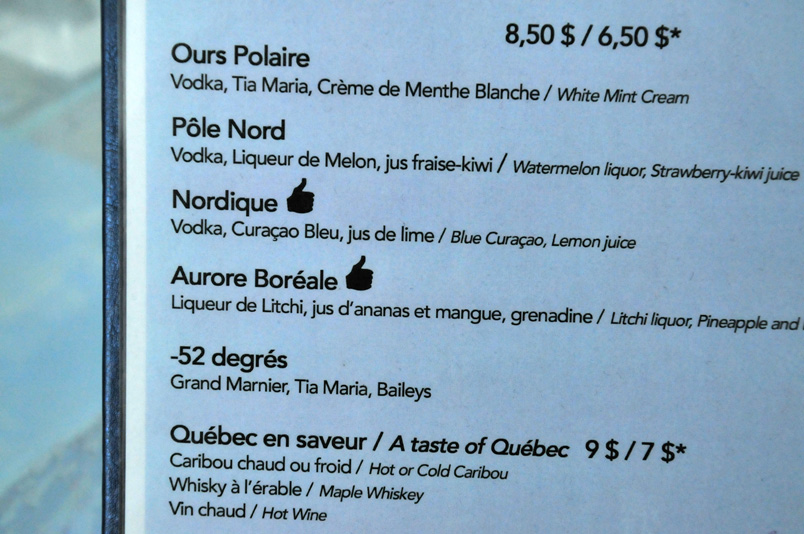 I watched as the bartender picked up one of the ice cups and placed it on the ice bar. First, she poured in the vodka. Next came the lemon juice, and then the Curaçao.
The Curaçao immediately turned the entire drink a fluorescent blue through the opaque ice glass. It looked like a popcicle, but had the kick of a vodka sour.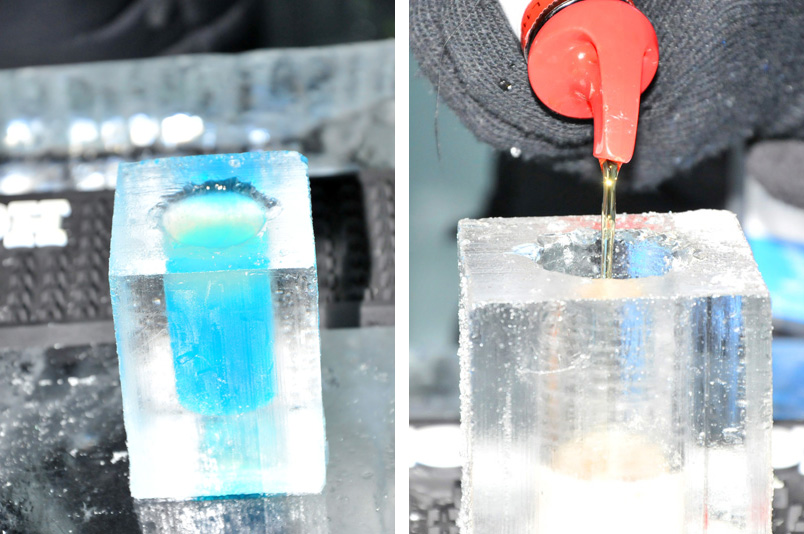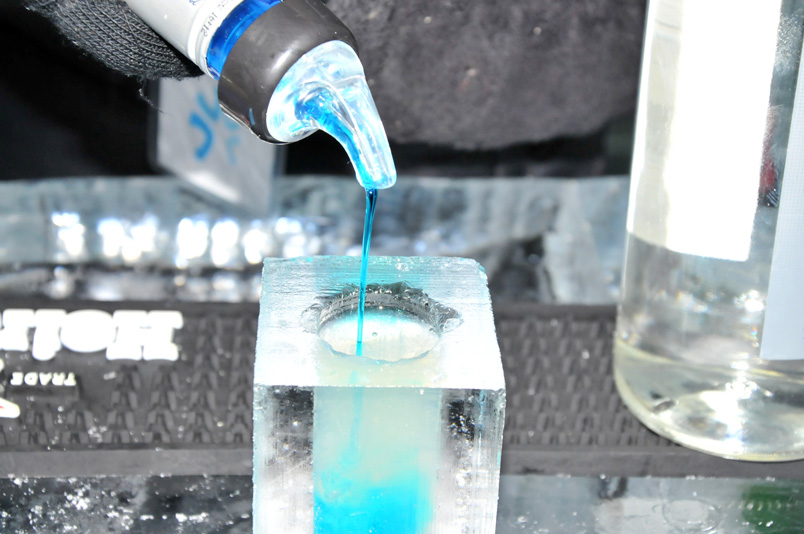 Looking like a kid on Christmas, I happily lifted my glass from the table and took my first sip. It was strong. But, eventually it tasted like heaven. Very cold heaven.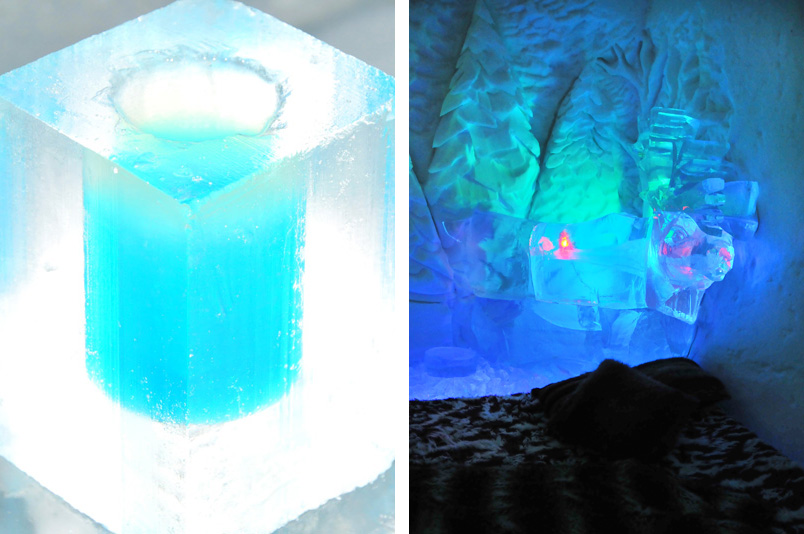 For those that are brave enough to spend the night, you will be geared with the right amenities to keep you warm, so there is no reason to be nervous about the cold. You, too, will keep all of your toes!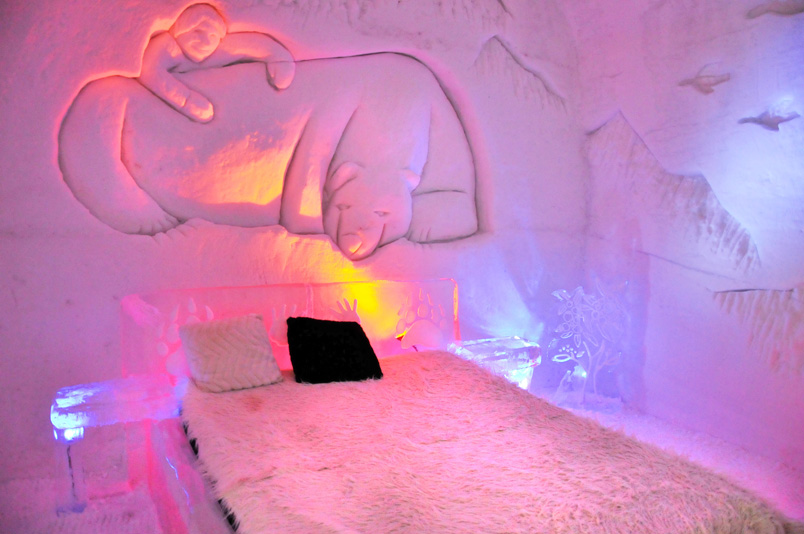 You do not simply sleep against the ice, there will be wood, a mattress, furs and sleeping bags in between. Warp yourself up tight, bring an extra scarf if necessary, and you will be just fine.
You may want to take all of your photos and videos during the day, because you'll probably want to keep your things in the indoor lockers during the night.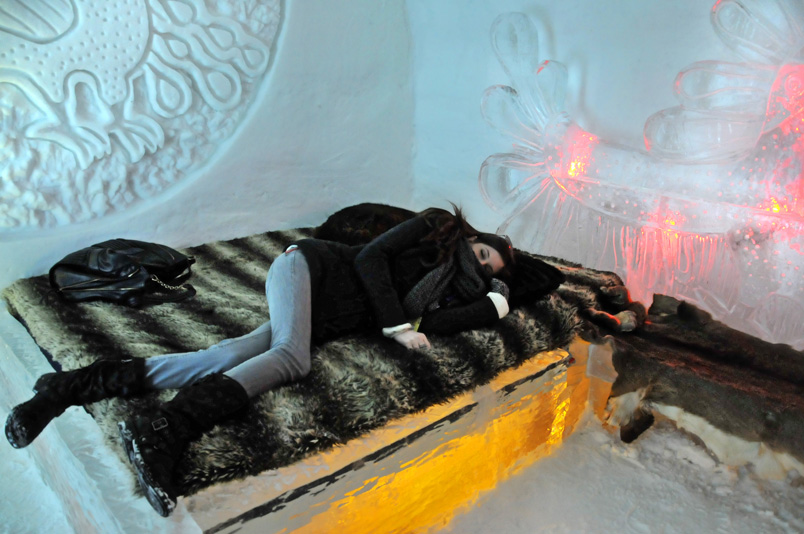 Another awesome aspect of the hotel is the Arctic Spa area for guests. Here you will find numerous hot tubs and saunas, specifically meant to heat up your body to prepare you for the night ahead.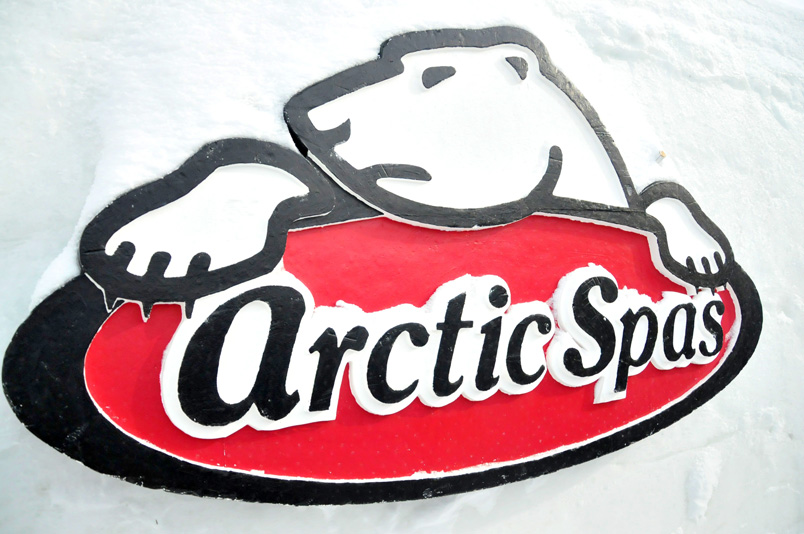 If you happen to wake up feeling a little too cold in the night, there is no reason that you couldn't go pop into the sauna, or even head inside to warm yourself up again.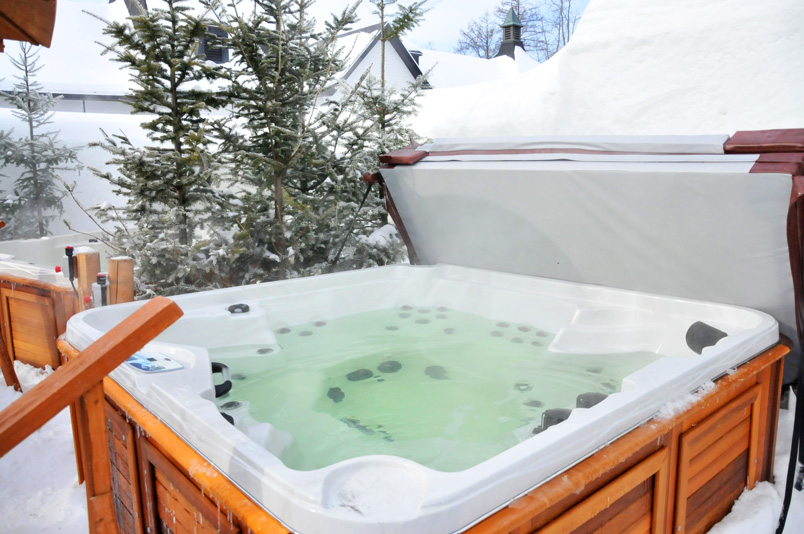 In the end, I really enjoyed my visit to the Hôtel de Glace, and definitely plan to go back. Perhaps next time I'll bring some friends along, and we can spend some more time at the very enticing ice bar :p