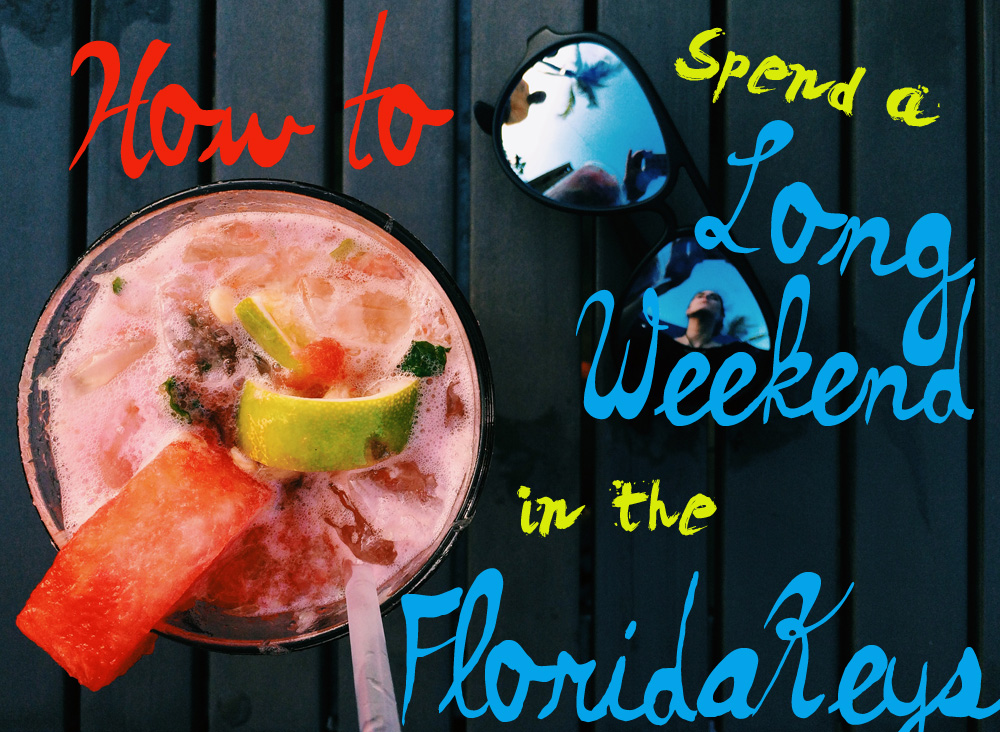 Whether you're taking a quick trip down from Miami, flying in for a short getaway, or visiting with plans to make your way through the rest of the Keys; Key West is the perfect launching point for a road trip through the Florida Keys.
Personally, I played out scenario 3, with a twist.
I flew into Key West, spent a couple of nights in town, drove up the rest of the Keys, and then flew back out from Miami, over the course of five days. I found this to be the perfect blend of city, nature, and scenic driving, without having to back-pedal and see everything twice. And I mean–c'mon–who wouldn't want to road trip across the Florida Keys?
So, when Enterprise Rent-A-Car asked me to participate in the #EnterpriseEverywhere campaign, I decided to condense my trip into a four-day-long-weekend-itinerary that's easy for pretty much anyone to follow.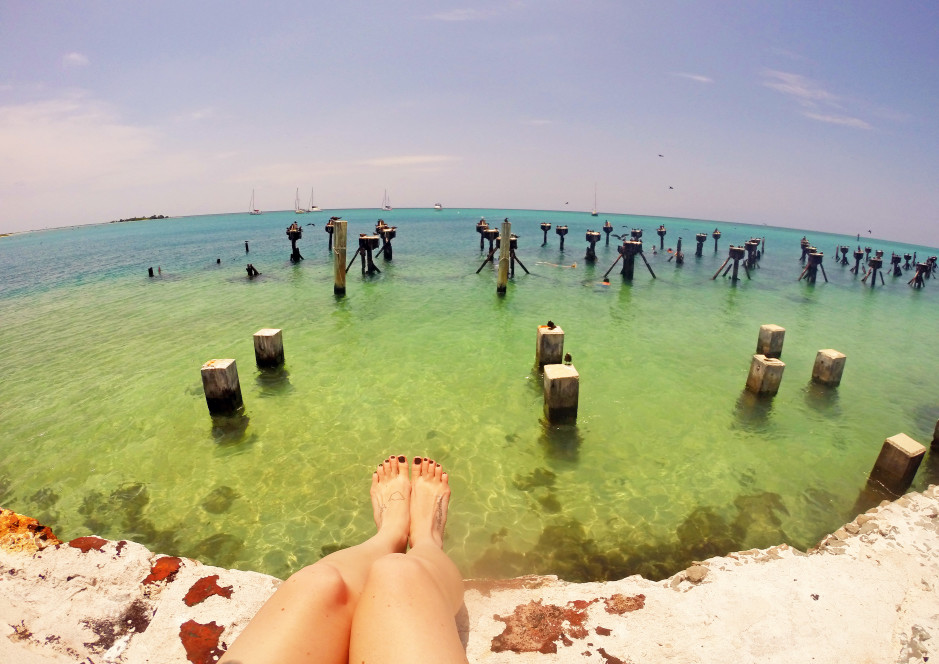 The campaign is about summer travel, focusing on local destinations and the passions that fuels summer travel. The Keys are an absolutely beautiful summery location, and you probably wouldn't be able to explore them properly without having a car to get around, so I thought it would be the perfect destination for this campaign.
With more than 5,500 offices located within 15 miles of 90 percent of the U.S. population, Enterprise Rent-A-Car offers a wide variety of car leasing, vanpooling, car sharing and hourly rental programs – and local car rental customers are picked up at no extra cost. They call it "The Enterprise Way," and it has been the foundation for the company's growth and success for more than five decades.
Here's how to do Key West & the Florida Keys right:
Day 1: Key West / Big Pine Key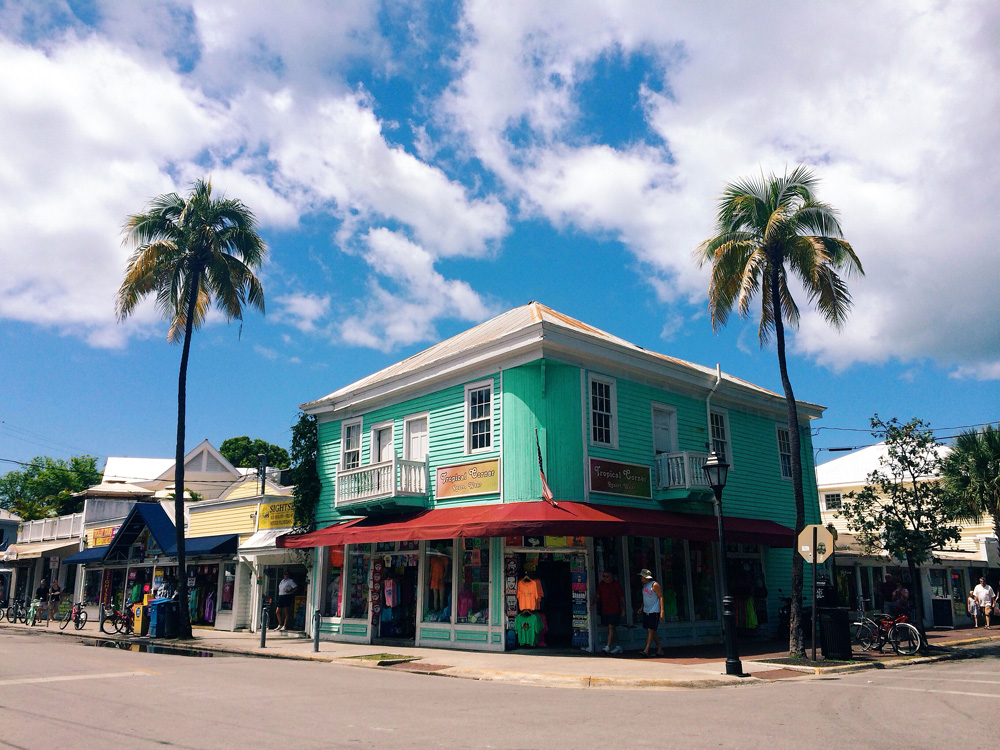 Afternoon: Upon arrival in Key West, pick up your car at the airport and head for lunch at Hog Fish Bar & Grill. This will be the perfect introduction into the Florida Keys culinary scene, including the freshest of the fresh caught Hog Fish, along with a medley of other seafood items and massive sandwiches. Start off on the right foot, with your very first slice of Key Lime pie (the second best in the Keys, in my opinion). For energy, of course.
Spend your first day wandering around Key West by foot. Explore the small cobbled streets, peer into the picketed yards housing numerous chickens, and shop among the colourful street stalls. If you're looking to cover a bit more ground and see some more of the local attractions, like the southernmost point in the continental US, hop on the Conch Train for an informative hop-on-hop-off style tour.
Evening Option 1: Grab an early dinner at El Meson de Pepe (I recommend the Picadillo Habanero) and quickly run outside for the sunset celebration at Mallory Square. This quirky show was one of my favourite parts of Key West.
Evening Option 2: Take a drive through Key Deer country (adorable miniature deer) and hit the waters between Big Pine Key and No Name Key with Big Pine Kayak Adventures, for an incredible display by Mother Nature as the sun sets over the trees, to the sound of trickling water and calling birds. Skip over to No Name Pub for a casual dinner & a drink.
Day 2: Marathon / Pigeon Key
Morning: Before hitting the road, grab a hot drink and a bite at the relaxing Blue Heaven outdoor patio. Do yourself a favour and order a slice of home-made banana bread with your meal, or indulge in banana pancakes. Or both.
Start driving east and enjoy your first taste of what is arguably one of the best scenic drives in all of North America. Seriously though–it doesn't get much better than a bridged road way over turquoise blue waters for miles on end. Roll the windows down, breathe the salty air and take photo after photos of the sea and sky, right from the seat of your car.
Sign yourself up for a bike ride over the old Seven Mile Bridge with Overseas Outfitters, for a glimpse of picturesque Pigeon Key and all kinds of Keys wildlife. I spotted a large eagle on the railing, and even a shark in the water below.
Afternoon: After you've worked up an appetite, stop in for a famous Lobster Reuben at Keys Fisheries Restaurant, and fuel up for the rest of the day. Any of the fish dishes here are delish (and cause accidental rhyming, apparently), and can be enjoyed at a picnic table among the hustle and bustle of the working harbour in true Keys style.
Evening: Whether you're staying as a guest, or not, I highly recommend a stop at Kona Kai Resort. You could check out the swinging hammocks and seaside lounging, but the real draw is the surprisingly fascinating botanic garden tour. Wander the grounds with passionate ethnobotanist Rick as he shows you more plants and fruits than you ever knew existed and sample them right on the spot. Chow down on star fruit, passion fruit and the incredibly mixed miracle fruit and key lime. This tour is well worth a stop.
Go for a casual dinner at the Fish House, where the atmosphere is family friendly and laidback. I urge you to try the Hog Fish Matecumbe (my favourite dish of the trip) and the coconut ice cream. I still dream about these flavours.
Day 3: Islamorada / Key Largo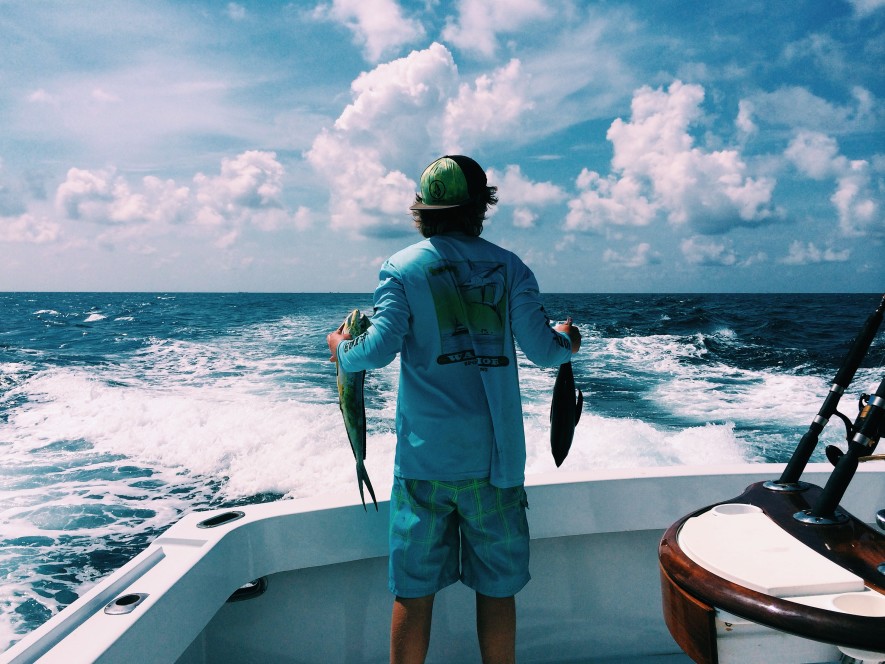 Morning: Make it an early morning and head out to the open waters for a little deep sea fishing adventure. Follow the close instruction of the Team Warrior Sport fishing crew and you'll be reeling them in, in no time. Even if you don't want to fish, let the rest of your group cast away as you relax on deck or in the cabin.
Afternoon: Part of the fishing trip includes taking your catch home, and luckily, the local restaurants have a BYOF (bring your own fish) policy in which you bring in your mornings catch and they fry them right up for you at a table with a view. The kitchen at Lazy Days Restaurant does an amazing coconut battered fish plate.
Spend some time in the afternoon visiting the Rain Barrel Artisan's Village. It's easy to lose track of time wandering around this series of shops and sculptures. There is just so much to look at this it's almost overwhelming, but you will certainly be able to find something to buy here to take as a souvenir gift or to remember your trip. You can also meet the world's largest lobster sculpture here.
Evening: Head to Sundowners Restaurant for what promises to be your best overall meal experience in the Florida Keys. The entire menu is great, but do yourself a favour and order what I personally deem to be the absolute best Key Lime pie in existence. End the night with a watermelon mojito and fiery sunset show on the waterside patio deck.
Day 4: Key Largo / Miami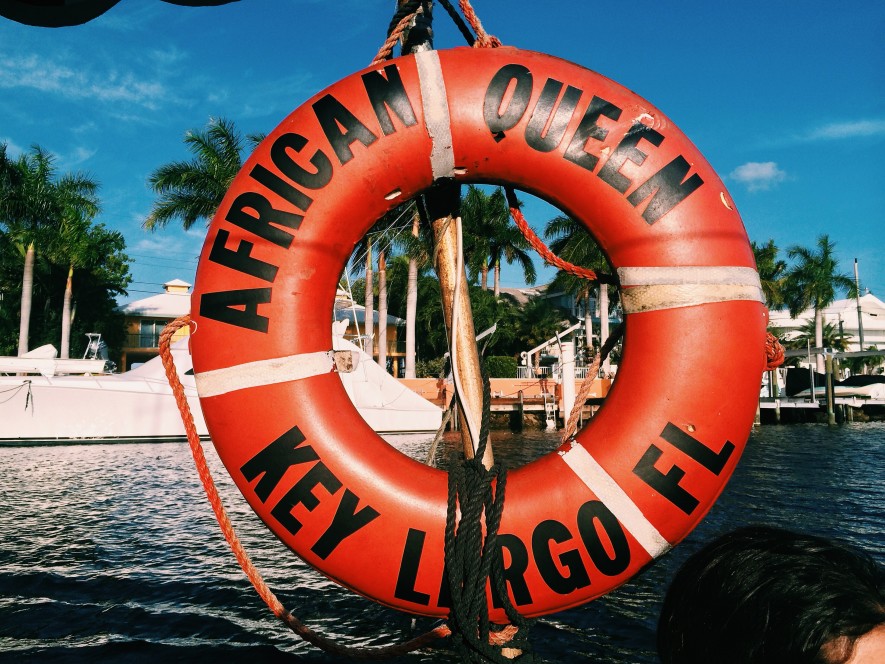 Morning: Make your last breakfast count at Mrs. Mac's Kitchen. Pile up on greasy morning food to last the day, and why not go for one last breakfast pie?
Don't forget about the sustainable side of travel and learn what you can do to give back during your travels. Head on over to the Coral Restoration Foundation to see how local corals are being farmed and protected, and take that info home to share with others.
Afternoon: Climb aboard the infamous "African Queen" (yes, from the movie), and chug down the scenic waterways of Key Largo to the clinks, clangs and steam screams of this charming little boat. Enjoy a history of the boat from the captain and get a different view of Key Largo.
Say your goodbyes and catch your last glimpses of the sparkling blue water as you leave the Keys behind and drive inland to Miami.
 —
And there you have it, the perfect itinerary for a long weekend in the Florida Keys.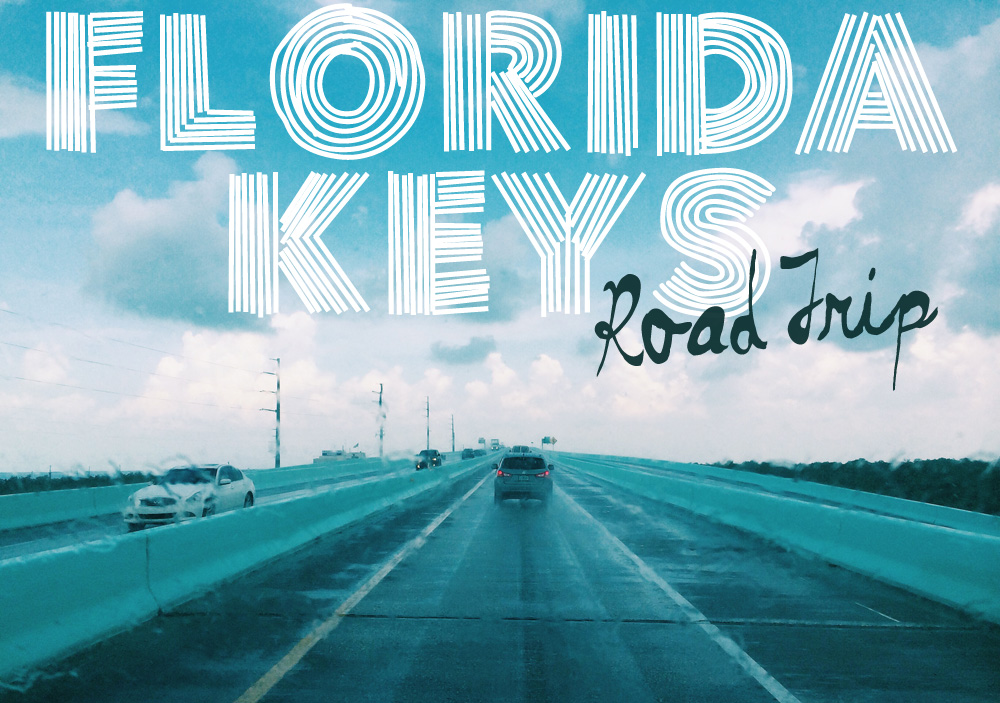 I could probably come up with a dozen different Florida Keys itineraries based on varying styles of travellers, but I think this one hits all angles.
Feel free to follow along on my Tumblr blog, Instagram and Twitter during the month of August for a few more suggestions of cool activities in the different Keys (ex. a trip to Dry Tortugas National Park) and more info about the #EnterpriseEverywhere campaign.
Check out a Key West alternative day trip I made on Tumblr, here.
Twitter Chat
Additionally, come check out the upcoming Twitter chat that highlights the many passions of travel, on Wednesday August 20th at 7:00 pm EST. You can follow along with the hash tag below, or join us on Twitter to let us know why you travel.
Travel Giveaway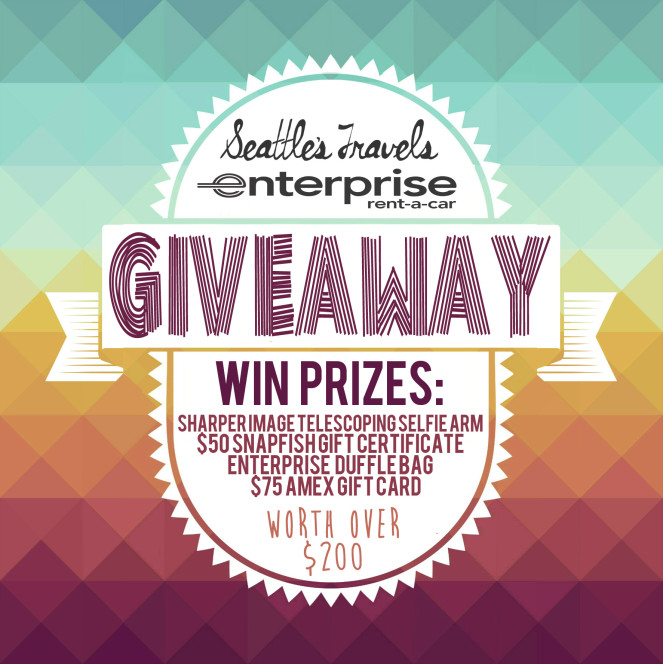 GIVEAWAY ENDED
I haven't forgotten about you lovely readers ;]
You'll have a chance to win an awesome set of prizes from Enterprise, including the following items:
$75 AMEX Gift Card: Use this on your upcoming weekend away with Enterprise.
Sharper Image Telescoping Selfie Arm: Take awesome selfie photos or video on your upcoming weekend away with Enterprise, and share them on social media tagging @Enterprise and #EnterpriseEverywhere.
$50 Snapfish Gift Certificate: Turn the photos you take into souvenirs.
Enterprise Carry-Me Everywhere Duffle: Use on your upcoming weekend away with Enterprise.
To enter, simply follow @Enterprise on Twitter. Then comment on this blog post and share where you would go on a weekend away and what car type or class you would rent from Enterprise for the weekend. You can check out which classes are available on Enterprise's website.
GIVEAWAY ENDED
Got that?
Follow Enterprise on Twitter & comment below. Win. Simple.
If I were planning a new weekend adventure, I think I'd go for a black Lincoln MKX, for some rugged trails up and down the Oregon coast.
Enterprise is committed to doing things the right way: taking care of its customers, employees and the communities it serves.
Sorry to my international friends, but prizes can only be shipped to US addresses. Contest will run until August 22nd, 2014.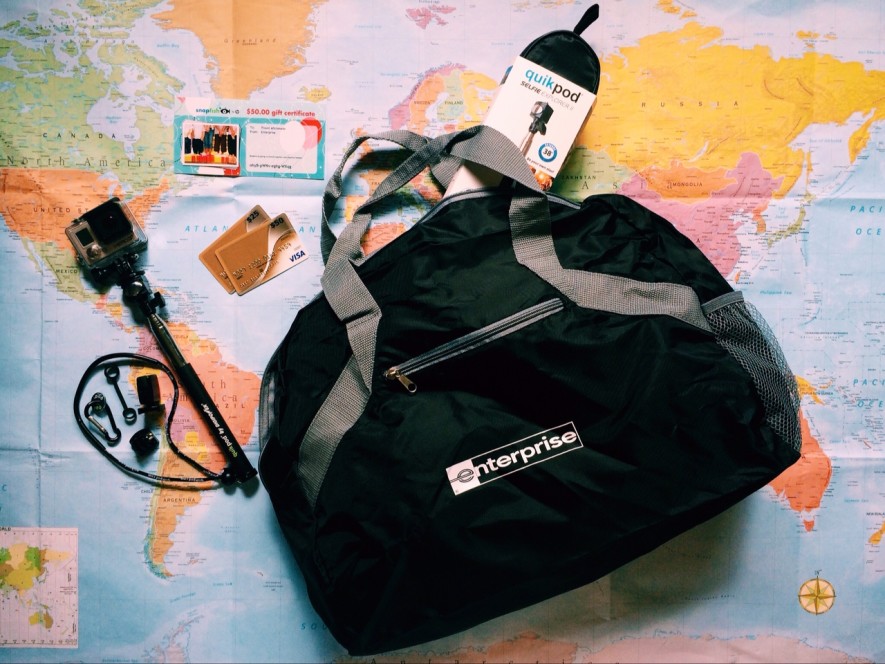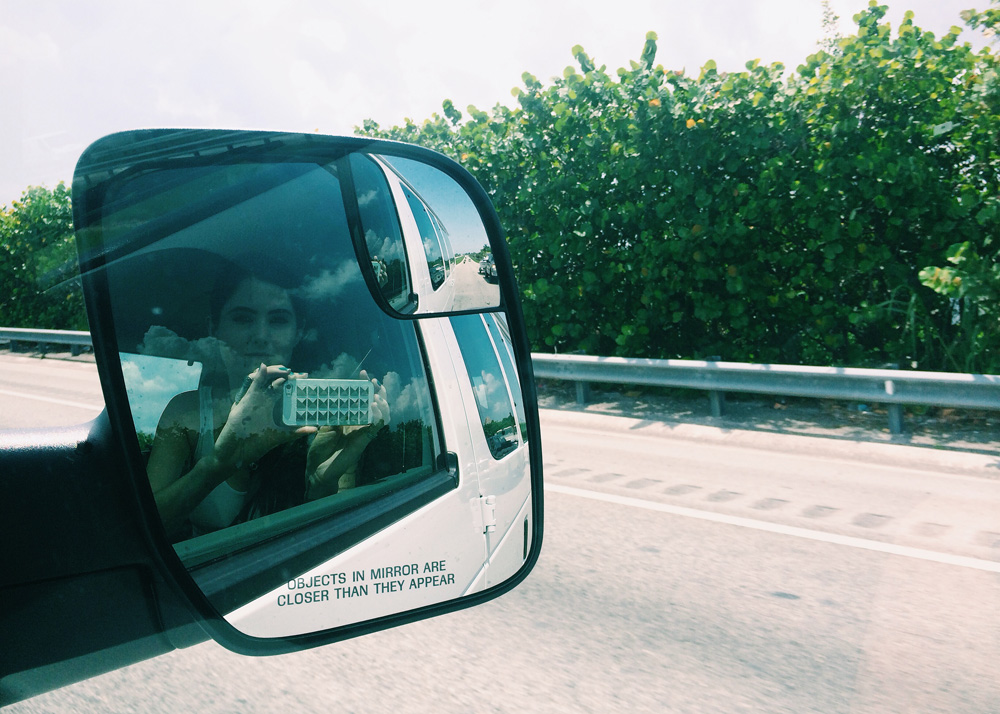 Don't forget to follow along the upcoming Twitter chat for #EnterpriseEverywhere.
Wednesday August 20 @ 7pm EST.
This post is part of a branded campaign with Enterprise Rent-A-Car.
As always, all thoughts & opinions are my own.
Where you would go on a weekend away
and what kind of car would you rent?
GIVEAWAY ENDED