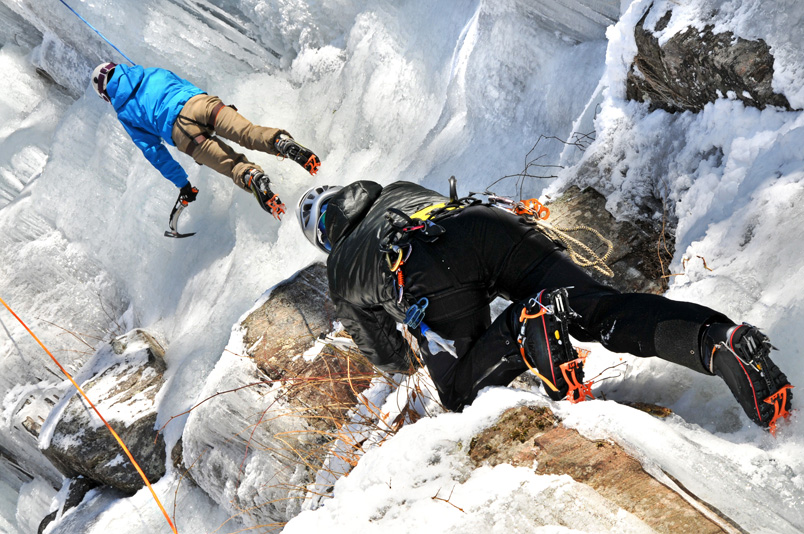 Last weekend I had an experience that I just cannot get out my of mind. Literally, I can't stop thinking about it! I went ice-climbing outside of Bracebridge, Ontario, with Muskoka Outfitters. The addiction begins.
While I was climbing the ice, I thought that it was like any of the exciting adventures that I often find myself on, but it turned out to be so much more than that.
Upon returning home, I found myself day-dreaming about where to throw the pick next and repelling backward off the giant wall of ice.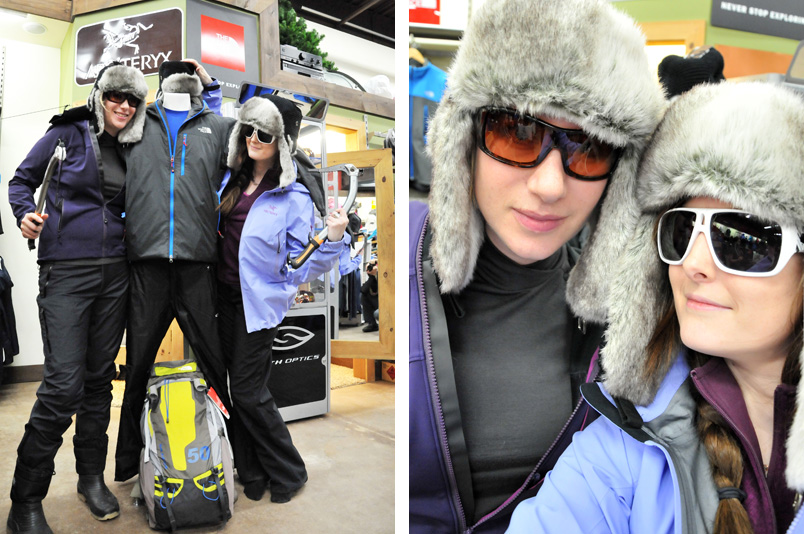 The day started at Muskoka Outfitters in Bracebridge, Ontario. Along with my friend Karin, we met at the store to fit our boots and crampons, along with some other gear. We also met up with the other climbers that we would be spending the day with.
Once everything was organized, we set off for Lake Kushog. After about thirty minutes of driving, we arrived at the lake and parked the car. Everyone re-grouped and began to cross the frozen lake.
The lake was a beautiful winter scene, covered in sparkling fresh snow and surrounded by a thick tree line. Scenes like this always remind me of the Estonian flag; white (snow), black (tree-line), blue (sky).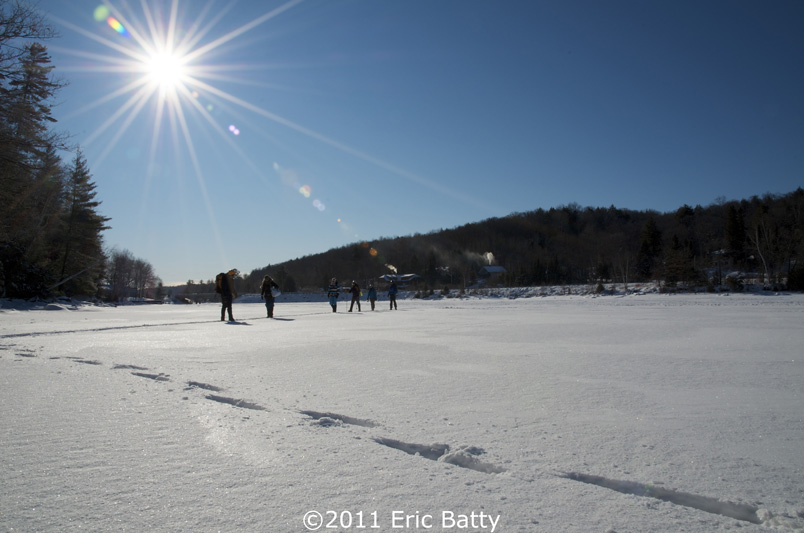 Photo by Eric Batty
Next came what proved to be the
hardest part of the day
for me. I try not to let it stop me from having active adventures, but
I have asthma
.
I took one look at the steep hill in front of me, and almost coughed up a lung from just looking at it. I gathered my courage (and puffer from my bag) and took my first step up the hill.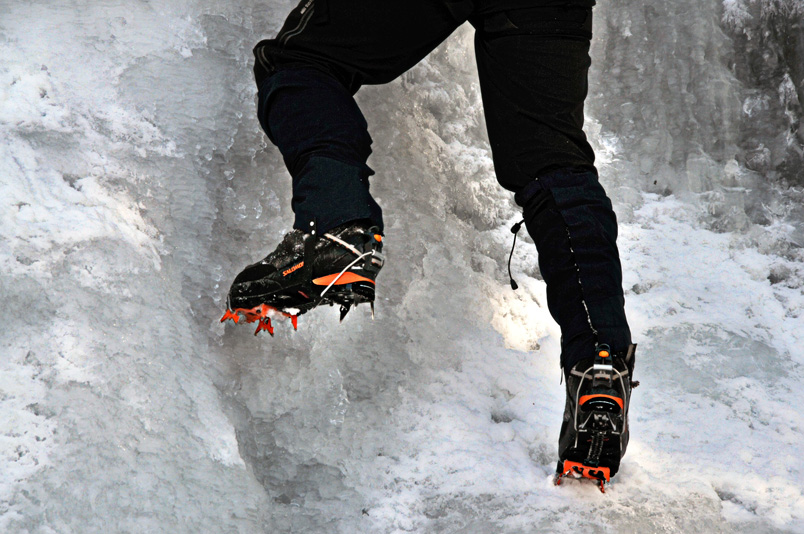 By the time I got to the top, I was huffing and puffing, but I had made it! I took a quick breather and readied myself for the ice-climbing. I won't let a little asthma get me down!
As the trained ice-climbers got started, we received the basic instructions and were encouraged to take a "test climb" by trying out our picks and crampons on the first small outcropping of ice. Our guides were great at explaining everything to us.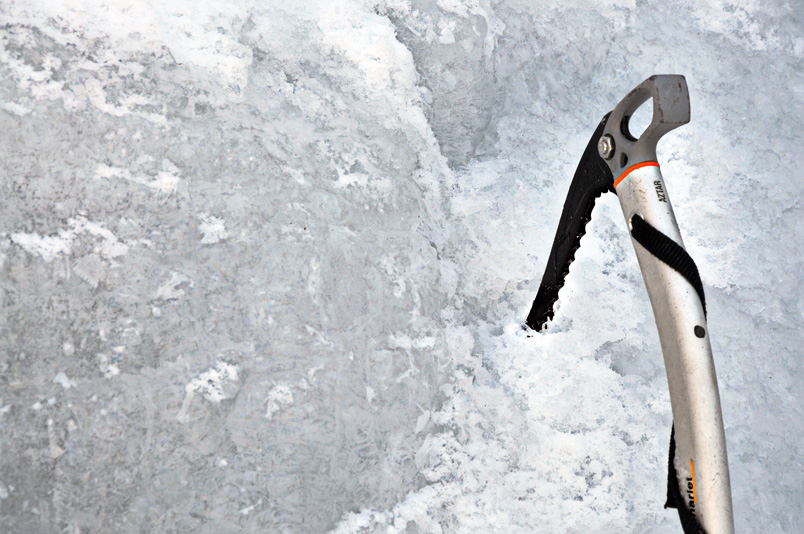 We finished up our little training session, and watched the other climbers conquer the large wall of ice. They made it look so easy, but I was still unsure of myself.
I saw the half way point, and doubted that I would even be able to make it there. I kept psyching myself out, and wondering what I had gotten myself into.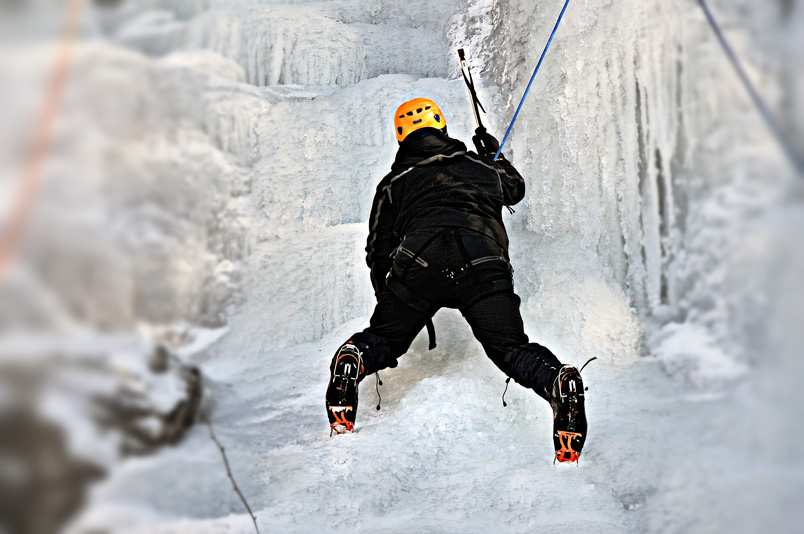 Three people took the climb before us, and we watched as each one scaled the wall like it was a piece of cake. Ice cream cake?
Sure they made it look easy, but I was still nervous. I shuffled around as Karin and I decided who would go first. She would. We continued watching, awaiting our turn.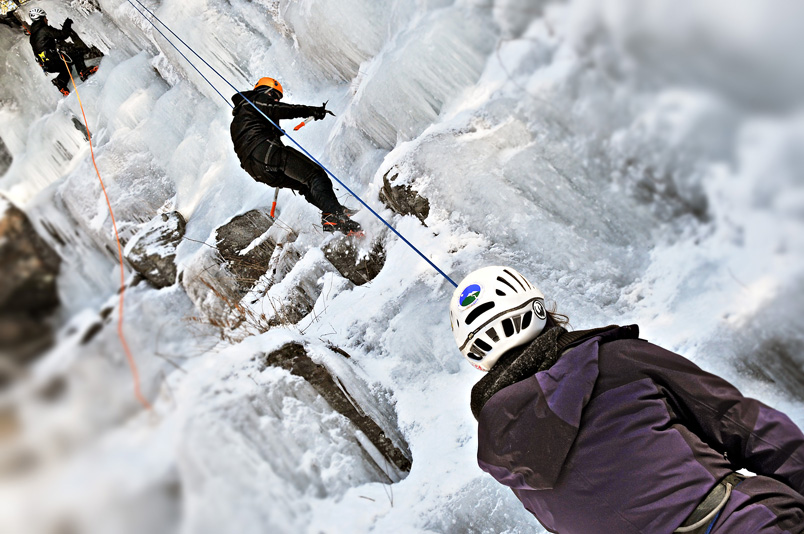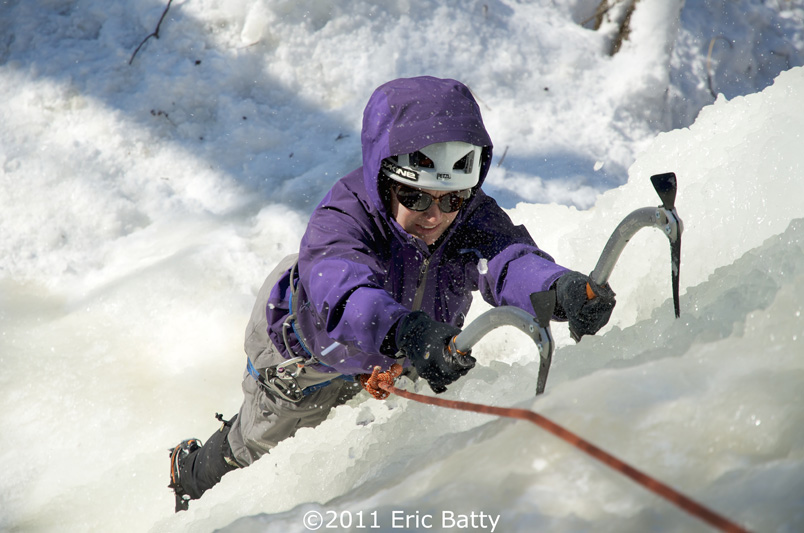 Photo by Eric Batty
Something that I thought was really cool, is that
one of the climbers was a photographer
. He perched himself up at the top as he captured each climber that reached his level. Obviously I couldn't get these
awesome angles
from the bottom, so it was great to see his shots.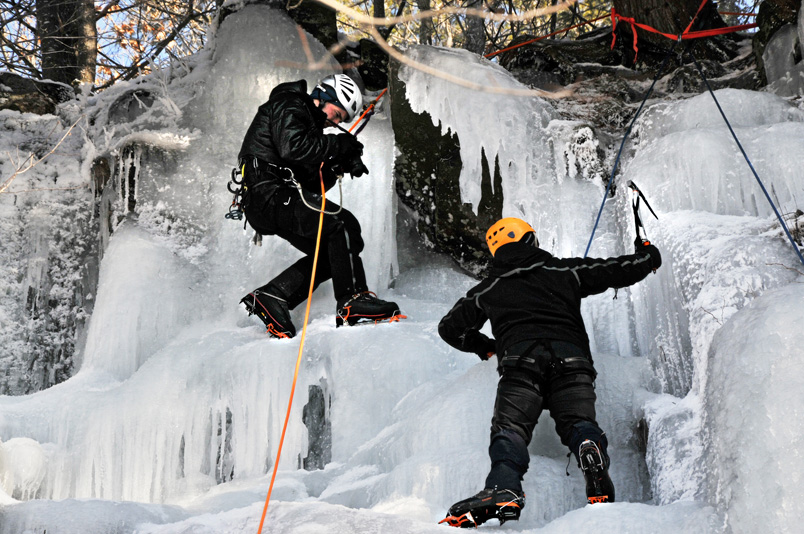 Karin was up next. Our guides carefully tied her into the harness and hepled her over to the wall. Karin had hit her knee on a rock before we crossed the frozen lake, so she wasn't feeling 100%. She tried to find the right spot on the wall, but her knee was giving her trouble.
She struggled a few more times, but couldn't seem to get the hang of it. She was going to take a short rest so her knee could recover.
My turn. I quickly harnessed-up and stepped into the climbing position. I laughed, knowing that I would probably do the same thing as Karin–even without the sore knee. I looked up at the wall in front of me and laughed again.
Well, here goes nothing.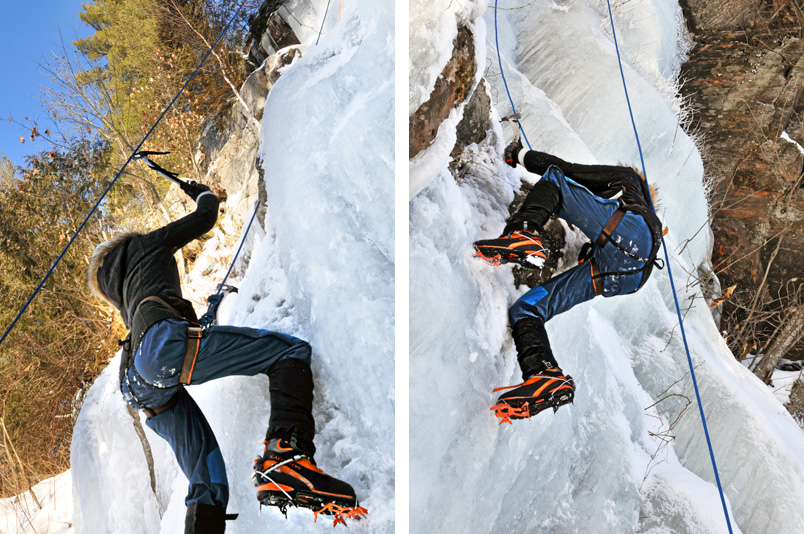 I threw my first pick into the ice, and then the other. They seemed to stick in quite well. And hey, it was pretty fun. I kicked my feet up the wall, following the picks.
One, two, three. One, two, three. I had made it over the first small bump, probably resembling some sort of crazy spider monkey.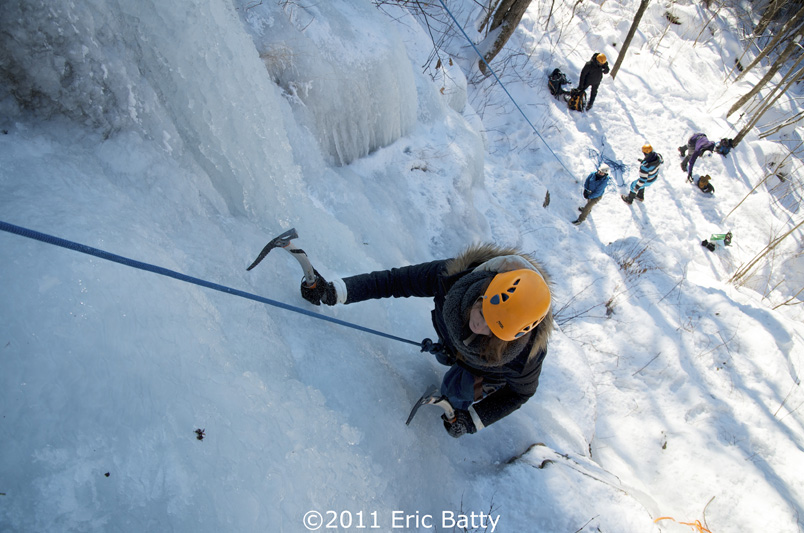 Photo by Eric Batty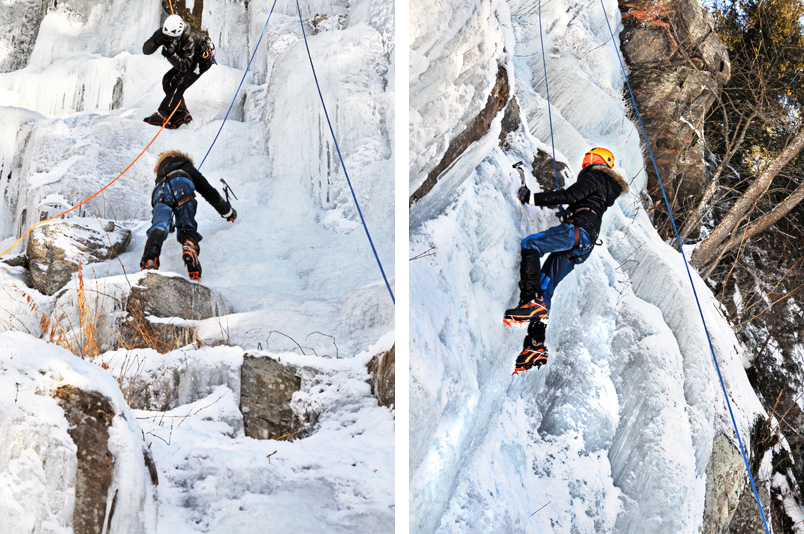 I sighed. That wasn't so bad, maybe I can actually do this. I continued the pattern, always keeping three points connected to the ice at once, and moving either a pick or a foot in a patterned motion. I was getting the hang of it.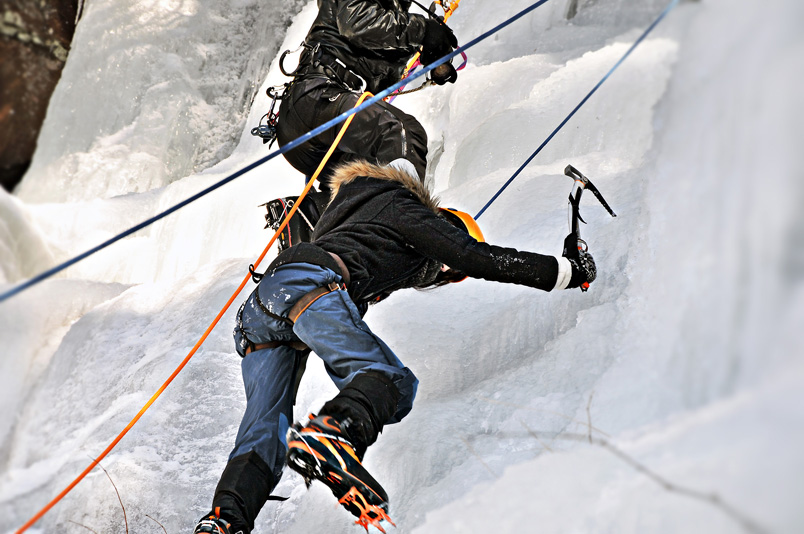 Up over another few mounds of ice, I was now close to the top. My hands were starting to get a little cold from the melting ice water, but I pushed myself up over one last ridge. It felt amazing.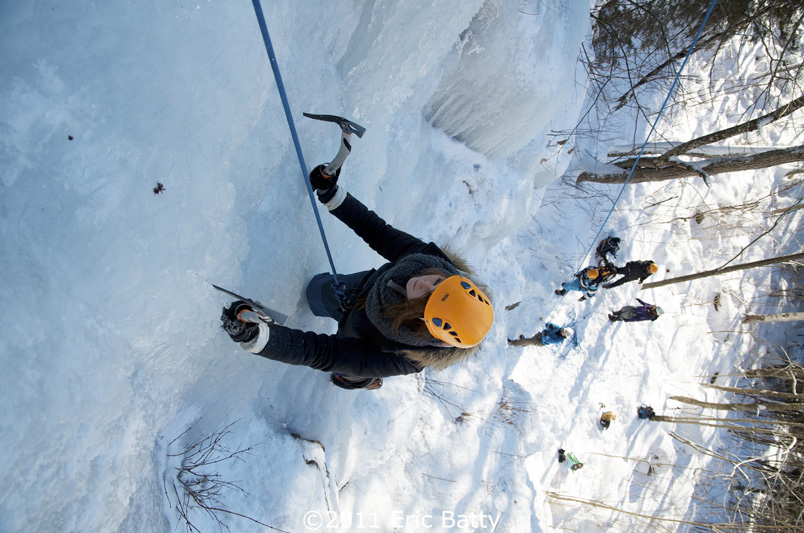 Photo by Eric Batty
Looking down, I analysed my route of return. The ground looked rather far away, and I imagined that this wouldn't be the best place to stand
if you were afraid of heights
. Shrugging off the distance,
I began to descend
.
Uh-oh. Heights are one thing, but leaning back over a wall of ice at the hand of one very small girl holding my rope is another. I couldn't quite seem to straighten my legs out, because I wasn't sure if I trusted the rope.
I kept wanting to stay vertical and climb it like stairs. Probably not the best move, as I took a little tumble.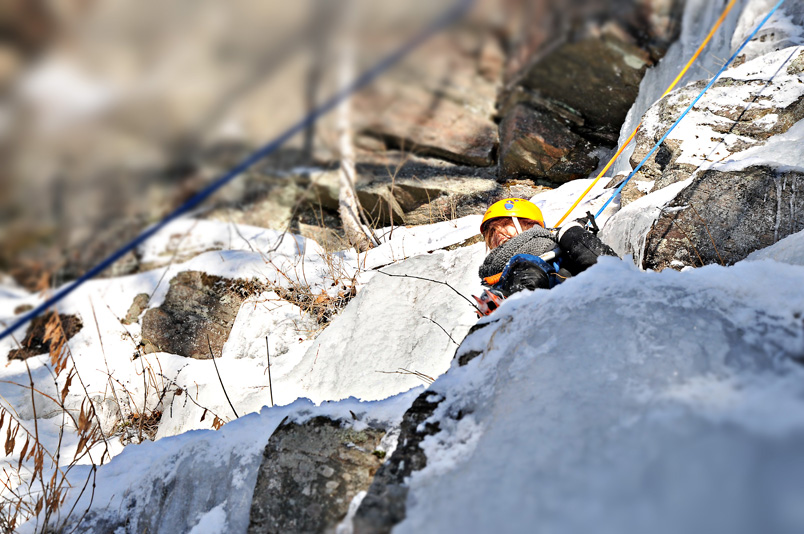 I laughed at myself and got back up. Our guides assured me that the rope was more than strong enough, and there was nothing to worry about. I finally relaxed, and straightened out my legs. Before I knew it, I was back on solid ground.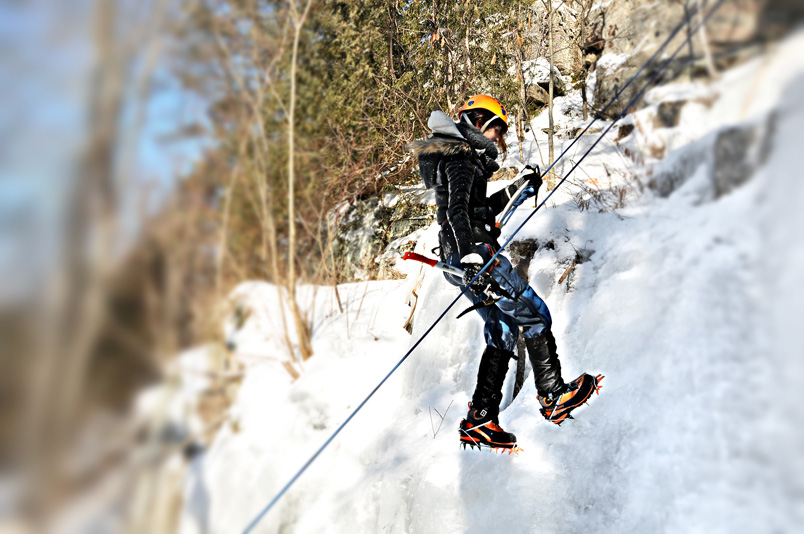 Karin's turn again.
This time, she was able to make it over the first mound. From that point, she had no problem with the rest.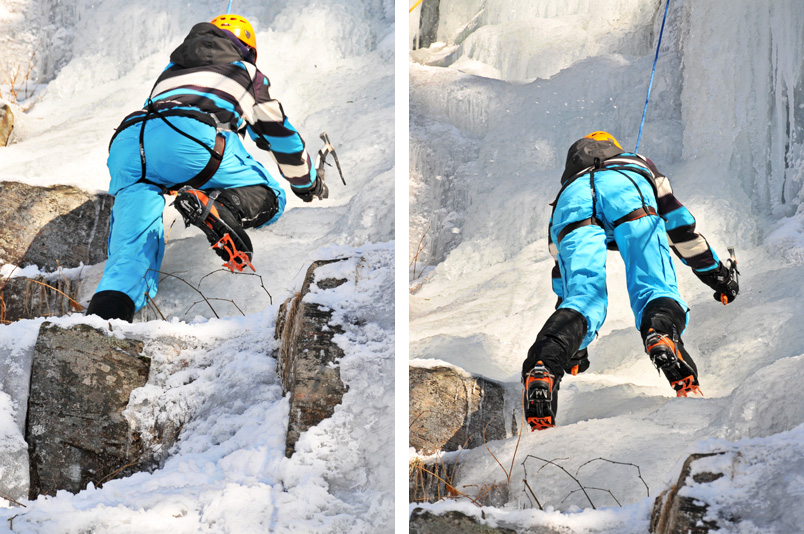 She quickly made progress over the other ice-mounds and made her way up the wall. I watched from below as she made the same three-step pattern with her picks and kicks.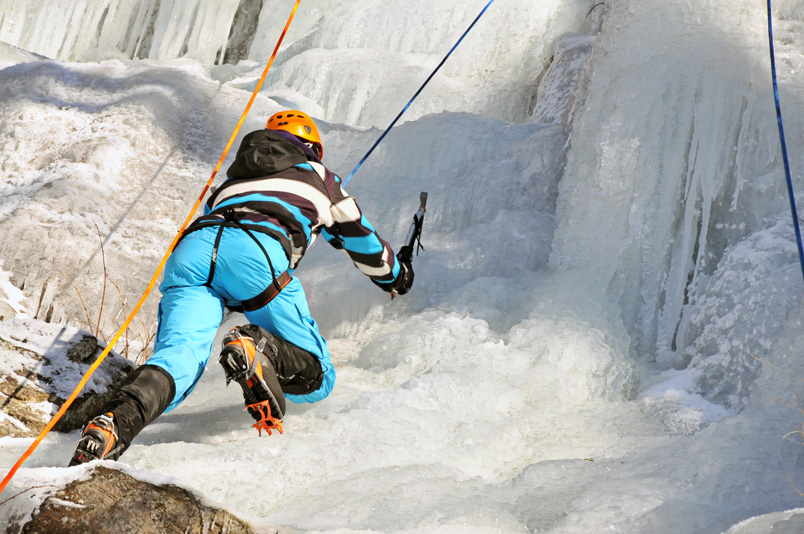 Karin made it close to the top, but the knee-pain was a little much with all of the climbing. She started to come back down again.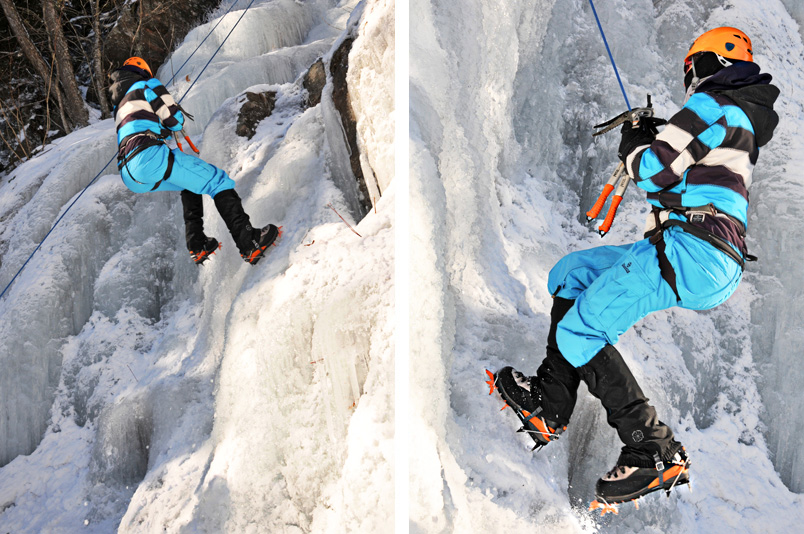 We watched one more climber go up, and another gather the gear, as we discussed our own climbs. We were both pretty thrilled with how well we did, considering I personally didn't think that I would be able to do it.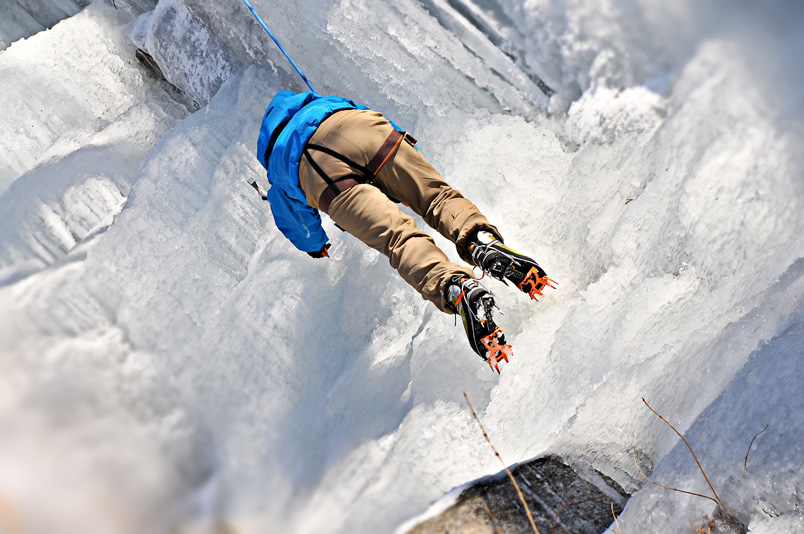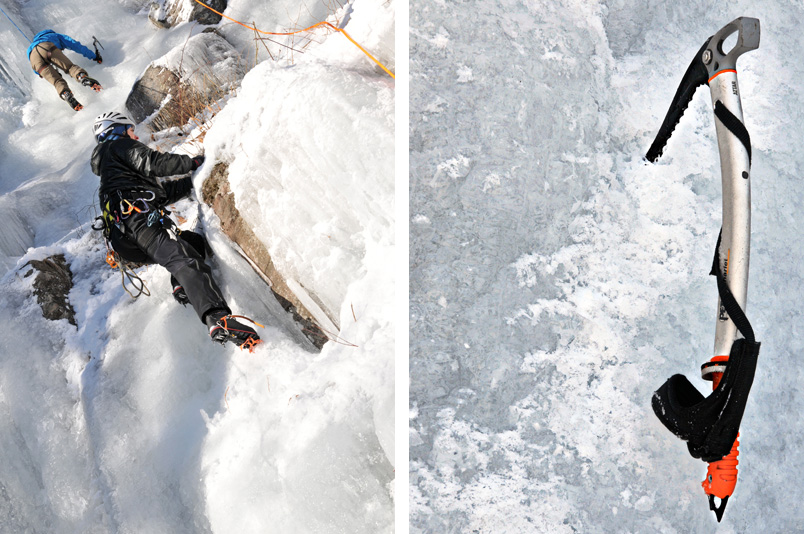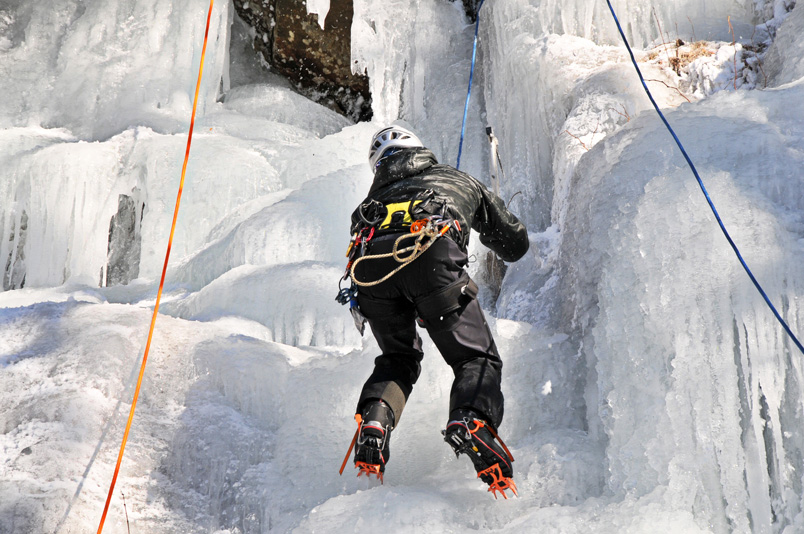 We removed some gear, and made sure the rest was secure for our trek back. It had been an amazing day, but it was time to head home.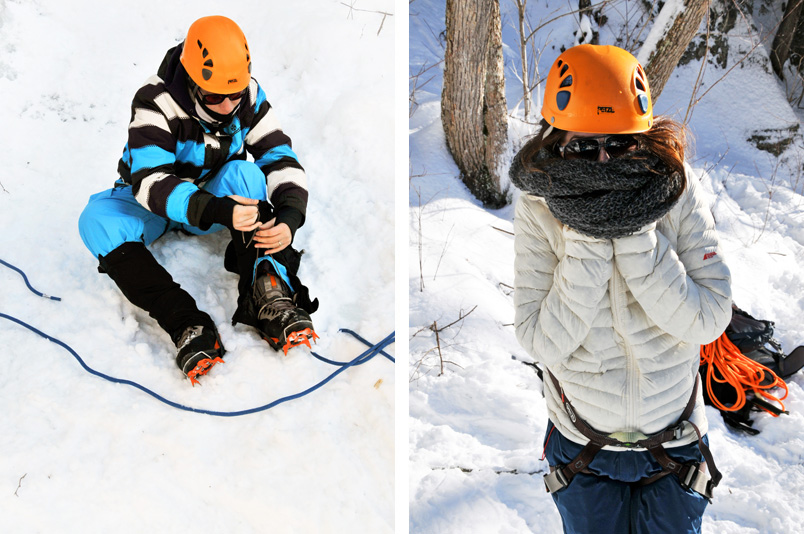 To get down, we had to navigate around trees and stumps, which proved to be a bit difficult in our crampons, but we covered ground quickly.
Once we made it down the hill, we hopped down to the frozen lake below. It was nice to be back out in the wide open air and bright sunny sky.
We took one last look through the leafless trees, toward the ice walls, and then headed back across the frozen lake.