With the introduction of Instagram's new embed option, I am going to start creating Instagram posts for all future trips.
I'm also going to backtrack with a few recent trips–beginning with Iceland.
Here is my second trip to Iceland in April 2013 through Instagram.
I'm back in Iceland! a.k.a. My favourite country. Today was day one on the Ring Road with @iceland_unlimited
If you drive around the black sand wastelands of southern Iceland for long enough, you sometimes stumble across abandoned airplane wreckages.@iceland_unlimited
This morning I explored this Canyon and climbed along the rocky cliff outcrops with @iceland_unlimited
A quick stop at the Glacial Lagoon was just enough time for me to grab a chunk of glacier and let it drip all down my arm. Brrr… @iceland_unlimited
Anyone for a dip?
I'm on a mission to make friends with all of the horses in Iceland.
Playing at the seaside as the@iceland_unlimited girls are touring guest houses in a tiny fishing village.
Turned a corner and suddenly it was winter.
Moments before I was engulfed in a giant cloud of sulphuric steam.
Not a bad way to watch the sunset. After visiting both the Blue Lagoon and@myvnaturebaths I think I prefer Mývatn. It was almost empty as I soaked away in the steaming thermal water.
THIS is happening right now. After some digging, even the tractor can't save us. Send help!
Just got back from the mountains above Akureyri. I snowmobiled to an elevation of 2000 feet and had a beer inside an igloo. Beer. Igloo. Snowmobiles. Best. Ever.
Iceland, you're pretty.
Exploring the snowy coast around Snæfellsjökull this morning with@iceland_unlimited
I don't normally post shots from my Nikon, but it was a bit difficult to set up the self timer on my phone for this one. Edits on phone. Relaxing in the lava fields :]
Happy Earth Day. It may be raining, but I didn't let that stop from me from going for a bike ride around Reykjavik.
Sólfar "Sun Voyager" is a dreamboat in Reykjavik that contains the promise of undiscovered territory. I like that promise.
Hjartatorg "Heart Square" graffiti park. One of my favorite spots in Reykjavik. Today is my last day in Iceland 🙁
—
I take all of my Instagram photos with an iPhone4 unless otherwise stated
and use PicTapGo for post processing.
I travelled around the country with @Iceland_Unlimited and had an amazing time.
I also suggest following @TinyIceland for stunning regular Icelandic updates!
Don't forget to follow me on Instagram too ;]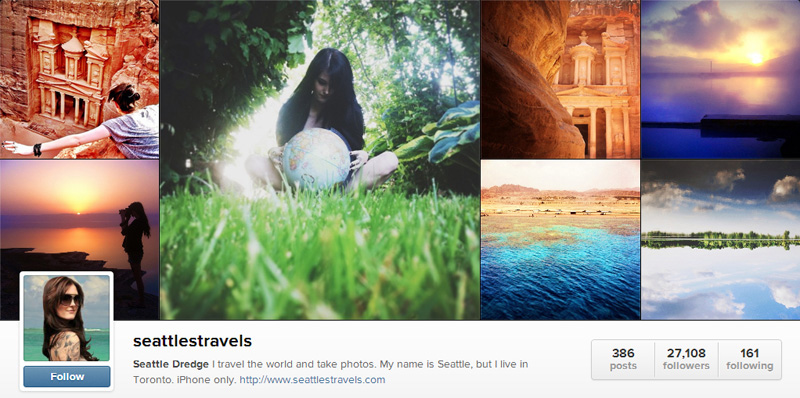 Follow