After a quick drive up the mountain from Port of Spain, Trinidad and Tobago, you will find many lookout points. These points provide sweeping views of the entire city and surrounding area, as well as the Caribbean Sea stretching out in front.
Much of Port of Spain is nestled on nearby hillsides, while the main downtown core rests on flat ground. The city is colourful, vibrant and noisy. From up here, it appears to be a peaceful, tropical little town.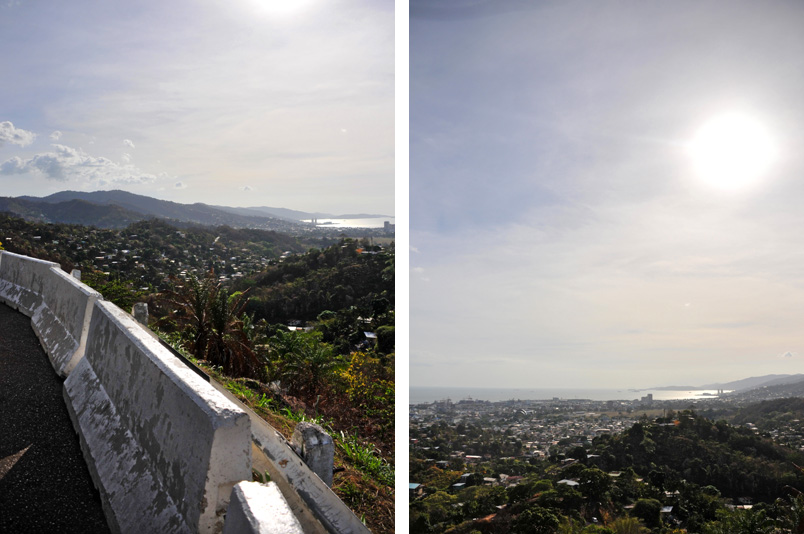 We parked the car in the cliff side car park and walked over to the railings. We spent some time just looking around and taking photos.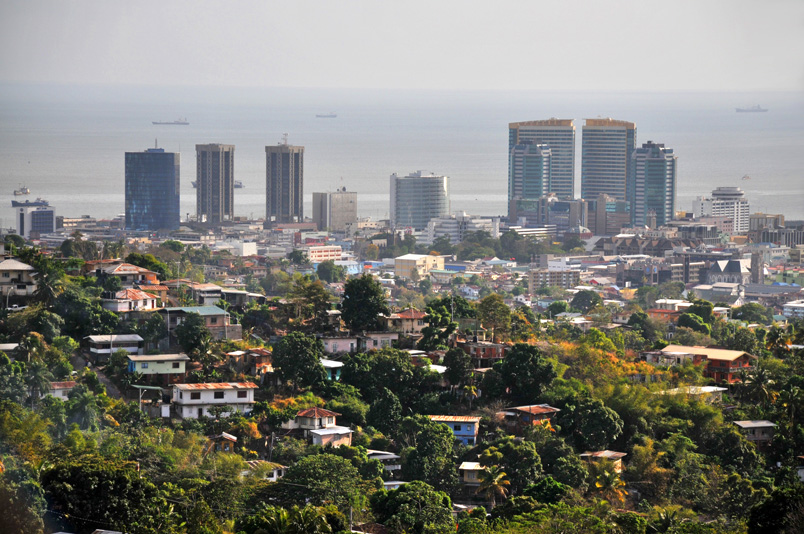 There was so much to look at and I wanted somewhere to sit down. There were no benches around the place, so I looked at the railing.
There was a bit of a drop below, so I would have to be careful. Stretching one leg over the guard I swivelled around to face the view.
Setting my second foot on the ground, I leaned back on the fence. Gaining my balance, I pulled my feet up and perched on the edge.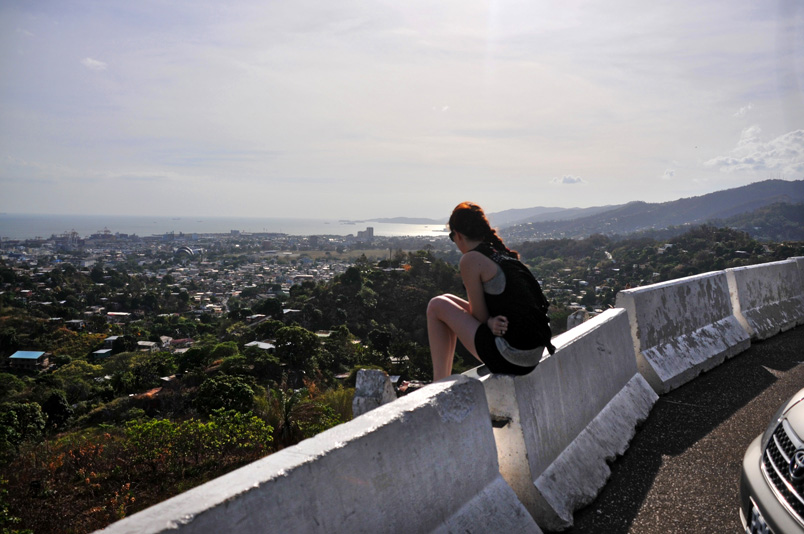 Perfect.
I could now relax and take in the amazing cityscape in front of me.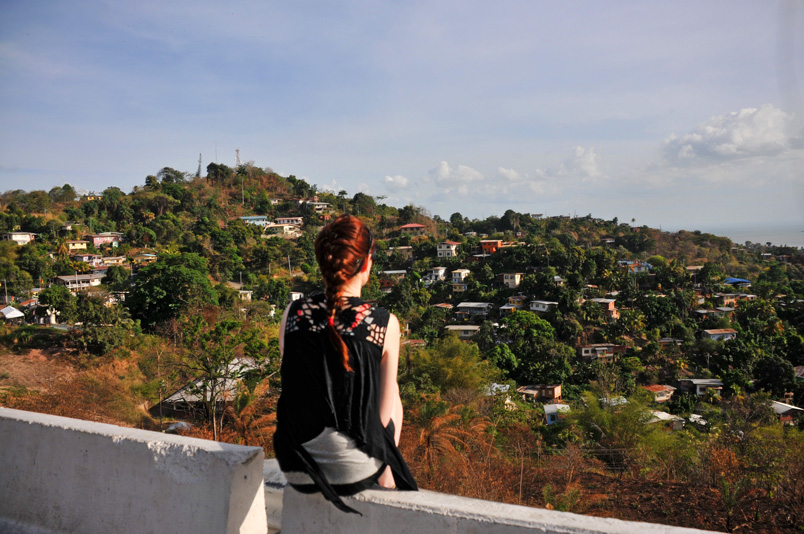 My friend also sat down, and we both looked out over Post of Spain for a few more minutes.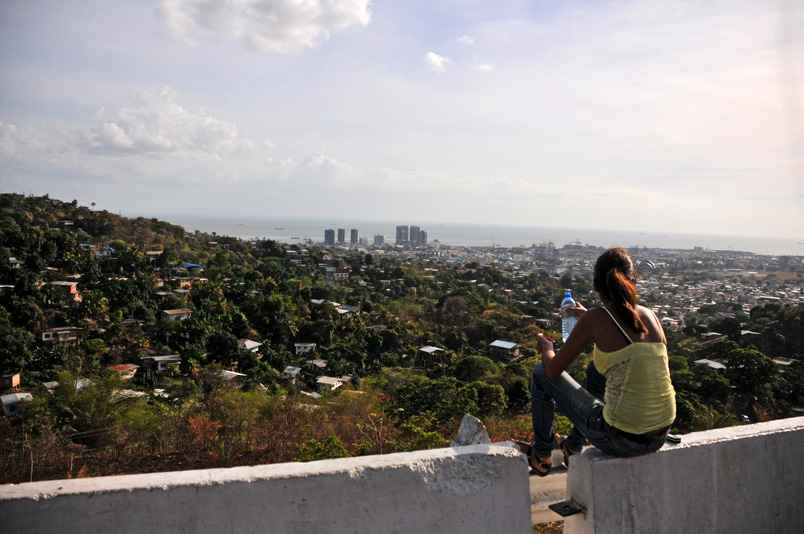 Finally, we decided that we should head home. If you think rush hour in your home town is bad, you probably shouldn't ever go to Trinidad.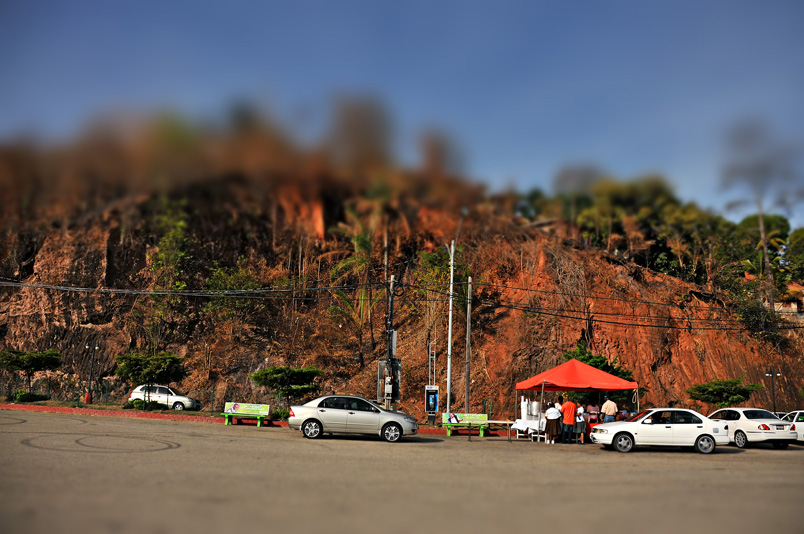 We pulled out of the car park and zipped around a few mountain corners. Then we hit it. Trini traffic.
The thing about Trini traffic is that it gets amplified to seem worse than it actually is. The sun beats down on your vehicle relentlessly and the humidity seeps in through any available opening. If you don't have AC, you'll probably start envisioning small oasis' on the road until you just pass out from the heat.
The traffic is not strictly prohibited to main roads and highways, oh no! Traffic can, and will hit anywhere on this small little island. Best solution? Just stay home during rush hour.
You may be surrounded by palm trees, but it's still traffic.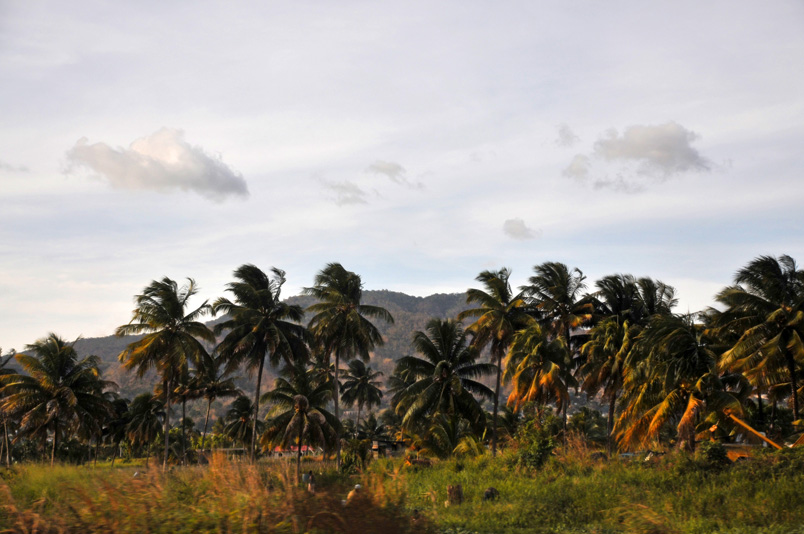 There's always a positive in all of the negatives. The best part about Trini traffic are the road vendors. Men walk up and down the deadlocked highways selling bottles of water and other refreshing treats. Others sell food and snacks, while some even sell little products and toys.
During my trips to Trinidad I purchased many bottles of water while stuck in traffic. They were always reasonably priced, and definitely helped beat the heat.
My all time favourite vendor just happened to make an appearance while we were stuck in traffic coming down from the lookout point.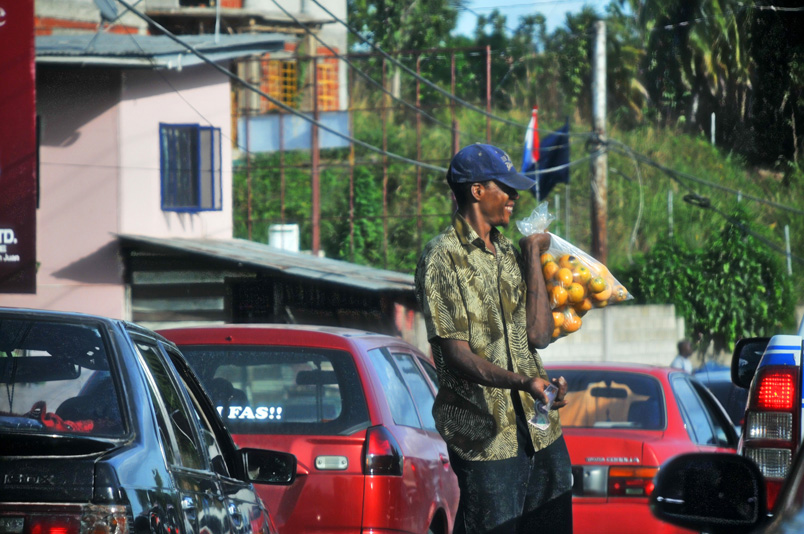 Ahead of us.. in the distance, I could see a man selling mangoes.
He popped around from car to car pitching his citrus product. A few windows rolled down here and there as he made his way closer to our car.
My friend opened her window and waved him over.
"Hello ladies. You want mangoes?"
"One bag please".
We sifted through the bags a bit, looking for the perfect batch. Choosing one with mostly ripe fruits, we paid him and took the bag into the car.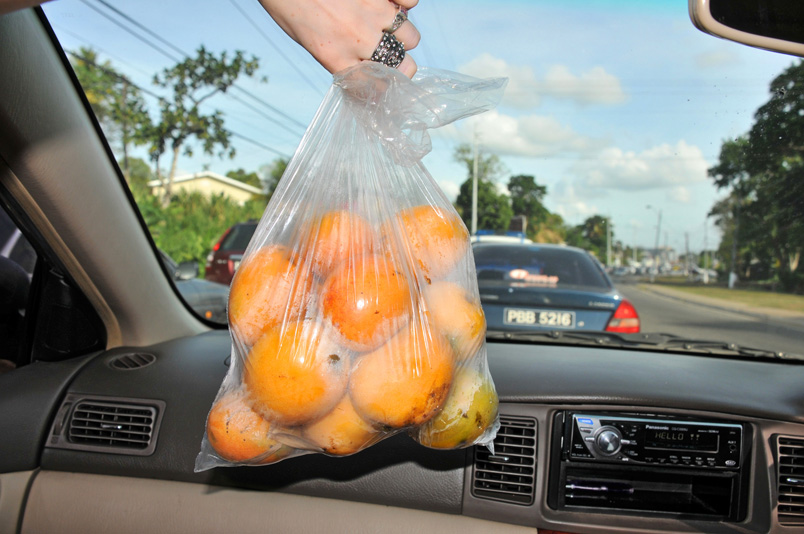 The mangoes were warm from the sun and their scent immediately filled up the car.
Knowing what a mess they would make, I decided to wait until we got home to eat one. Or at least I tried. Five minutes later I had mango juice rolling down my chin and skin peels dripping from my hands. Whatever, it was delicious.