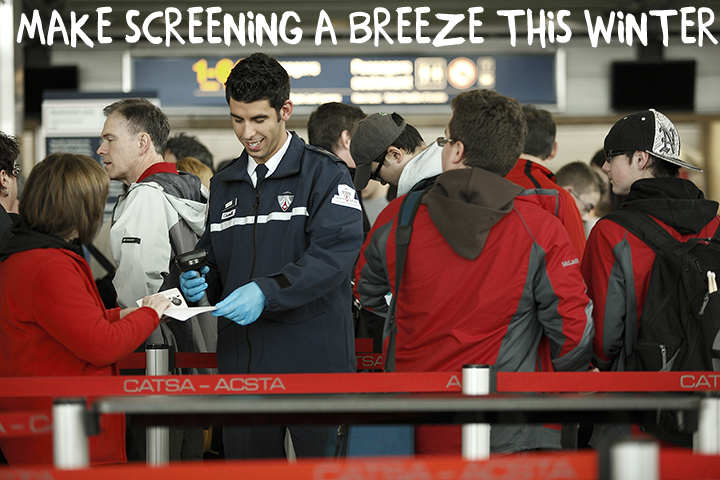 The weather outside may be frightful, but travelling this winter can be delightful.
Following my last post about how to beat the crowds during summer travel, the Canadian Air Transport Security Authority (CATSA) is now sharing how to get through airport security faster this winter. I just had my first taste of this years winter travel a couple of days ago, flying from Toronto to San Francisco, and got to try out these tips for myself.
Whether you're packing for a winter wonderland with the kids or simply escaping the cold, these tips from CATSA will make airport security a breeze:
Before the airport
Snowy weather can make getting to the airport a challenge, so make sure to arrive with plenty of time to check in and go through screening. Wait times for major airports are listed on CATSA's website or CATSA's app for your convenience.
Remember to put all liquids, aerosols and gels over 100 millilitres in your checked baggage. Only amounts less than 100 ml in a 1-litre clear, re-sealable plastic bag are allowed on-board.
Dress for success
Though you'll likely be bundled up for winter weather, remember to put your coat in a bin at the screening checkpoint. Same goes for boots and belts with large buckles.
Bringing the kids along?
Keep them happy by packing their favourite snacks – solid foods like fruit and chocolate are allowed in your carry-on bag. If you are travelling with an infant younger than two years of age (0-24 months), you can bring baby food, milk, formula, water, juice and other baby items in your carry-on bag.
Look for the Family/Special Needs lane. There is extra space to accommodate larger items like strollers and car seats, and screening officers who offer additional assistance.
Travelling with gifts?
Screening officers hate unwrapping other people's presents. Gifts packed in your checked bag or carry-on should be wrapped when you arrive at your destination. Better yet – some airports have gift-wrapping services located past security during the holiday season.
For more tips to help you breeze through security this winter, visit CATSA at catsa.gc.ca,  on Twitter (@catsa_gc) or Pinterest (CATSAGC).

This post has been brought to you by CATSA