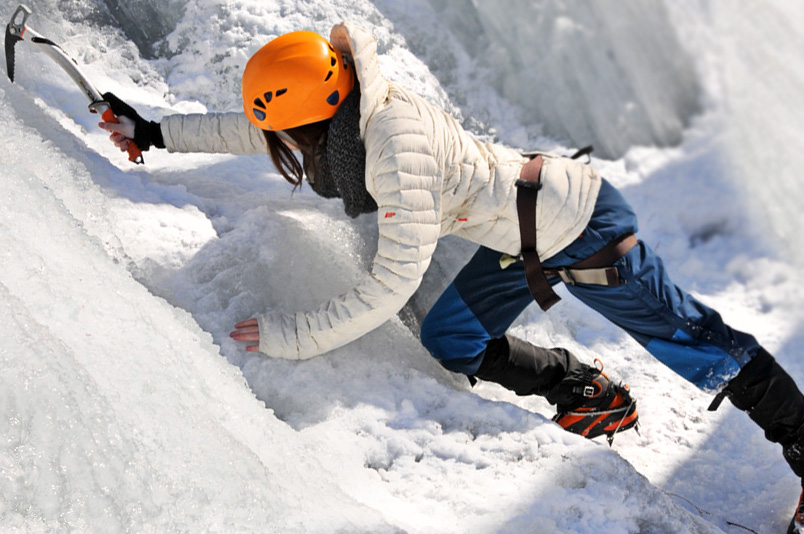 Earlier this year, I headed down to Mountain Equipment Co-op to pick out a jacket for my upcoming Winter travels.
I had some active trips planned in both Ontario and Quebec, and wanted something that would keep me warm, but allow me to move around.
I ended up going with the white version of the MEC Light Degree Hoodie. Now that the trips have passed, I've very happy with my decision.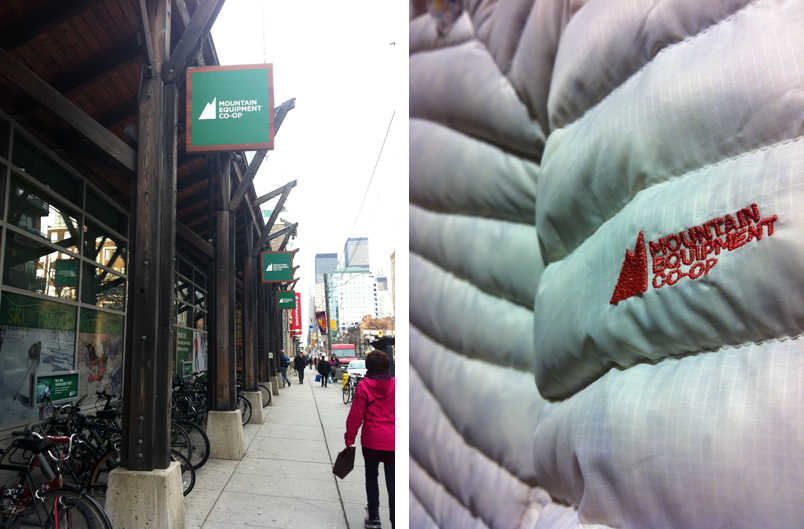 I always love going into MEC, because the atmosphere is that of travel and adventure. The store is full of everyone from thrill-seekers to weekend-campers.
Heading up the main staircase, I took a right and found myself in the women's outerwear section. I walked amongst the coats, looking for the perfect match.
I ended up coming to two top choices; the MEC Light Degree Hoodie and the MEC Tremblant Jacket.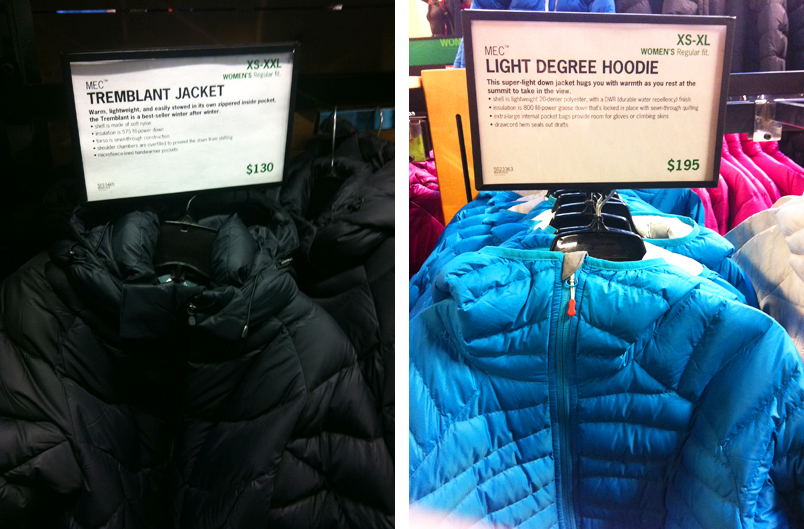 Taking them into the changing room, I spent some time trying to figure out which one I liked best. The Tremblant was super warm, but it was a little on the puffy side for what I would be doing.
The Light Degree Hoodie was just right. Next, I had to decide on the color. I absolutely loved the black version, but I realized that about 90% of my wardrobe is black or dark grey.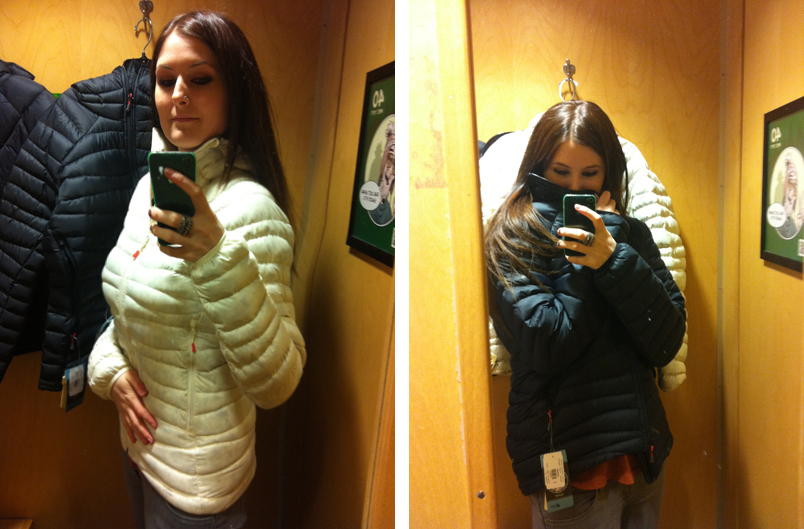 I tried on the white one. It was a little brighter than what I'm used to, but it still looked good.
It was actually kind of perfect underneath my coat, because only the white collar or hood would be popping out.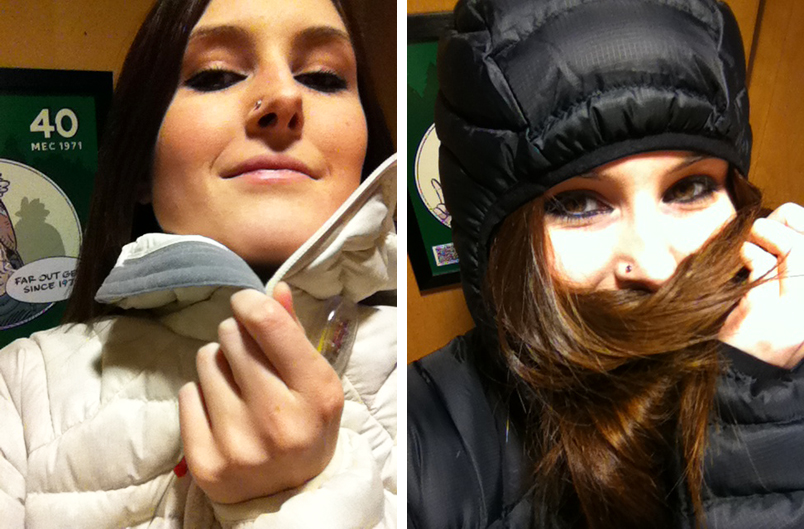 I had made my decision.
—
There was still
a week before
my first trip, but I couldn't help but
wear it around Toronto
, while I was doing my daily routine.
I actually kept commanding my friends to try it on, because they had to feel how soft it was. I'd make sure that they had bare arms, to get the full effect. I'm pretty sure that I forced at least seven of my friends (and one stranger) to try the jacket on.
They all loved it.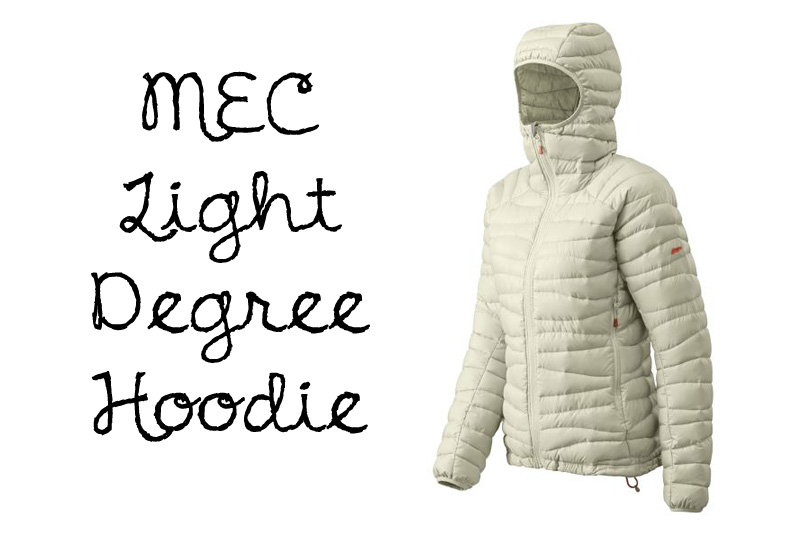 Finally, came the time to really test out the jacket. I headed out of Toronto, and up to Algonquin Park and the Huntsville area.
The first task came in the form of dog sledding. It wasn't any normal day of dog sledding, it was -26C (-14F) outside, and the air had a sharp kick to it.
As soon as my breath escaped my mouth, it formed a layer of frost on my scarf and hat. I could barely feel my toes, and my fingers were starting to lose it too. But, my body was toasty warm.
I had three layers on, including a shirt, the Light Degree Hoodie, and my outer winter coat. My body never once felt cold, and I didn't need to wear a pile of sweaters and coats to achieve that. The Hoodie was doing its job.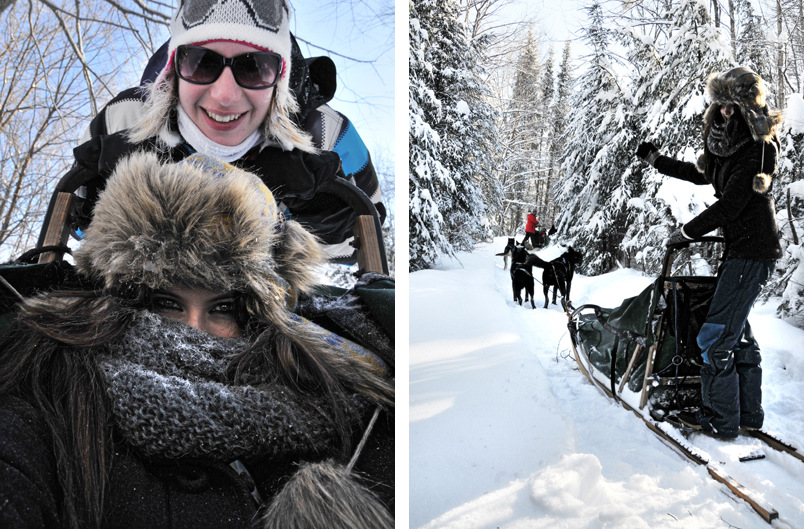 The following day was spent outdoors, this time, ice climbing.
Ice climbing involves a lot of movement and sometimes a little awkward positioning. You need to be able to move quickly, and not be held back by a bulky coat.
The sport is active enough to let you work up a sweat, so you may want to lose a layer along the way. Taking off my outer coat, I wore the jacket alone.
I was able to easily get into my gear, and had the freedom to move around as I stabbed my pick into the ice and kicked my feet in for grip.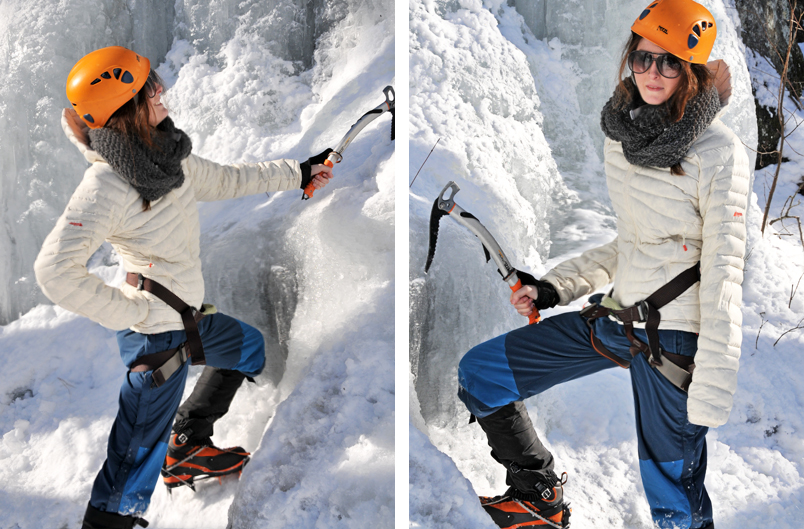 So, the jacket had proven itself entirely capable of handling active winter sports, but how would it hold up in the seriously cold weather of Quebec City?
Last weekend, I headed up to the charming city to find out. I had arrived just in time for Winter Carnival, and would be spending a great deal of time outdoors, but not necessarily with a lot of movement and activity.
the Light Degree Hoodie kept me nice and warm during visits to the Ice Hotel, the carnival grounds, snow rafting, and watching a night parade.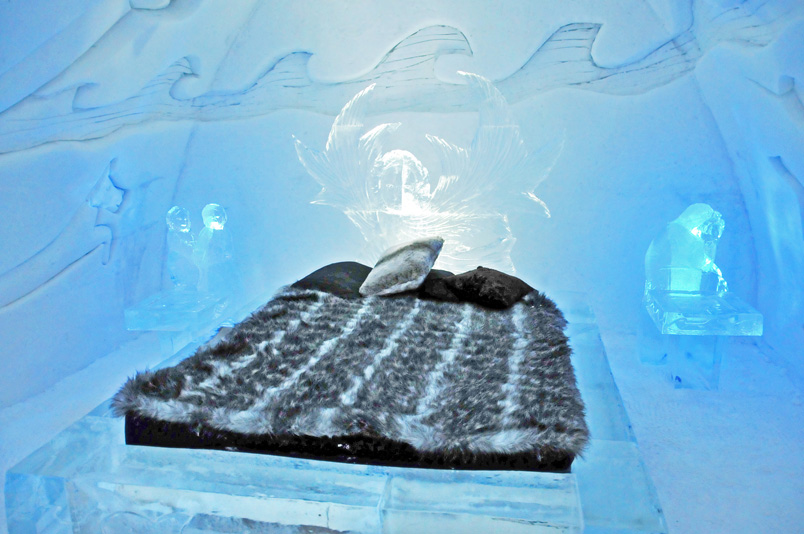 During each of these activities, I stuck with the three layers, like I had during dog sledding. The Hoodie rested perfectly in the middle, and kept all the heat in.
Sometimes I felt a little puffy, with all of the layers, but at least I was staying warm. When the temperatures dipped at night, I only felt it in my feet and hands.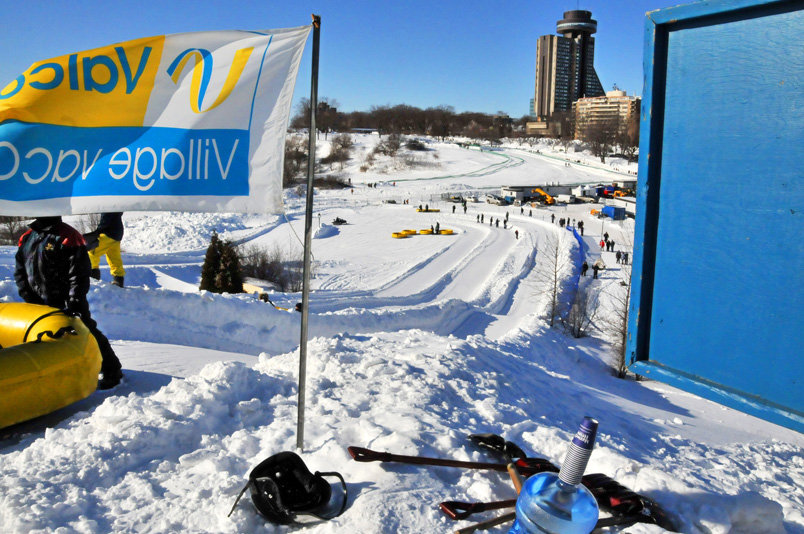 I was a bit upset to think that I would have to wait until next Winter to wear it again (seeing that the Winter in Toronto hasn't exactly been very… Wintery), but then I realized that it would probably make an even better spring jacket on its own.
I highly recommend the Light Degree Hoodie; I'm really glad that I chose it.