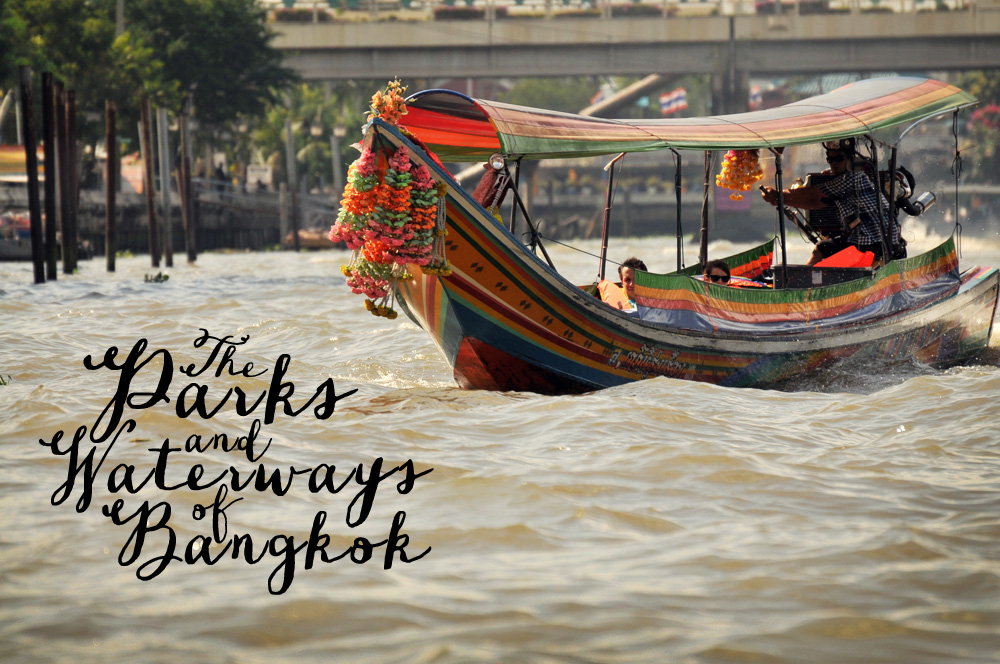 I have to admit; while I always loved living in Toronto, I prefer not to spend a lot of time in cities while I'm travelling.  It's nothing against the hustle & bustle, I would just rather be surrounded by nature than by concrete. So, you can understand why I assumed that I would want to get out of a city as busy as Bangkok, Thailand. Surprisingly, it wasn't nearly as bad as I thought it would be. In fact, I managed to find places within the city that I truly enjoyed.
On my very first day in the city (after a quick de-jetlag nap sesh), I found myself sitting on a taxi boat, zooming through the narrow canals of Khlong Maha Nak. Needing to get from one point of the city to another, and through the political protests, I mapped out a way to do it by foot and by boat. Everything was simple; hop on, pay the 10 baht fare, relax, hop off, voilà.
My favourite part of travelling by water taxi through the Bangkok waterways was that it didn't even feel like I was in a large city at all. It felt like part of a small town canal system that took us through places that we never would have seen from the street and mini neighbourhoods with a distinct character. Houses and balconies squeezed together in an impossible fashion and every conceivable surface was put to good use, or decorated with graffiti. It was a perfectly lovely way to get around the city and a much better alternative to being stuck in Bangkok traffic, something you'll only understand if you've been there (or can imagine Jumanji replaced by taxis and tuk-tuks).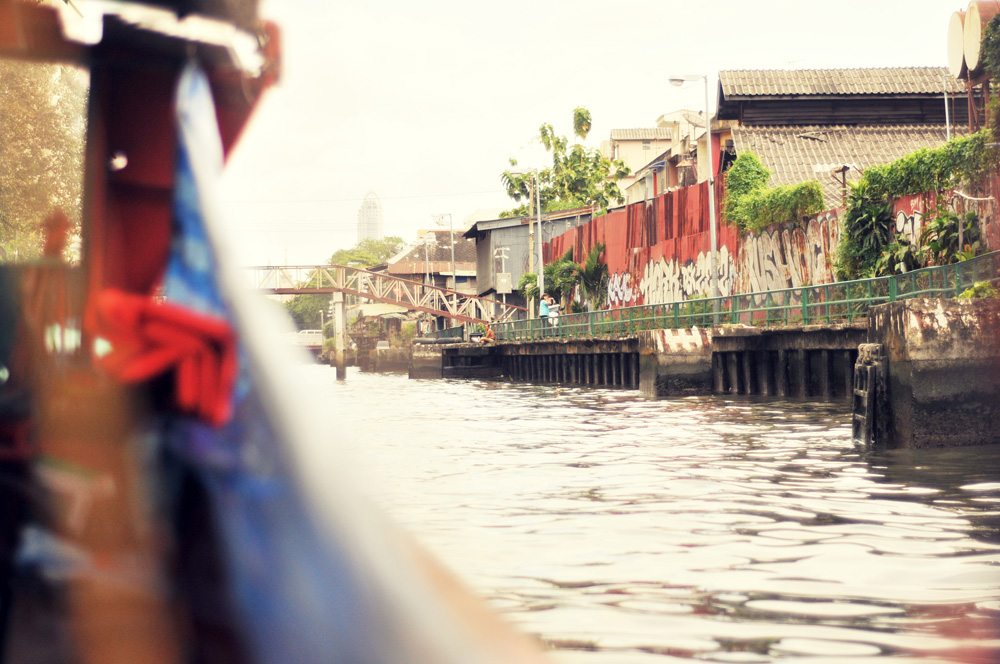 My next Bangkok boat experience was on the first official day of my Contiki tour, on the Chao Phraya River, which is the large winding blue strip that snakes its way through the map of Bangkok. This ride was less homey, but the wide open space somehow managed to make the city seem just a little bit smaller.
After visiting the Grand Palace and Wat Pho, we got back on the boat and turned off onto the Bangkok Noi River, a smaller subsidiary river, and got a closer look at the other side of Bangkok. Here, stilt houses rested on the banks and thicker vegetation floated through the current. I was a bit surprised when we suddenly stopped and I was handed a small square loaf of bread. Apparently the dozens of catfish below me knew what it was for, because they started to flop their slimy bodies on top of each other in a sad attempt to get out of the water and closer to their midday snack. I fed them the bread.
Loi Krathong Festival
While looking for a better view of the sky full of floating lanterns during the night of the Loi Krathong Festival, we wandered upon Khlong Phadung Krung Kasem, which is a 5.5 km long moat marking the unofficial border for Bangkok's Old City. It was a good place to stumble upon, because a group of people were sending off Krathongs (small decorated crowns made of leaves to signify a new beginning) into the water and even letting paper lanterns go into the sky. Of course, we had to watch them.
Somewhere that I may have liked even more than the waterways were the public parks of Bangkok, of which there are plenty. From Lumphini Park to Sanam Luang and Queen Sirikit to Saranrom Park, it always felt better to look out over an expansive green space. Lumphini even had wildlife, in the form of giant monitor lizards (which I proceeded to follow around Steve Irwin-style).
If you ever find yourself wondering what to do in Bangkok, I urge you to head directly to the parks and waterways. It's a completely different city experience.
Here are my favourite photos of Bangkok's parks & waterways;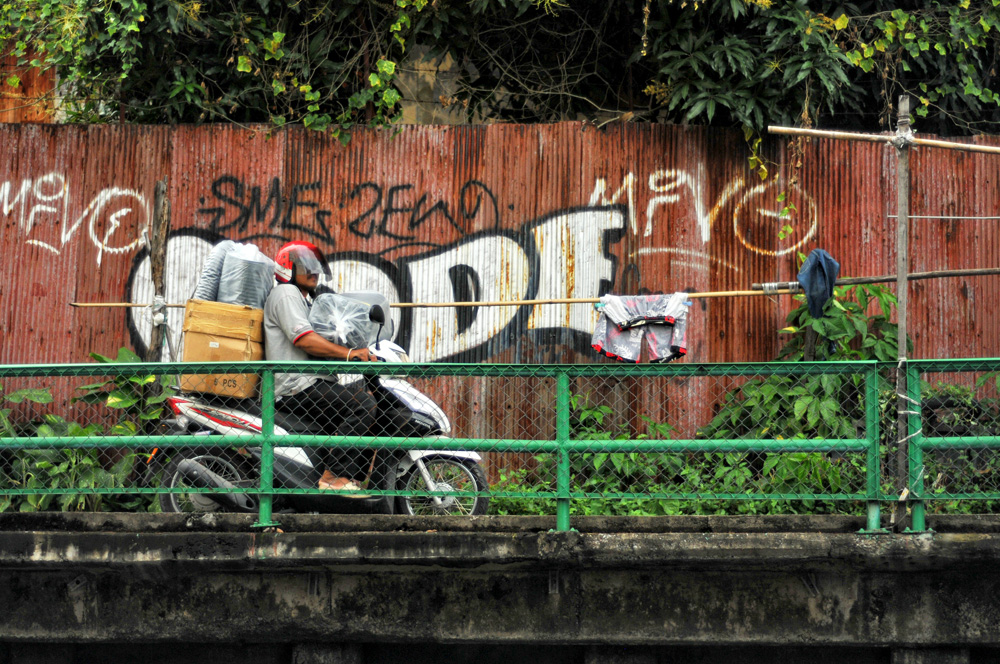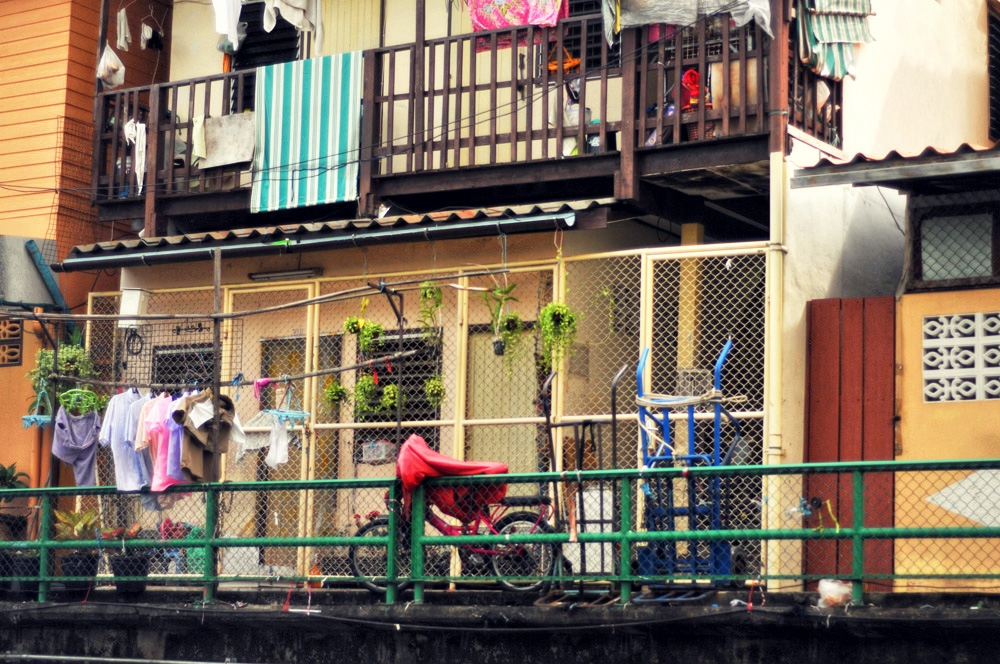 This trip was made possible by Contiki. 
All thoughts and opinions are my own.
Visit Bangkok on your own Asian Adventure.
What is your favourite part of a city?