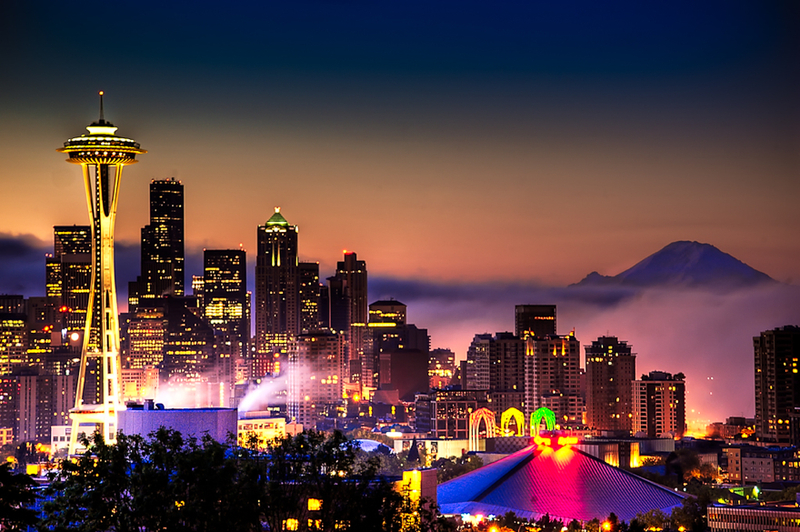 Seattle is an urban west coast seaport city amidst mountains, water, evergreen forests and also called Emerald City with natural beauty. At present, it is booming tech city where headquarters of Microsoft and Amazon are located. Hearty coffee is in its culture. Seattle-Tacoma International Airport is in the heart of the city.
The Space Needle
The Space needle installed from the ground upwards was built in 1962 World Fair period. Tourists observe Puget Sound as well as Olympic and Cascade Mountains from this saucer shaped deck.  It can be visited after sunset. The twilights of the city lights are a big attraction. This place is a landmark of the city now.
Chihuly Garden
Close to the Space needle is Chihuly garden and glass made by artist like dale Chihuly is nature influenced artwork. It is a combination of texture, color, and light in incredible ways. The exhibits are outdoors and indoors. The glass sculptures are indoors filliped with nature in the form of flowers and trees. Space needle is in full all round view from Seattle's Great wheel. EMP museum based on pop culture is in the vicinity.
Pike Place Market
A century old nine acres Pike Place Market is very popular among tourists and a must see.  It faces the Elliott Bay waterfront. Here you will find farmers selling their produce, artisans hawking, fresh flower sellers and fish sellers. Flying fish is a fish tossing technique most watched by tourists. Delicious food is served here.
Rachel the brass piggy bank is the mascot of the market. Weekday market is a less crowded. Post Alley Gum Wall is close by. It had its inception in 1993 when people began sticking their gum on the wall. It is not a very neat place to visit, but most tourists stop here.
Seattle Aquarium
At a walking distance is Seattle Aquarium called the Window on Washington Waters! It has native water creatures like salmon, eels, lingcod, etc. and plants of chilly Pacific waters.  The Underwater Dome showcases at 360 degrees the salmon and sharks.  Divers are visible very often here.
Tourists enjoy the Marine Mammal Exhibits. These houses harbor seals, fur seals, and sea otters. Argosy Cruises of one-hour duration gives a very beautiful view of Elliott Bay waterfront, historical neighborhood, shipping terminal and lofty mountains. This is a must enjoy the trip.
Woodland Park Zoo
Tourist takes family trip to Woodland Park Zoo spread over an expanse of 92 acres housing
imitating apes
colossal elephants
graceful lions
birds
penguins
reptiles
Close by is the Museum of Flight which showcase Concorde, out of service Air Force One, a suspiciously looking Blackbird plane as well as a flight simulator.
Museums
Fremont Brewing is towards the north of the lake. Locals and tourists intermingle here more so on a sunny day when they drink on the patio; the place has a wide selection of brews. Those wanting to enlighten themselves through historical periods visit different museums like
Seattle Art Museum
Seattle Asian Art museum
Frye Art Museum
Bellevue Arts Museum
Olympic Sculpture Park
Museum of History and Industry
Burke Museum of Natural History and Culture
Klondike Gold rush Natural Historical Park
Coast Guard Museum
Feedback
You can share your views about the place with us. In case, you have queries feel free to communicate. We will find a solution or an answer for you. Find vacation places to stay when on a visit to Seattle from among the thriving accommodations that suit all pockets. Hotels are easily available.