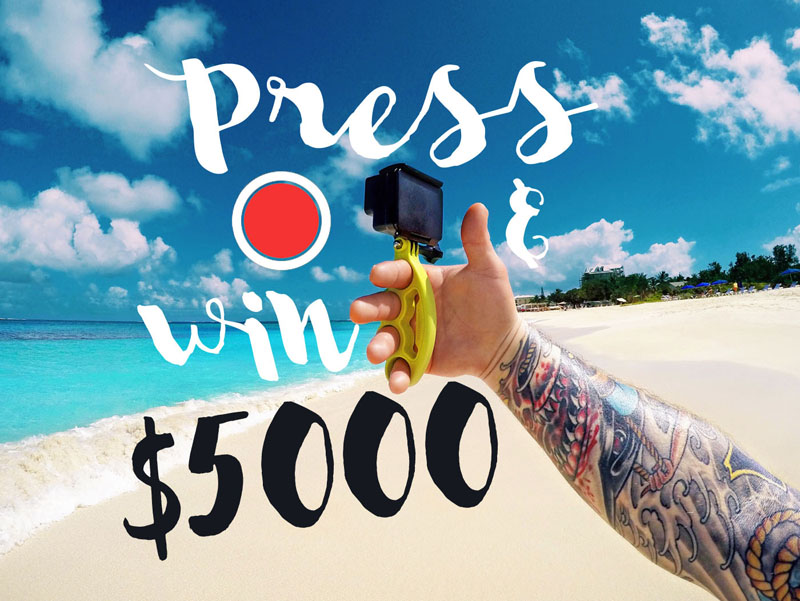 Will you be travelling this summer? 
GOOD NEWS: You'll have the chance to capture your travels on video and enter to win $5,000 in travel from the travelcuts Travel Docs Film Fest!
You will also have the chance to be creative as you like, and film whatever seems interesting to you.
Whether you're capturing cliff diving on your GoPro in Greece, or getting up close and personal with elephants at a sanctuary in Thailand, the possibilities are endless.
I don't know about you, but I have always seen travelling as a way to explore new places and ultimately learn new things–and one of the main reasons I started this blog is to share all of that with other people. Well, making travel videos is just one more way to show the world your way.
Even if you're not the most talented videographer, it's fairly easy to learn some video skills quickly. In fact–I recently wrote a post on how to create quality travel videos with your smart phone, which has some helpful tips to get you started.

The travelcuts Travel Docs Film Fest will be taking place October 6 in Toronto, and you have between August 18th and September 15th, 2016 to submit your very own travel video into the contest.
Last year, travelcuts asked travellers to submit a short video of their travels, for the chance to win a $2,000 travel gift card and some great camera gear. This year, they're ramping things up and giving you the chance to WIN $5,000 IN TRAVEL!
Contest info:
Videos should be around 2 minutes in length. Anything less than 1:30 or longer than 3:00 will be disqualified.
Ideally, videos will be 1080p and H.264 MP4 (best quality and most compatibility).
Videos must be uploaded to YouTube.
Entrants must be Canadian (excluding QC) and must be 18+ (but in order to attend the event, they will need to be 19+ as of October 6, 2016).
All music used in videos MUST be licensed.
Learn more here.
The Film Fest will be taking place October 6 from 7 – 9 PM at BrainStation, 460 King St. W., in Toronto.
Your options are practically limitless. For a prize this awesome, they want you to have advance notice and get the best shots possible. So, bring a camera with you wherever you travel this summer, and take the best footage of your life.
While the prize for the winner is pretty incredible, I kind of love the idea of the opportunity to be featured in a film festival. It'd be exciting to have a room full of people watching your work.
What Could You Do With $5,000 in Travel?
Well, I can tell you that I'd be heading straight to the Philippines first. I'd spend the largest portion of my funds booking a month long return ticket from Toronto to Manila, with several one way regional flights in between, including visits to Indonesia and Thailand.
I would take my boyfriend Wade along, and we'd explore all of the Islands, introducing him to some of my favourite places, as well as visiting a few new places that I have never been before.
You could do so much with $5.000 in travel.. from spoiling a friend or family member with the trip of a lifetime, to taking a solo 'Round the World journey.
NEED A LITTLE INSPIRATION?
See some of these amazing videos from 2015…


Although I'm spending most of my summer at home, I will be sure to document some of my local travels to put together my own video for the contest. I'm picturing lots of outdoor adventure, camping, SUPing, and hiking.
In the mean time, here's one I made from my trip to St. Maarten & Anguilla earlier this year:
I'm pretty excited.
—
Don't forget, video submissions open on August 18th. Good luck and happy travels.