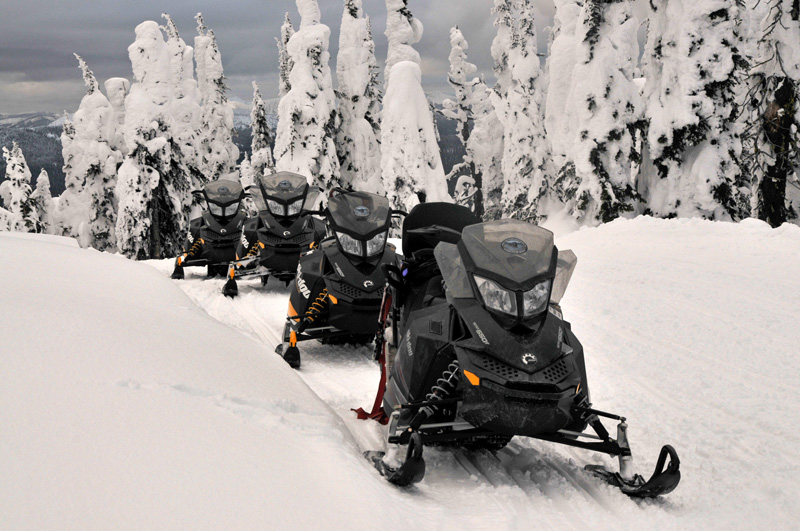 Imagine yourself gripping the handlebars tightly as you lean forward in your seat and crank them to the left, rounding the corner on the side of a snowy cliff in the Rocky Mountains. A rush of adrenaline courses through you as you look down at the tiny trees speckling the ground far below.
There is no experience quite like snowmobiling on a mountain, and I had the ultimate snowmobile tour experience in Western Montana's Glacier Country.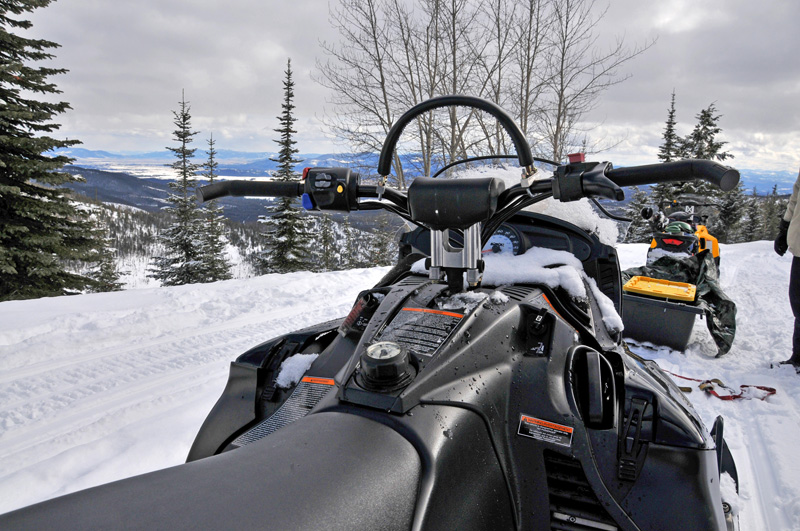 It's no secret–I LOVE snowmobiling. It is easily my favourite winter activity, and probably my favourite adventure of any season.
The last time I went snowmobiling was in Finnish Lapland, last April. I had rediscovered how much I really enjoyed it and have been dreaming about it ever since. When I learned that I would be snowmobiling in Montana, I just about jumped out of my chair in excitement.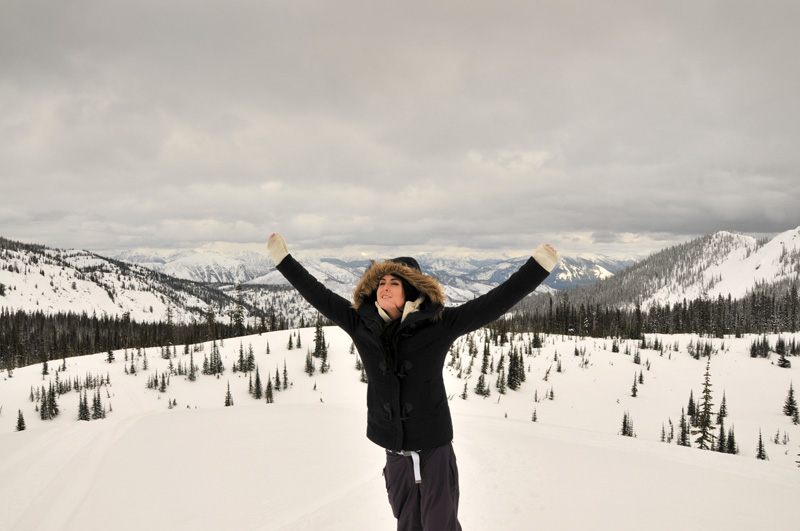 We arrived at the trail head of Big Mountain with Swan Mountain Outiftters and prepared ourselves for the day ahead; we would be snowmobiling for the next 4 hours.
The first few stops were some basic views as we made our way up the mountain; gorgeous landscapes, but we were still a big clouded in and it wasn't anything overly spectacular. We still enjoyed the lookouts and everyone took photos.
Our guide was great and answered every question we had. He told us about each region and had plenty of stories to share. He would even stop the tour to make sure we got the shots we wanted, and his sharp eyes spotted a couple of moose in the icy creek below.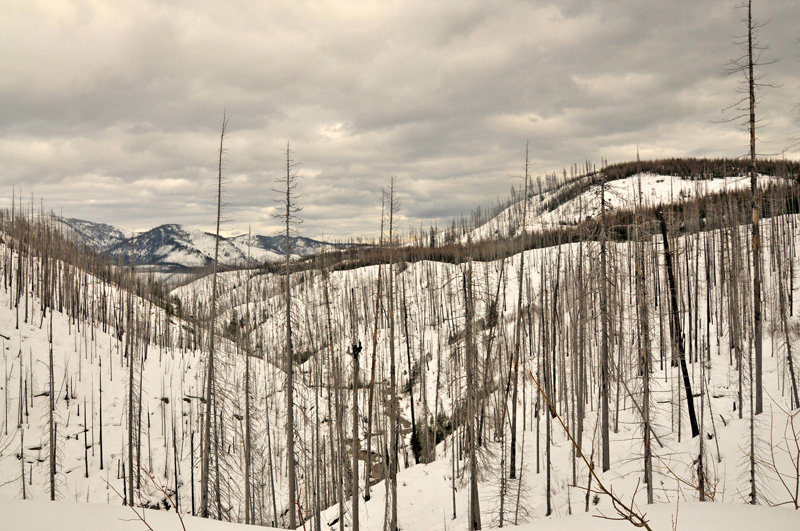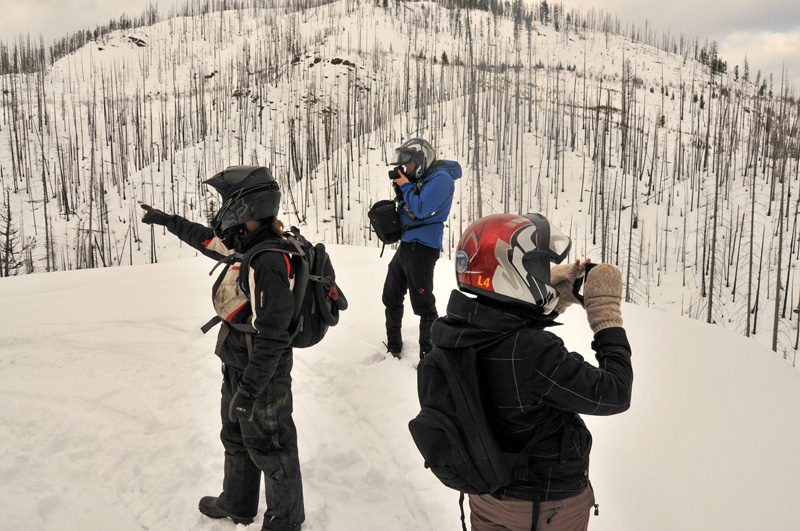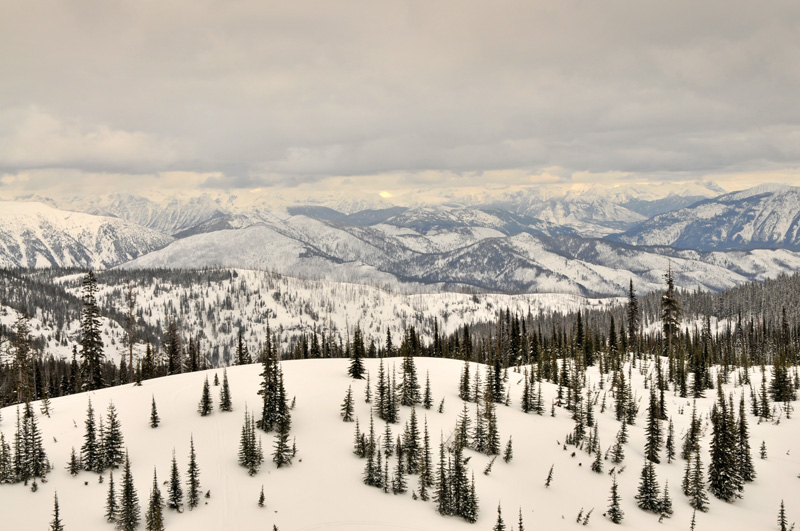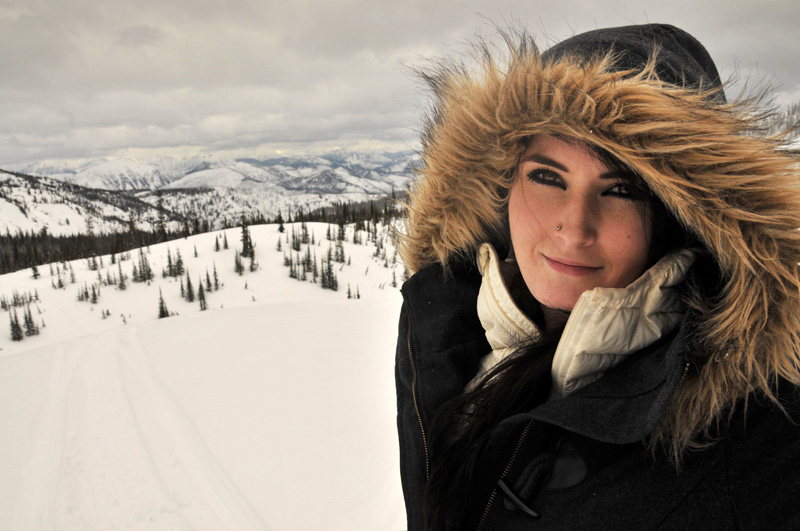 It wasn't until we neared the top of the mountain that things really began to get impressive. It was as if everything transformed at the rounding of one particular corner–I nearly stopped the snowmobile in its tracks as my eyes met something I had been longing to see for years.
A snow ghost.
A snow ghost is a tall skinny pine tree that has been so completely saturated in snow (more specifically rime ice, often layered in fresh powder) to the point of becoming fatter and taller and essentially taking the shape of a ghost. It only occurs in high elevations when the wind is harsh and the air is frozen.
Technical descriptions aside, they are hauntingly magical snow formations that are quite rare to encounter.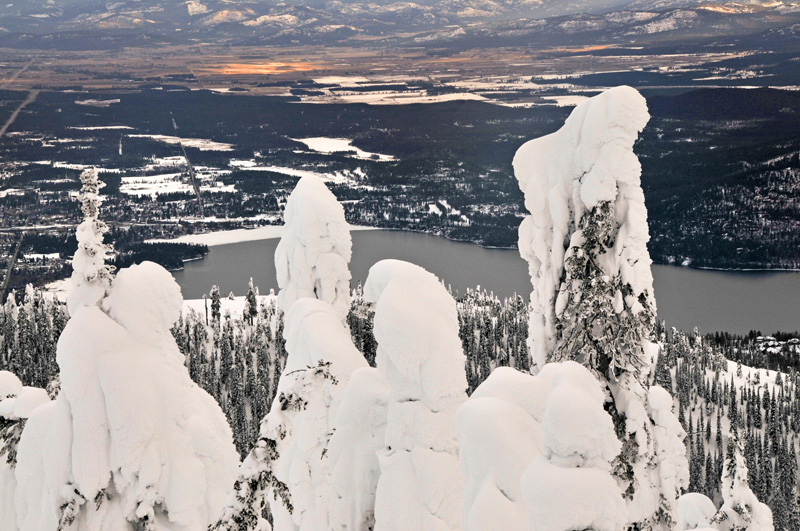 First I saw one, then more and more started to appear along the path. As I climbed one last, incredibly steep hill to the top, the snow ghosts almost swallowed me up into their snowy underworld.
My mouth literally hung open as I climbed that hill. I slowed down, lost concentration of the trail in front of me and just awed up at the scene.
They rose dozens of feet in the air above me and connected to each other by walls of rime and snow. Some trees, feeling the weight of the rime, drooped over in a depressed hunch. I later described them as a hill of sad snowmen.
I couldn't contain myself as I reached the top. I raced into a stop, hit the power and hopped off my snowmobile, immediately heading to find the highest point I could find.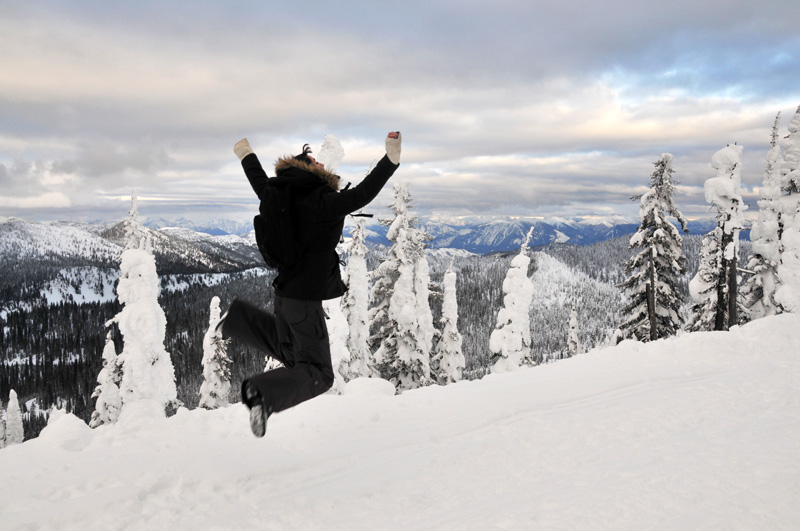 And find it, I did. I climbed a sloping snow drift to the top of the radio tower house. Not only had I just snowmobiled to the top of a mountain, but I was now climbing onto building rooftops. I was too excited to think straight.
For a moment, I couldn't even take photos. My arms dropped to my sides and I just stared at the scene in front of me with a stupid grin on my face.
Snow ghosts spotted the mountain top, giving way to a wide valley surrounded by an expansive seemingly infinite mountain-scape beneath a darkening snowy sky. It opened only briefly in patches to reveal a deep orange sunset, occasionally beaming into the valley below.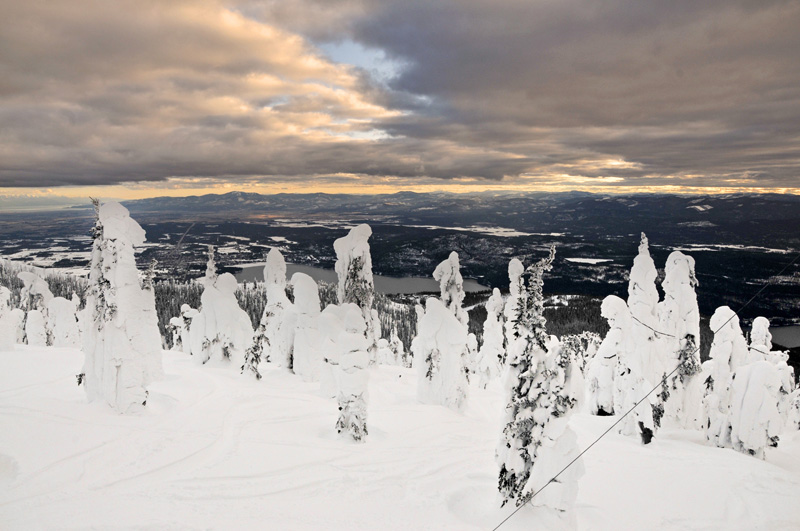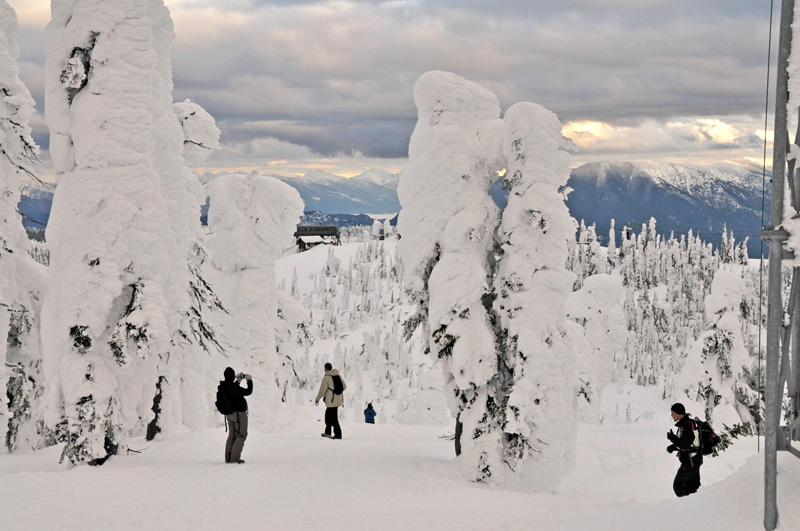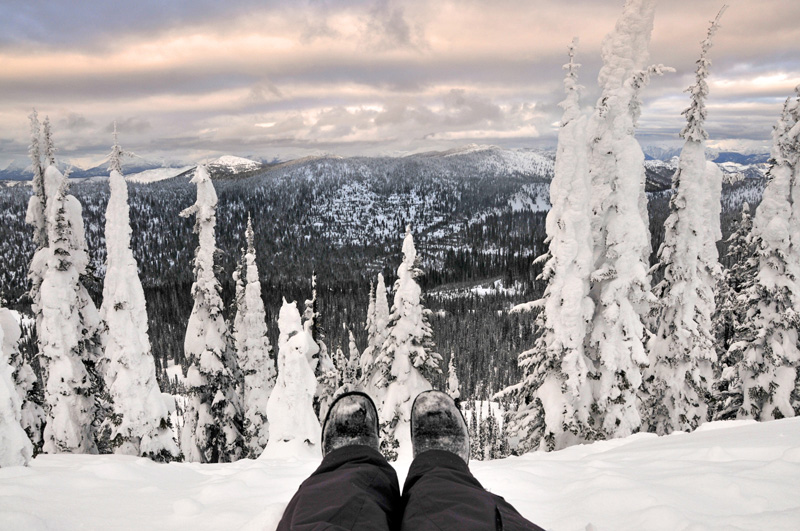 "There's your home," our guide yelled to me, pointing to a crop of peaks in the distance. It was Canada.
I'm not sure how long we were up there, but I never wanted to leave. No matter how red my hands were from the cold.
Eventually we made our way back down the mountain, slowly at first. Those hills that had been so steep to climb were even more difficult to descend. With plenty of near-run-ons we returned to some easier terrain.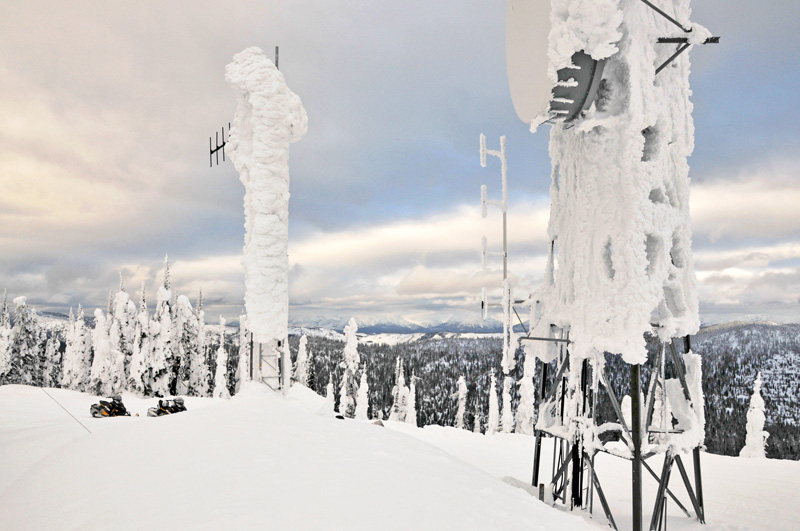 Knowing our time would soon be over, we took advantage of the last hour by reaching speeds of 65 miles/hour and cutting off the main trail for a bit of fun on small ramps and twisty trails.
In the end, we had covered over 50 miles of trails and reached an elevation of 6900 feet. It was my absolute favourite experience in Montana, and one of the best experienced of all my travels.
—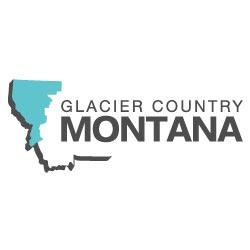 This trip was made possible by Western Montana's Glacier Country
All thoughts and opinions are my own.