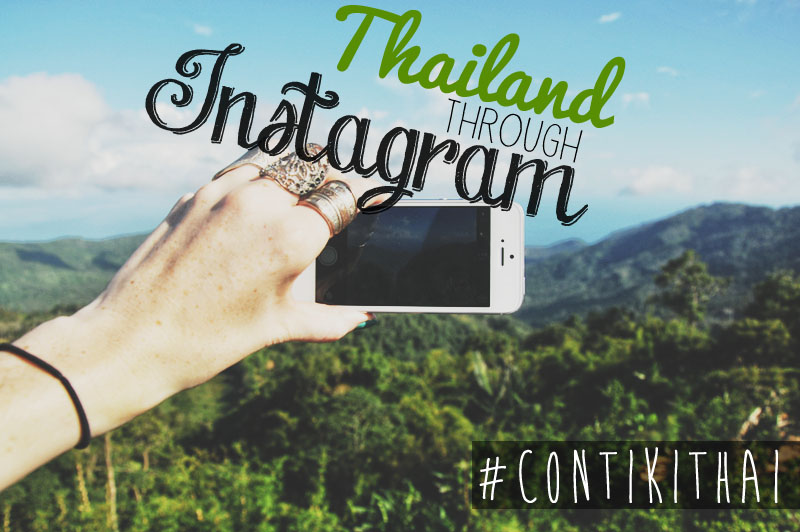 I've been looking back at recent travels through Instagram, but my Thailand gallery pretty much blows away the rest. Considering I was in Thailand for one month, there are way more images than all of the other galleries, but in my opinion the images themselves are just better. It might be in part that I finally upgraded from an iPhone4 to an iPhone5s, but how could they not be? It's Thailand.
Scroll down. Start at the beginning from my arrival and one week in Bangkok, then I head up to Chiang Mai for a few days before heading down to the Islands of Koh Samui and Koh Tao and rounding back up to Bangkok for a quick stop over. While the #ContikiThai trip ended there, my adventure continued down to Koh Phi Phi and Krabi for a week or so before heading back to Bangkok for the final days.
You can still check out all the other images by searching #ContikiThai on Instagram (and twitter) as well as following the @Contiki  and @ContikiCanada accounts.
Click here to find me on Instagram for my latest adventures.

Roads blocked in Bangkok for protests, time to hit the river.

$4 for a half hour foot massage. And this isn't even my first massage of the day.

tuk tuk take one #ContikiThai

Exploring the weekend market #ContikiThai

I just got a Sak Yant tattoo from a monk at Wat Bang Phra. You don't get to choose the design or placement and it certainly hurts more than a regular tattoo as it is tapped in with a long metal pole with a bamboo tip, but I am very happy with it.

It may not be quite the same as Yi Peng in Chiang Mai, but the Loi Krathong Festival in Bangkok was still pretty amazing to see. I got a little excited when I first spotted the sky full of floating lanterns and watched some people make their wishes and send handmade krathongs down the river #ContikiThai

Getting blinded by all the statue bling at the Grand Palace in Bangkok #contikithai

The reclining Buddha and his big Buddha toes #contikithai

Buddhas at Wat Pho #contikithai

Today feels like a good day to go shopping. From a boat. #contikithai

So that's where I left my pile of bananas #contikithai

Ladyboy cabaret in Chiang Mai #contikithai

I just cooked my own Pad Thai at Baan Hongnual Cookery School in Chiang Mai. I may never cook anything else again. Except the curry and egg rolls I'm about to make #contikithai

Into the jungle we go. And by jungle, I mean secret random back pathways somewhere near Chiang Mai. I have no idea where I am, but I Like it #contikithai

This place looks a whole lot different minus the torrential downpours #contikithai

Koh Samui –> Koh Tao via a roller coaster ferry ride #contikithai

It's official, I'm never leaving Koh Tao. Spending the next couple of nights in this amazing jungle view room at Chamchuree Villas #contikithai

Hello, Monsoon! I don't even care that I've been soaked for most of the day or that getting here involved the roughest ferry ride I've ever experienced. I. am. never. leaving. #contikithai

When I wake up in a new location nearly every day, it's nice to have at least one small routine. For me, it's drinking my morning tea and usually trying to find a cool reflection in it (you may have noticed my obsession with reflection photos). Today's jungle reflection comes from @charmchureevilla on Koh Tao #contikithai

Jansom Bay as seen between bungalows at @charmchureevilla on Koh Tao #contikithai

A long-tail boat a.k.a. a Ruea Hang Yao a.k.a. a ?????????? on Koh Tao #contikithai

Koh Nangyuan. Enough said. #contikithai

@iisuperwomanii & @gunnarolla watching the sunset on Koh Tao #contikithai

Snorkel Chang #contikithai

Koh Nangyuan pier #contikithai

Koh Tae Nai as seen from the Koh Phangan Port #contikithai

26 years old, and I just got my first ever manicure. To get one while simultaneously getting a pedicure and an hour long massage while laying in a hut on the beach in Koh Samui for a grand total of $12 wasn't a bad way to start #contikithai

Turns out that I don't like fresh coconut juice #contikithai

There are so many rules behind properly shaking out Kau Cim sticks to find your fortune. I did it twice and still got it wrong #contikithai

Note to self: do not try to take on the jungle face to face while on safari in Koh Samui #contikithai

Does anyone else think that tiny cloud he's seemingly about to pick out of the sky looks like an airplane? #contikithai

The magical 'Welcome Drink' at @sofitelsobangkok made of butterfly pea and lemon juice #SoSnapshot #contikithai

Bangkok as seen from the @sofitelsobangkok infinity pool #sosnapshot #contikithai

Hellooooo geogasms

Koh Phi Phi. That is all.

Found this random colourful flower growing alone on a vine in a dusty back alley way behind my bungalow.

Fire show on Koh Phi Phi

The fearless @justchuckinit jumping through a ring of fire

Longtail boats in Loh Dalum Bay, Koh Phi Phi.

Thai kitties eat well. This little guy was napping in a public phone booth in Koh Phi Phi.

The tide went out so far today that I nearly started planning my tsunami evacuation route.. until curiosity took over and I went exploring in the tidal flats instead

This way to the beach

Secret bridges on Koh Phi Phi are kinda fancy.

The beach from the movie "The Beach" has the potential to be beautiful. However, you do not want to see what was directly behind. Trust me. #zombietourists

That's one gnarly fish. Oh wait, it's @justchuckinit

Quiet Bangkok alleyway at sunset.

Back-alley explorers

I don't know how I went this long without eating mango sticky rice, but there is no turning back to regular food anymore.

There are no tourists in this part of town. Walking through these back alleys brings either long stares from curious adults or cheerful giggles from excited children.

Navigating Bangkok through the protests is somewhat of an adventure. I've never felt unsafe, but trying to catch a public bus on closed down roads isn't the easiest thing to do.

Looking down on Bangkok from the 85th floor of the Baiyoke Sky Hotel on my last night in Thailand. I'm not sure I'll be able to make myself board the plane tomorrow, but a drink in Thailand's tallest building is a good way to spend my last night in the country. Did I mention that I don't want to leave?

Sadly my time in Thailand has come to an end. Thanks to @contiki for an amazing month. I don't think I've been this sad to leave somewhere for a long time #contikithai
And, in the spirit of vanity,
here are a few grams featuring yours truly;

This trip was made possible by Contiki. 
All grams and opinions are my own.
Visit Thailand on your own Asian Adventure.