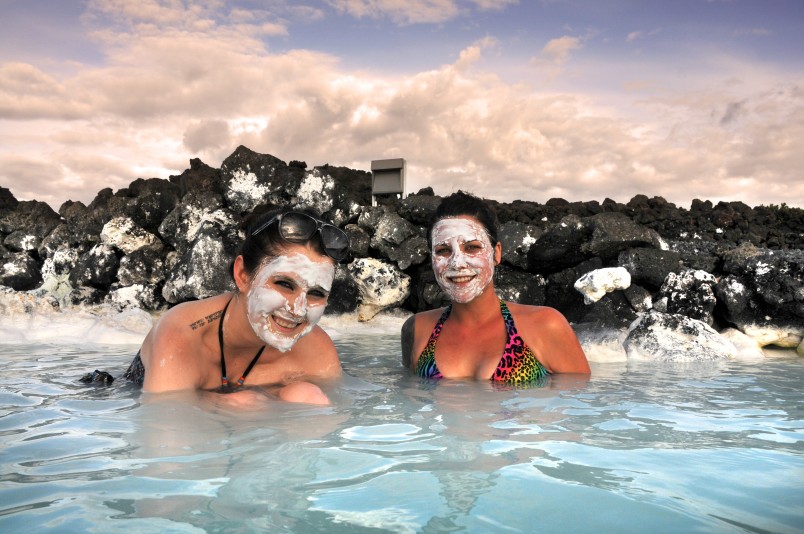 If there's one thing that you must do while you're in Iceland, that's taking a dip in the Blue Lagoon. In fact–Icelandair even offers stopover incentives now, where for the same price, you can leave the airport in between flights to explore the country. Whether you spend the weekend, or even just a few hours–you can pop into the Blue Lagoon between Keflavik and Reykjavik for a quick dip.
There are a ton of large bus options and impersonal sheep flocking techniques that are used for the general tourist crowds, but I highly suggest going with a smaller, personally guided tour company like Iceland Unlimited. This is something that you won't regret.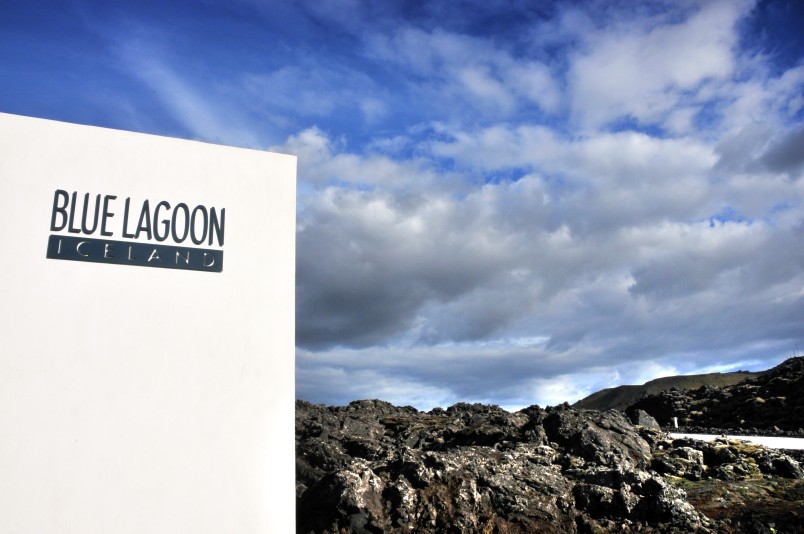 Having already met Kristján, we happily jumped into Iceland Unlimited's Porsche Cayenne SUV, excited for the day.
After a few quick stops around town we were on our way through the mossy fields of rock lava (that Kristján told us were called "A'a'" in Hawaiian and "Apalhraun" in Icelandic), heading toward the highly anticipated geo-thermal pools.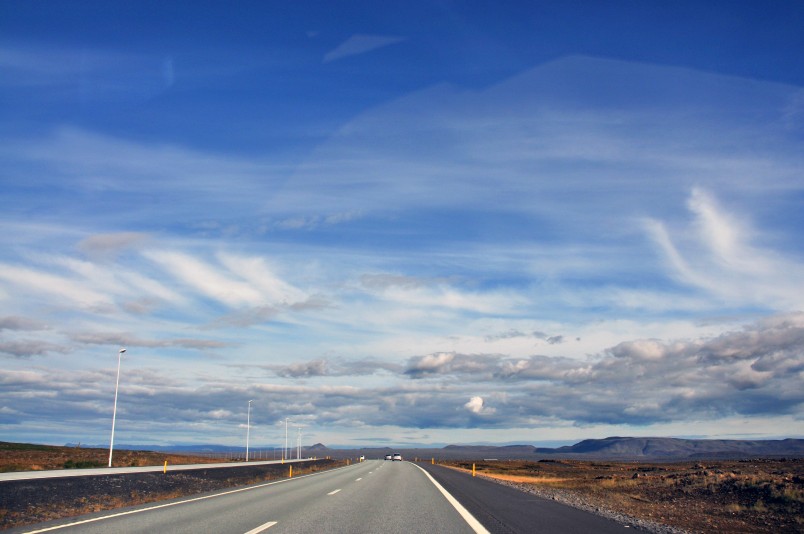 We could see the tops of the blue lagoon poking through the jagged lava rises, but I was quite captivated with what laid beside the entrance road itself.
Thinking that the pools of the Blue Lagoon were restricted within the facility gates, you can imagine my surprise when we drove past a large welcoming, milky blue pool just off the pavement of the road.
Sensing my interest, Kristján pulled the car over so I could hop out for a few photos.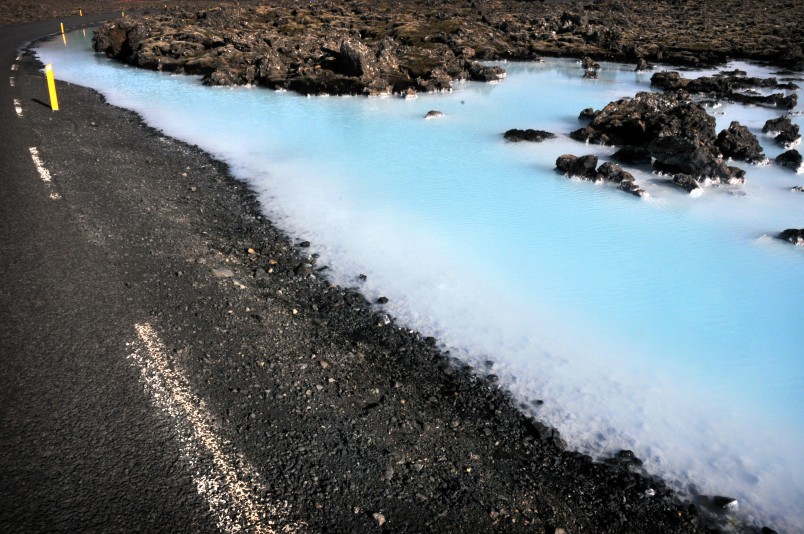 To get to the building itself, we ventured through a winding path that seemed to be swallowed up by the surrounding lava rock that towered over us.
All I remember thinking was "the yellow brick road has nothing on this path; I'd choose Iceland over Oz any day".
We entered the main building and gathered our towels and facility bracelets before getting changed into our swim suits. We had quick showers before exiting the changing rooms, into the public pool area.
"Brrrr!"
The air was chilly–even for August. I ran over to the stairs and took my first step into the Lagoon. I took each step slowly, letting my legs adjust to the temperature. Slow, but surely, I submerged my entire body into the milky, blue waters.
"Aaaahh…"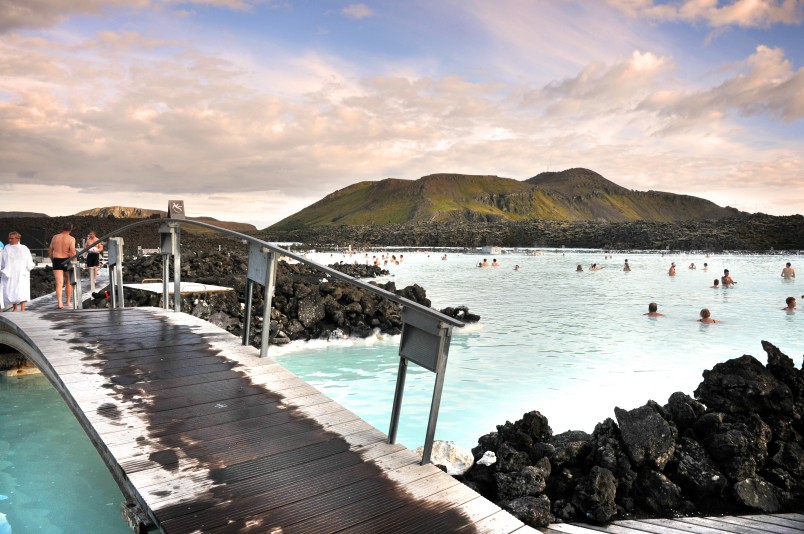 It was heaven. Why don't we have one of these in Canada? Anyone who has never had the opportunity to experience the Blue Lagoon is seriously missing out. Sure, there are hot tubs and jacuzzis, but they just don't compete.
As I came back out of the toasty little dream World that I was living in my head, I finally had the chance to take in my surroundings.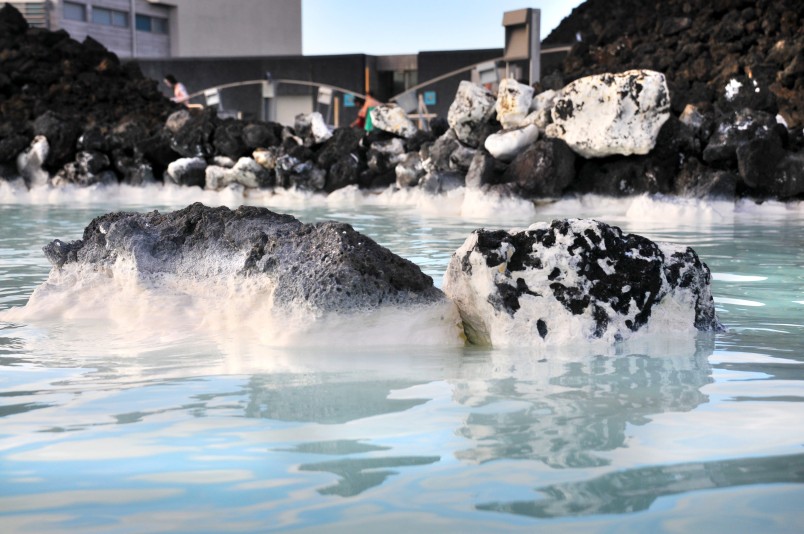 The Lagoon itself spanned out into the distance in front of me, and then disappeared behind another wall of lava rock.
Little heads bobbed around like Corn Pops in a big bowl of milk, most of them smeared in some sort of weird white cream.
There were a number of small wooden bridges to the left, and an outdoor Lagoon bar to my right.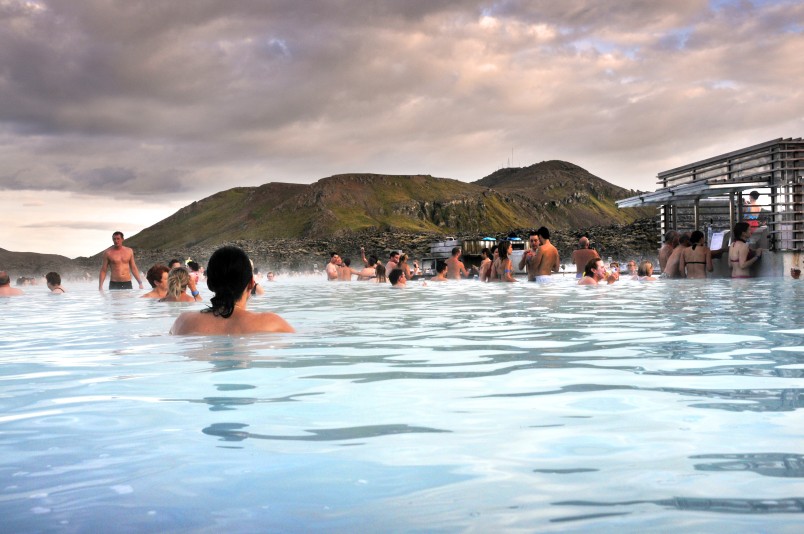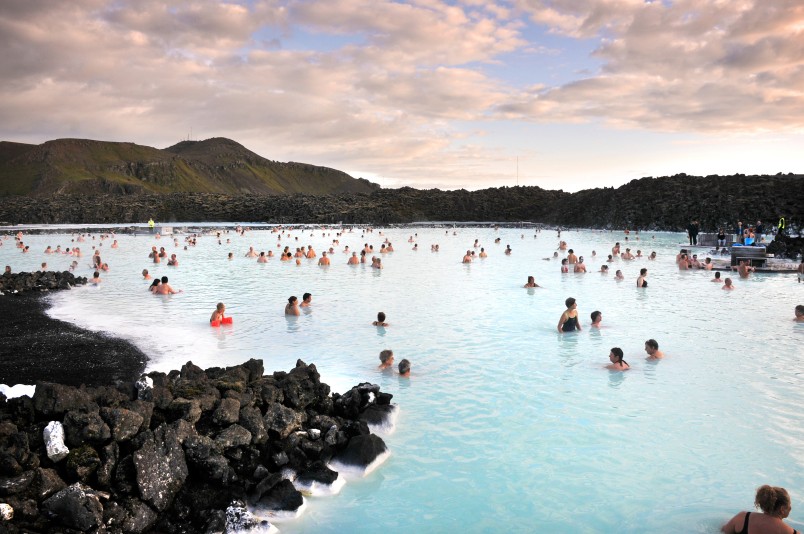 We made a quick stop at the bar, ordering blue slushies. We were able to order straight out of the Lagoon, without ever having to leave the water.
We carefully made our way through the crowds, to the back of the main pool area.
Stopping at a large tub of white goo, Kristján slapped a handful onto his cheeks. Kathleen followed suit, and I looked at them like they were crazy.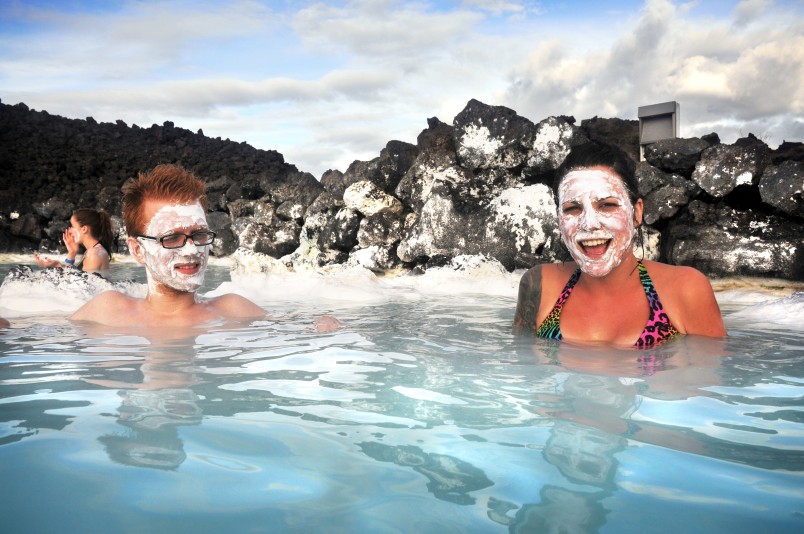 After some brief coaxing, I finally decided to join in on the crazy face-mask-fun. Apparently I was pretty grossed out at first.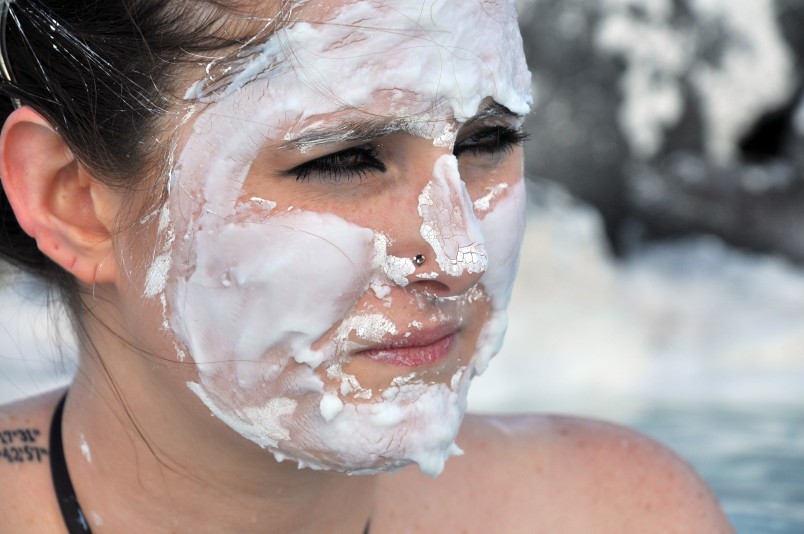 *tip* Don't get the silica in your hair–it takes days to wash out.
Adorned in our beautiful new Lagoon-style makeovers, we claimed one of the seating areas on the back wall.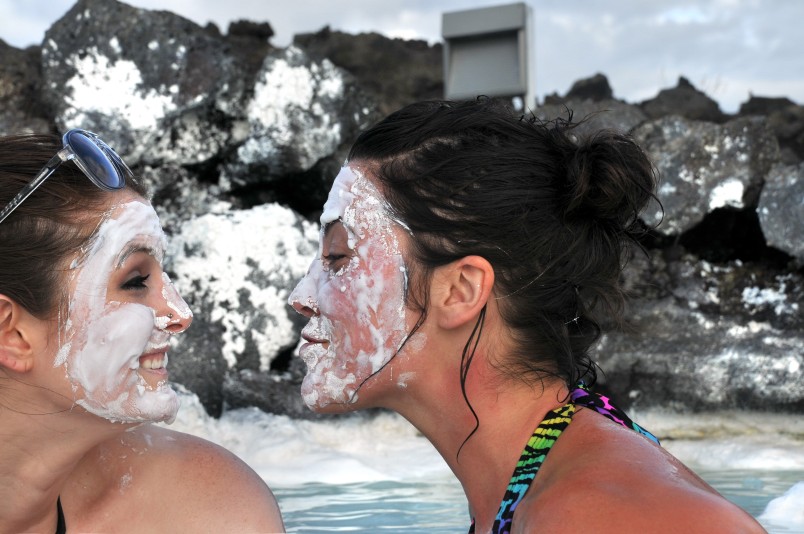 I leaned back into my geo-thermal seat and the water rested perfectly at neck height.
My silica mask was rejuvenating my skin and the warm creamy waters were seemingly soaking all of the tension out of my body. I repeat; it was heaven.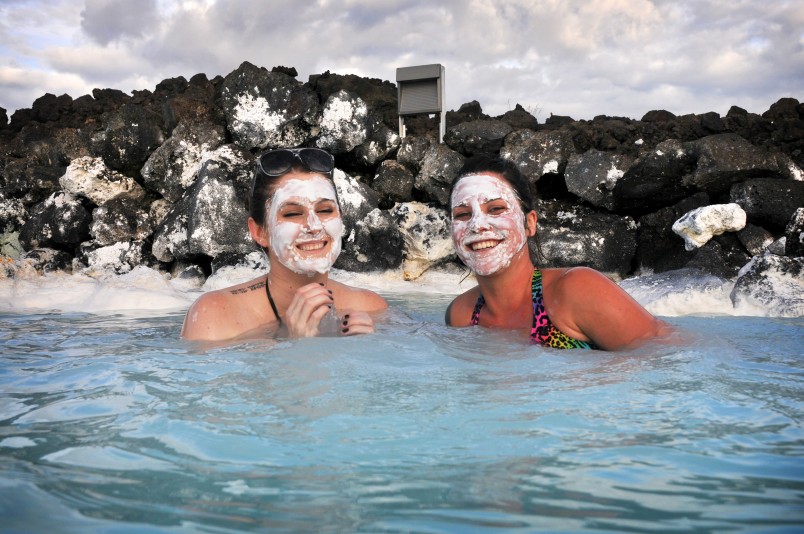 We spent some time relaxing in the water before it was time to go. I washed off my face, and felt like a new woman!
We made a stroll through the Lagoon-cave by the door before getting out, and headed back into the change rooms.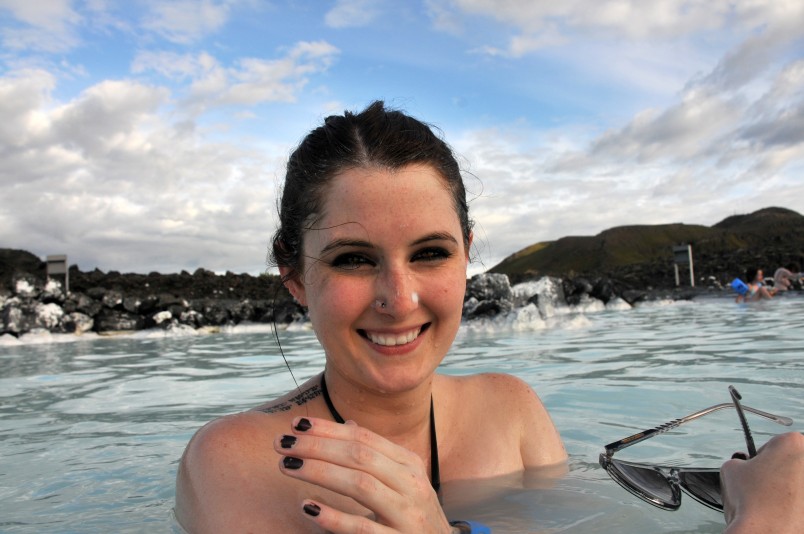 My hopes had been high, but my expectations were exceeded. With highly publicized places like the Blue Lagoon, you often wonder if they will live up to all the hype.
The Blue Lagoon was everything that it was said to be, and then some.
It is great for spa lovers and curious minds alike. If you ever find yourself in Iceland, I urge you to visit the Blue Lagoon with Iceland Unlimited.