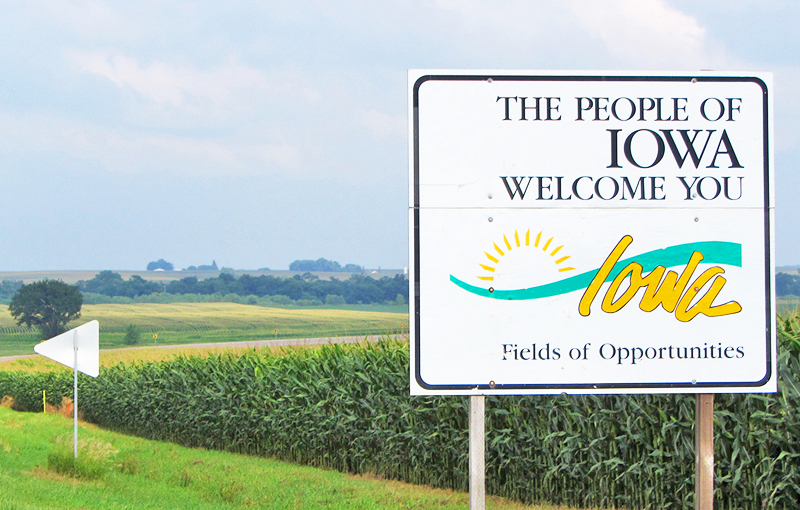 Some Millennials always want excitement. The more exciting and epic, the better. But we also love quirky things, which I look for in my own travels.
Take Iowa: One wouldn't think there's much exciting stuff to do there, but that's where you'd be wrong.
There's a ton of interesting, off-the-wall things to do. As for what you should do when you get there? Read on:
Yummy Eats in Iowa
Des Moines is actually a pretty happening city. There's a healthy amount of breweries and distilleries, hip concerts, and even festivals devoted to beer and bluegrass, but also a huge amount of eateries that make my stomach rumble with hunger.
My first recommendation is Zombie Burger + Drink Lab. The name is neat and though their theme burgers sound apocalyptic, they taste amazing. A favorite is "28 Days Later," a towering burger of blue cheese, caramelized onion, lettuce, tomato, onion, and mayo.
A greasy spoon with a twist in Des Moines that has everything from sweet potato pancakes to orange glazed BBQ ribs is Flying Mango, on Hickman Road. Hit that one, too.
Crazy Grotto of Redemption
Maybe churches aren't your vibe and you consider yourself an atheist or agnostic, but go for the wow factor.
Take your friends, rent a car, and head towards West Bend, Iowa. There you'll find a shrine built entirely of shells, fossils, and petrifications; supposedly the largest grotto in the world.
And the backstory is fascinating too. A German immigrant named Father Paul Dobberstein fell ill with severe pneumonia but if the Virgin Mary spared him, he'd devote time to building this grotto. Well, he recovered and began in 1912, but construction didn't finish for 42 years!
A wild tale, so totally an interesting site.
Bank Robbed by Bonnie and Clyde
For a general travel tip, plan to rent a car and use that to get around the Iowa. The land surfaces are flat enough that you can get around easily.
Renting a car means you'll be able to check out this trippy bank in Stuart, Iowa. If you don't know who Bonnie and Clyde are, here's a quick history lesson. They were a notorious wife and husband team of bank robbers in the 1930s that ran the Barrow Gang. Movies and documentaries have been made about them, and this bank they robbed in Stuart, Iowa, still stands today, but is now a police station!
Kind of ironic, with a dose of interesting history. If you plan to hit this state, check out deals on a travel/hotel site, like Expedia. Those sites have always given me cool, last minute deals so I don't feel like I have to rob a bank, too.
The Real Gothic House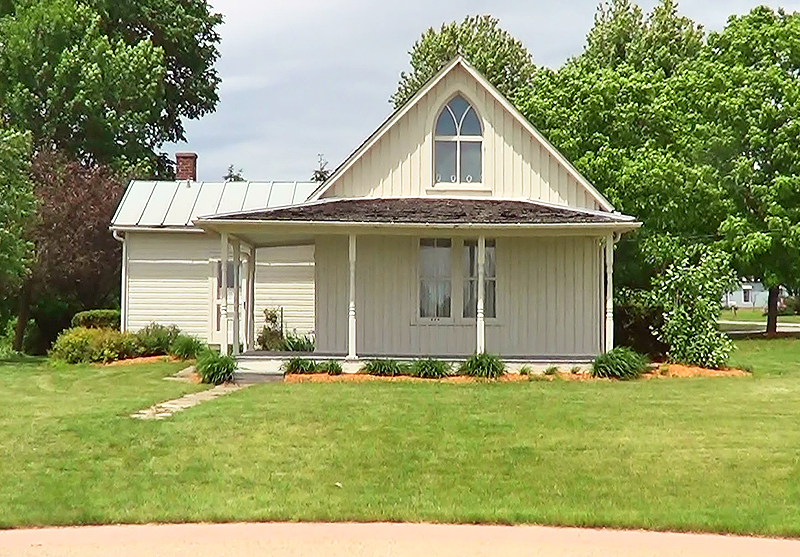 You've probably seen the Grant Wood painting "American Gothic" on postcards or magnets, but the house in that painting really exists, right in Eldon, Iowa.
Called the Dibble House, Wood came to Eldon and thought the contrast of the small house with the huge Gothic windows was perfect for his painting. He sketched it out, and then got his dentist and sister to pose as father and daughter (many people think they are husband and wife, but nope).
When you get there, visit the American Gothic House Center to borrow a set of shoddy clothes and a pitchfork for a hilarious photo in front of the house. Who doesn't like a bit of historic comedy?
"Squirrel Jail" For Humans
The name of this jail is strange for sure, but this jail is definitely not for squirrels. This human jail is located in Council Bluffs, Iowa and was built in 1885 and closed down by 1969.
The design is very unique and only one of three jails were built in this style. It has 18 revolving jails, often referred to as "squirrel cage" or "human rotary."  Plus, it's the only three-storey jail in existence. The three floors revolved around pie-shaped cells inside a cage. The whole idea was to keep distance between prisoners and jailers. Apparently, it was a pretty cheap jail too, costing about $30,000 to construct.
After it was shut down, it was acquired by the Council Bluffs Park Board in the early 1970s and enrolled in the National Register of Historic Places.
This site is worth seeing for the spookiness of it, but also the nutty narrative it tells.