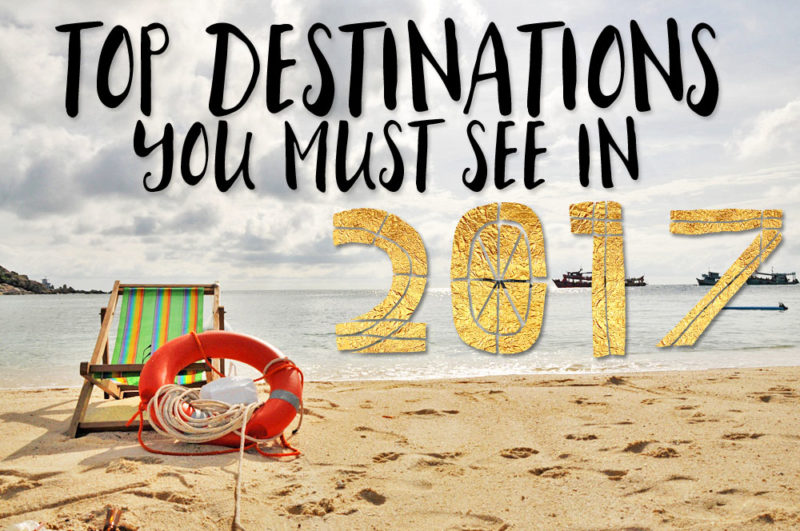 If you plan to hit out overseas and experience the wonderment of a traveller, then here are the top ten destinations for the year 2017. Each of the destinations listed here exhibits an exemplary tourist record, apart from the usual aesthetic diversity.
Osaka, Japan
Japan is among the world's most beautiful countries with, arguably, the most civil culture.  Osaka, which is the third largest city in Japan, offers, in abundance, amazing travelling experiences: delicious traditional Japanese cuisine, ancient heritages such as the Osaka Castle, modern-day infrastructural brilliance such as the Universal Studios Japan, and frolicsome shopping centres. It is the city, which harmoniously blends the old with the new, and presents before you a remarkable concoction of modernity and heritage. To discover Japan, check CNN.
Hua Hin, Thailand
Situated along the Gulf of Siam, Hua Hin is the country's oldest beach that is home to the Royal family. Flanked by long beaches, it offers some of the famous markets in the country, mouth-watering traditional Thai cuisine and the famed Gold Course. Other tourist destinations include For Art's Sake, Klai Kangwon Palace and Hin Lek Fai Mountain Viewpoint.  It is the right place for you and your family to enjoy an overseas tour against a perfect aesthetic setting.
Taipei, Taiwan
Taipei is a world-class city, with towering skyscrapers, cosmopolitan culture, and native's friendliness adding to its charm. This 300-year old city has effectively preserved its natural beauty by efficiently immersing the same in the urban setting.
Some of the most famous hotspots in the city include the National Palace Museum, Chiang Kai-shek Memorial Hall, Taipei 101, the Lungshan Temple of Manka.
Boracay, Philippines
Boracay is a globally loved tourist destination, which often secures top ranking places in various "Top 10 destinations" lists, and there is no doubt why it should not. It is a sensational part of an island marked by sparkling sand beaches, bubbling fauna and flora, energetic sports life and relaxing spas. It is the perfect place where adventure and aesthetic romance seems to have no boundaries at all. There are a lot of things to do in Cebu, which you can explore and make your vacations memorable.
Lombok, Indonesia
Some distance away from Bali, Lombok is a major tourist attraction in Indonesia. Particularly famous for its bustling white-sand beaches, Lombok enjoys extensive popularity for its dense forests, crater lake, hiking trails and hot springs. In Lombok, you shall experience the most intimate encounter with nature.  If you are a traditionalist or an enthusiast of traditionalism, then you can have a first-hand experience of the conventional Sasak houses; Peru Meru in Mataram; the Nagarakertagama, a 14th-century poem. For more, click here.
Singapore
Singapore is often considered the Queen of Food tourism, and there is hardly any reason why it should not be. This heavily urbanised city—which is also a major economic powerhouse in the world—is characterised by a huge array of restaurants and other food outlets.
Apart from its food tourism, Singapore is famous for Singapore Flyer, the Nigh Safari, the Universal Studios, Sentosa, and whatnot. The list can go on and on, with each Singaporean tourist spot being distinctly promising.
While there are lot of tourist spots in the aforementioned destinations, but Philippines is one of the best destinations to visit. An amazing way to explore the country is by ditching the hotels and using the Batangas vacation rental to enjoy your holidays.