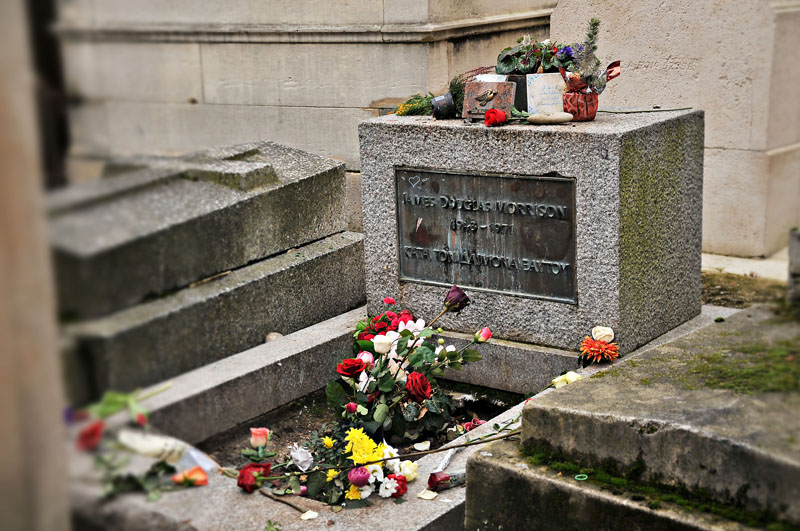 I could probably go on for a good hour about how much I love Jim Morrison, but I'll try to keep it short.
Yes, I love The Doors (they are my favourite band), but it's not really about the music, it's about Jim's poetry.
I grew up listening to The Doors at a young age, because I would always borrow my dad's cassettes, and eventually his CD's. At the age of 11, he finally gave me my first Doors album and I listened to it continuously. I now own all 22 Doors albums, including anniversary specials, box sets, live recordings and essential rarities.
At age 13 I purchased a copy of "the American Night, A literary last testament from rock's poet of the damned". Somewhere along the way a couple years later, I lost that one and received a new one. My book is tattered, filled with strips of paper acting as book marks, pages folded and scribbled on and has even acted as a make-shift travel journal as I have taken it around the world with me on several occasions. I go through it on a weekly basis, if not more, and never grow tired of reading Jim's words. I also own "The Lords and the New Creatures", "Wilderness Volume 1", and "No One Here gets out Alive".
Okay, so that wasn't as short as I had hoped, but you get the point. I adore Jim Morrison and his work.
Fast forward to age 25, when I have finally found myself in Paris after all these years, for the sole purpose of visiting Jim Morrison's grave.
I have been fortunate enough to visit other locations related to The Doors, like Venice Beach and the Whiskey A Go Go, but Jim's Grave at Père Lachaise has always been my ultimate dream.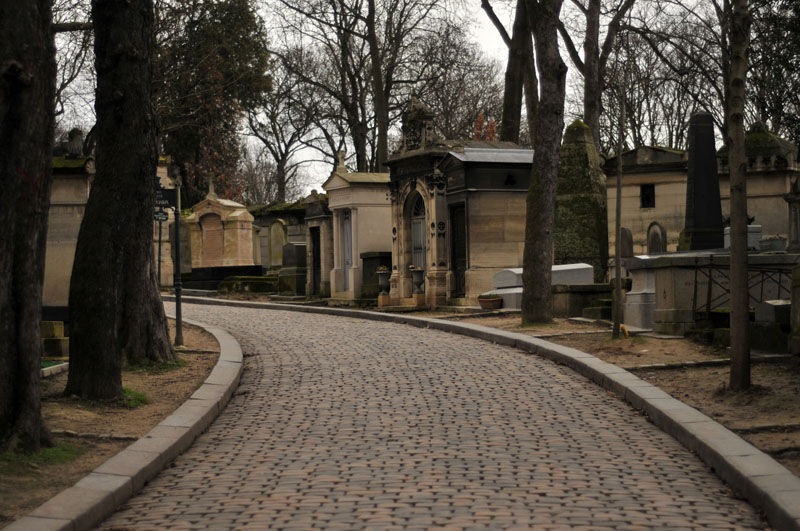 I had arrived in darkness the night before on February 4, 2013, so on my very first morning in Paris I immediately hopped on the metro and made my way to Père Lachaise cemetery.
I exited the underground in the 20th arrondissement, walked the tree lined boulevard of Ménilmontant and entered the gate at Ave du Boulevard and Ave du Principale.
I had a good idea of where Jim's grave was located from my own research, but did a quick check of the map before setting out into the labyrinth of headstones, tombs and mausoleums.
I took a couple of rights and a left and made my way up the cobblestoned hills and pathways. As I spotted the sign for section 6, I made my way off the main path and through the dirt between the graves.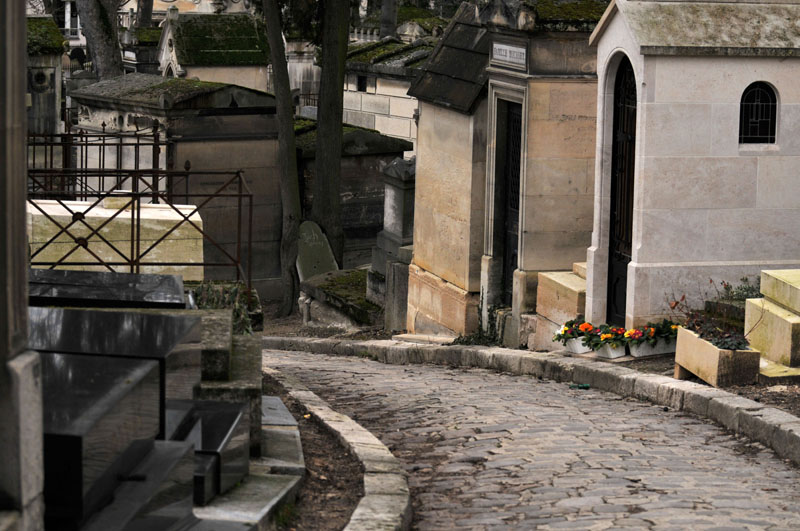 Then, I saw it.
I literally stopped in my tracks and held my breath.
I proceeded slowly forward, never unlocking my eyes from the headstone.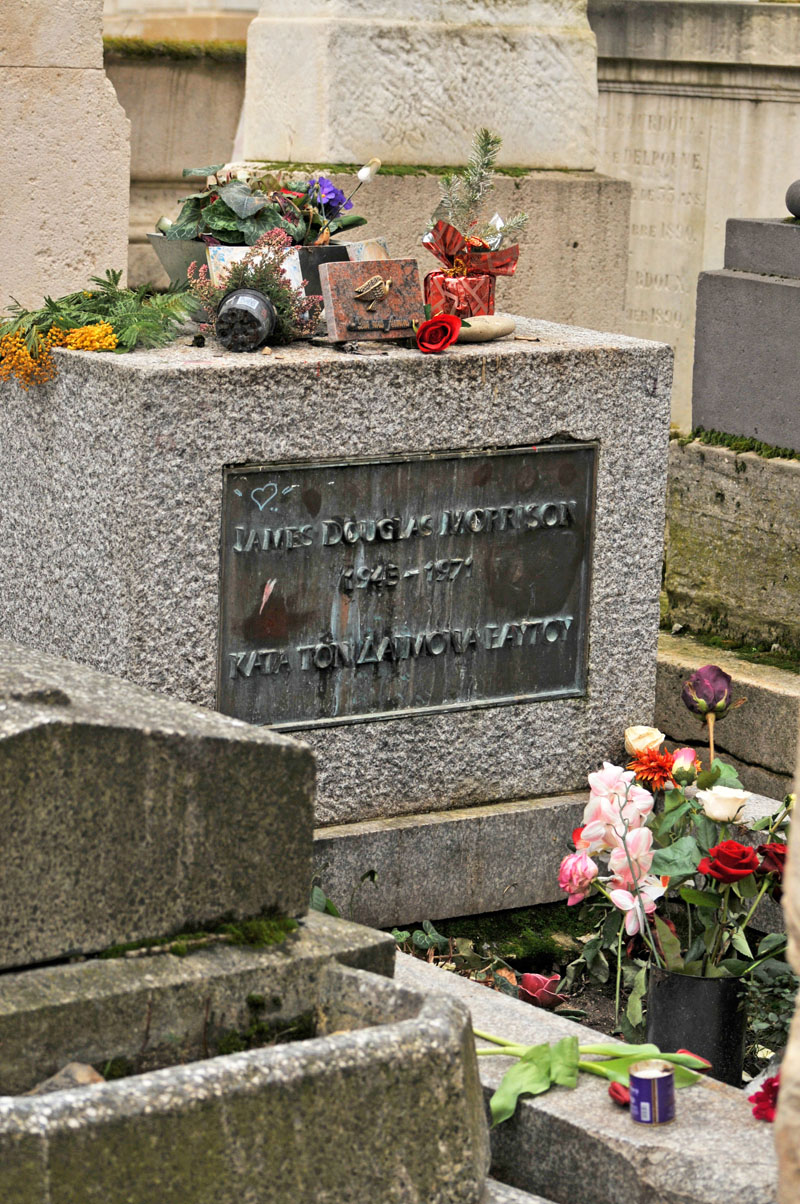 I am going to blame the fact that it was windy and that I couldn't seem to shut them for my eyes getting a little watery in that moment ;]
If you're unaware of the history, Jim had moved to Paris a couple of months prior with his long time girlfriend Pamela Courson. He wanted to take some time away from what his life had become in the US, and left before the album L.A. Woman was released.
Jim was found dead in his bathtub on the morning of July 3, 1971. An autopsy was never performed because according to French Law, the medical examiner claimed to have found no evidence of foul play. There are many theories about his death; the death certificate states heart failure as the cause, but many believe that it was an overdose of cocaine.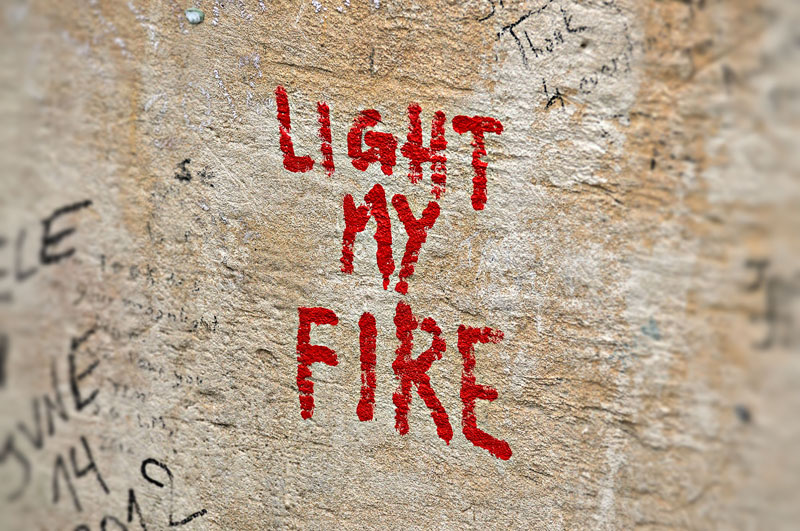 In 1981, Croatian sculptor Mladen Mikulin placed a bust of Morrison and a new gravestone with "Jim Morrison" to commemorate the 10th anniversary of his death; the bust was defaced through the years by cemetery vandals and later stolen in 1988.
The epitaph on his current headstone bears "James Douglas Morrison" and the Greek inscription KATA TON DAIMONA EAYTOY, literally meaning "According to his own daimon" and usually interpreted as "True to his own spirit".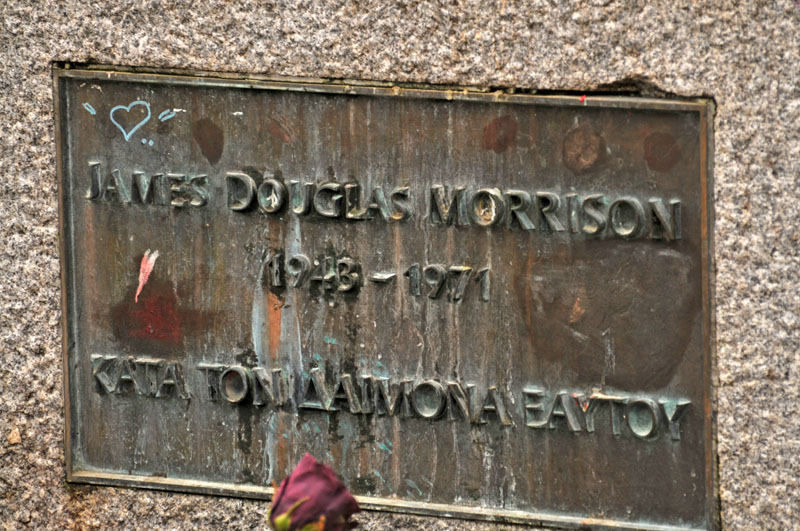 Morrison died at age 27, the same age as several other famous rock stars in the 27 Club. Pamela also died at the age of 27.
A good hour passed before I could bring myself to leave the grave. While I was there I took photos, read the graffiti covering the nearby walls and quietly looked at the grave.
I left the first page of "Paris Journal" on the grave from my American Night book, which were Jim's last documented written words before he died.
Words from that page:
So much forgotten already
So much forgotten 
So much to forget

Once the idea of purity
born, all was lost
irrevocably

(The candle-forests of
    Notre-Dame)

 beggar nuns w/ moving
smiles, small velvet sacks
& cataleptic eyes

straying to the gaudy
Mosaic calendar
Windows

A small & undiscover'd
park — we ramble

& the tired walls barely
fall, grafitti into
dry cement sand

Words from the last page of Paris Journal:
Tell them you came & saw
& look'd into my eyes
& saw the shadow
of the guard receding
Thoughts in time
& out of season
The Hitchiker stood
by the side of the road
& levelled his thumb
in the calm calculus
of reason
I wanted to return the following day, but stopped myself. I know that I will return to Paris in the future, and will save another visit until that time.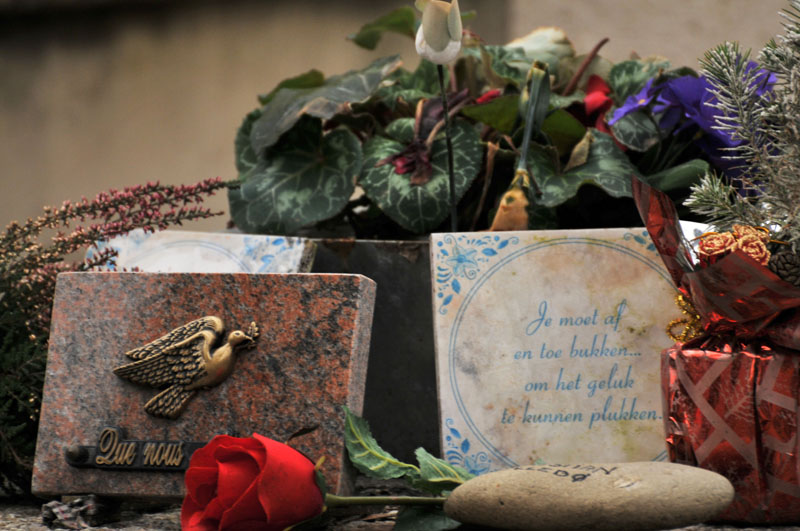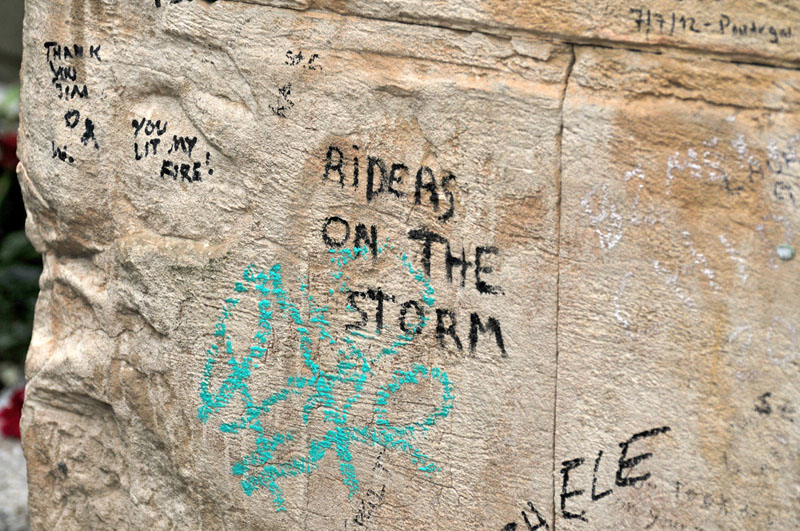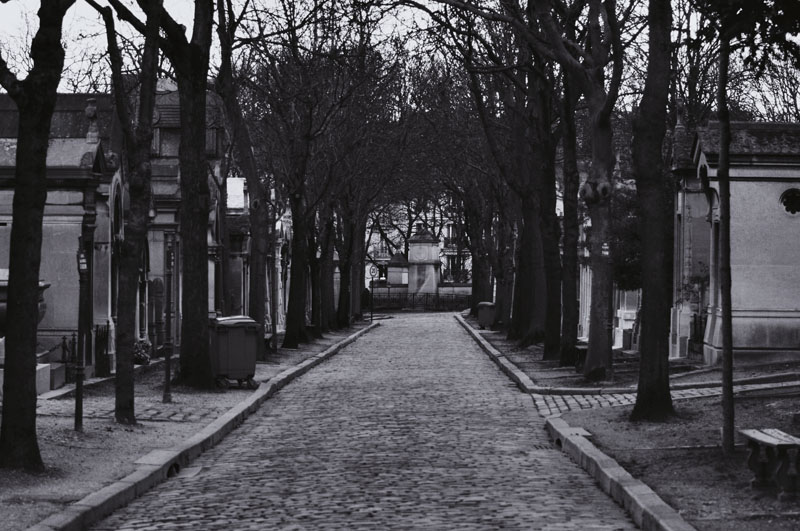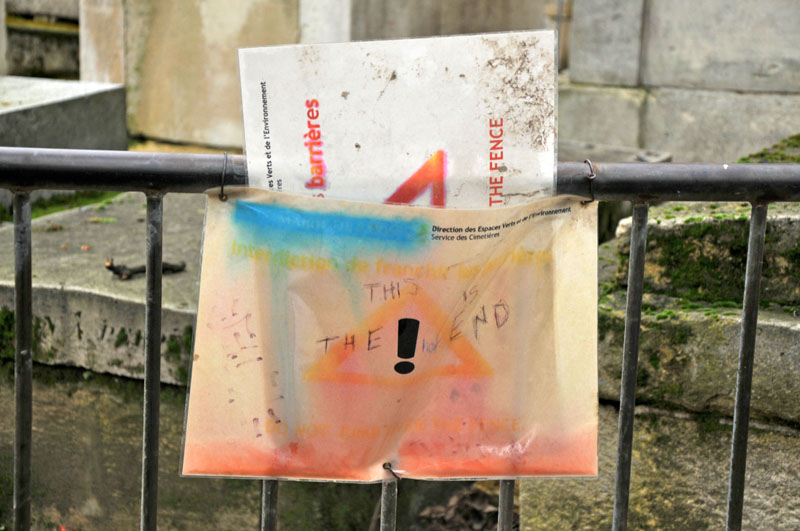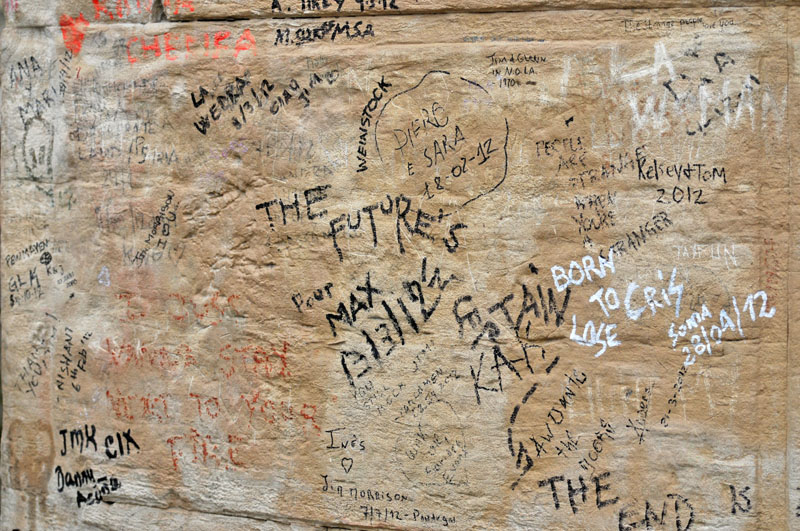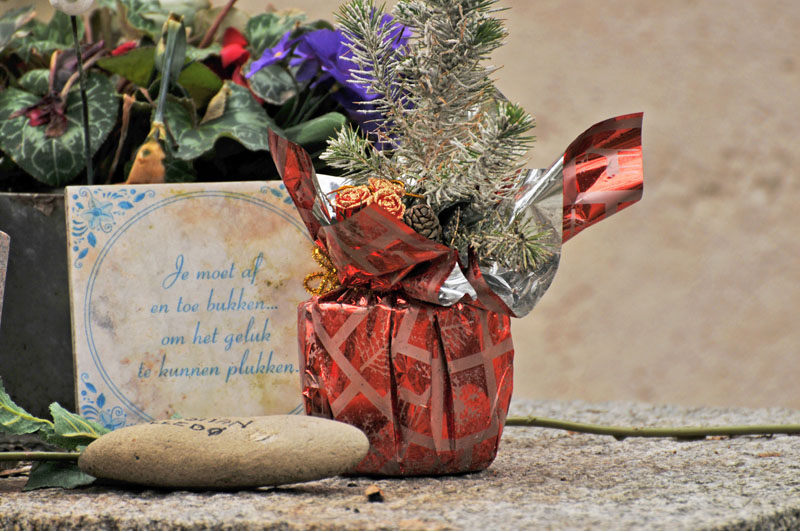 Did I mention that I have a tattoo of Jim's portrait on my thigh? I was excited to unite them :]