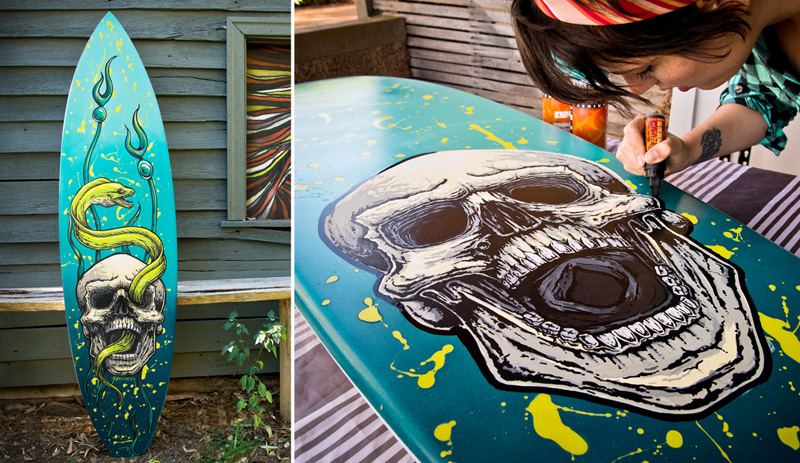 All surfers know the thrill of riding on a large, fast wave. It is this amazing feeling that cannot be described in words bit it needs to be expressed, anyway, which is the reason for the emergence of surf culture which uses art to describe the awesome lifestyle of surfers.
On a recent trip to the beaches of the Outer Banks in North Carolina, I noticed that most of the surfers had surfboards that were painted in a very unique way. It was obvious that they had their boards customized because you don't really find surfboards like these at a regular sport store. So I inquired around and found out that these surfboards are painted by professional surfboard artists, which is a pretty neat idea. I love the concept of surfboard art and I totally believe this is going to go main stream since it is such an awesome idea.
Here is why I think Surfboard art is the new cool:
It Shows Passion
Oh yes. The art is unique and has a lot of feeling to it. Surfboards dance with the tides all the time, and it's about time they get to tell their story. Art, among other things is pure passion. Through surfboard art, a surfer gets the chance to describe how they feel about the sport – which would have been a rare opportunity if it wasn't for surfboard art.
Personalized surf boards make a cool beach accessory
Let's admit it: Surfing isn't for everybody. But that doesn't mean people cannot get themselves a surfboard. Surfboards have become an essential beach accessory and some people lie on a surfboard while tanning themselves on the beach and they would just look better if their surfboards were personalized.

It portrays the lifestyle of professional surfers
More than anything, surfboard art portrays the lifestyle of the surfers, the time they spend with the waves. Instead of painting a 'landscape', most surfboard artists paint the 'seascape' – and most art involves sea shells, drawings of the sun and many, many beach waves.
It makes a great souvenir
If you take your surfboard with you on your vacation and get it customized by a surfboard artist there, then the art will serve as long lasting souvenir for the trip.
It makes a great collector's item
Yes, it does. There are lots of people who collect surfboards which are painted by professional surfboard artists. Not only this, there are surfboard art exhibitions held in many cities around the world where surfboard artists can put their work on display.
And at the end of the day, if you are passionate about your sport, your career, or your hobby, you need to show it to the world! Anyone can know the basics, it is the level of enthusiasm for what you do that sets you apart from the crowd. And setting you apart from all other surfers is what surfboard art is all about!