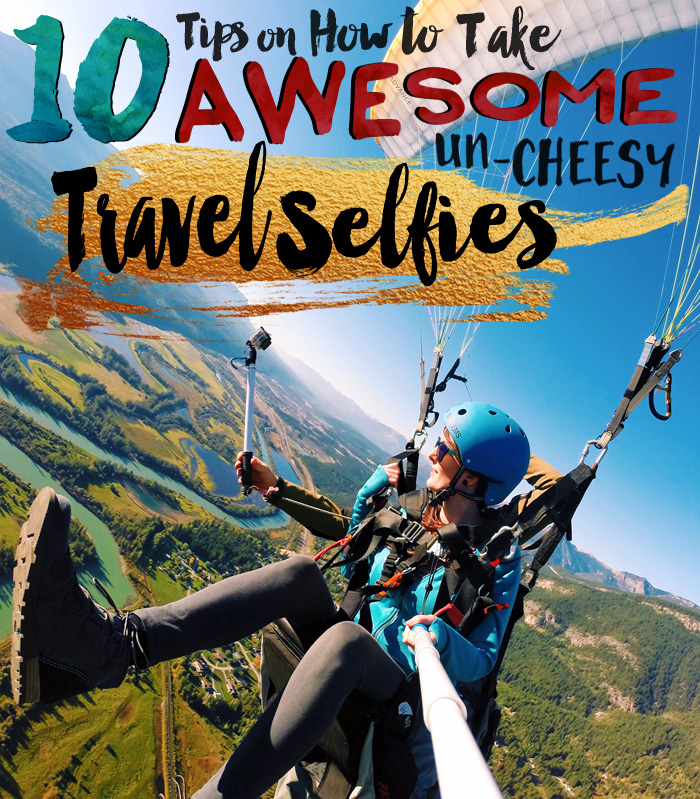 As a solo traveller, I've taken my fair share of self portraits over the years.
Like, an embarrassing amount of them.
It's not that I'm vain, or that I think everyone wants to see my face in front of every landmark, mountain view or beach that I visit. In fact, I hate being in front of the camera. But, I like to document my travels as memories that I can look back at, and remember the overall emotions that I was feeling that day.
It's also a great way to learn and develop your photography skills. In 2009/2010 I completed a 365 Project, in which I took one self portrait every day for one year. It helped me to develop an eye for framing, composition, subject (myself, aha) positioning, perspective, and of course, scouting beautiful backgrounds. I still believe that it was the 365 Project that made me the photographer that I am today–and think that every beginning photographer should try it.
Blah, blah, blah, right? It doesn't really matter what I say–I'm still going to be teased for taking a selfie.
Well, if I'm going to be teased anyway, I might as well make them awesome.
So, I've developed a few ways to make my selfies a little less cheesy over the past few years, and am happy to share them with you.
10. Avoid the Typical Tourist Shot at all Costs
If you look back at the timeline of photography trends, you'll remember that the forced perspective shot was alive and well in the early 2000's.
No holding the Eiffel Tower. No pinching the Pyramids. No leaning against the leaning tower. No kissing Christ the Redeemer. And, for the love of Rio, please no phallic poses with Big Ben.
You might also want to second guess that idea to get naked on a sacred mountain.
9. Ask For Help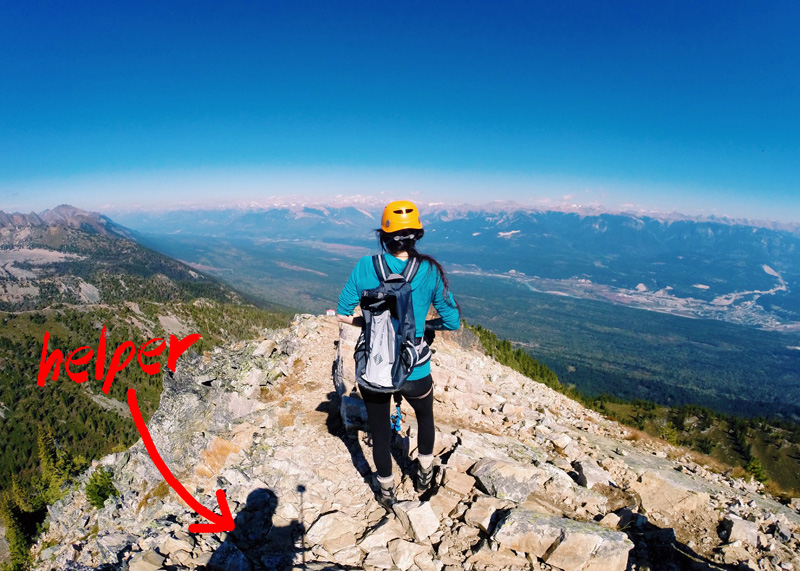 You can't always take your own photos, so ask for a little help.
Whether you're travelling with a friend, or ask a stranger to do it for you (obviously, use your best judgement)–this can help to keep all your photos from featuring your outstretched forearm, instead of that beautiful location that you're in.
8. Do Something Interesting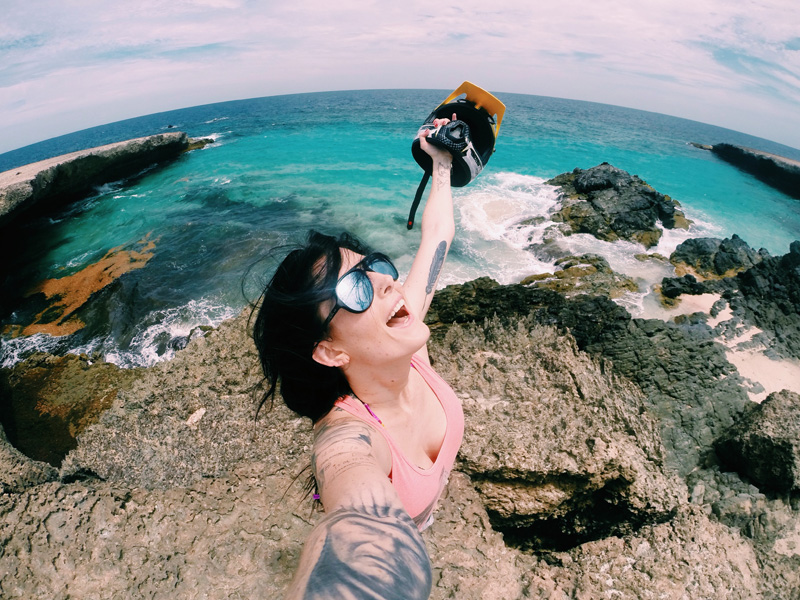 Sure, you can let the landscape do the work for you, but what fun is that?
Let's brainstorm a few ideas:
Jump
Hair flip
Hold an object up to lens
Climb/Stand on something
Sit in a different way
Flip the camera upside down
Splash some water
Use props (umbrella, blanket, etc.)
Throw snow
Wear sunglasses/a hat/unusual accessories
Hold camera under water
Frolic
Honestly, just have fun with it and you'll probably end up with a better photo.
Do you have any suggestions?
7. Bring Your Friends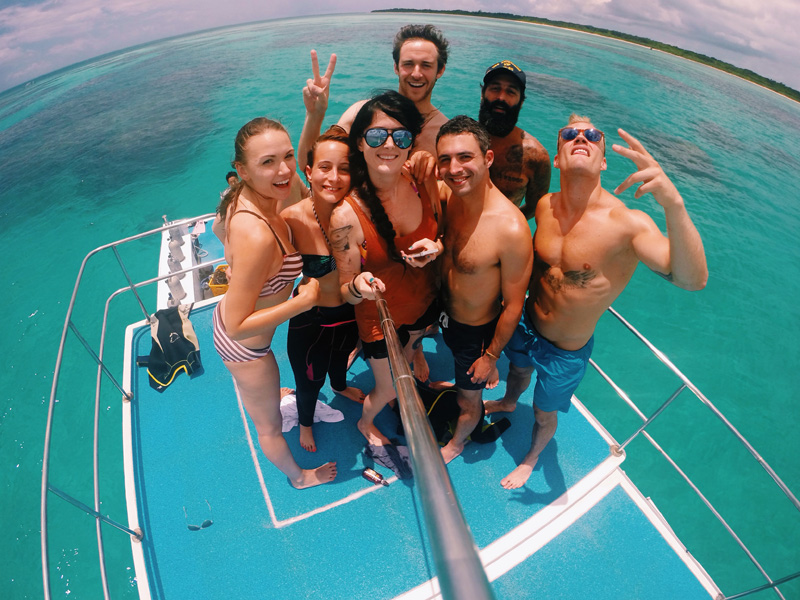 A group selfie? A groupie?
Whatever you want to call it–having your friends in your photos usually makes for a better shot. I find it gets a little sad when all of my travel photos are lonely solo shots, and always prefer to pose with friends.
What are you most likely to frame on your wall: A photograph of yourself standing alone on a tropical beach, or an image of you and your two best friends laughing in the back of a taxi?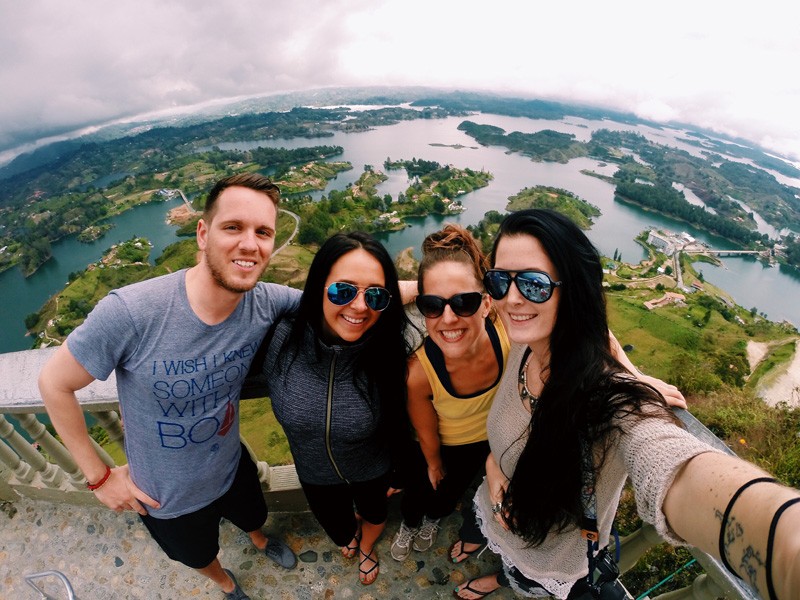 6. 1:3 Face Ratio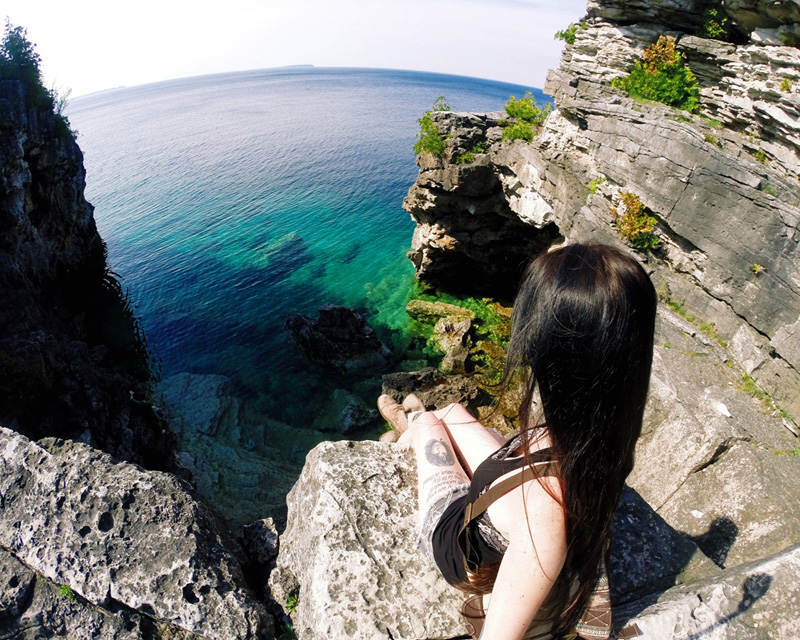 If you're posting your selfies on Instagram or other social media, try to keep the face ratio at 1:3.
That's one "face selfie" for every three "other selfies".
The remaining "other selfie" shots could comprise of the back of your head, looking down at your own feet, raise the camera above your head, or your hand holding something up in front of the camera. A selfie doesn't always have to be a close up portrait–it can be anything that includes a part of you in the shot.
Of course your audience will always connect more with a friendly photo of your face, so feel free to keep throwing those in there too.
5. Highlight the Destination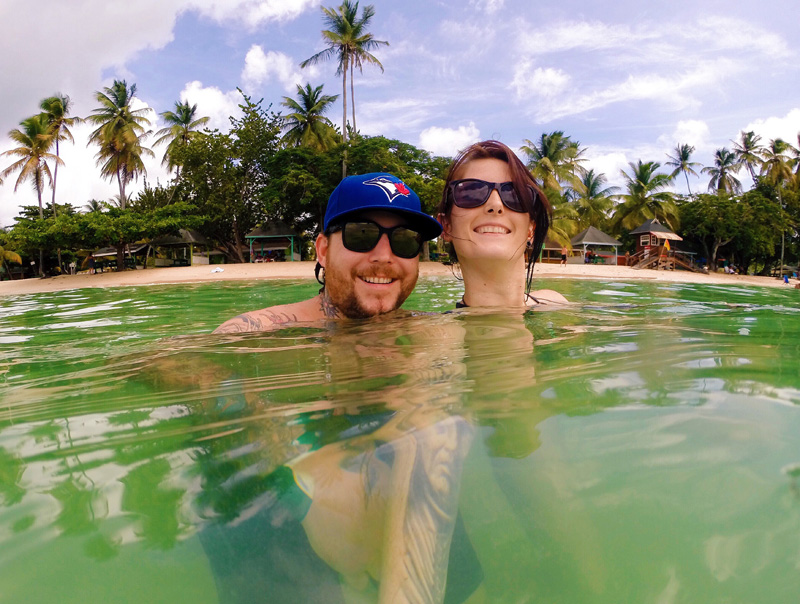 A travel selfie is different from a regular selfie, in that it is the destination that should be the main attraction (not just your pretty face).
Scout your location first, and make sure that the background is worthy of the shot. Think ocean view over the fence beside the pool, or bustling street market over hostel dorm interior.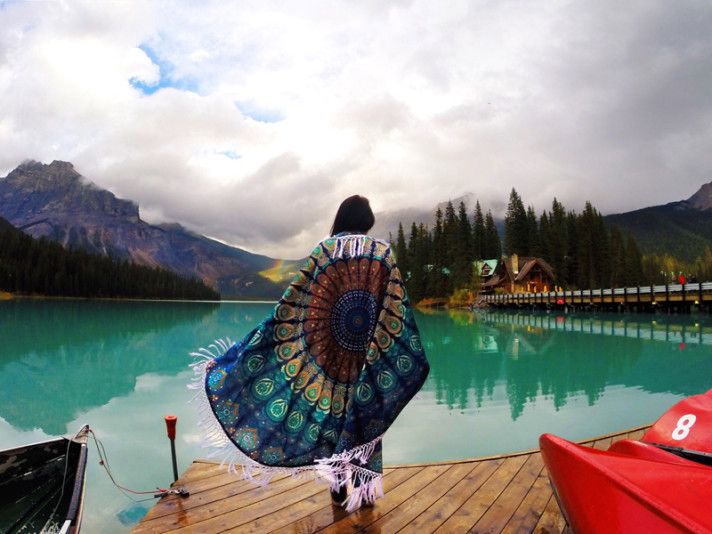 4. Know Your Light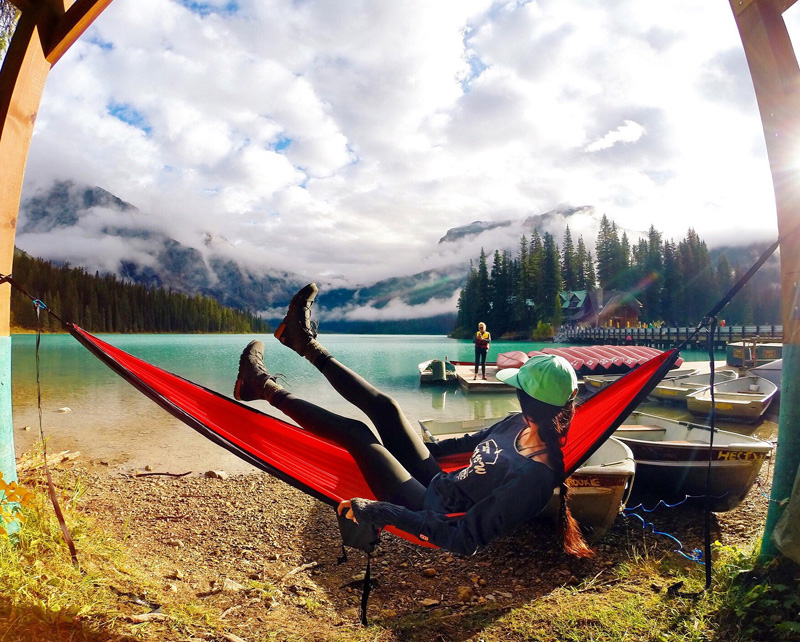 This tip isn't specific to selfies, but applies to all photography. If you have a subject (in this case–yourself), you need to make sure that the light is landing on it properly.
If there is a light source behind you, your face will appear shadowed or blown out, unless you use flash. Be sure to find the light source, face away from it, and then take your photo. A light source could be a ceiling light, lamp, window, or the sun itself.
Sometimes a GoPro will make the light work for you, if you face the lens at the source, yet block the direct contact (example in image above).
3. Use a Tri-pod (or make your own)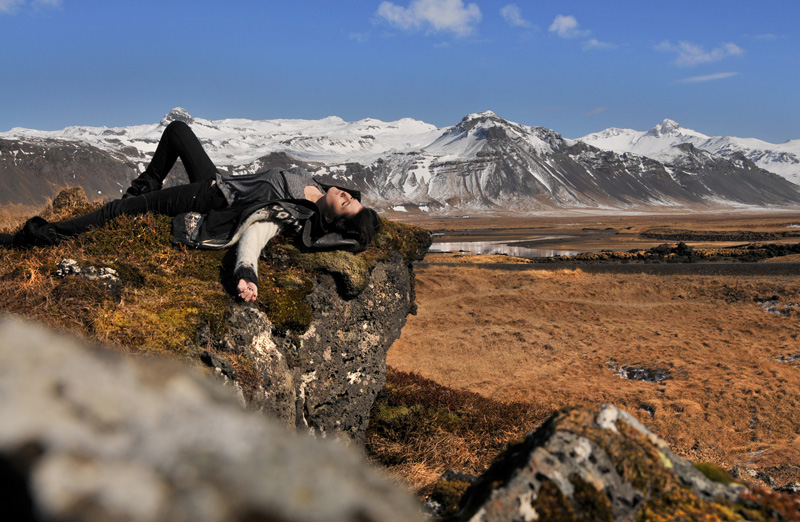 A tri-pod usually makes for more technically better images, as it steadies the camera and helps you think out a scene before shooting. It also allows you to leave your camera in one spot, so you can walk in front of it to photograph yourself.
The sunset can be your best friend. Set your tri-pod to face the sun, walk in front of it (sometimes to helps to make sure that your shadow covers the lens) and shoot away to capture your silhouette in front of an incredible backdrop. Everyone loves a good sunset photo.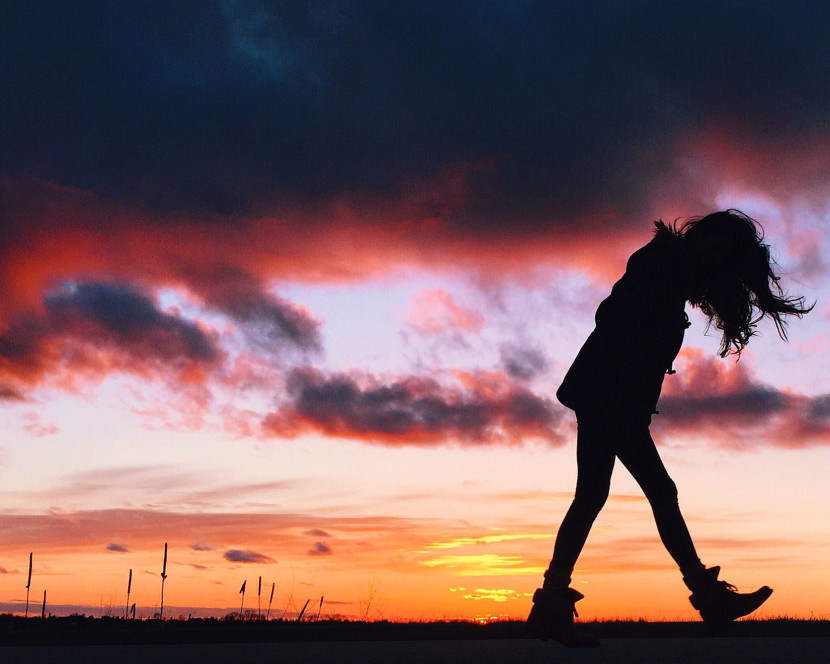 However, sometimes you can't bring your tri-pod–so why not make your own?
If you want a photo of yourself in front of that beautiful Colombian beach, lean your phone against one stone with another in front to keep it from sliding down, and set it on a timer. If you want an artistic shot of you relaxing in front of those dramatic mountainscapes of Iceland, rest your DSLR on some mossy lava, and shoot away with a wireless remote. If you want to show off your diving skills in Thailand–mount your GoPro to the side of the boat, set it to time-lapse and take the leap.
2. GoPro > Smart Phone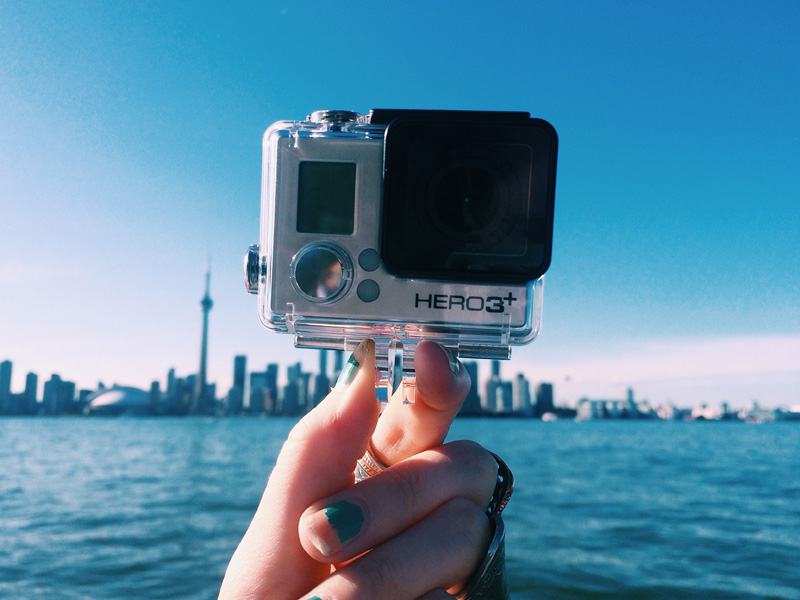 I may be biased as an avid GoPro fan, but I believe that the GoPro takes waaaaay better photos than a smart phone. Most people think of video when they think of GoPro, but I use mine solely for photography.
Technically, the specs and resolution are better, plus I just love the look of a sharp fish-eye photo.
A GoPro is much more durable, compact, easy to use, and less invasive. It fits in the palm of your hand, so you could take a selfie without the person beside you being aware, and the angle is so wide, that they could even be in the photo too.
The GoPro is simply the best option for un-cheesy travel selfies.
1. Invest in a Badass Selfie Stick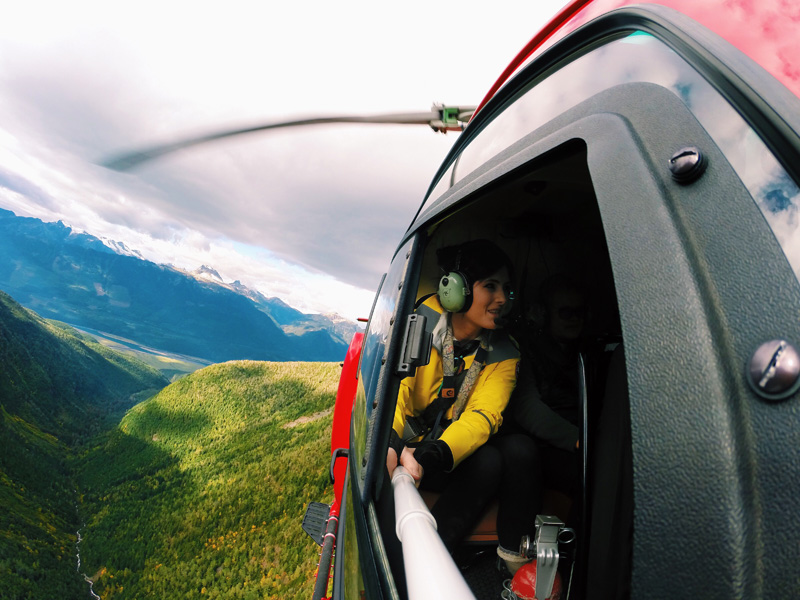 Unfortunately, it's difficult to navigate around the cheese when you bring a selfie stick into the picture (pun was actually not intended there), and your friends might tease you a little (or a lot). But, at least you can try to do it with attitude.
As with the last tip, a GoPro stick is always much more awesome than a smart phone selfie stick. But, you have to work with what you've got.
If you're brave enough to carry a traditional smart phone selfie stick, be sure to get one that is inconspicuous yet strong. One with a built in shutter release is even better.
If you are lucky enough to be shooting with a GoPro, try getting yourself the GoPro brand 3-way stick, It bends in two spots to better frame yourself and remove the pole from the shot all together. Or, the clear GoPole Evo, which almost disappears from the photo AND floats on water, or the GoPole Reach, that extends to 40 inches to capture your entire surroundngs.
Some additional travel selfie ideas: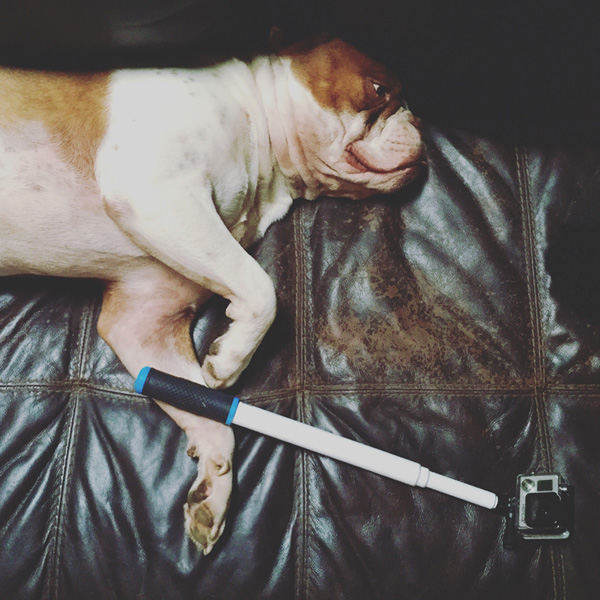 What's your best cheese-free selfie tip?