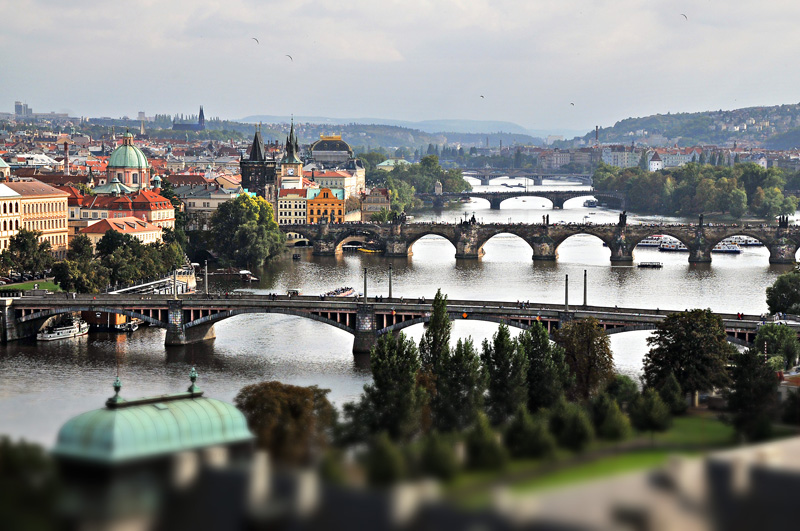 The Vltava may run straight through the centre of the city, but there is more than one way to see it. When I think of Prague, visions of the numerous bridges spanning the central waterway immediately spring to mind, and they are always in the form of a few particular images.
I'd like to share with you those infamous views, and a couple that you might not have thought of. The Vltava River is definitely one of the most beautiful aspects of Prague, and there's no reason that you shouldn't see it in more way than one.
 —
1. From Charles Bridge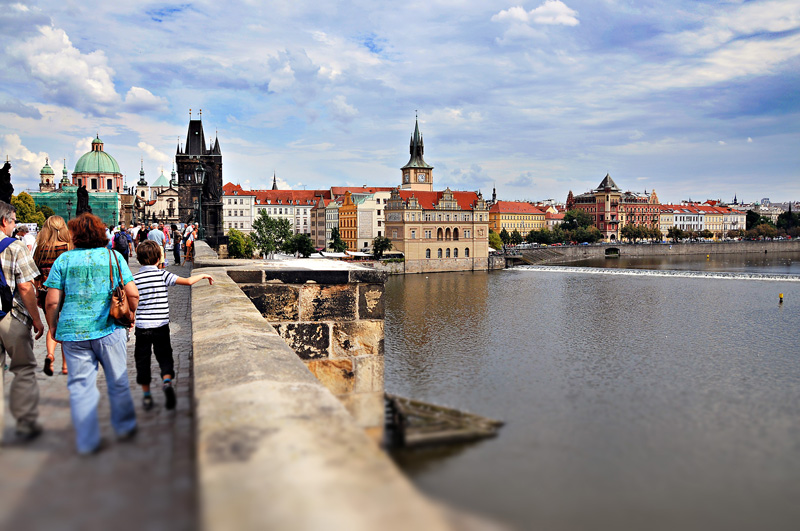 Charles Bridge is probably the best bridge to get a sense of the activity going on around the River, but you are certainly free to choose any one of the 17 bridges within the city limits. In fact–getting a good view of Charles Bridge itself may be even better than walking across it.
However, if you do choose to walk across is, you will not be let down. Along with several hundred of your closest friends (or strangers, whatever), you will stroll across the busiest lane-way in Prague. You will pass dozens of large statues that line the ledges and encounter local vendors and artists that gather in front of them.
Be sure to make a stop in the middle where you can either place a lock to show your love, rub a dog for assurance of your return to Prague, or rub another piece to make a wish (just don't tell anyone, or it won't come true–you know the drill).
Standing in the middle provides awesome views of both sides of the rivers, and all the action in between.
2. From a Boat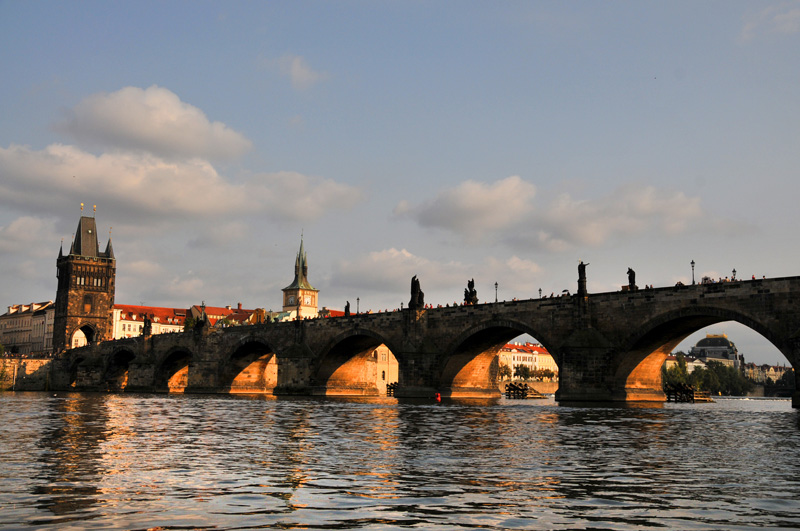 There are a ton of options in which type of boat you want to ride, but I would suggest one that comes in the form of a tour. A tour boat will not only take you down the main section of the river, but it will also take you into the "back alley" waterways.
I went on a boat tour with Prazske Benatky. We boarded in a dark tunnel beneath Charles Bridge and proceeded out to open waters, after being served ice cream and beer! I mean, come on… what's better than beer and ice cream?
We floated around under the bridge for awhile, getting a good earful of historical information, and viewing some old photos of the same area. We were able to hold up the old photos in front of the present day structures, to view the differences over time.
The boat also made its way into the narrow waterways behind the only Island in Prague, under some small bridges and pathways.
While you always have the option of renting a paddle boat (which is probably pretty awesome, too), you would be missing out on the chance to experience the intimate back alleys of the Vltava River.
*Note* Please refrain from saying "I'm on a boat". I beg of you.
3. From Above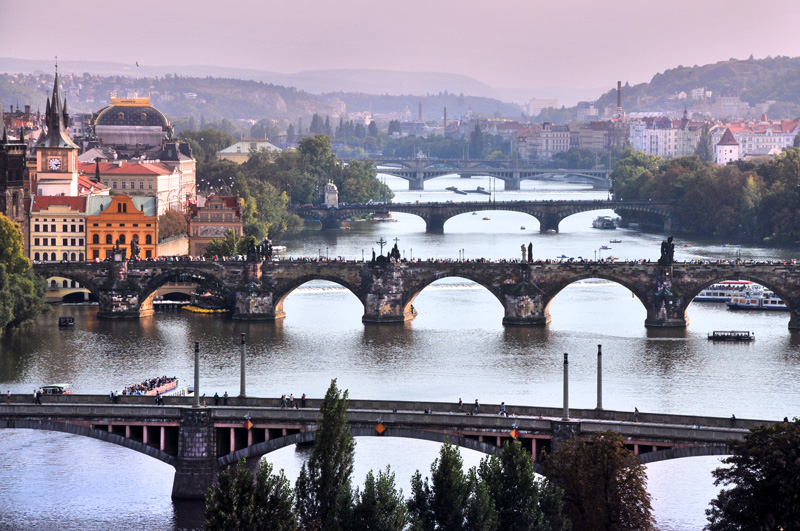 You may get your first view of the river when you're flying into the Prague airport. It's definitely a great way to see it, but there are better way to see it from above, but at a closer distance.
Make your way to the West side of the City, specifically to a place called Letná Park (Letenské sady). It's a park that is situated on a hill high above the city, with sweeping views of the entire skyline, including the best views of the Vltava River.
There are plenty of ways to reach the top, including a walking trail and staircase from the bottom. Luckily, I had a ride to the top, so I wasn't too tired out when I got to enjoy the amazing views. This is one of the places that provides the most infamous view of Prague.
4. From Dinner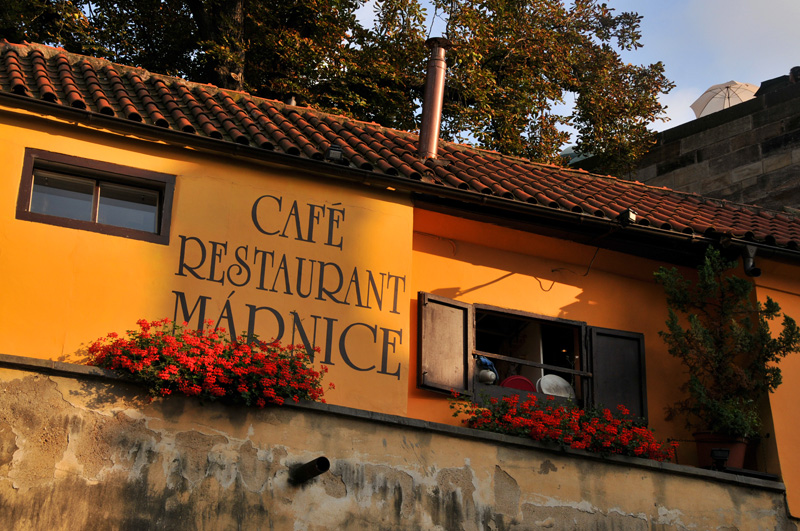 There are countless restaurants and cafes located along the Vltava River, even some located on the river. One restaurant resides on an old boat which was renovated to house a large dining room and outdoor patio. Prices are inexpensive, and views are priceless.
Many more restaurants line the shores of the river, including some of the best (and most expensive) in the city, beneath the West end of Charles Bridge. If you want to experience true upscale Prague establishments, these are the places to go. Patios provide quaint views of the river, and two of the only places in Prague where you can feed ducks, while eating duck 😐
5. From a Balloon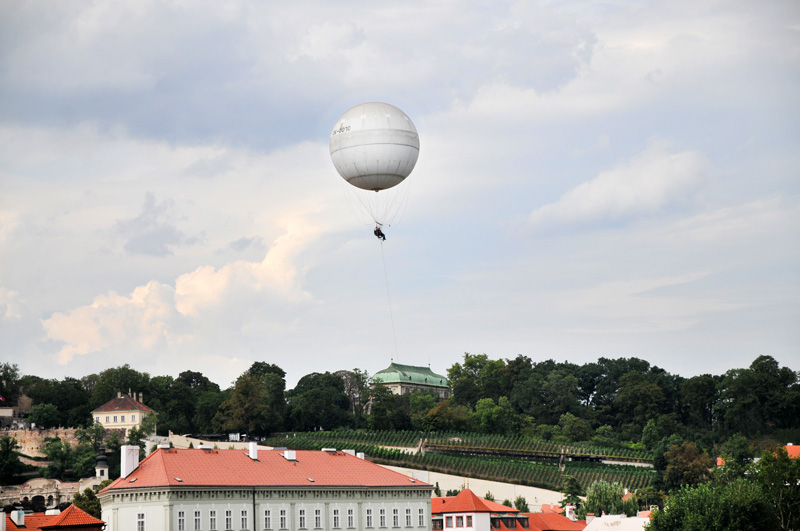 Okay, so I didn't get the chance to try this one personally, but I couldn't stop staring at the thing! Seriously, I locked eyes with it and could not look away because I was so mesmerized by it's little dance. It's probably not a good thing that I was riding a segway at the time…
Apparently, tourists can (safely) strap themselves into a harness which is attached to the large balloon. The balloon is connected to a rope, and then slowly raised 80 meters above the heart of the city where you hover in the breeze. What a way to see Prague!
I desperately wanted to take a ride, but time did not allow for it.
—
So, there you have it; 5 ways to see the Vltava River. Try them all, try a few, or try your own and let us know how it went! There are a ton of ways to view the Vltava River, and each view is better than the last.
This trip was made possible by Czech Tourism. 
All views and opinions are my own.