In the early to mid-90s, grunge and the Seattle music scene were at the top of the charts. With the death of Kurt Cobain in 1994, the popularity of the musical style declined, but its influences are still felt today. Because Seattle is so far from other musical meccas such as L.A., New York or Chicago, the music scene did its own thing. The Seattle you visit today has gotten much of its flavor thanks to its grunge scene.
Grunge in Seattle
Before we get into where to go while you're visiting, a short discussion on the origins of grunge is in order. The Seattle area is famously rainy, which makes it the perfect setting for grunge music — an alternative form of rock music that is influenced by hardcore punk and metal. Grunge music typically has an angry or melancholic tone. As another point of interest, vintage clothing and thrift stores contributed to the aesthetic of the grunge movement because the starting-out musicians didn't have a lot of money at the time.
Now that you've got a feel for the era, here are five sites that any grunge fan or music historian should visit.
The Kurt Cobain Memorial
Viretta Park, in one of Seattle's most elite neighborhoods, is the site of the unofficial Kurt Cobain Memorial. This small park has a few pine trees, some stairs and four graffiti-laden park benches. You won't find any plaques or portraits here; it's really just a simple park. But perhaps an unkempt, minimalistic park is fitting for the father of grunge music. And when you look a little closer, you'll see that the benches are covered with music lyrics, pictures, love letters and other offerings to Cobain.
Why exactly is this unassuming spot so popular? The frontman's former residence, house number 171, is located immediately to the right of the park. A visit to this site is free, and you can enjoy a walk through the neighborhood while you're there.
EMP Music Museum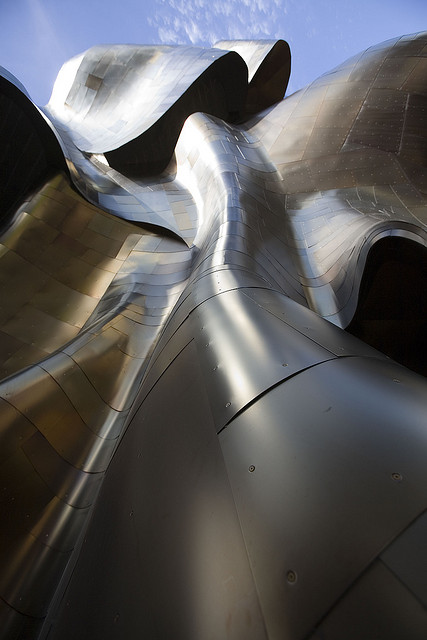 This museum, formerly known as Experience Music Project and Science Fiction Museum and Hall of Famer or EMP/SFM, is a museum dedicated to the history and exploration of popular music, science fiction and pop culture. The "Northwest Passage" exhibit is dedicated to the history of Seattle music including Jimi Hendrix, Heart and grunge music. One of the exhibits within the "Northwest Passage" focuses on Nirvana and features rare and unseen artifacts and photography from the band, their crews and families.
There is an area where you can play electric guitars, drums and keyboards, and you can learn to play short riffs from famous songs with computer screen guidance. You can also view the first guitar Kurt Cobain smashed on stage. The curvy, metallic design of the complex is inspired by electric guitars. The museum is open daily and is located next to the Space Needle.
Pike Place Market
This market is home to the original Starbucks, and it's also where a man named Artis the Spoonman used to perform by playing the spoons. The grunge band, Soundgarden, wrote a song about him called, "Spoonman" which is included on their "Superunknown" album. Pike Place has fresh fish and artisanal cheeses, breads and vegetables, as well.
The Showbox at the Market
You can see live music at this venue, which has been around since the late 1930s. About 200 concerts are held here each year. Many grunge artists have played on its stage. The building is an art-deco gem located near the Pike Place Market.
London Bridge Studio
At this major recording studio bands such as Soundgarden, Blind Melon, Pearl Jam and Alice in Chains have recorded albums. You can take a tour to view the control room, live room, the lounge and overdub suites. You must buy tickets in advance to the studio as your visit will be a guided tour. During the course of your tour, your guide will fill you in on the goings-on for the past 25 years. The studio tour will be a highlight for any music lover.
If you're looking to take a grunge tour in Seattle, you'll find plenty of people who still love this subgenre of alternative rock. Ask around for tips and places to go. Also, if you're looking for other things to do, view this website, and see all the great activities you can do. Plus, there is a great book called "Grunge Seattle," which can help direct you even more; it includes detailed maps of grunge hotspots and places with historical grunge significance.
Image by Flickr's Creative Commons
About the Author: Carl Williams is a Seattle resident and a lover of grunge music. He attends live music concerts whenever he gets the chance.