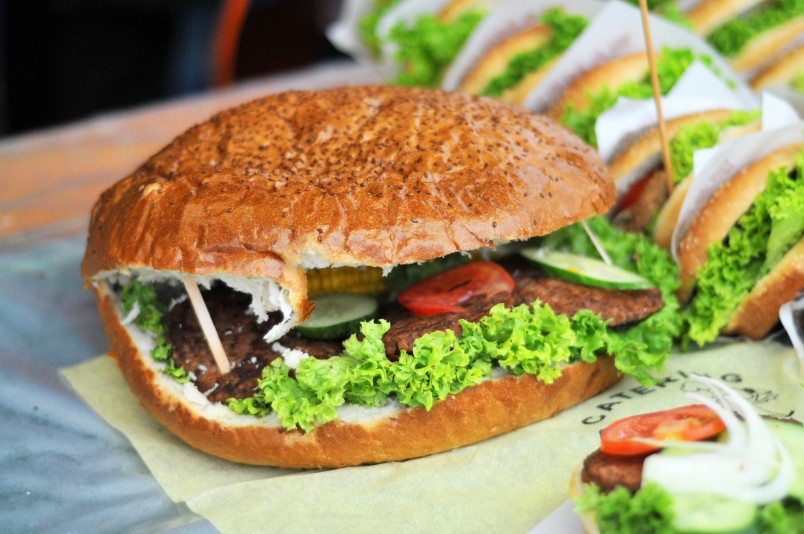 I have to admit that before traveling to the Czech Republic, I didn't exactly think of it as a country capable of flocking in the foodies. I hadn't really heard of any specifically Czech dishes, and pictured a lot of meat and potatoes being served.
There certainly ended up being a lot of meat and potatoes available, but in the best possible way. Carbs were dressed up in different ways and mixed with other vegetables and spices to give them entirely different flavours. Meats were a variety of choices and styles, along with a seemingly endless choice of sides and snacks.
As a self-admitted picky eater, Czech cuisine definitely exceeded my expectations and my appetite. While the meals were delicious, it was nearly impossible to finish an entire plate because the portions were so enormous.
Here are five Czech dishes that you absolutely have to try when you are in the Czech Republic.
1. Roast Pork with Dumplings and Sauerkraut
Svícková na smetane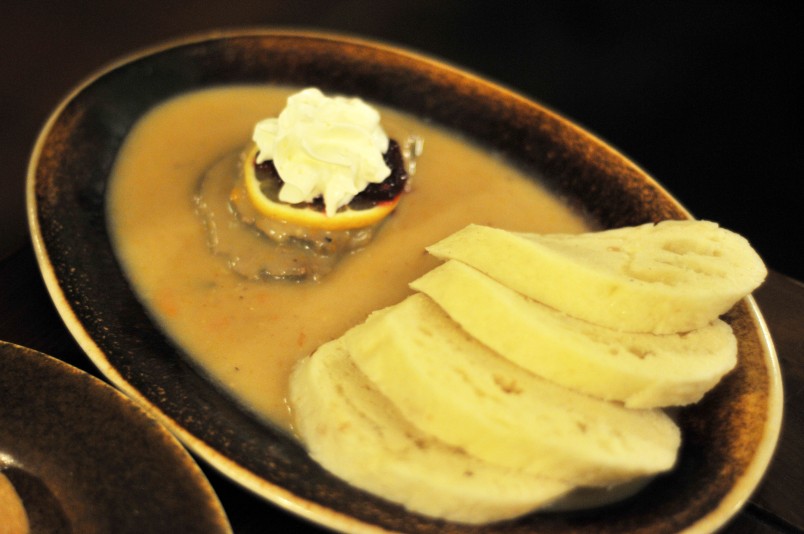 This dish is considered to be the Czech national meal. It consists of roast pork meat with stewed red or white sauerkraut and dumplings. The pork meat is hidden beneath the gravy and sauerkraut and topped in a sauce, served beside a side of fan of bread dumplings.
Locals usually enjoy this dish on a Sunday, but visitors can order it on any day of the week. This is the one dish that you absolutely have to order during your time in the Czech Republic.
2. Pork Schnitzel
Smažený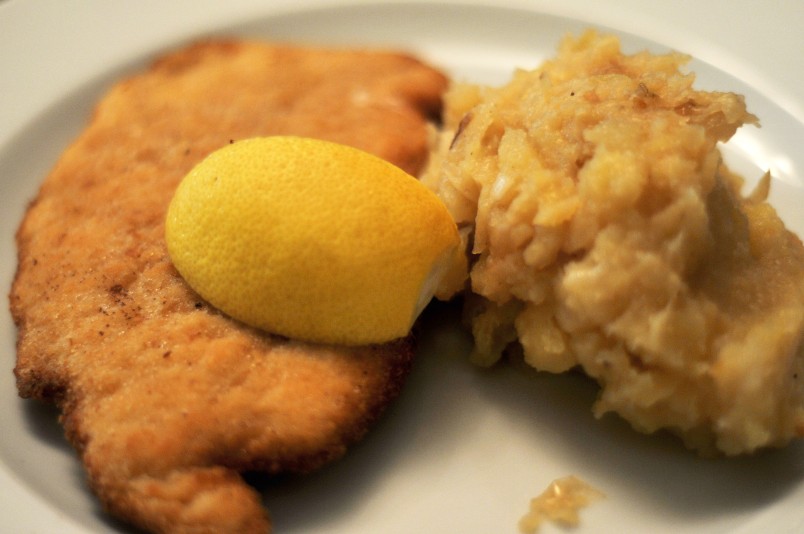 Any schnitzel for that matter, I personally enjoyed the chicken schnitzel. You can choose from pork, chicken or veal.
The meat is triple breaded (flour, egg and breadcrumbs) and fried to your liking and topped with a slice of lemon. It is served with a choice of potato, but I would recommend the garlic and onion infused mashed potatoes.
Even though it is not a traditional Czech meal, it has always been always extremely popular and eaten very often by visitors and locals alike.
3. Fried Cheese
Smažený sýr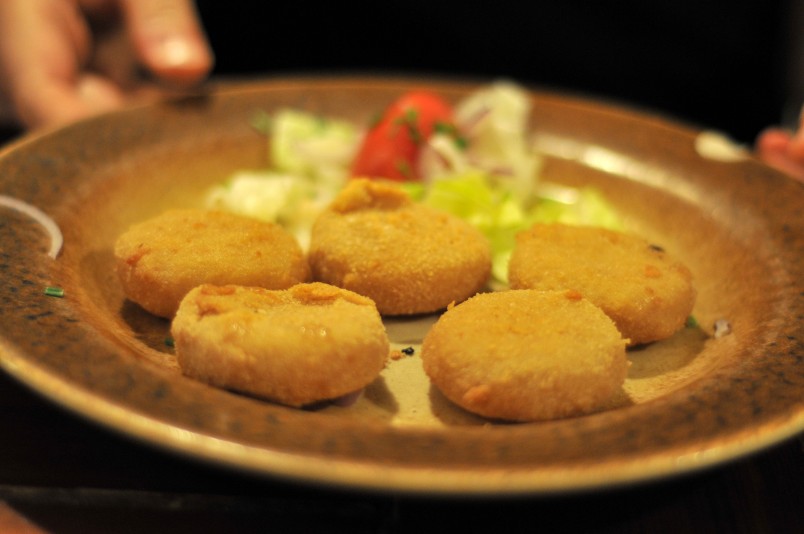 This one is exactly what is says, and a Czech specialty. The cheese is triple breaded (flour, egg and breadcrumbs) , fried and served with tartar sauce, a slice of lemon, and potatoes (boiled, mashed or French).
Fried cheese was a common (and cheap) item on the menu and also highly suggested by all of the locals. It's a great bar snack, or just something quick to pick up for the road.
4. Garlic Soup
Cesneková polévka
This stuff was EVERYWHERE. I'm pretty sure at least one person had this during every meal. On my first night, I watched the others spooning up their soup, with long strings of cheese dripping back toward their bowls. It was entertaining to watch, and all I could smell was garlic.
The next day, I decided to give it a try. Given that I have a lactose intolerance, I had to avoid the cheese. I pushed it out of the way, and slurped up some of the creamy broth, sans dripping cheese. Delicious. The garlic was definitely a strong aspect of the taste, and you might not want to eat it on a date, but it's not too over-powering.
You can order this as a starter before just about any meal in the Czech Republic. It is topped with cheese, croutons and apparently the ultimate cure to a hangover ;]
5. Steak Tartare
 Tatarský biftek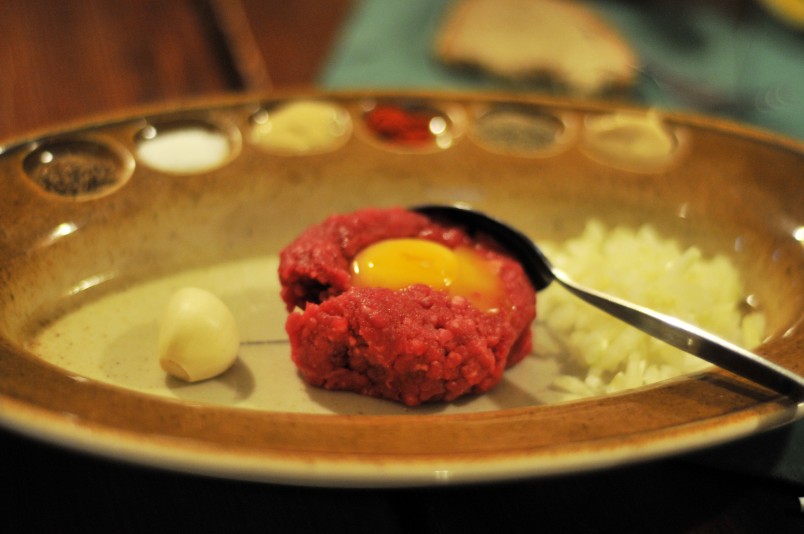 Steak tartare is a raw meat dish made from finely chopped or minced raw beef. But, you saw that word, right? Raw. It's raw meat.
Think about picking up a pack of minced meat at your local grocery store, bringing it home and slapping it down on your plate for dinner. That's steak tartare. I don't mean to shy anyone away from trying it, because it's really not as bad as it sounds.
Clearly, it's a favourite among Czechs, or it wouldn't be such a common thing on the menu. I gave it a taste (fit for a mouse, but I still tasted it!), but wasn't a huge fan. This is one that you definitely have to force yourself to try, even if you don't really want to.
—
It might be time to loosen those belts and spend a little time relaxing. Czech portions are nothing to mess with–so I hope that you enjoyed these dishes in moderation ;]
—
This trip was made possible by Czech Tourism.
All views and opinions are my own.