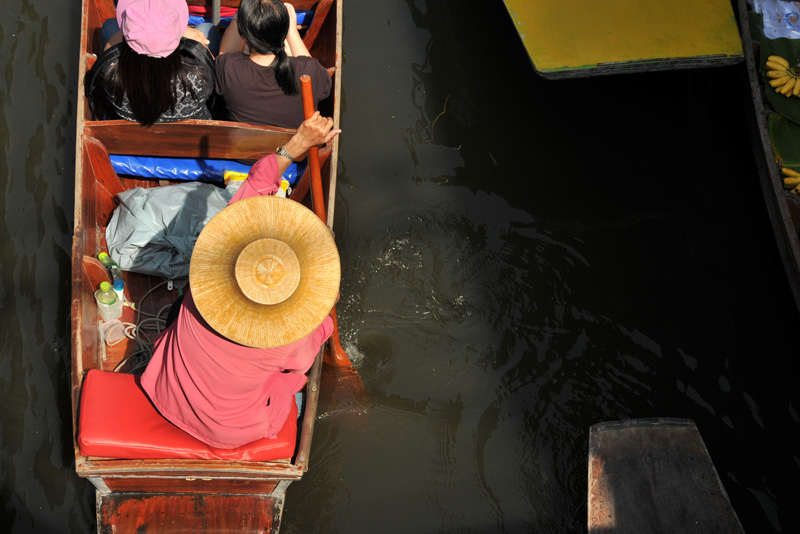 Before travelling to Thailand, a certain few images always came to mind when thinking about the country.
There were the long tailed boats, elephants being bathed in a river, ornate temples and monks dressed in their bright orange robes.
But, there was one more that usually stuck out in my mind as the photographic epitome of Thailand; the birds-eye view of the floating markets.
So, you can imagine my excitement when I learned that I would be heading there on day two of my Contiki Thailand adventure.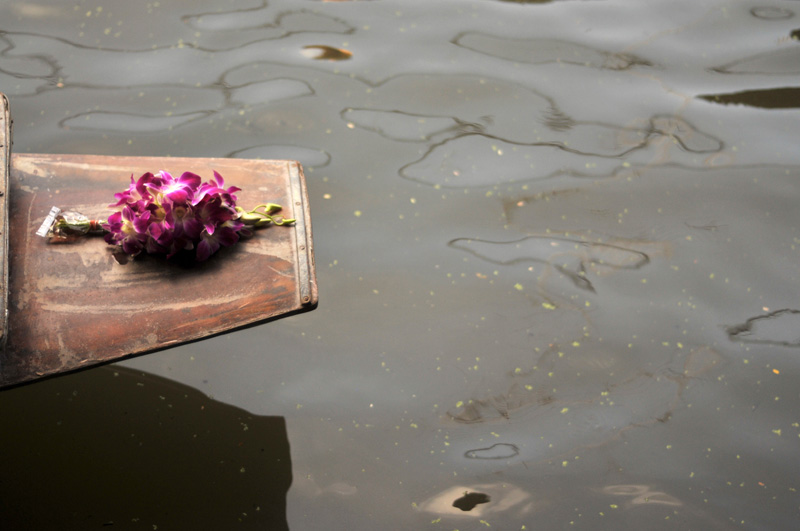 Turns out the floating markets are actually called Damnoen Saduak Floating Market, something I was unaware of before reading my itinerary.
Okay, so I didn't really know anything about the place, other than it made for some killer photo opportunities. But, I was determined to learn more.
Damnoens Saduak was the name of the canal dug in the reign of King Rama IV, who had it dug to connect the Taachin River in Samutsakorn Province and Maklong River in Samutsongkram Province. Thanks Wiki.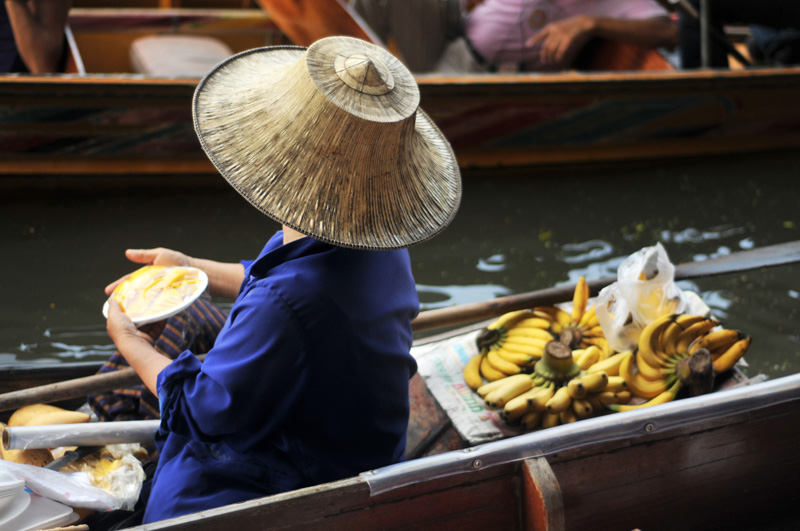 We arrived by bus to a parking area above the canals.
From there we weaved our way through the cars and climbed to the top of a small bridge. It all seemed pretty ordinary until I looked down and realized where I was standing.
It was the bridge. THE bridge.
Yes, that one.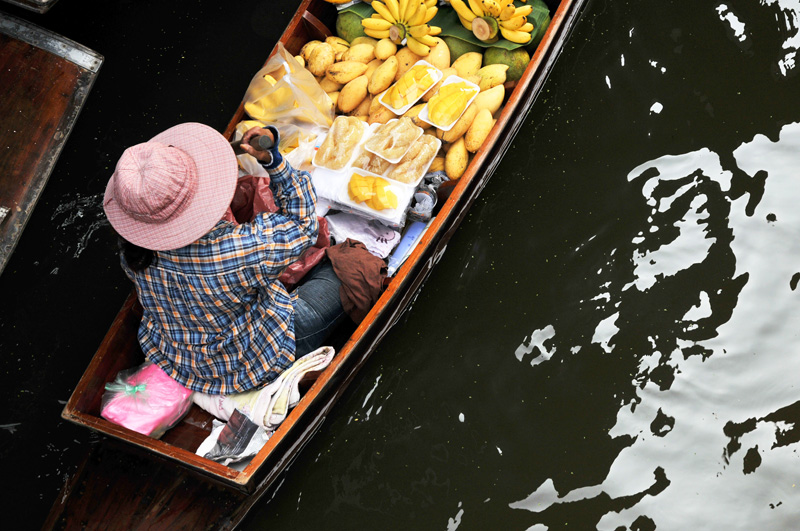 My eyes widened, I took a deep breath, pulled out the cameras and went to work.
Snap. Snap. Snap.
I was smitten by the perspective of boats floating by beneath me. So smitten that I hardly noticed when my group started to leave.
It was time to get into some of the boats ourselves.
I'm not going to lie, I probably let out about four high pitched yelps before we even left the dock.
The boat tipped from side to side as we boarded and I was convinced that we were going in. I feared not for the state of my clothing or hair, but for the expensive electronics and camera equipment that I was carrying.
Luckily, the boat levelled out as we got going and the rest of the ride went very smoothly.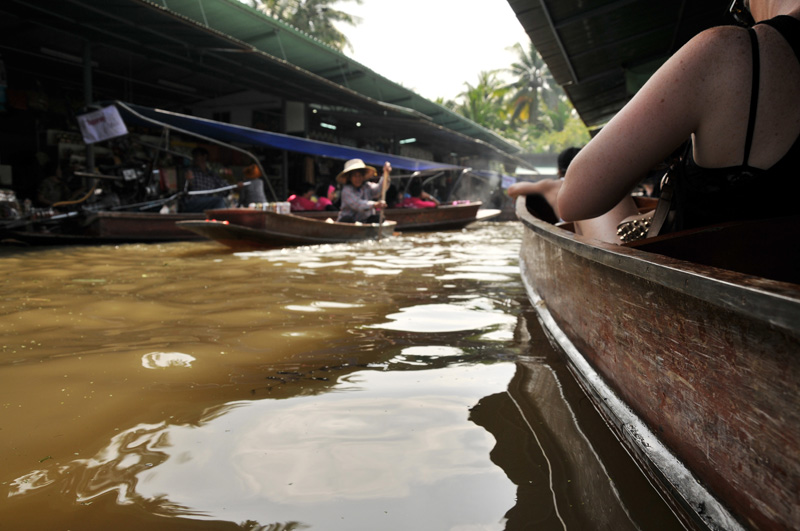 Our boat navigated the canals like snake, sliding effortlessly between oncoming boats and turning down small alleys with grace.
We stopped alongside several shops, perusing the small trinkets and items lining the water. Why someone would want to buy a Starbucks shirt from a canal in Thailand, I'll never know, but there was still a great deal of things I wouldn't have minded taking home.
At some point during the ride, I popped my camera back into my bag and sat back to take it all in.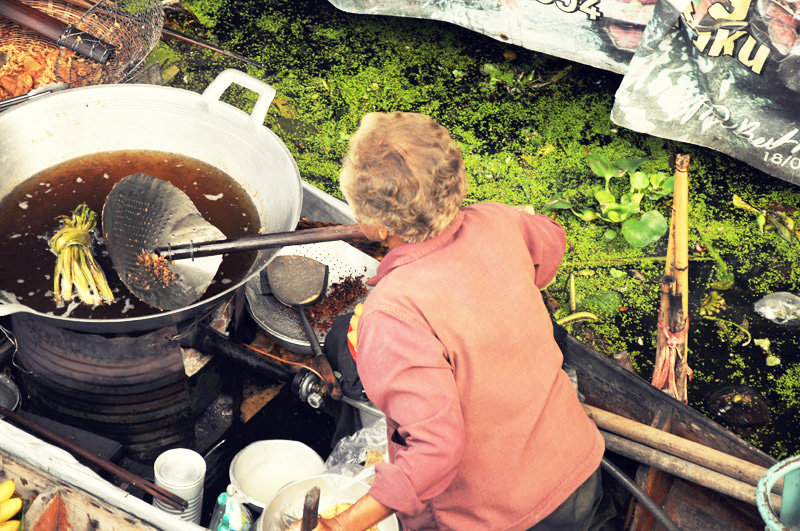 The Floating Market welcomes hundreds of thousands of travellers every year, making it one of the most popular tourist attractions in Thailand.
The market is popular with good reason, but it can be a bit of a drag standing elbow to elbow (or oar to oar) during peak hours, so make sure you head there as early as you can pull yourself out of bed in the morning.
We arrived at a fairly decent hour and it was well worth the extra yawns.
I didn't have to mush too many people out of the way to get the infamous birds-eye shot. Mostly.
I now regret the fact that I didn't do any shopping here. My purchases for the day consisted of a beer, granted it was a delicious Chang, I could have bought so much more for so much cheaper.
If you want to do any souvenir shopping while in Thailand, the Floating Market is the place to do it.
At a fraction of the cost of Bangkok and with the added pressure of mobile haggling (the shop owners tend to break when you're floating away), you can buy everything you ever wanted and didn't know you needed.
The market is also a great place to pick up fresh fruit, vegetables and spices for those that are staying in Bangkok for an extended period of time (i.e. have a kitchen to do a little Thai cooking), or even just a snack.
Our very lovely Contiki guide bought us all a sampling of fruits for the bus ride back to town, most of which I had never tried before.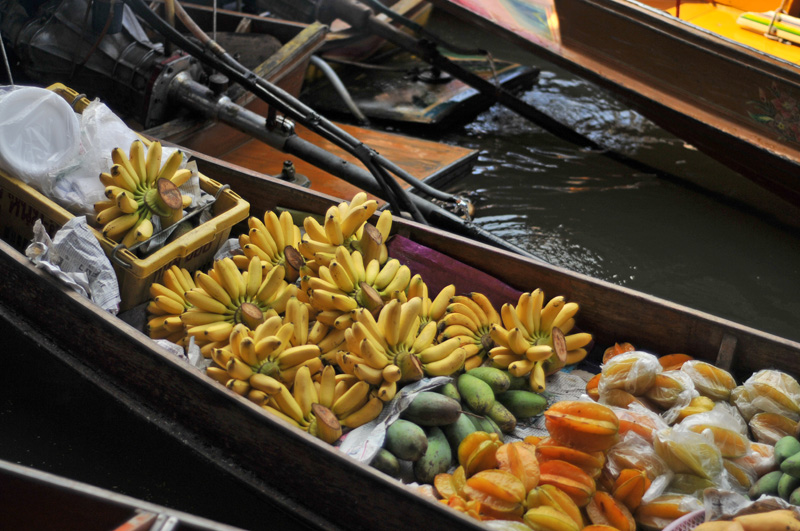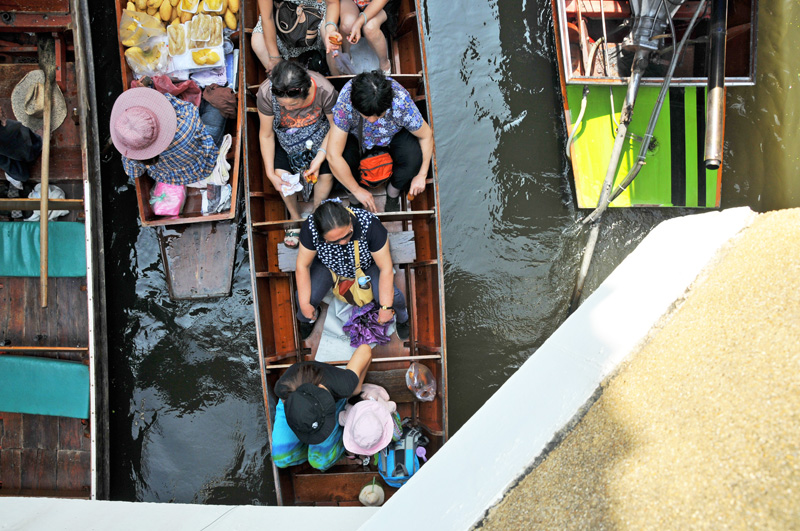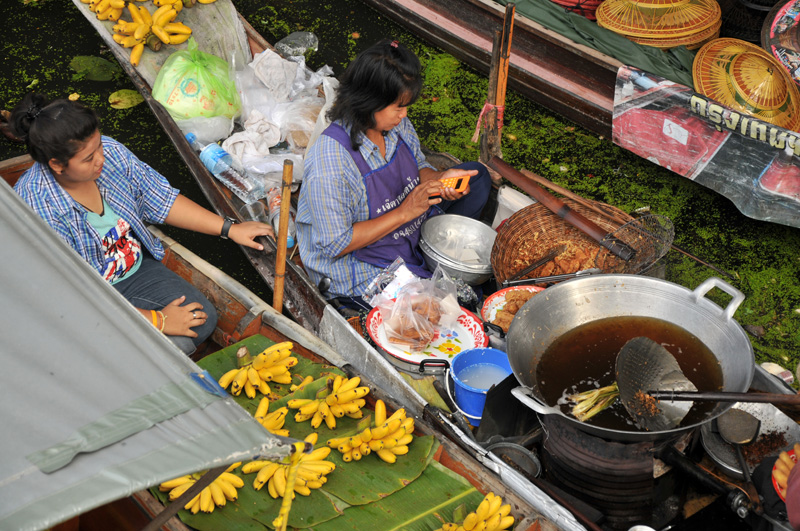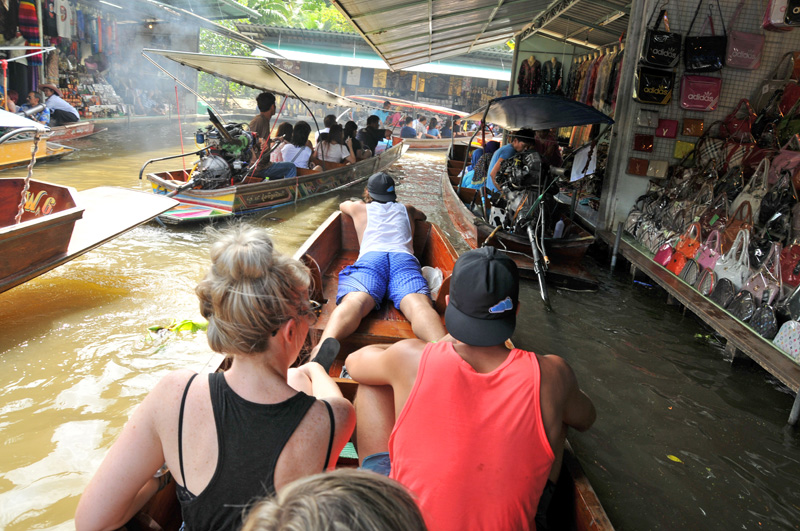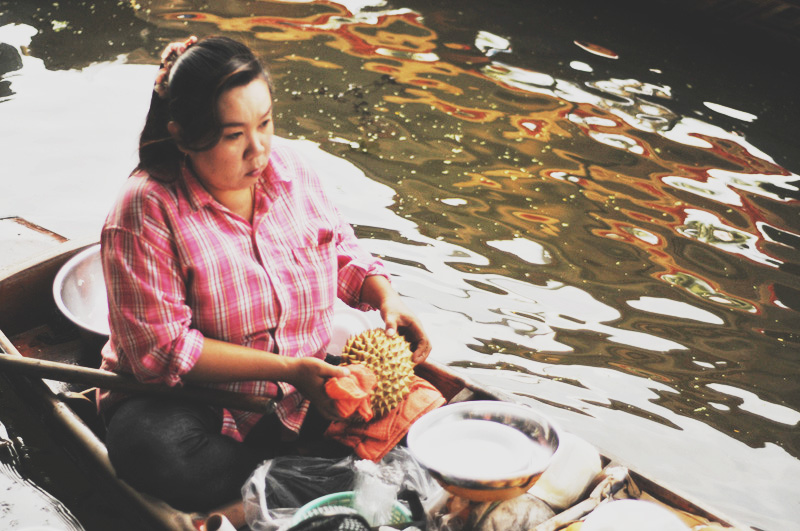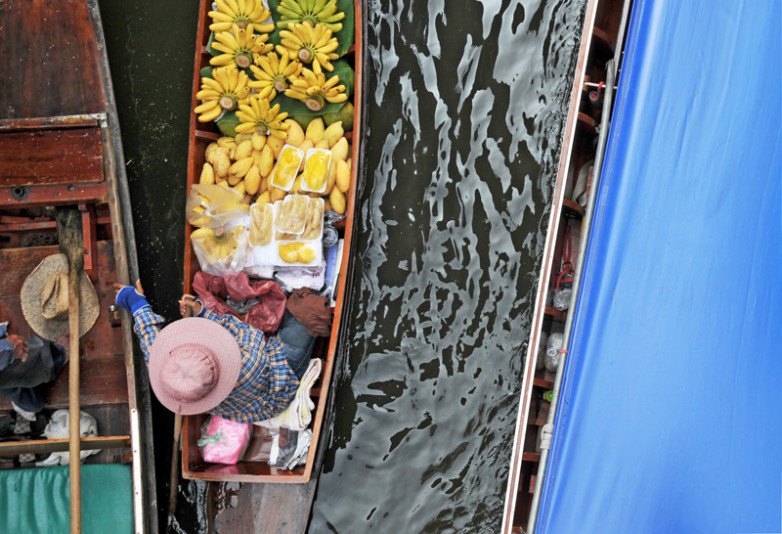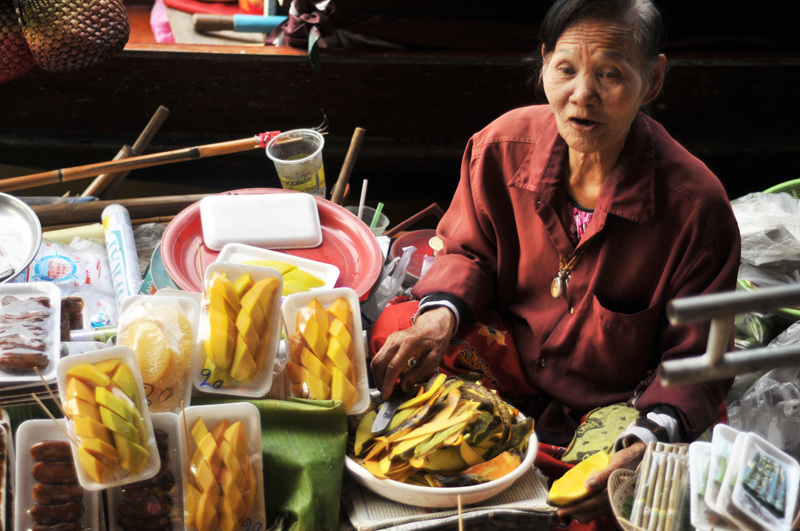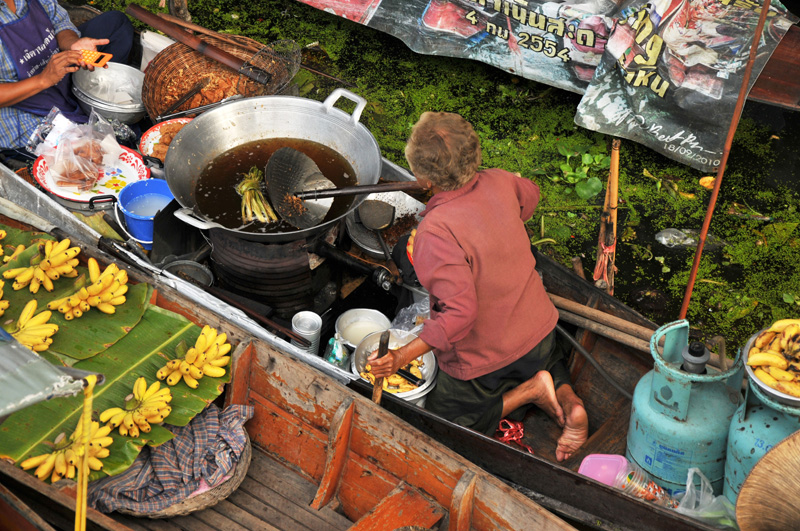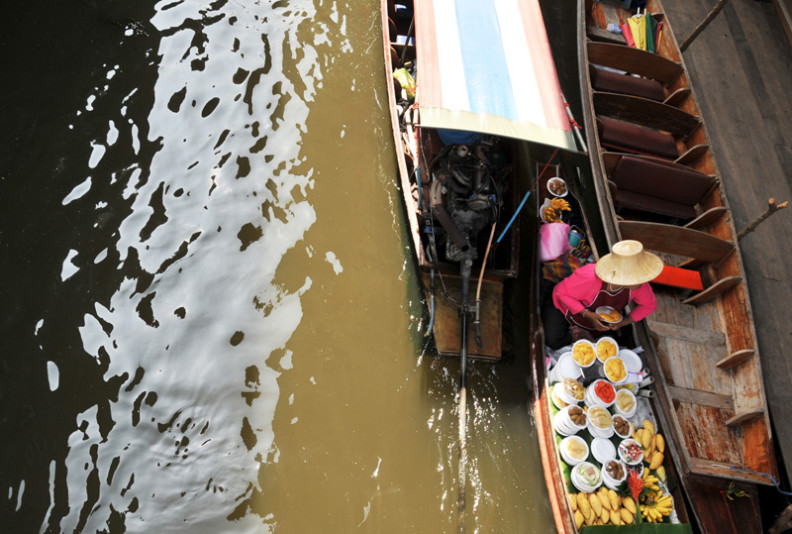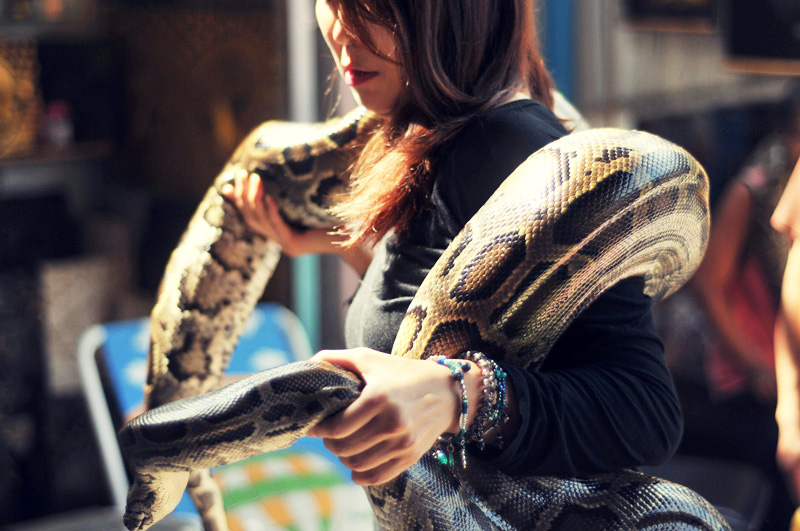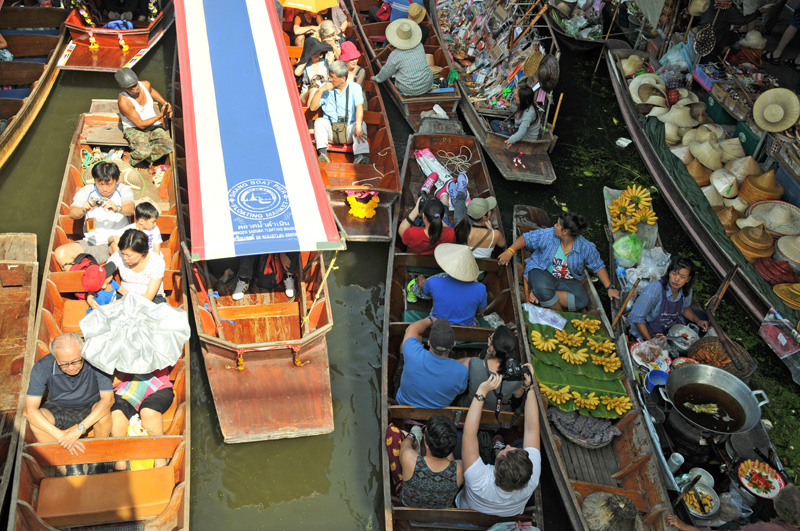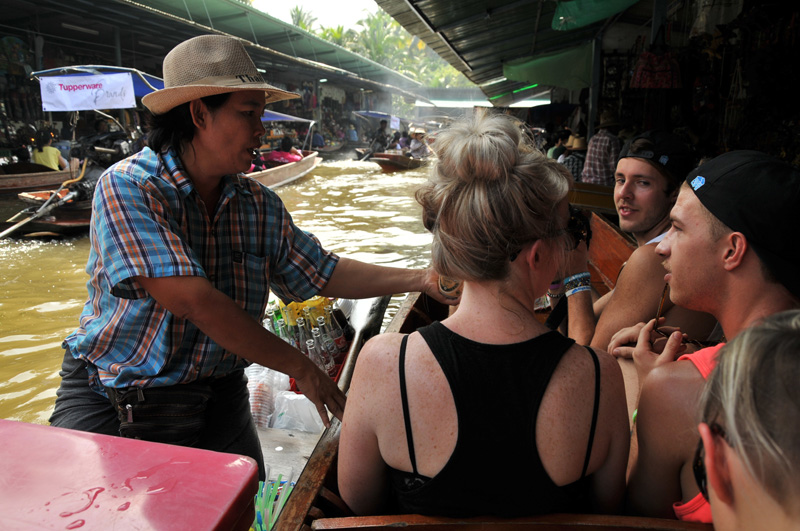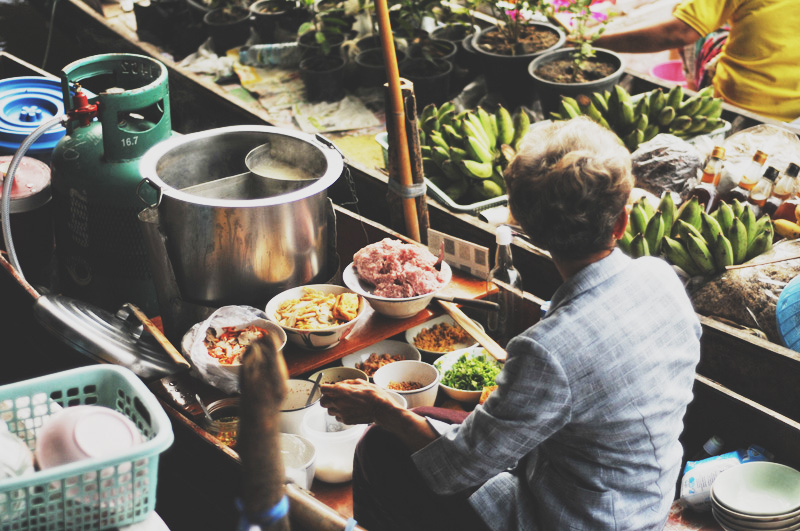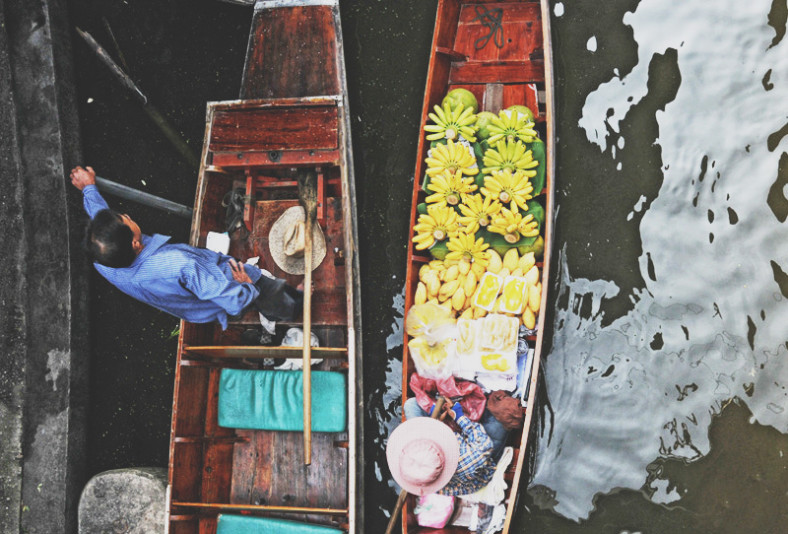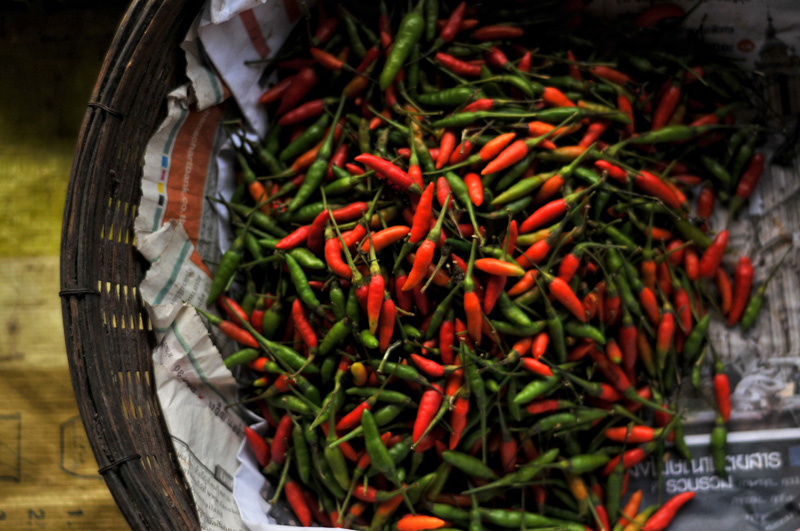 Damnoen Saduak Floating Market makes an awesome day trip away from the city of Bangkok and I would consider it a 'must do' if you're in the area.
Remember to leave early, bring some extra bahts and a full battery in your camera.
Enjoy.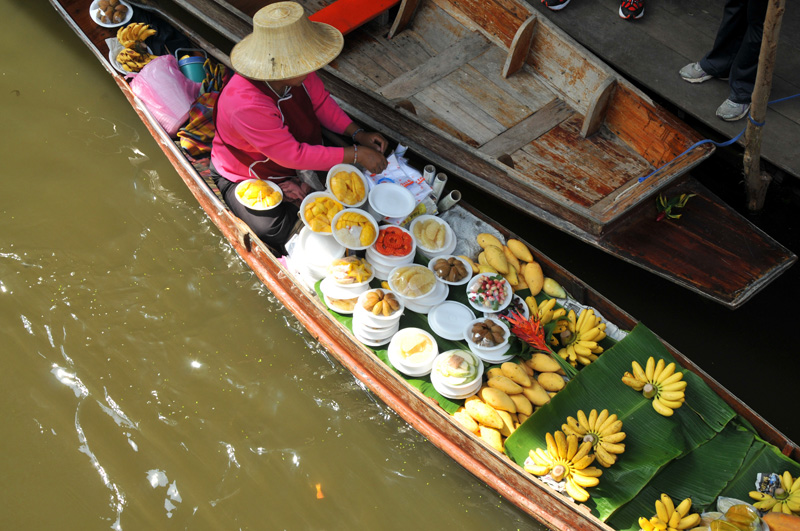 This trip was made possible by Contiki. 
All thoughts and opinions are my own.
Visit Bangkok on your own Asian Adventure.
Have you been to a floating market?