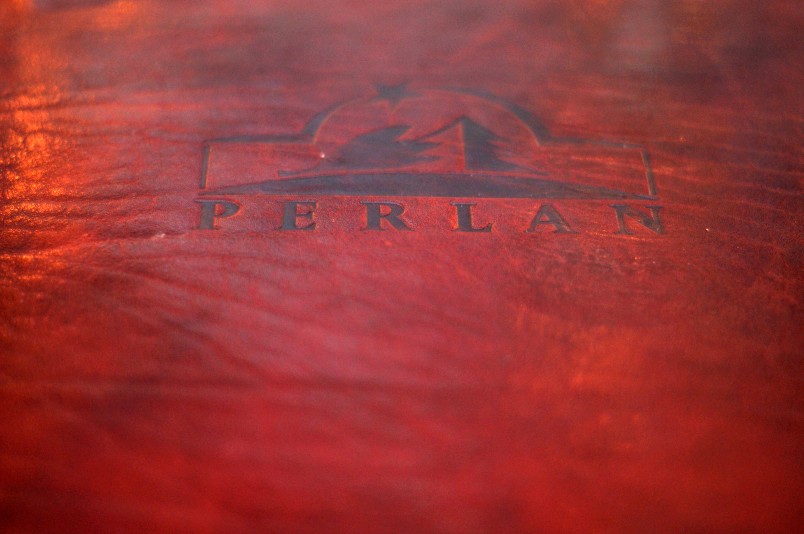 I haven't spent a lot of time at five star restaurants, or restaurants that revolve for a 360 degree panoramic view, for that matter. Now that I have, I don't know if I can go back to any other restaurants.
My visions of restaurant standards and expectations have been blurred by the fanciness and amazing views at the Perlan (Pearl) in Reykjavik, Iceland.
With views of every inch of the city over a two hour meal, food that could make a gargoyles mouth water and delicious wines and desserts, it will be quite impossible to return to the dreary life of fast-food and cafe dining that I know here in Toronto. If you want to experience the Perlan, you can look for cheap flights to Europe on Expedia.com, go down there and enjoy for yourself.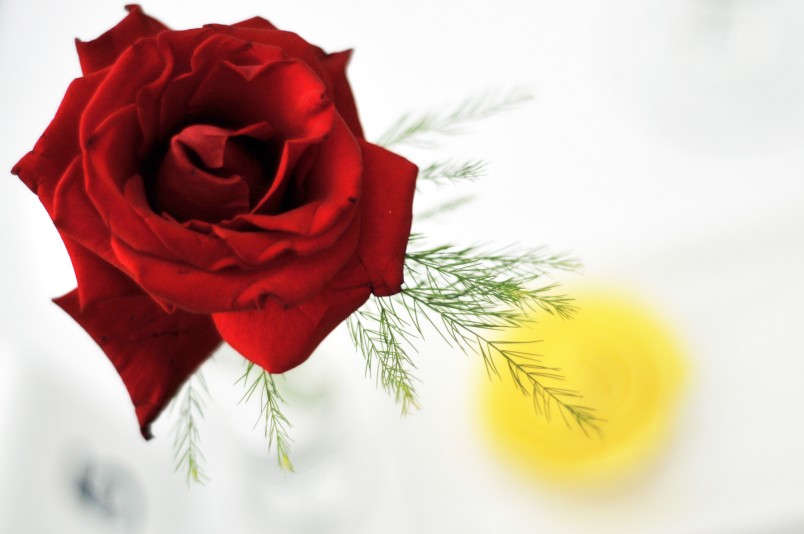 The Perlan's location is a bit on the outskirts if you are relying on public transportation or walking; luckily we had our Puffin Scooters to get there. We parked in the lot and got a good look at the steaming thermal zones on the hill below.
Ahead of us was the huge dome of the Perlan, resting on six large hot water containers.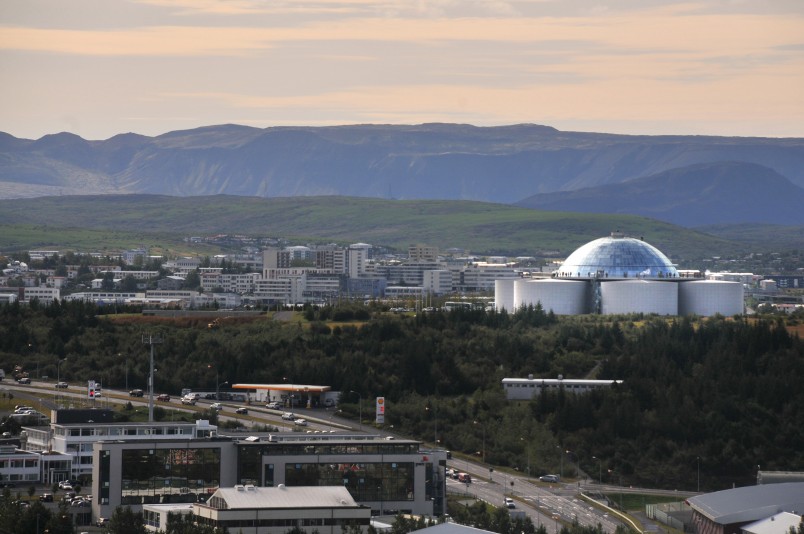 We entered the main doors and checked our coats before riding the elevator to the dining floor. We were escorted to our table and handed menus as we were seated.
I was blown away at the view from our table. We were seated up against the window of the largest glass dome I have ever been in, or probably even seen.
Mother Nature was our interior decorator; our ceiling was the sky and our wallpaper was a scenic panoramic view of Reykjavik. How could it get any better than this?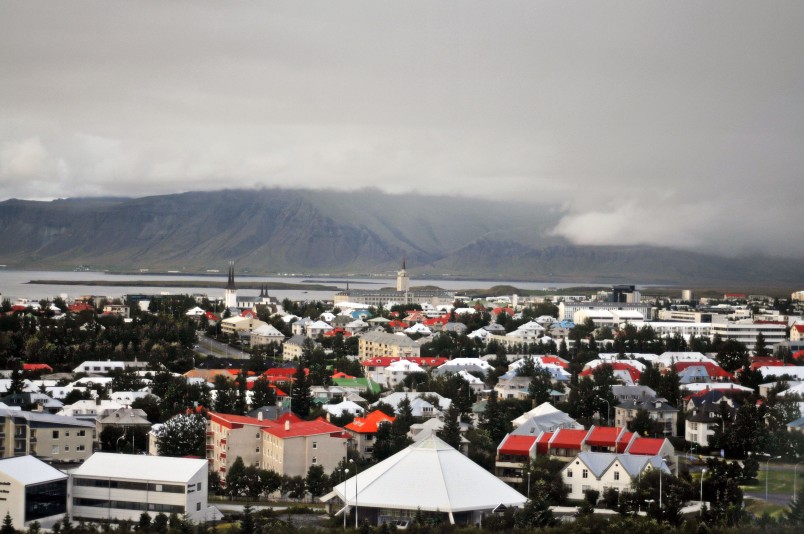 The tables were spaced evenly and quite far apart, so we didn't feel like we were joining other diners in their dinner conversations. We were free to chat about our day, and actually hear eachother.
There was a low mumble around the dome, and quiet music playing in the background. It certainly could have been a very romantic atmosphere if I hadn't been dining with my best friend :p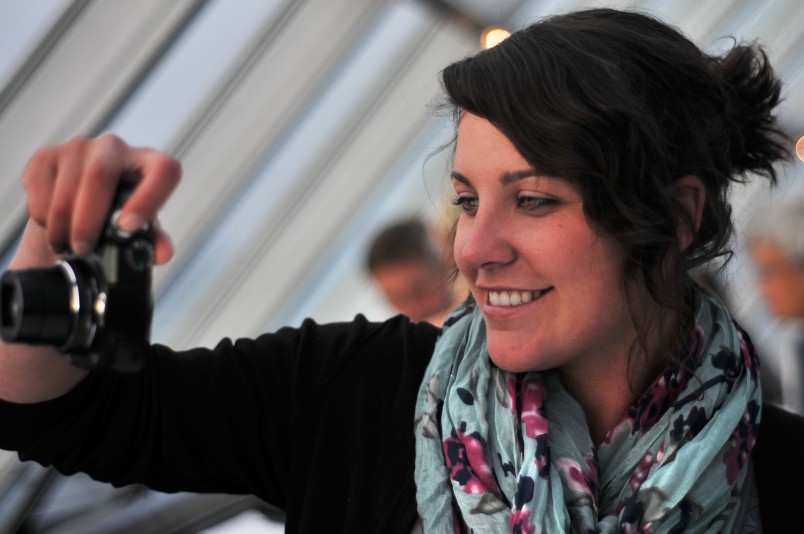 We had decided on our meals, and ordered wines to match. As we were waiting for our main courses, an unexpected REYKT BLEIKJA arrived at the table.
It was smoked trout with radishes, wagame salad and wasabi ice-cream. I can tell you right now that I am not a fan of seafood. In fact, I hate it.
Not wanting to be rude, I took a small bite of the appetizer. OH. MY. GOD. I loved it!
Throughout my travels, I've been forced to eat a lot of strange seafood dishes, never liking any of them. A bit of octopus tentacle here and a little swordfish with a side of squid there.. I've tried it all.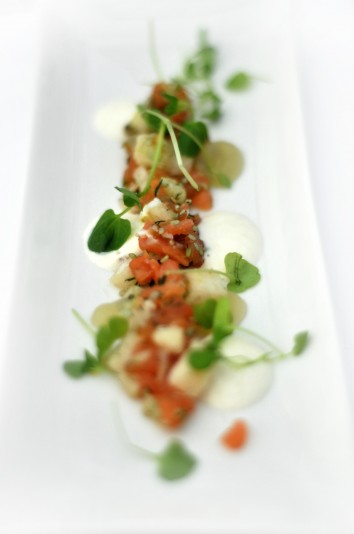 This dish at the Perlan was the
very first time
that I ever enjoyed seafood. And boy did I enjoy it–
I gobbled that whole dish up
.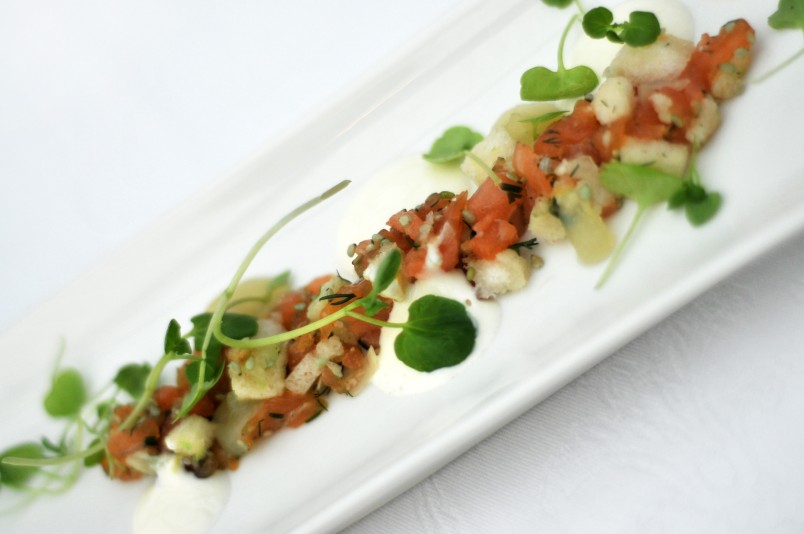 Our main courses arrived. I had KJÚKLINGABRINGA; a crispy breast of chicken with cous-cous, roasted vegetables, burré blanch sauce.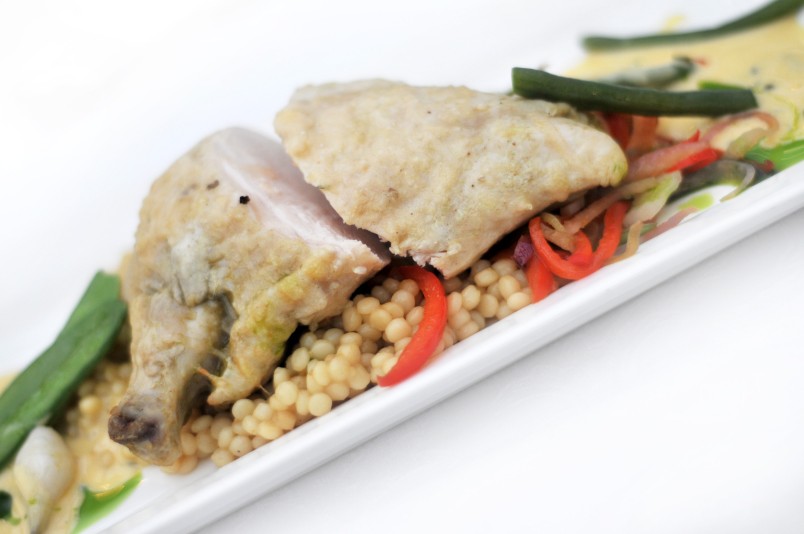 Chicken is always my meal of choice. I don't often eat red meat, and I tend to be a picky eater. Of course, chicken tends to be predictable, and sometimes bland.
Not at the Perlan.
I can say with 100% honesty that this was probably the best chicken that I had ever eaten!
It somehow seemed to melt in my mouth, blending together with the cous-cous with a taste unlike any other cous-cous I'd ever had. It tasted buttery, yet not fatty.
I don't even eat roasted vegetables all that often, but these ones just seemed to pull the whole plate together for the perfect zing of favour. Delicious.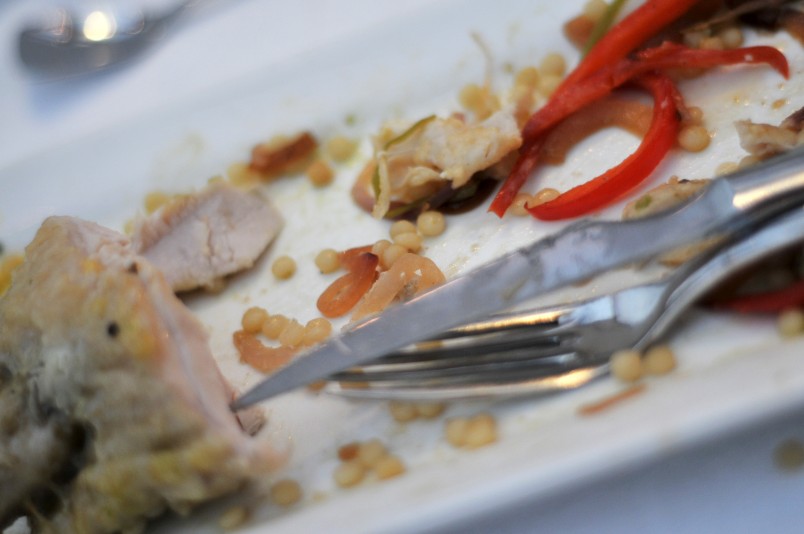 Kathleen had PÖNNUSTEIKTUR LAX; Pan fried salmon with ginger marinated tiger shrimp, on roasted vegetables, bell pepper sauce and carrot and celery-purée.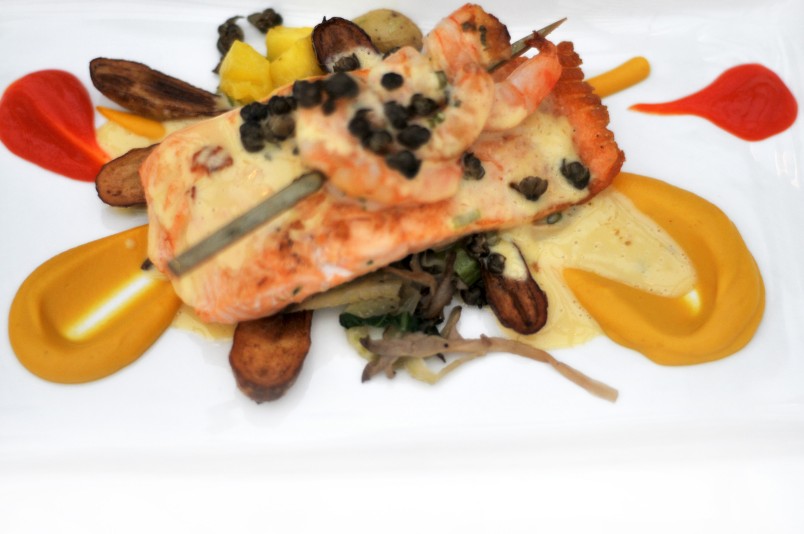 Kathleen described her dish as what was probably the freshest fish she had ever had. Seeing that I had actually enjoyed our appetizer, she told me that I had to try hers as well.
Again, I've never liked salmon, but it was something else. It lacked that infamous fishy taste, yet still had the same texture and look.
We both sat there wide-eyed, looking at each other as we both couldn't believe how utterly delicious our food was. Trying to contain our excitement and look presentable, we ate as quickly as we could without appearing like famished nomads. It was too good.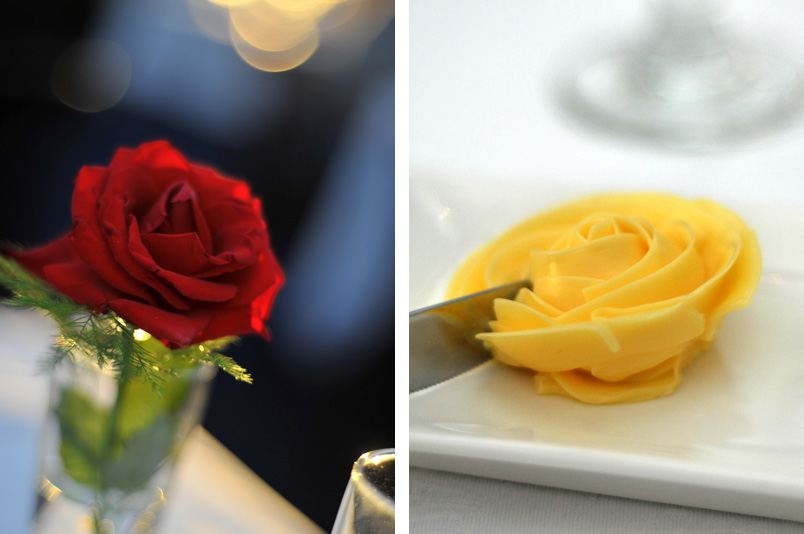 We both agreed that our meals were amazing, and we tried our best to finish every bite. We finished our dinner and spent some time relaxing and watching the view go by.
We circled around the sea, then the city, then the hillsides.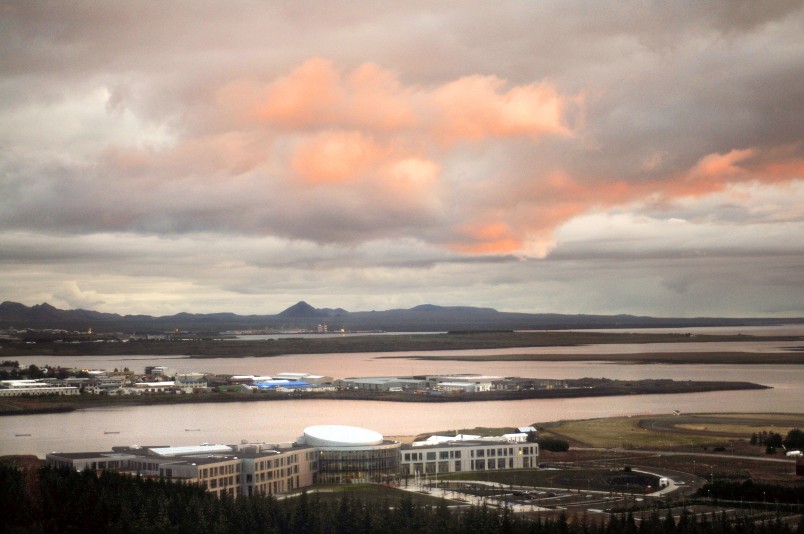 The famous Icelandic sunset was setting slowly, all around us. The dome above us turned from fiery oranges and reds, to deep blues and purples, and finally close to black.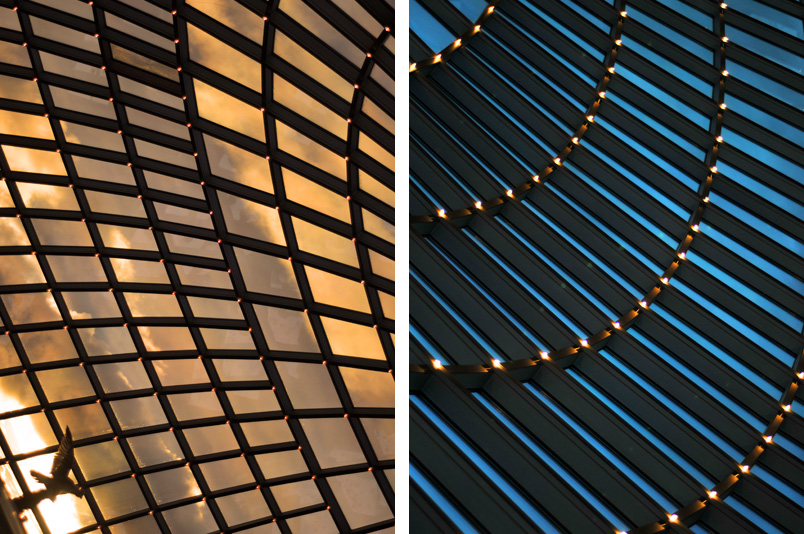 We enjoyed HEIT SÚKKULAÐIKAKA; Hot chocolate cake with mixed fruit and vanilla sauce and PASSION TERTA; Passion tart with raspberries jam and vanilla ice cream for dessert.
They were both so mouthwateringly delicious that we shared them back and forth, each taking tiny little bites and savouring the flavour.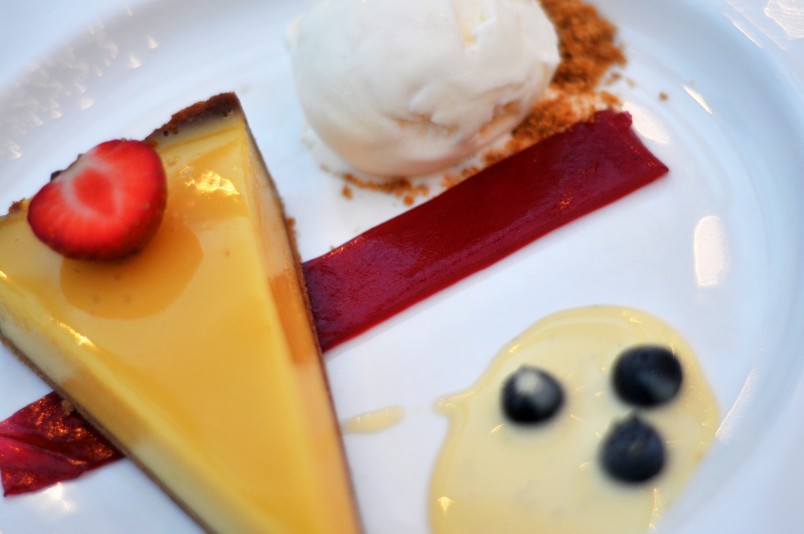 The restaurant started to empty out as the night carried on, and we finally decided that it was time to go. Taking one last look at the awesome dome roof, we entered the elevator and left the Perlan.