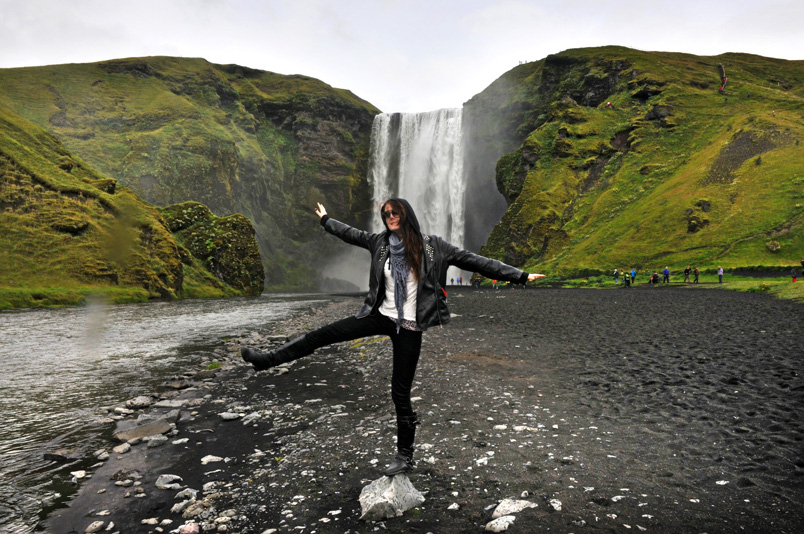 In a previous post about Reynisfjara Beach, I mentioned that before heading to Iceland I was probably most excited about the South Coast tour with Gateway to Iceland.
Knowing that the South Coast was full of awesome waterfalls, massive glaciers and adorable puffins, I couldn't stop thinking about it. As with everything else in Iceland, I was not disappointed.
We set out from Reykjavik, early on a Tuesday morning. Reaching the outskirts of the city, we picked up a few remaining passengers and continued along the coast.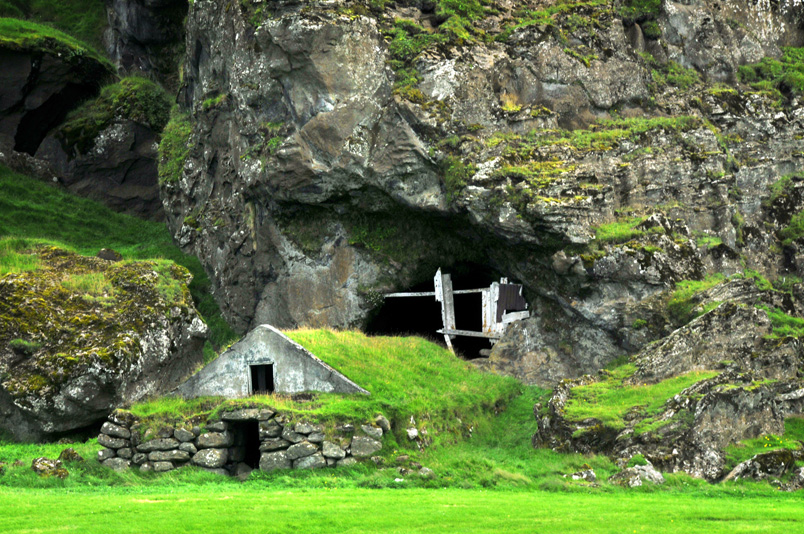 Our first stop was at the visitors centre of the Eyjafjallajökull volcano. The enormous volcanic mountain loomed on the other side of a large hill, and I couldn't take my eyes off of it. Being a bit of a geology nerd, I was fascinated.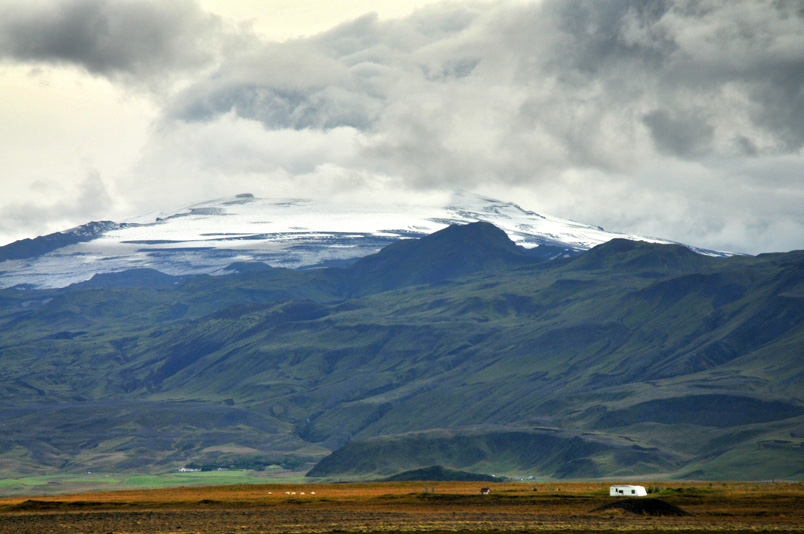 Being the adventurers were are, we decided to forego the film option inside the visitor centre that the rest of our tour took. Instead we (probably trespassed, so I'm not suggesting this!) decided to walk up to the picturesque little farm in front of the volcano.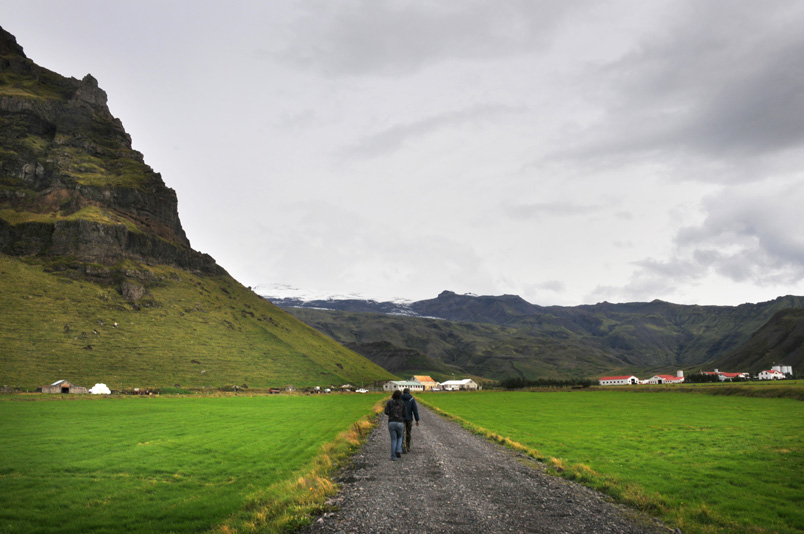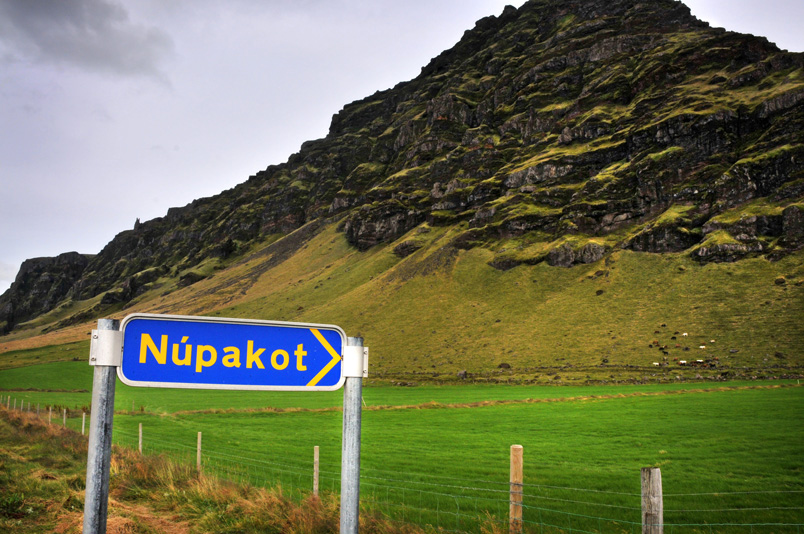 I danced around in the field like an Icelandic horse, while our new friend climbed up the side of the nearby mountain.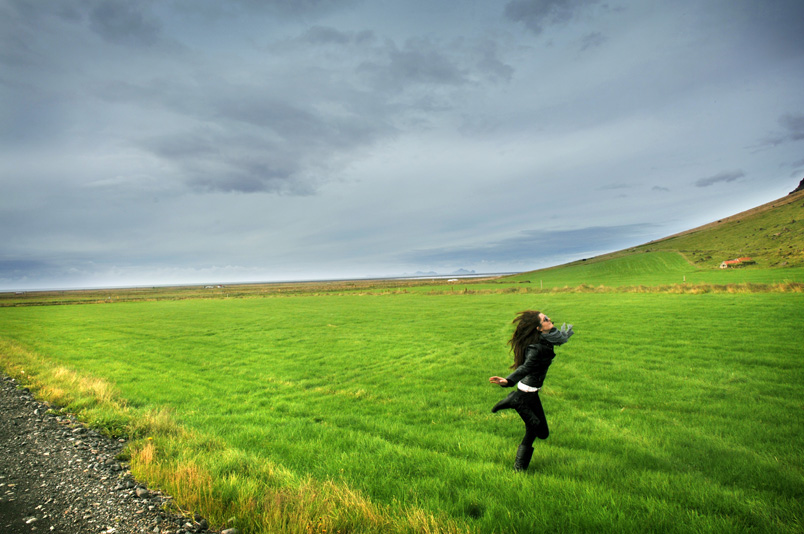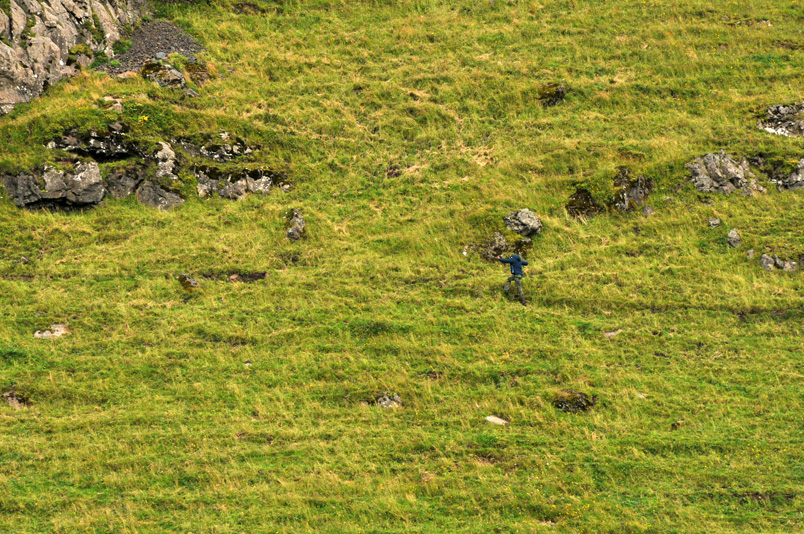 I'd like to mention that I became an expert at pronouncing the infamous volcano before even stepping foot in Iceland! I had to give a class presentation about the volcano's effects in Uni, and spent some time practising. I quite enjoy saying it and watching the confusion in people's faces.
Say it with me… "Eyjafjallajökull".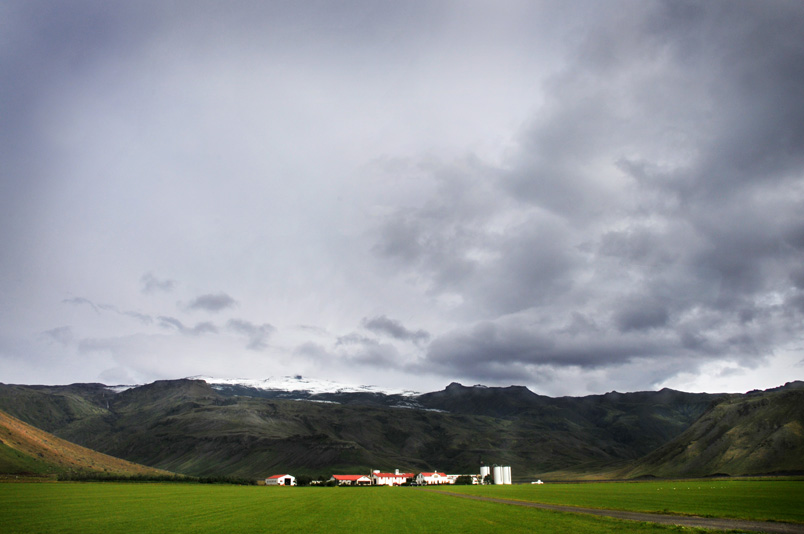 Passing some beautiful scenery along the way, we continued along the South Coast.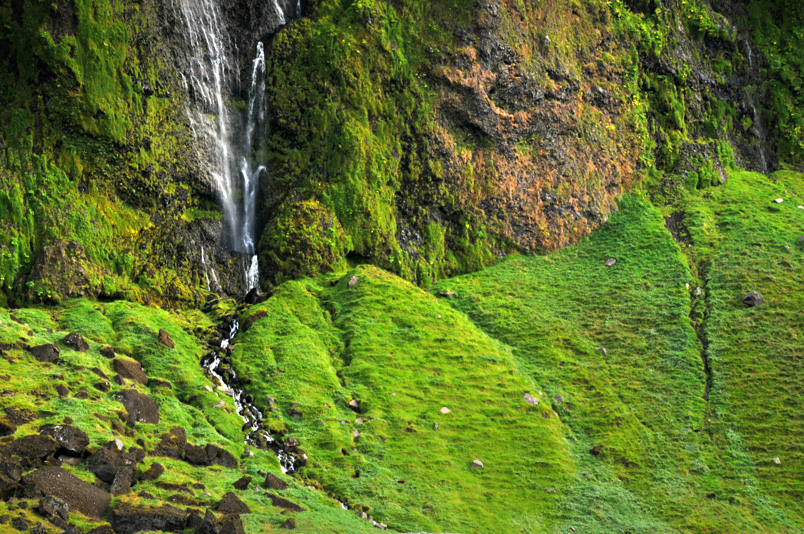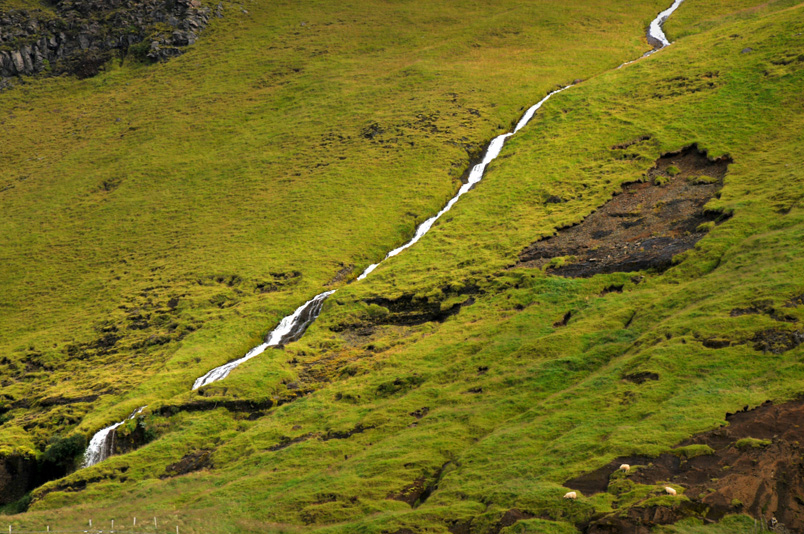 Next, we arrived at Skógafoss, a 60 meter tall waterfall that crashes into a small river, surrounded by black sand. The grass on the hills beside the waterfall were such a bright green color against the dark sand, that it almost looked like a bumpy golf course.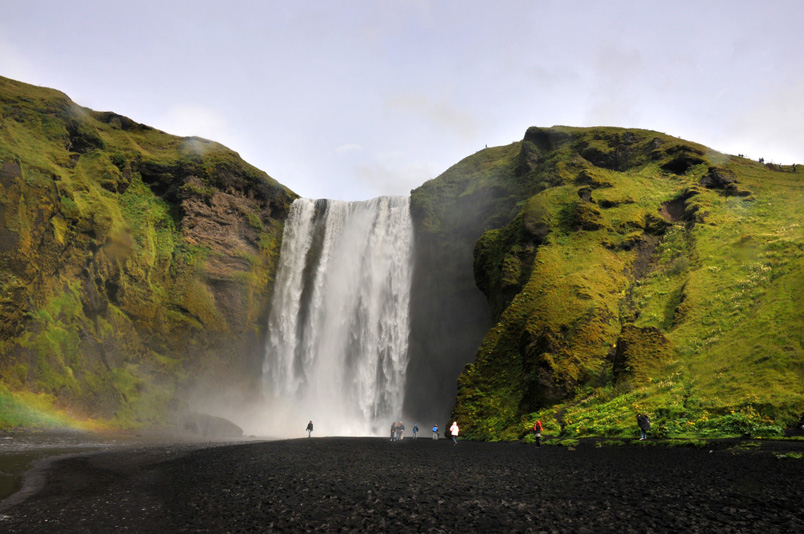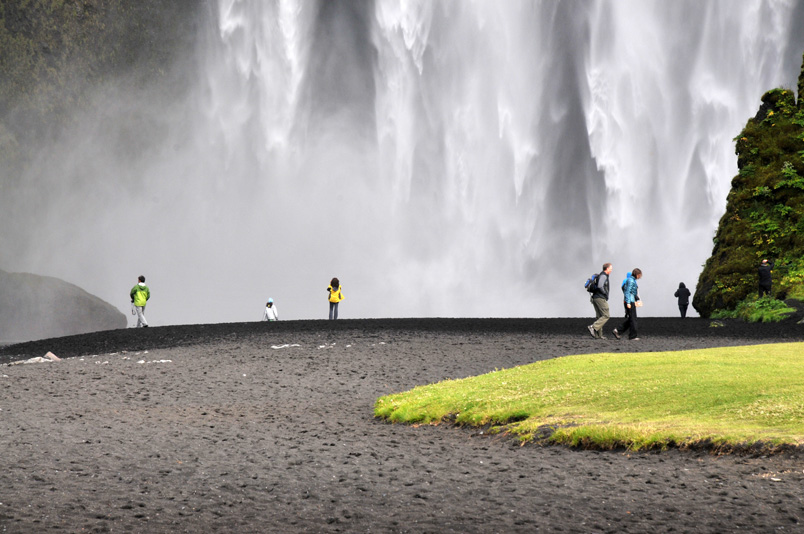 Much of the area surrounding the waterfall was still covered in a layer of ash from the recent volcanic eruptions.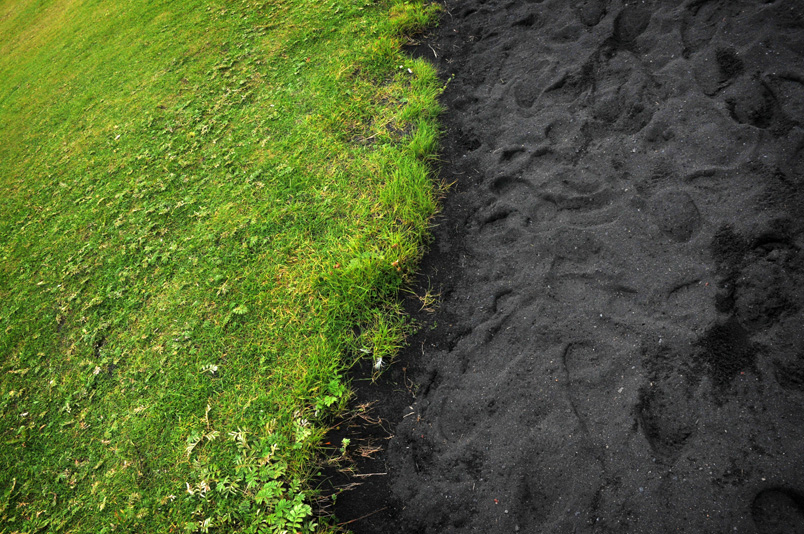 Next, we drove down the longest and bumpiest side "road" I've ever been on. I use the word road lightly, as it was more of a faint path in a bumpy field of volcanic rocks.
The bus parked in a rocky parking lot, and we started walking into what could only be described as lunar landscape. Everything looked black and white, aside from the colors of our clothing popping out in the drab palette.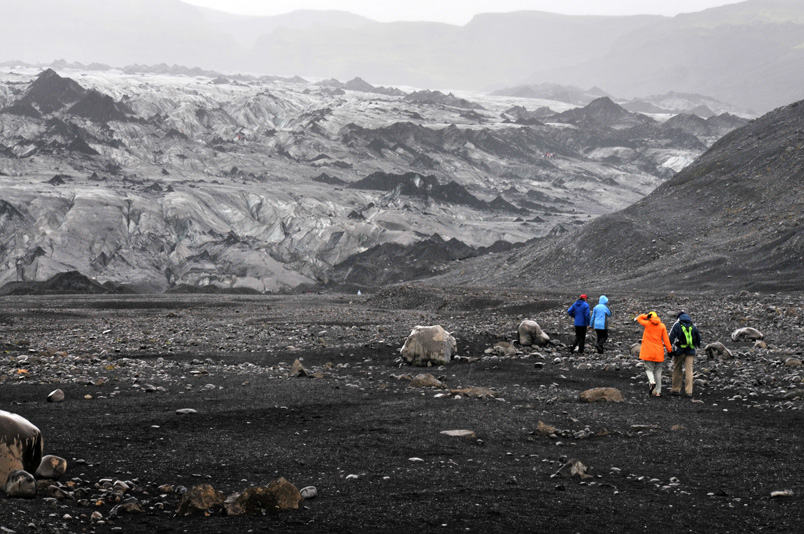 Ahead of us, was Sólheimajökull. Sólheimajökull is a glacier snout of the southwestern outlet of the Myrdalsjokull icecap. It is about 8 km long and 1-2 km wide, and it retreats drastically each season.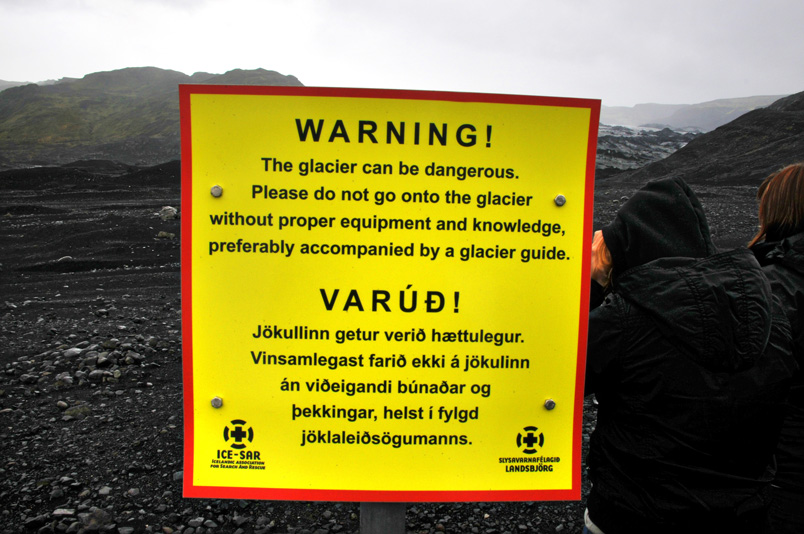 The walk over was pretty windy and rainy. It only added to the landscape and made us feel like we were on another planet.
Having already done a glacial hike previously, we were confident in our climbing abilities. Only this time, we did it without crampons and picks. I shuffled along, slowly but surely, feeling the slippery ice beneath my feet.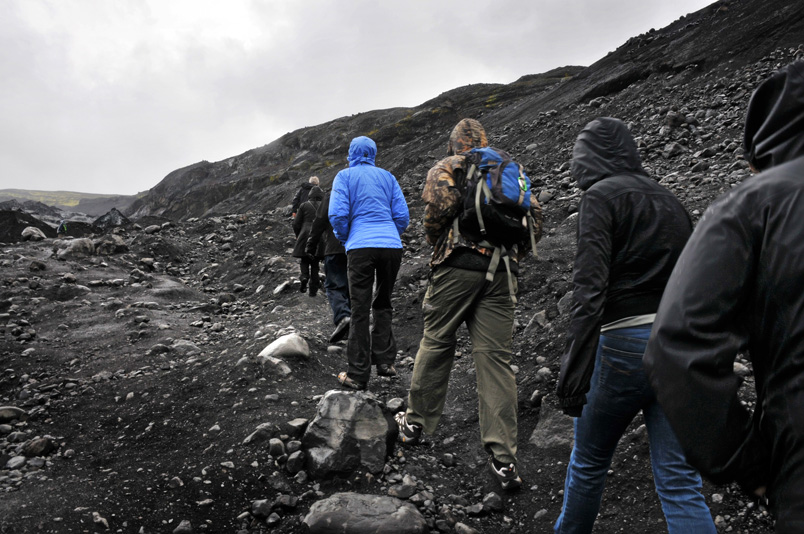 We all made our way over to a cool dip in the ice that had been carved by moving water, before heading back to the bus.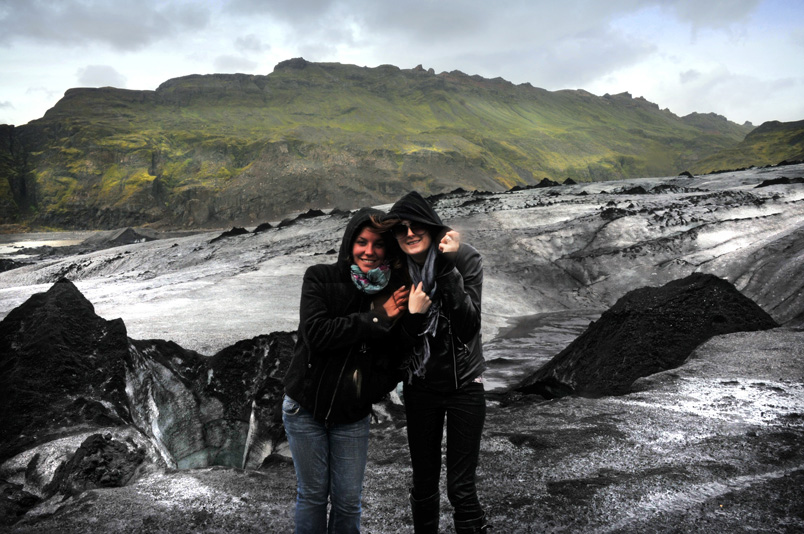 Our tour bus loaded up again, and we were quickly heading further down the coast to Vik. We spent some time exploring the amazing Reynisfjara Beach before turning back, in the direction of home.
We still had one more stop…
Seljalandsfoss! When I think of Icelandic waterfalls, this is the first waterfall that comes to my mind. I've seen it in so many photos and videos, that I felt like I had already been there. Of course, seeing it in person was a whole other thing.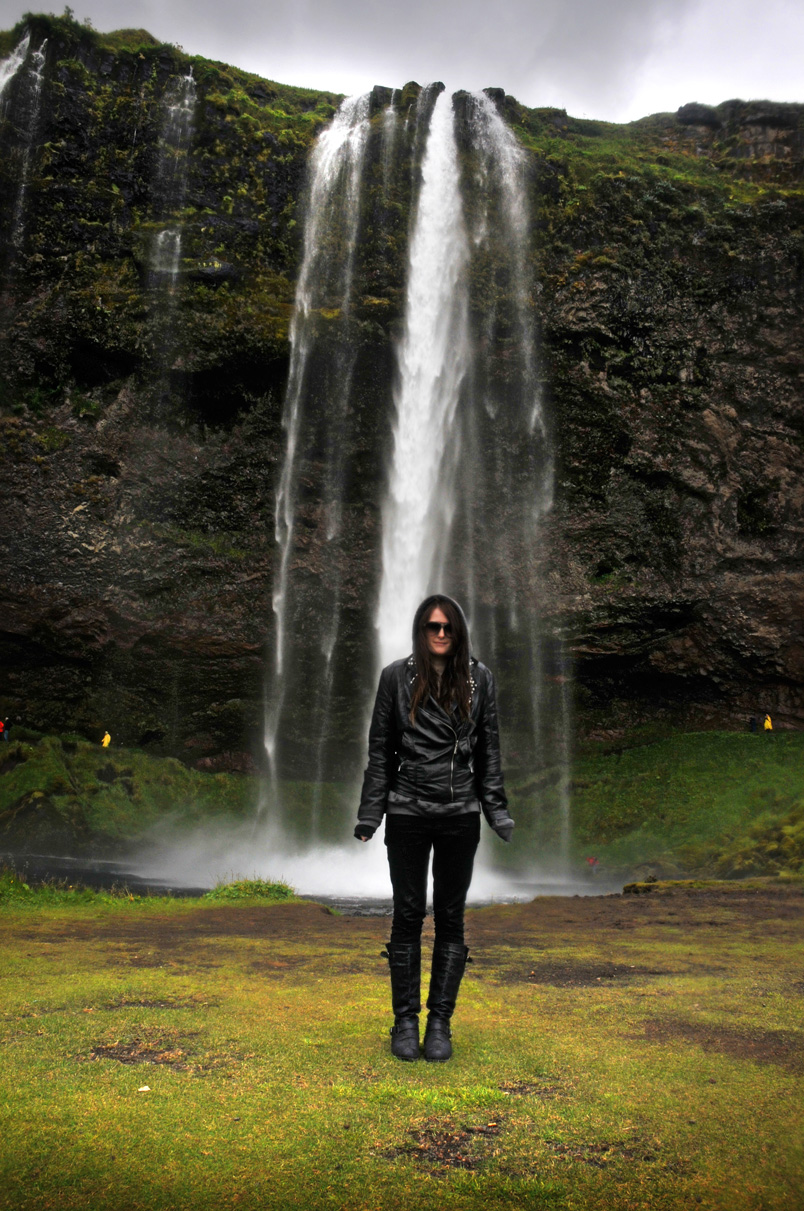 It was the thinnest waterfall I've ever seen. My friends walked all the way around, directly behind the waterfall, while I stood in the stream in front.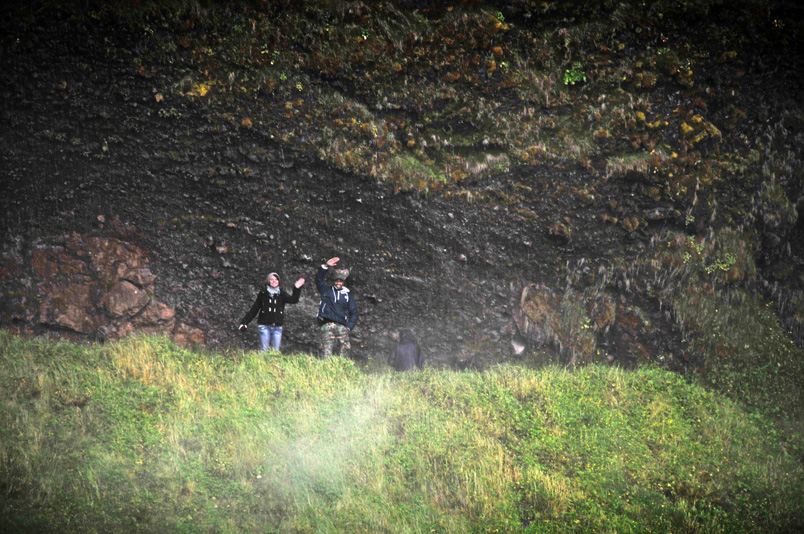 We met up at the bridge, and took our last looks at the roaring falls. Our Gateway to Iceland tour bus loaded up one last time, and we were on our way back to Reykjavik.