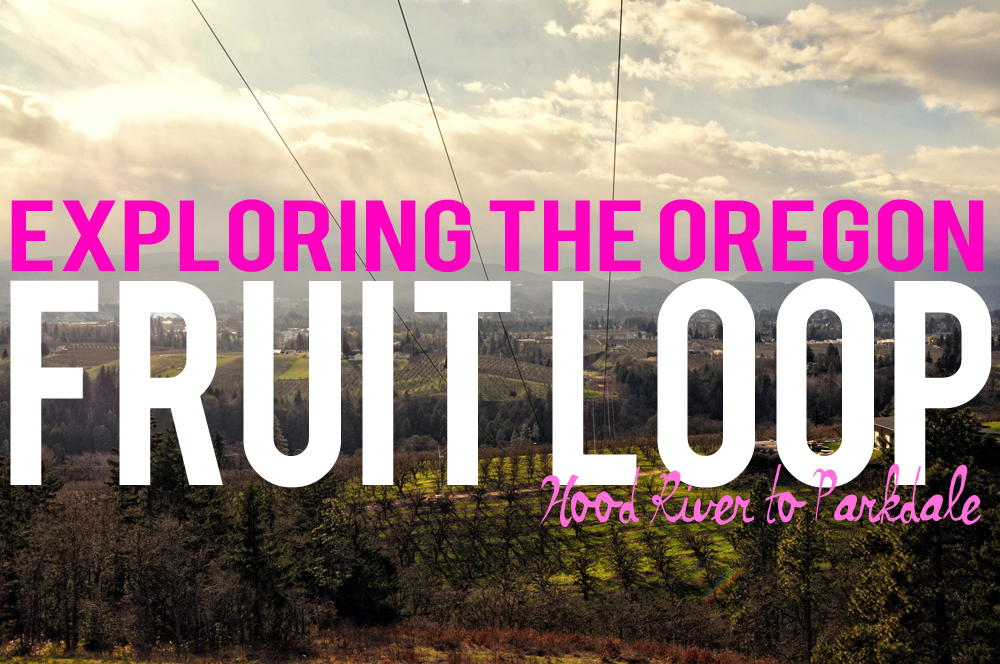 Oregon has it's very own fruit loop, and no, I don't mean cereal.
It took me awhile to figure out just exactly what a fruit loop was, but it turned out to be fairly self explanatory.
The Oregon Fruit Loop is a 35-mile road lined with fruit farms that loops from Hood River down to Parkdale and back up the Hood River Valley. The Fruit Loop is meant to be a self-guided tour with a map that takes visitors to about 30 potential marked stops at various wineries and farms throughout the valley.
My first stop?
Alpaca Farm
The Foothills Yarn & Fiber Farm was easily my favourite stop on the Fruit Loop and I pretty much fell in love with the fuzzy characters as soon as I arrived. Along with the giant white dog that camouflaged in with his farm-mates, I couldn't get enough of them all.
Owner, Thomas, gave me a demonstration of how the alpaca hair is turned into yarn, and showed me around the shop. The knitted gloves and hats were way softer than a regular wool item.
After a chat, Thomas had to head into the city for a meeting, but he allowed me to head out to the field to hang out with the alpacas, as long as I was sure to lock the gate behind me. I spent a good twenty minutes crouching by the herd, simply giggling at their funny expressions and taking a few obligatory alpaca selfies.
Road Tripping
The drive alone was worth the trip, without even making any of the stops.
There's just something about driving on the open road, with the windows down and some good music on the stereo, with a snow-capped volcano in the distance that does the mind a little good. It's the perfect escape from the city and can be explored from Portland to have you home in time for dinner. Likely a dinner of fresh farm produce.
I took every opportunity to turn off the main road (Hwy 35) to explore some of the smaller back farm roads. There wasn't much chance in getting lost inside of a loop, so I forgot the map and drove with freedom.
Orchard after orchard and field after field; it was a beautiful drive, and I literally gasped and had to pull over at my first clear sight of Mount Hood.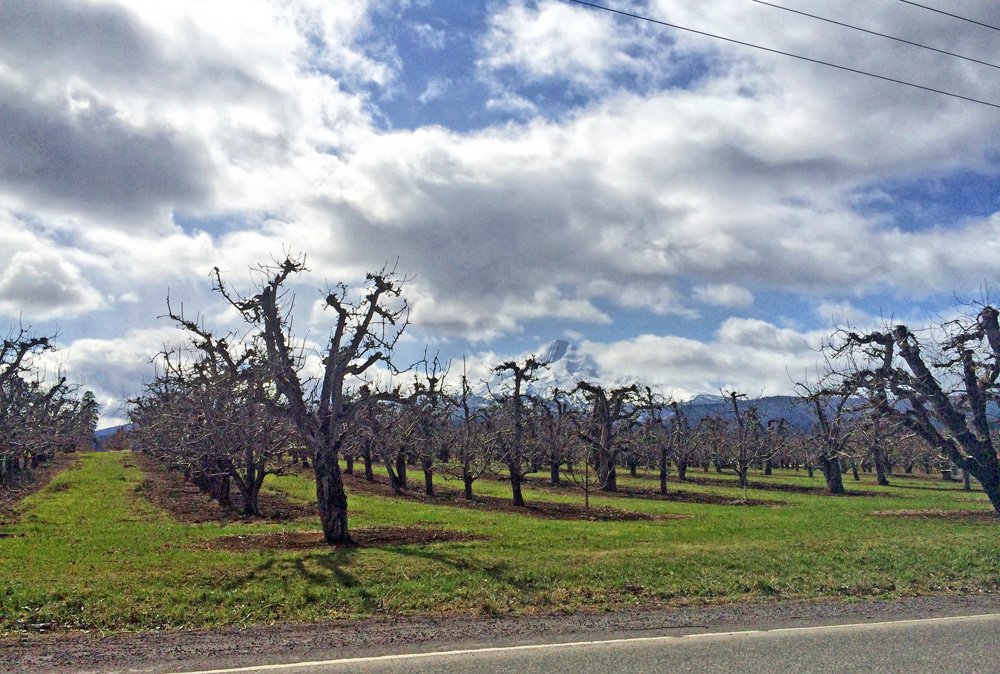 Food
Lunch time!
My stomach growled and I knew it was time to eat. Luckily, this happened as I cruised into the small town of Parkdale.
With suggestion from the Travel Oregon fans, I headed straight for Apple Valley BBQ, a restaurant raved about for their pulled pork sandwich. So, what did I get? That very sandwich.
I rarely eat pork, but I'm glad I made that decision. It was delicious, and I gobbled it up before hitting the road once again.
 Farms with a View
Another suggestion from the Travel Oregon fans was to visit Sakura Ridge. I didn't have much clue about what it was, but found it on the GPS and set off.
Suddenly, I found myself turning down back gravel roads, driving through dense forest, and what appeared to be very steep private driveways. It had turned into much more of an adventure than I'd expected, but it was well worth the drive.
I realized that they weren't yet open during the week for off season and sat in the driveway for a moment to asses the situation and decide where to go next. As I was sitting there, owner Deanna appeared at my window. I explained the situation, and she invited me in to make myself at home and take photos as I pleased. I couldn't believe the hospitality toward a complete stranger and admired the trust she had to leave me all alone inside the house.
I didn't even stay at Sakura Ridge, but I highly recommend a visit, based on the kindness alone.
Yet, just as impressive, was the view of the surrounding valley and the distant peak of Mount Hood above the low laying clouds. I certainly did make myself at home.
Hood River
As the sun dipped lower in the sky, I made my return to Hood River to watch it set from Panorama Point County Park before checking into my luxurious room at the Columbia Gorge Hotel.
It was an awesome way to spend the day, and the perfect way to end it.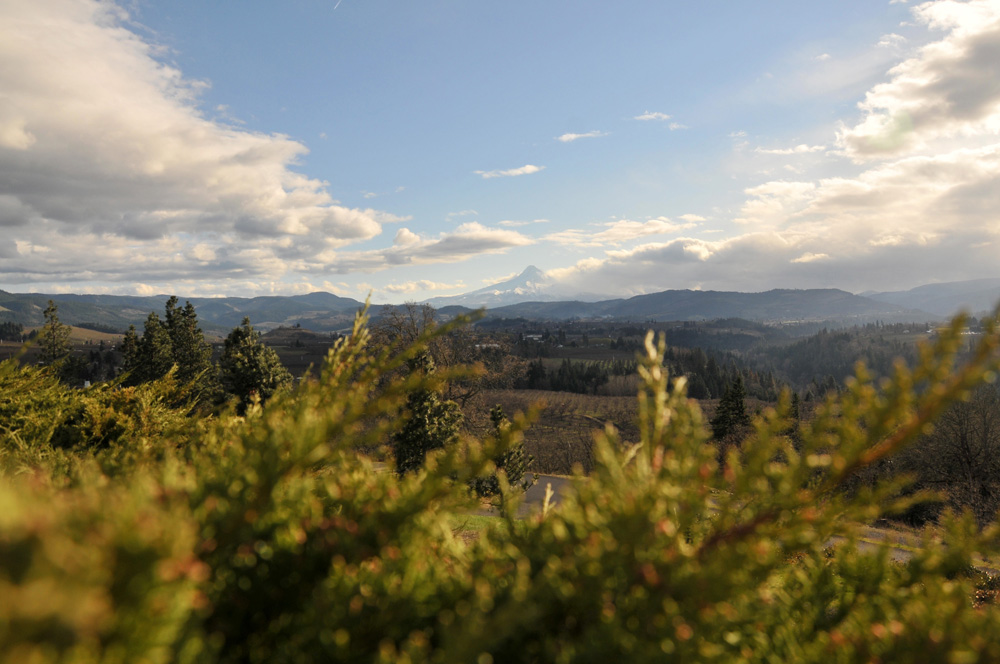 This trip was made possible by Travel Oregon. All views & opinions are my own.