Originally posted on Travel + Escape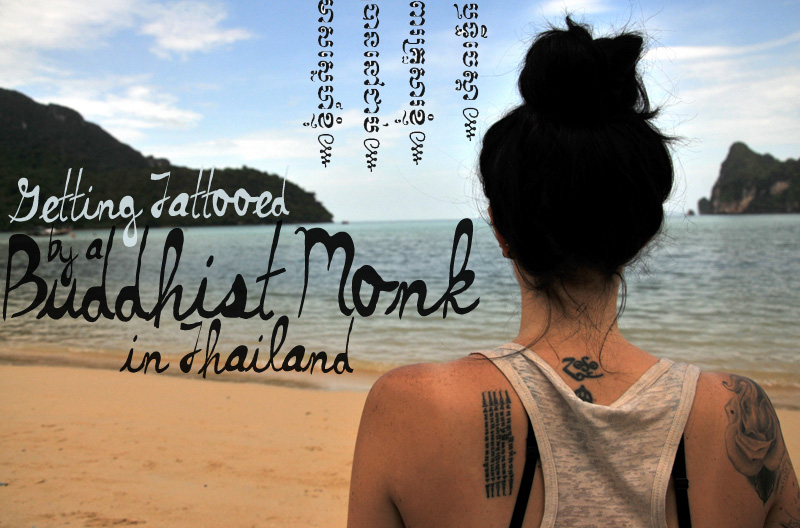 Sitting cross-legged on the floor in the back corner of a dimly lit temple, surrounded by dozens of Thais, we slowly shuffled forward in unison toward the far end of the room. It was silent with the exception of a faint tapping from the front and occasional murmur in the crowd. Over an hour had passed when we finally neared the front of the line, and suddenly I was called forward.
It was my turn.
I sat down in front of the Monk, unsure of what to do next, even after watching the others before me. The two men to his side guided me into a parallel sitting position in front of him, motioning for me to lean over a pillow they placed on my lap. The Monk pushed me further down with a larger marker and placed a paper towel on my back. The two men at his side rested their hands on my skin and pulled it tight in either direction.
That's when I felt the first tap and the bamboo point entering my skin.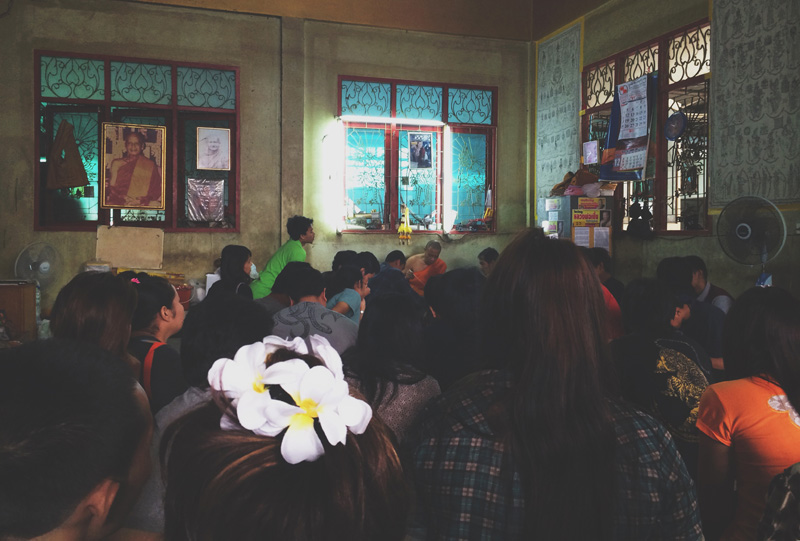 That innocent tap probably hurt more than any other tattoo I've ever received, and I've gotten more than a few. But, this tattoo holds a great deal more meaning than all of the rest, as it is believed to be magic and bestow protection and good luck.
Yantra tattooing, or sak yant is a form of tattooing practiced in Southeast Asian countries including Cambodia, Laos, and Thailand. I happened to receive mine at Wat Bang Phra in the Nakhon Chai Si district outside of Bangkok, Thailand. Sak Yant designs are tattooed by Buddhist monks, traditionally with a long bamboo stick sharpened to a point or sometimes with a long metal spike.
You have no choice in the design or placement of the tattoo; that is decided upon by the Monk as you sit down in front of him.
I ended up with a Hah Taew design, which displays five rows of magical spells for protection, good luck, love, fortune and success.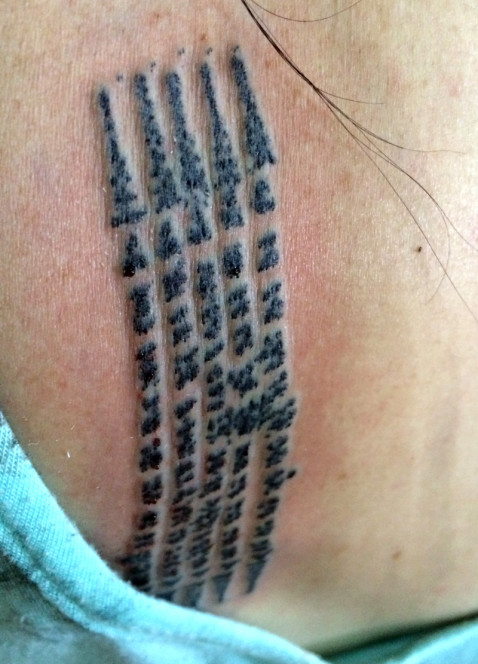 Getting There
Getting from Bangkok to Wat Bang Phra is the most difficult part of the experience.
You will need to head to Victory Monument as early in the morning as possible—think 5:00-6:00am—to avoid traffic and make your way to the minibus station. If you're arriving by BTS, take exit 4 and make a U-turn at the bottom of the stairs and a short walk to find the correct station (there are many).
If you are arriving by taxi, ask to be dropped off at Century the Movie Plaza and take a short walk North from there.
Approach the fourth ticket counter window from the right and ask for the bus toward Nakhon Pathom to the Nakhon Chai Si stop, it should cost 70 baht per person.
After an hour long drive out of Bangkok, you will be dropped at what initially feels like the middle of nowhere. Cross the foot bridge above the highway and head toward the gathering of motorbikes on the corner (you will see them from the bridge).
Let your driver know that you want to go to Wat Bang Phra, negotiate a price that works for you and enjoy the 20 minute drive through rice fields and villages. I didn't bother negotiating down from 100 baht, but it's definitely possible for a cheaper price.
Getting back to Bangkok is a little different. From Wat Bang Phra, hop on the #10 bus at a price of 20 baht. This will take you to another seemingly middle of nowhere stop where you will cross the road to the minibus station (kind of hidden around the corner to the left) for one last bus at 45 baht.
This bus will take you to Bangkok where you can either take a taxi or public transport depending on where you need to go. I took a public bus to my hotel, which was much cheaper than a taxi.
I read directions from Where Sidewalks End before trying it out myself. Thanks, Ian!
Costs
The Sak Yant itself is essentially free, however you will need 80 baht to purchase a flower, some incense, candles and a pack of cigarettes to make as a temple offering, along with any donation you may wish, all to be placed in a bowl in the room. You will be offered this upon arrival.
Once you add up all of the transportation costs to and from Bangkok, it should come to approximately 230 baht.
At 310 baht (or $10) for a truly meaningful tattoo, a long distance adventure out of the city and the experience of a lifetime, it's more than a bargain.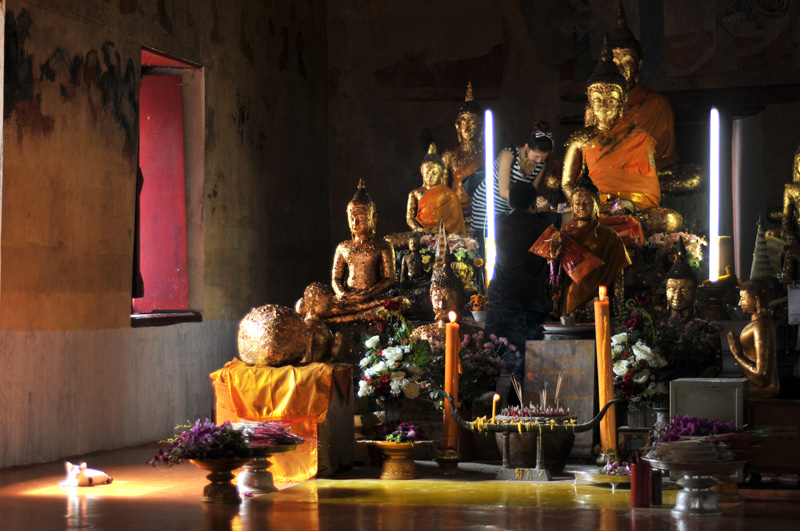 Aftercare
Unfortunately, getting a bamboo tattoo is not guaranteed to be the most hygienic or safe method of tattooing. While it is an unforgettable experience, you need to be aware of the risks involved. As with any tattoo, you are at risk of allergic reactions, skin infections and blood borne diseases, but possibly more so if they are not taking proper sterilization precautions.
Unlike a tattoo gun, bamboo tattooing punctures the skin but does not tear it, so the healing process is very quick. The temple does not sell aftercare gel, but you can grab any unscented Bepanthen cream at a local pharmacy when you're done. Remember to keep it out of the sun to avoid sunburn and out of direct water pressure for at least a week. Give it a wash with warm water when you get home and try to keep it as clean and undisturbed as possible.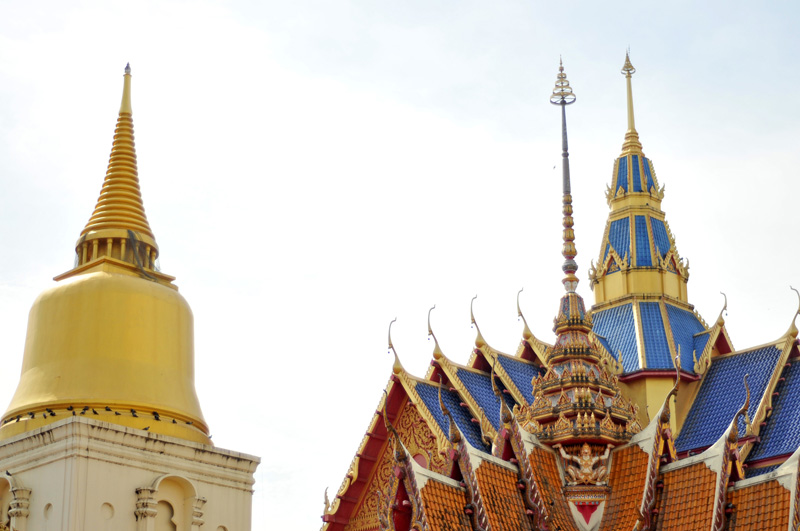 Originally published on Travel + Escape
More on Travel Tattoos: