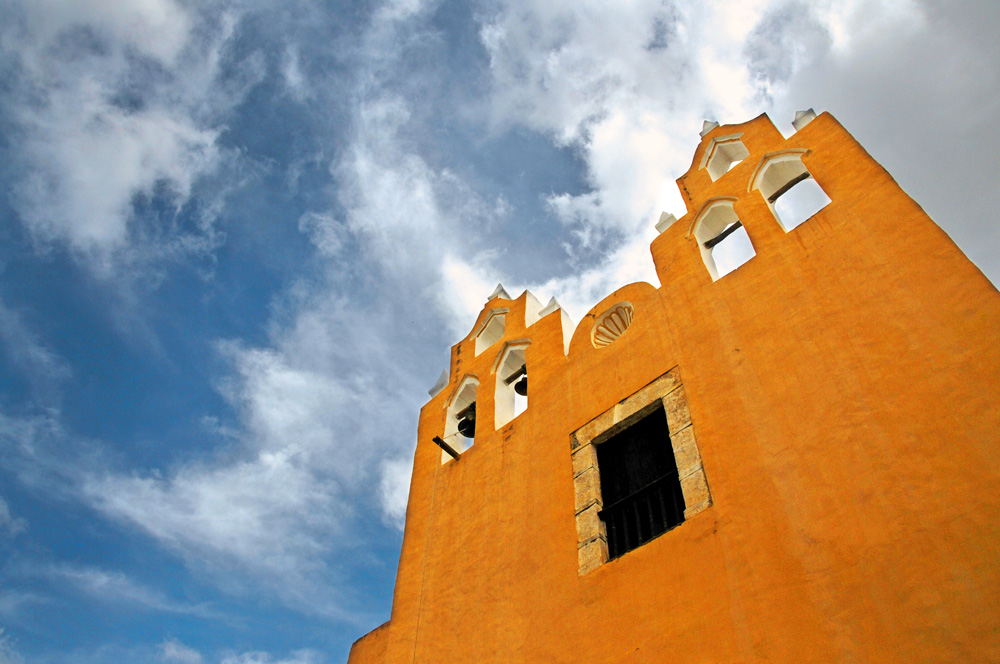 Izamal's colourful nickname was apparent from the moment we entered the outskirts of town; the yellow city.
On the edge of town the buildings were a pale amber, growing to rich sandy lemons and creamy golds as we neared the centre of town. It wasn't just the historical buildings and churches that sported this mustard exterior–it was every single building in the city centre and even some in the residential part of the village.
Inventory at the local paint store must be easy.
Izamal is an important Maya site with the ruins of four large pyramids that, unlike other Mayan ruins, are located right in the centre of town. If you decided to move here, you could literally be neighbours with a 2200 year old temple and view the structure from your kitchen window.
I climbed to the top of the Kinich Kak Mo Pyramid, with screaming lungs, but was rewarded with a panoramic view of the whole city as well as the entire surrounding Yucatán region. Built during the early-Classic period, this pyramid to the Mayan sun god spans an entire block and was built around by modern day Izamal.
The best way to see the city is by a mixture of walking and by horse drawn carriage. You can reach the pyramids and city centre easily by foot, but it's worth a ride around the rest of the spanning city to see the other sites and to get a better idea of how the locals really live. I got to ride up front with the driver and even got to try my hand at holding the reigns. Now I know what to do if blogging doesn't pan out…
Izamal is hands down one of the most architecturally beautiful cities in the Yucatan peninsula.

Visit Izamal on your own Escapade Cancun : Mayan Treasures
or Experience Collection Duo Cancun Merida
This trip was made possible by 
Transat Holidays, Visit Mexico and Yucatan Tourism.
All views and opinions are my own.
Have you been to a colour-themed city?